The University of Michigan's Index of Consumer Sentiment hit its 4th straight monthly gain with a 96.8 level that was above estimates. Driven by an increasingly optimistic spending outlook among Americans amid a backdrop of record highs in the stock market and reduced trade tensions, the news has economists raising their consumer spending outlook for the remainder of the year.
While this is good news for many consumer driven companies, a quick look at the sector chart below reveals that discretionary spending is being very selective. This is particularly true among retailers where a handful of leaders in select areas are outperforming while many others are languishing.
DAILY CHART OF CONSUMER DISCRETIONARY SECTOR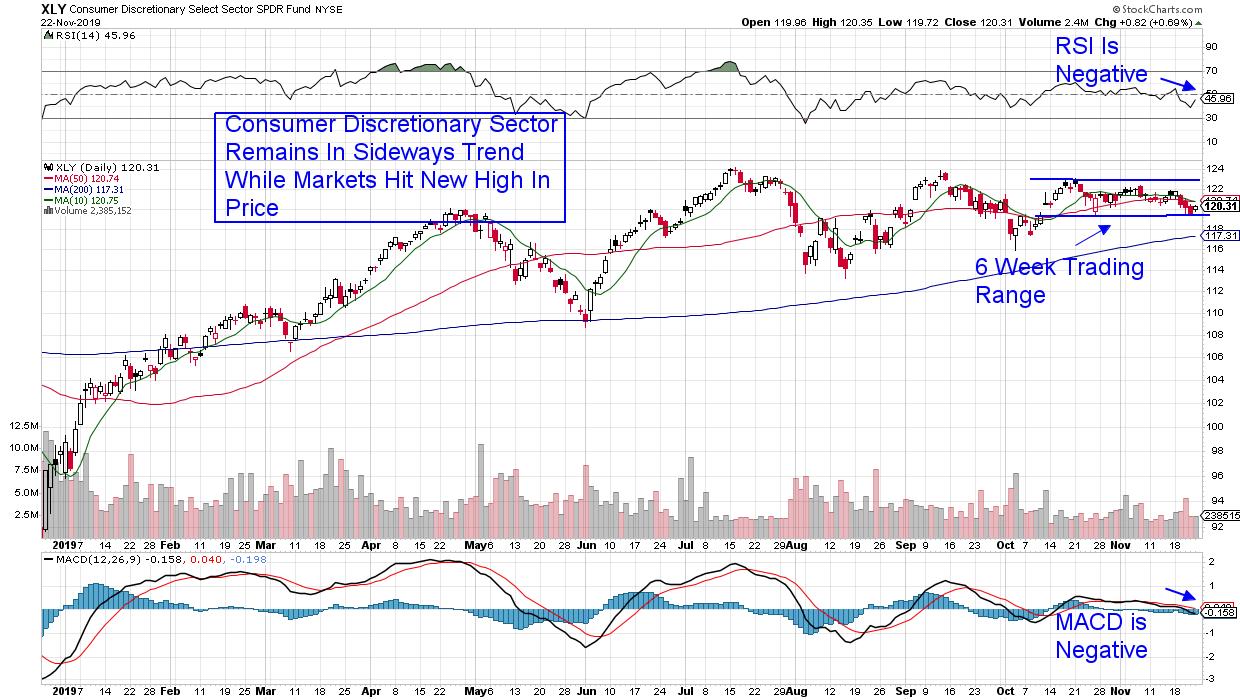 Overall within Retailers, it's been those companies that have been able to enhance the customer experience while successfully adding to their brick and mortar revenue streams that are outperforming the markets.
One of this week's bigger winners – Target (TGT) saw shares surge 14% after reporting better than expected demand for its apparel. The company has spent billions building out their private label while partnering with top designers and the response has been enthusiastic.
The company also opened smaller stores in college towns and urban areas to lure customers away from rivals. Their same day delivery service as well as heavy renovations at all locations is bringing people in. As is their introduction of Disney stores in 24 locations. Using last quarter's equally impressive response to strong earnings as a guide, there can easily be more upside for the stock.
DAILY CHART OF TARGET CORP. (TGT)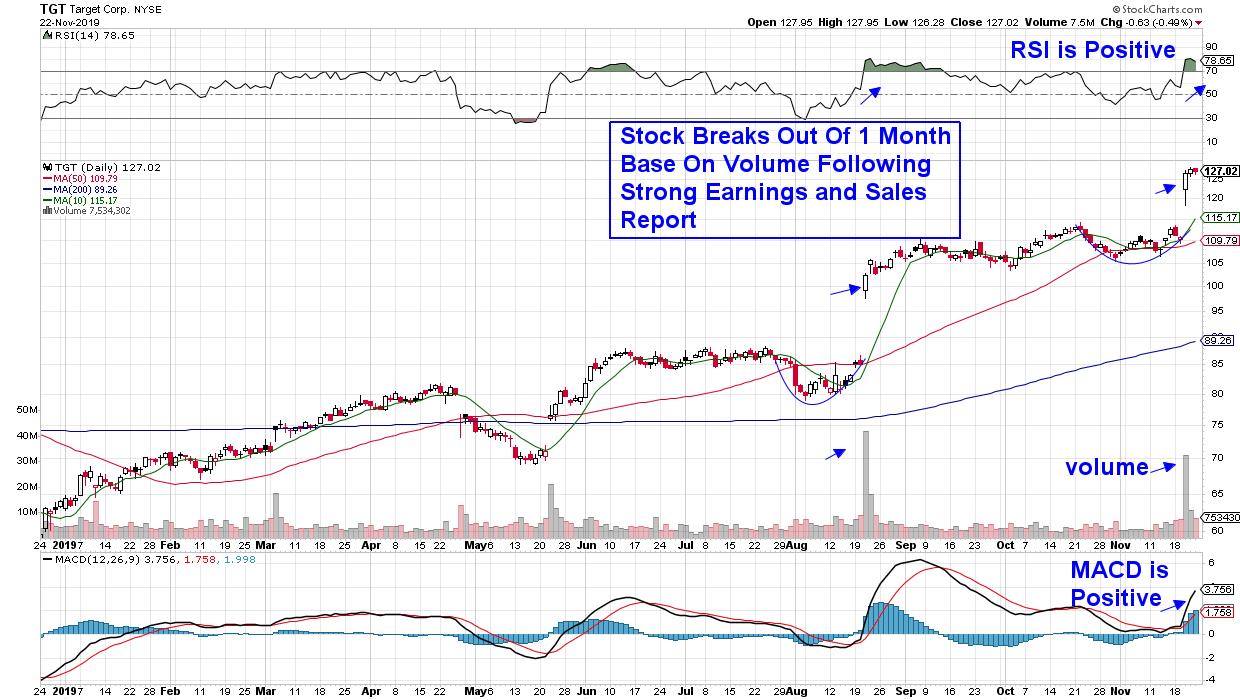 Next up is Carvana (CVNA) which is a leading e-commerce platform for buying and selling used cars. The company has created a unique and much less time-consuming experience for their customers that has increased sales and while CVNA has not yet recorded earnings, management guided revenues higher for this year and next.
By going online, Carvana customers can shop over 15,000 vehicles in as little as 5 minutes. They can transact financing, purchasing and vehicle trade ins online as well. The company will deliver your car the next day while also picking up any trade-in, all with generous return policies if you're not pleased. The stock broke out of a 10-week base on volume this week and can be purchased on a pullback to its 10 day moving average.
DAILY CHART OF CARVANA (CVNA)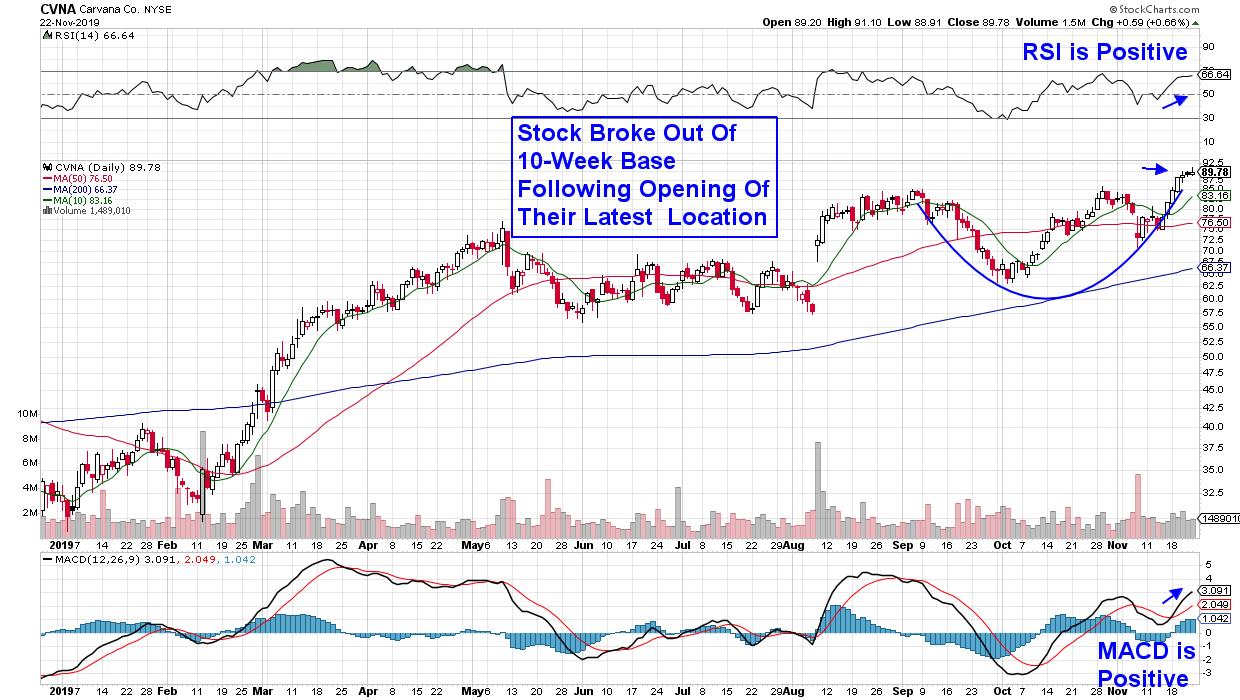 Formerly known as Restoration Hardware, RH (RH) is a high-end furniture and accessories store that has reshaped the furniture industry. With their plush store settings in high-end locations, the company has incorporated shopping with fine dining as select locations have restaurants surrounded by RH's designer goods.
Other initiatives have set this company apart such as their launch several years ago of a membership program that offered first dibs to new designer releases as well as healthy discounts. And while the announcement of Warren Buffets recent 6.7% stake in the company pushed the stock out of a 1 month base, the stock already had upward momentum following a series of strong quarterly earnings results. The stock is in a buy zone following this week's breakout.
DAILY CHART OF RH (RH)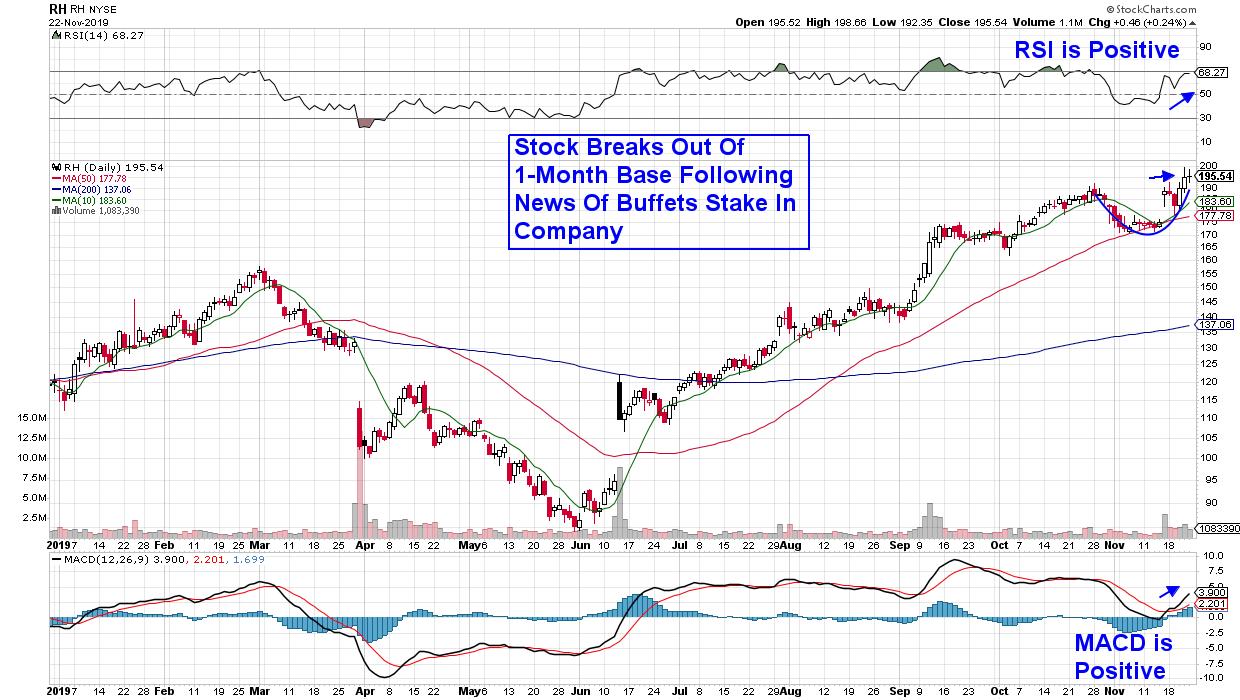 During my many years of working with William O'Neil, I was repeatedly reminded that innovative companies that solved a problem or created a new way of providing an existing service could often move on to become big winners - provided management executed properly. With Target's delivery of designer apparel at a reduced cost, Carvana's effortless auto purchasing process and RH's luxury furniture sales by way of glossy catalogues, each of these well managed companies easily fits the leadership mold with the primary driver being earnings and sales that is the result of their innovative actions.
For those who would like to be alerted to top-performing, leadership names as they're poised to take off, I urge you to take a look at my bi-weekly MEM Edge Report. By accessing this link here, you can trial this insightful report for 4 weeks at a nominal rate of $7.00
Don't forget about the upcoming Vision 20/20 online conference. The event will be headlined by other top Stockcharts.com contributors and this Tuesday a a technical analysis legend will be announced as our Keynote Speaker. I'm really excited to be part of such a special online conference. To receive the latest news and updates (including a Black Friday special coming this week!), join our Market Vision 2020 newsletter for free by CLICKING HERE.