I was looking at the performance of NASDAQ 100 stocks after the close on Friday and realized that Tesla (TSLA) closed above 400 for the first time in its history. Volume was unusually high all week long as TSLA gained 13% to clear resistance in the upper 300s. TSLA had traded above 380 without once clearing 400 during 8 different weeks over the past few years. Now that 400 resistance has ben cleared and is in the books, what's next?
Well, the heat will likely turn much hotter next week for those who are shorting TSLA. Yahoo Finance shows that TSLA had 28.65 million shares short as of November 28, 2019. That represents a lot of guaranteed buyers for a stock that's showing tremendous momentum right now: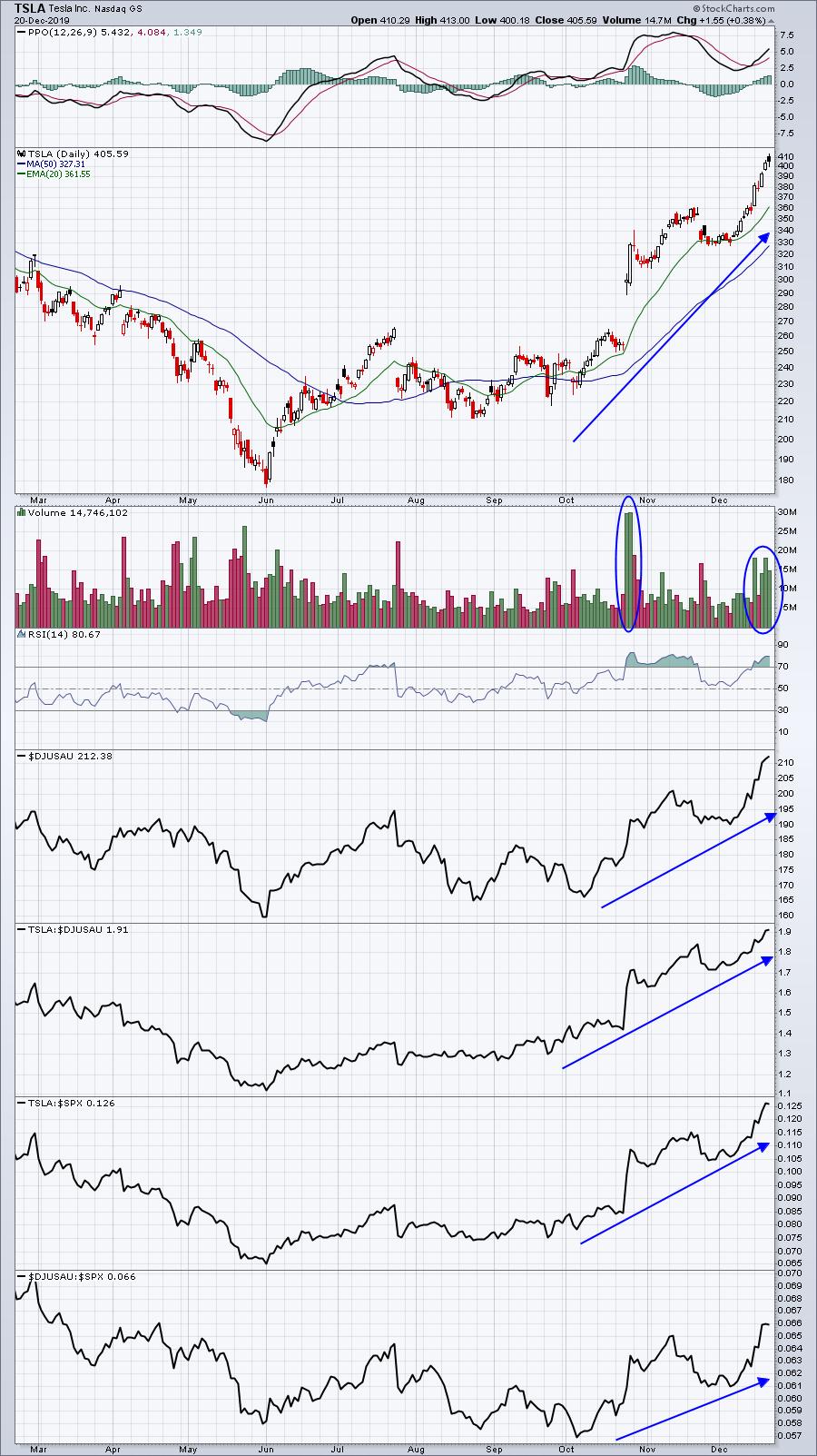 TSLA's breakout is solid evidence of absolute strength, but check out those relative strength lines. It's hard to argue against TSLA being one of the best-looking stocks as we head into 2020. And I certainly wouldn't want to be one of those with a short position right now. I believe we'll see panicked short covering in the very near future to send TSLA spiraling higher.
TSLA is one of many possibilities to line your portfolio with winners in 2020. In just two weeks, EarningsBeats.com will be hosting "Market Vision 2020", the premier online financial event of the new year, and we've assembled a "Who's Who" list of speakers. Our Keynote Speaker will be John Murphy, who's already been hinting recently at major areas of rotation in 2020. To check out John's presentation, along with many other expert technical analysts, you'll need to register very soon! CLICK HERE to see our list of speakers, a brief description of their presentations and a link to register for Market Vision 2020.
Happy trading!
Tom