It's been a tough year for many new IPO's as most of the 170 companies that came public this year are now trading below their initial price offerings. That said, there have been a couple of high-flying new offerings that have spurred moves in their peers.
Take newcomer Beyond Meat (BYND) which spiked 160% on its first day in the markets in early May and went on to even greater heights before peaking in price 3 months later. The rally in BYND sparked advances in other Meat Products companies that announced news of developing their own protein-based foods.
In an entirely different area of the markets, Bill.com Holdings (BILL) came public over a week ago and a 60% pop on their first day of trading caught investor's attention. Bill.com is a Financial Software company that provides bill paying and invoicing services to smaller companies.
While not revolutionary on the surface, the company's AI enabled software digitizes and automates back-office financial operations that can amount to substantial cost savings for their clients. Reduced back office personnel needs and faster bill payments from customers can also bolster cash flow.
WEEKLY CHART OF BOTTOMLINE TECHNOLOGIES (EPAY)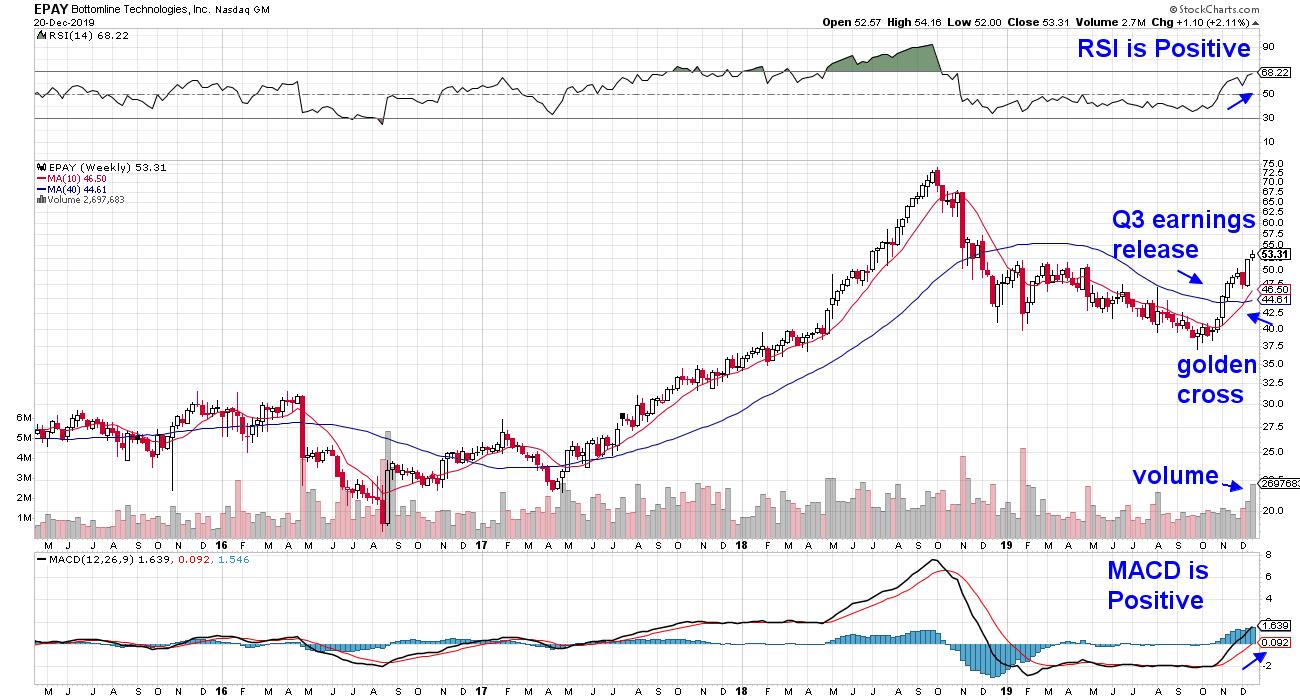 Other Financial Software companies perked up following Bill.com's sharp advance as renewed interest in the market opportunities for these Software stocks took hold. Let's take a look at Bottomline Technologies (EPAY) which had already been in the throes of a downtrend reversal. The company offers Paymode-X which helps businesses transition away from manual accounts payable processes.
The stock peaked in price with many Software stocks back in October 2018 and had been unable to recover due to tough year over year growth metrics. The outlook has shifted for EPAY following their Q3 earnings release in early November. As you can see, the stock broke back above its key 50 day moving average and appears poised for further upside as analysts raise earnings estimates.
WEEKLY CHART OF INTUIT (INTU)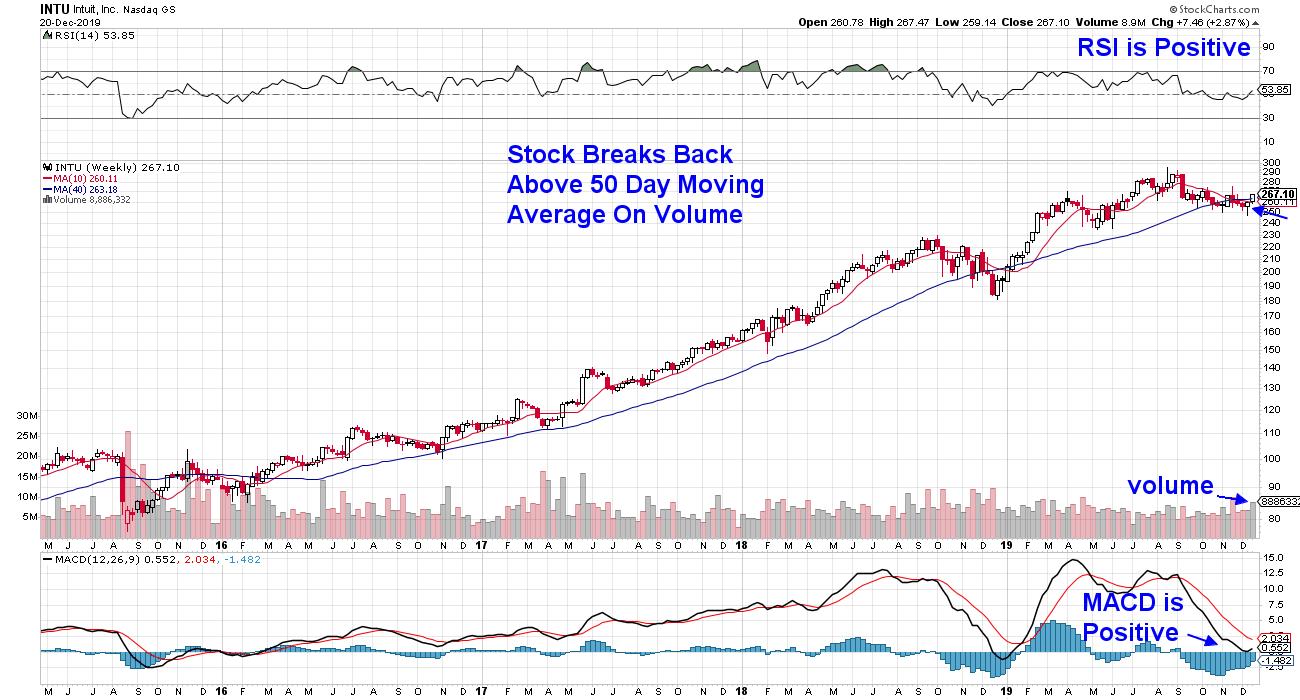 Next up is Intuit (INTU) which offers Quickbooks Online to help businesses automate back-office work. The company announced last month that they're now using AI for certain features and will be rolling out this technology to additional areas over the next year.
This week, INTU bullishly broke back above its 50-day moving average on volume and as you can see, the RSI and MACD are both positive with a signal crossover on the horizon. This recent action is reminiscent of the stock's early January downtrend reversal.
DAILY CHART OF ACI WORLDWIDE (ACIW)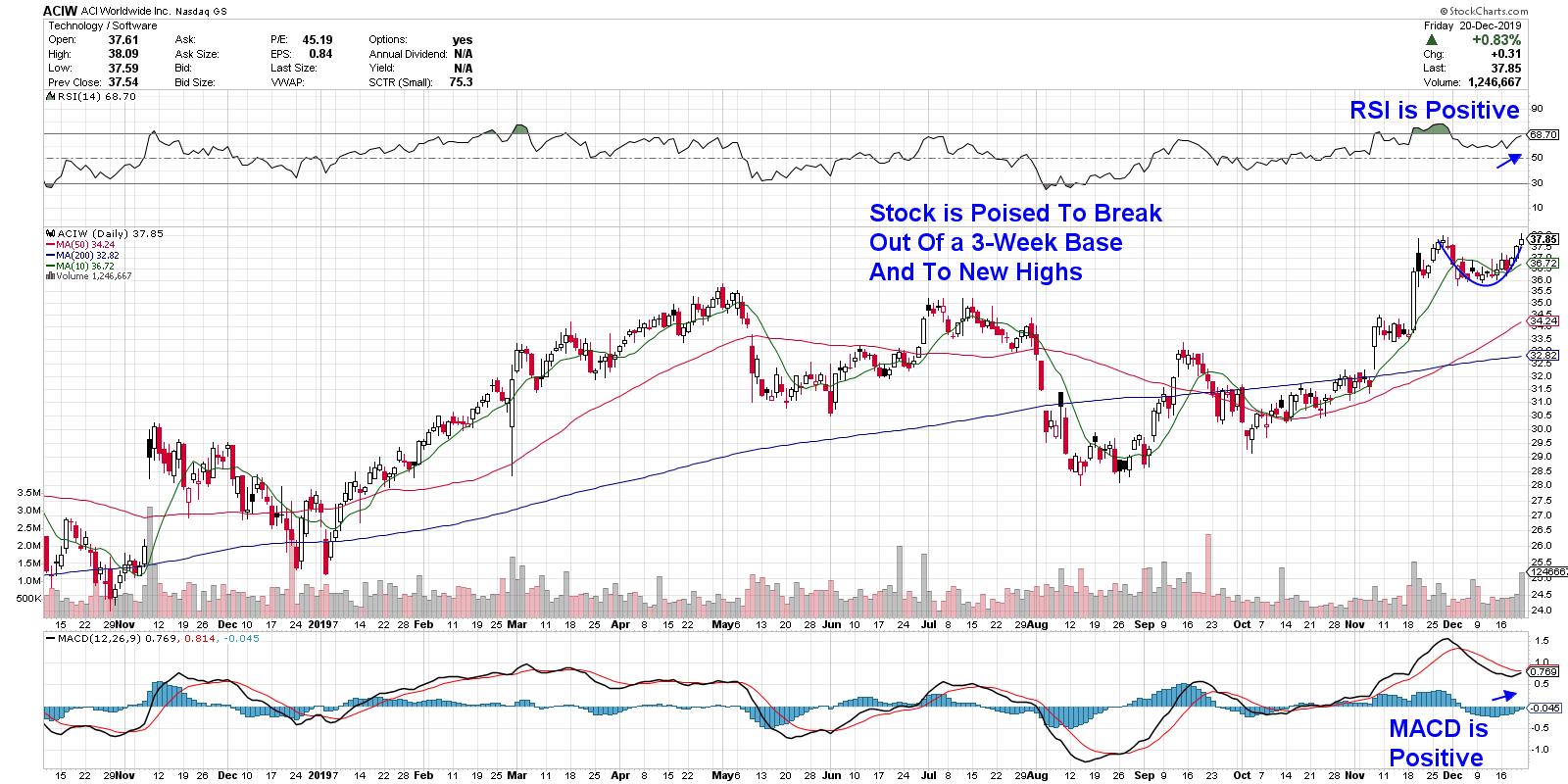 Last up is Small Cap company ACI Worldwide (ACIW) which offers solutions that enable customers to present bills and collect payments electronically through a single platform. This service is not the largest part of ACIW's revenues as they have many other services that are spurring growth.
The stock is very attractive following a 3-week consolidation period after hitting a new high in price on the heels of reporting strong earnings. Analysts are predicting 31% earnings growth next year and while the stock is more volatile than its peers, the positive RSI and MACD point to further upside.
It's been an exciting year for the markets as innovative companies such as the ones highlighted here are driving stocks higher. I expect this uptrend to continue well into next year and for those who'd like to be alerted to high quality stock candidates poised to trade higher, take a trial of my MEM Edge Report for a nominal fee. In addition to providing entry and exit points for top performing stocks, this bi-weekly report also provides insights into the markets as well as various sectors.
For those who'd like to give the gift of learning how to trade stocks during this holiday season, take advantage of my first ever promotional discount. You can check out my courses here and use the promo code holiday for 20% off any purchases.
Happy Holidays!
Warmly,
Mary Ellen McGonagle, MEM Investment Research