During an interview I took part in for a podcast this week, I was asked to define technical analysis. I immediately provided John Murphy's summary that technical analysis is the study of "market action" and is based on a visual analysis of price and sentiment.
After the interview, the idea of sentiment stuck with me. Later, I was a bit surprised to note that one of my favorite measures of investor sentiment was indicating more indecision than ever.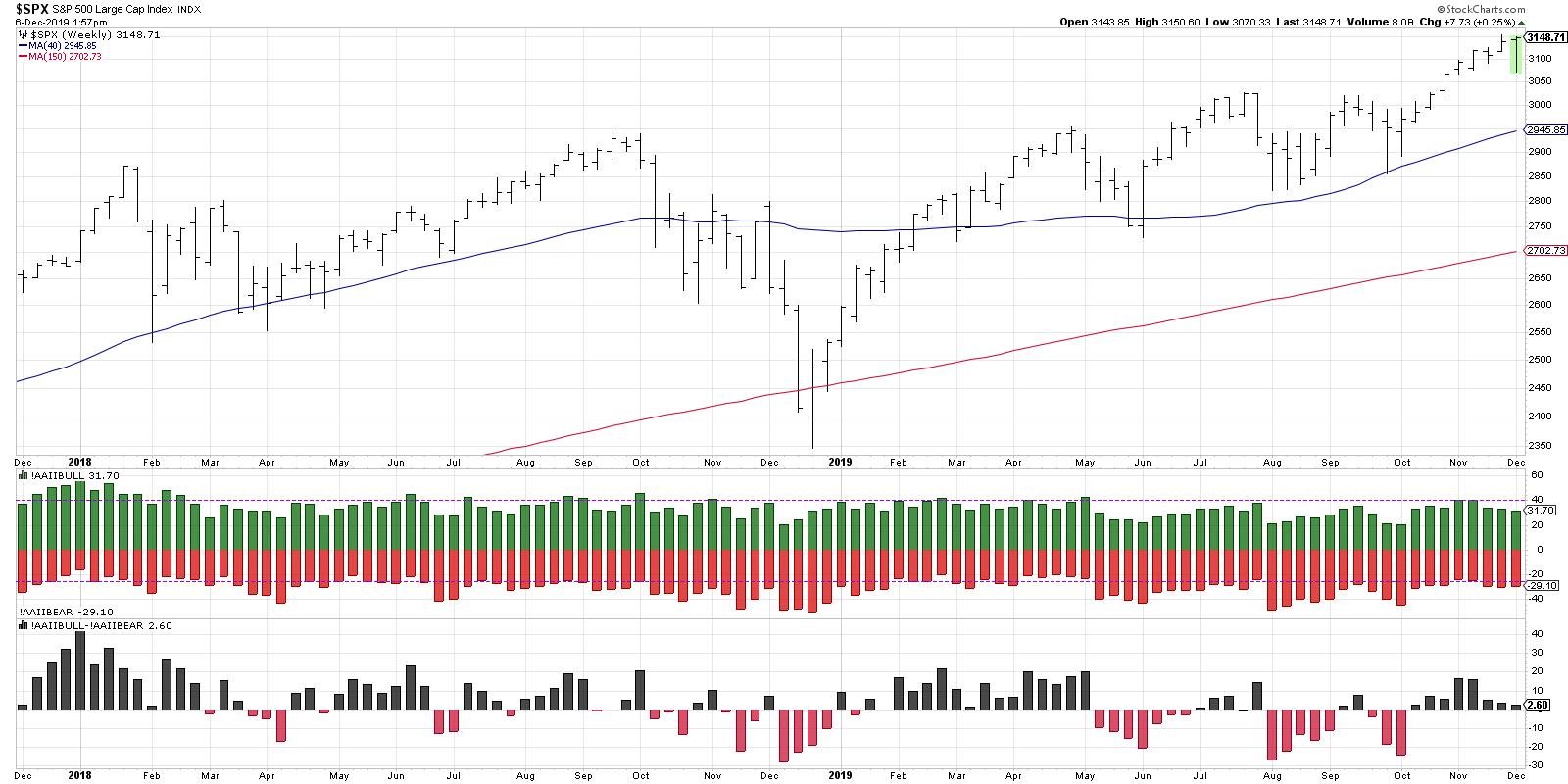 The American Association of Individual Investors (AAII) surveys a subset of its members every week and asks whether respondents are bullish, bearish or neutral on US stocks for the next six months.
Generally speaking, the weekly data supports the concept that individual investors tend to be overly bullish at market tops and overly bearish at market bottoms. In other words, they tend to be following trends and expect the recent market move to continue in the same direction.
This week's data (which is released every Thursday) shows a rare narrowing of sentiment. Usually, if the percent of bullish respondents increases, then the number of bearish responses decreases, and vice versa. That is, most of the time, people tend to rotate from one extreme to the other.
During the past week, however, both the bullish and bearish percentages decreased. The difference between bullish and bearish responses is only 2.6%, which one of the lowest readings ever. This tells you that respondents are evenly split between bullish and bearish.
So what does this mean for the markets? Well, it tells you that there is indecision for market participants and that is certainly how this week has felt. Even though Friday's session appears to be pushing things like Financials to new highs, this week overall has had plenty of up moves and down moves to digest.
If the market does rally from here, thus pushing the S&P 500 and Technology sector to new highs, I would expect the AAII bullish reading to increase as investors buy in to "risk-on" scenario going into year end. If we see a pullback next week, however, I could see the lack of conviction from the AAII survey data as an indication that investors will get very nervous very quickly. To put another way, the market is jittery, and a couple of down days is just enough to get people anxious. And anxious investors tend to be net sellers rather than net buyers.
RR#6,
Dave
---
David Keller, CMT
Chief Market Strategist
StockCharts.com
---
David Keller, CMT is Chief Market Strategist at StockCharts.com, where he helps investors minimize behavioral biases through technical analysis. He is also President and Chief Strategist at Sierra Alpha Research LLC, a boutique investment research firm focused on managing risk through market awareness. He is a Past President of the Chartered Market Technician (CMT) Association and most recently served as a Subject Matter Expert for Behavioral Finance. David was formerly a Managing Director of Research at Fidelity Investments in Boston as well as a technical analysis specialist for Bloomberg in New York. You can follow his thinking at MarketMisbehavior.com, where he explores the relationship between behavioral psychology and the financial markets.
Disclaimer: This blog is for educational purposes only and should not be construed as financial advice. The ideas and strategies should never be used without first assessing your own personal and financial situation, or without consulting a financial professional.
The author does not have a position in mentioned securities at the time of publication. Any opinions expressed herein are solely those of the author, and do not in any way represent the views or opinions of any other person or entity.