Last week, small-cap stocks were the highest performers, with the Russell 2000 gaining 2.5%. While the biggest gainers were upgraded Healthcare stocks following Wall Street's largest Medical conference, there were plenty of other areas that saw money flows signaling continued outperformance among these lower-market-cap companies.
With every other major market Index hitting a new high in price, investors are ready for smaller stocks to join the party. This is particularly true if the economy continues to show solid growth, which will help lift these riskier stocks higher. This week's move put the Russell within 2% of an all-time high.
---
WEEKLY CHART OF RUSSELL 2000 ETF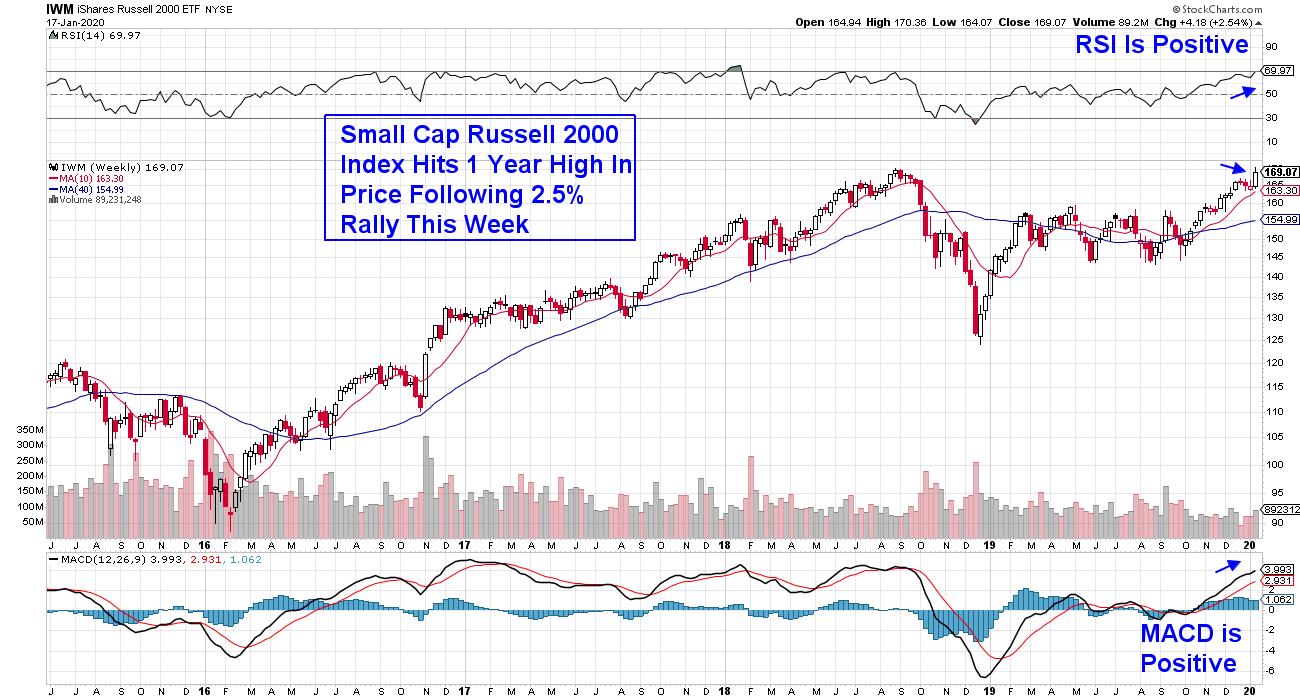 Today, I'll be reviewing three small-cap stocks that are in strong industry groups and have bright growth prospects going forward.
DAILY CHART OF INMODE LTD. (INMD)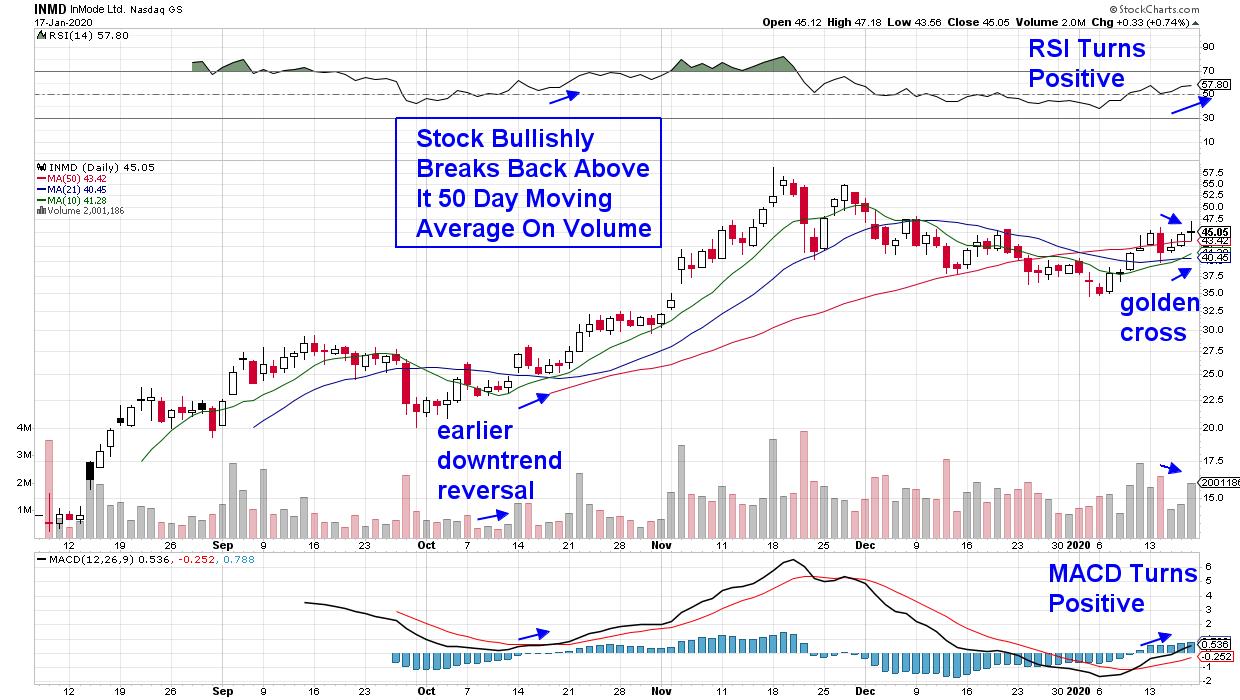 This first stock is a recent IPO that's in the Medical Equipment area. Unlike most IPO's, InMode (INMD) went public last summer with actual earnings on the table and interest in their minimally invasive skin-tightening and fat-cell-destroying products pushed the stock up over 100% within its first week of trading. The stock exploded much higher before peaking in price in late November.
Since then, InMode has pulled back 40% before its recent downtrend reversal, when the stock broke back above its key 50-day moving average on heavy volume.
As you'll see, the RSI is positive and the MACD just turned positive. The bullish signals with these momentum indicators, as well as the golden cross formation with the 10-day simple moving average crossing above the 21-day sma, point to more near-term upside for INMD. And while the stock is clearly volatile, investors, using these same signals in late October, were able to enjoy gains of over 70% before that late November peak in price.
WEEKLY CHART OF CAVCO INDUSTRIES, INC. (CVCO)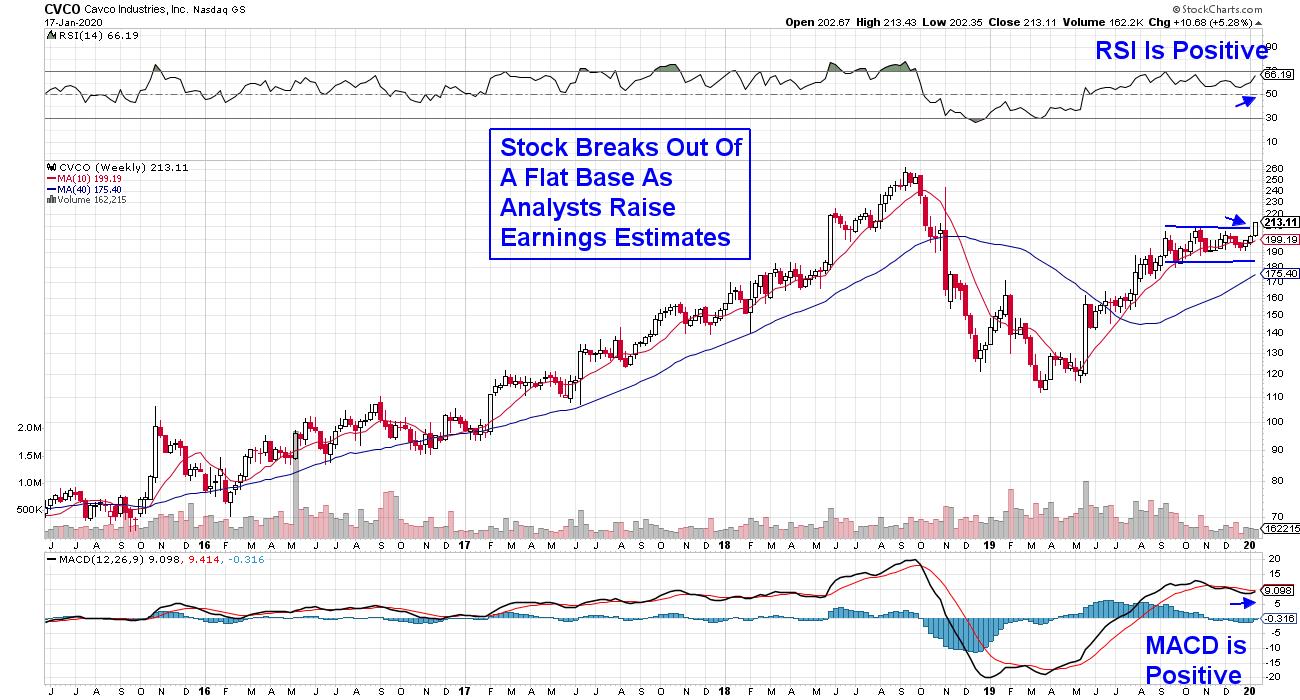 The next company with an improved outlook is Manufactured Homebuilder Cavaco (CVCO), which broke out of a flat 4-month base on volume. The RSI and MACD are also in bullish positions. The company's advance came on the heels of a Wall Street upgrade, as well as news that their CEO is retiring. Today's economic report that showed the largest increase in December housing starts in 13 years is also a boost for this home builder.
CVCO is in the process of potentially reaching its prior high in price, which was achieved over 16 months ago following a particularly robust period of growth. The company's recent acquisitions and reported backlog of orders has put them on track for 18% earnings growth this year - a number that's also being boosted by the company's revenues from mortgage loan originations as well.
WEEKLY CHART OF LATTICED SEMICONDUCTOR CORP. (LSCC)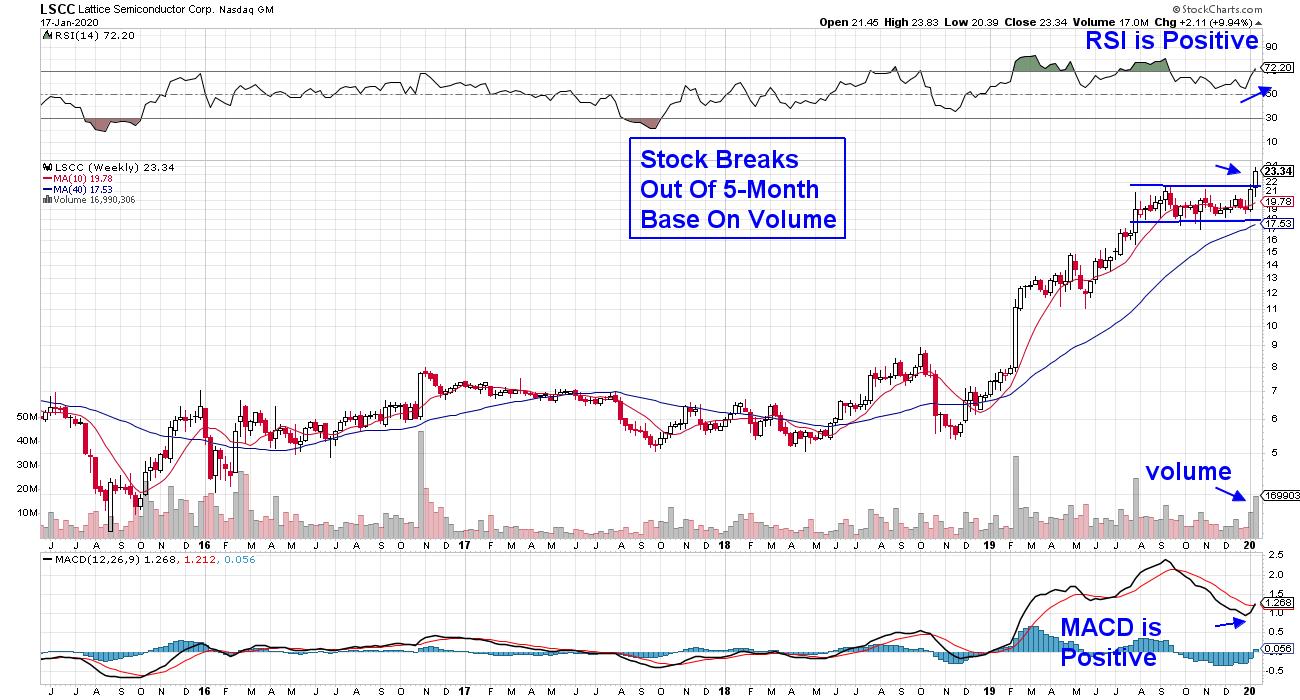 This last stock not only had the largest move for the week, but is also the most attractive. While Lattice Semiconductor (LSCC) rallied 10%, it's 5-month flat base breakout on volume points to further upside. In addition, the stock is in one of the strongest industry groups - Semiconductors - which is a key component to its continued upside advance. The RSI and MACD are also in positive territory, with a bullish signal crossover poised to take place on the MACD should the black line cross above the red signal line.
Lattice Semiconductor provides low-power programmable solutions in many growing fields, such as computing, industrial, automotive and consumer markets, and with the company on track for 76% earnings growth for 2019 and analysts raising estimates for this year, its one of the fastest growers in its group.
With small-cap stocks poised to join the rest of the markets in hitting new all time highs, it's an exciting time to be investing in the markets. For those who'd like to be alerted to when this current uptrend has ended, you'll want to trial my MEM Edge Report for a nominal fee.
Not only do we uncover high quality stocks poised to outperform the markets, we alert you to when it's time to sell. This alert goes for the broader markets as well. Our system has helped many subscribers preserve their gains and limit losses. Click here now for updated outlooks on top stocks, as well as the broader markets.
Warmly,
Mary Ellen McGonagle,