The broader markets are in an upward trending phase with positive news of a COVID vaccine helping investors to look past a steady uptick in virus cases. To be sure, the markets are forward-looking, and the likely prospect of a partisan split Congress, coupled with steady reports that point to an economic recovery into next year and beyond, has also helped push the markets to new highs.
While many stocks will rise along with the markets, my MEM Edge Report is all about uncovering top performers that go on to trade much higher and much faster than the broader Indices. Every week, we have several stocks from our curated Suggested Holdings List that are in the top 10 performers of their given index.
When you're on the hunt for big, winning stocks poised to outperform, there are certain criteria that, when in place, are proven to boost the odds of that stock's swift ascent. Below are several names that are currently exhibiting signs that they're ready to take off.
DAILY CHART OF TOPBUILD CORP. (BLD)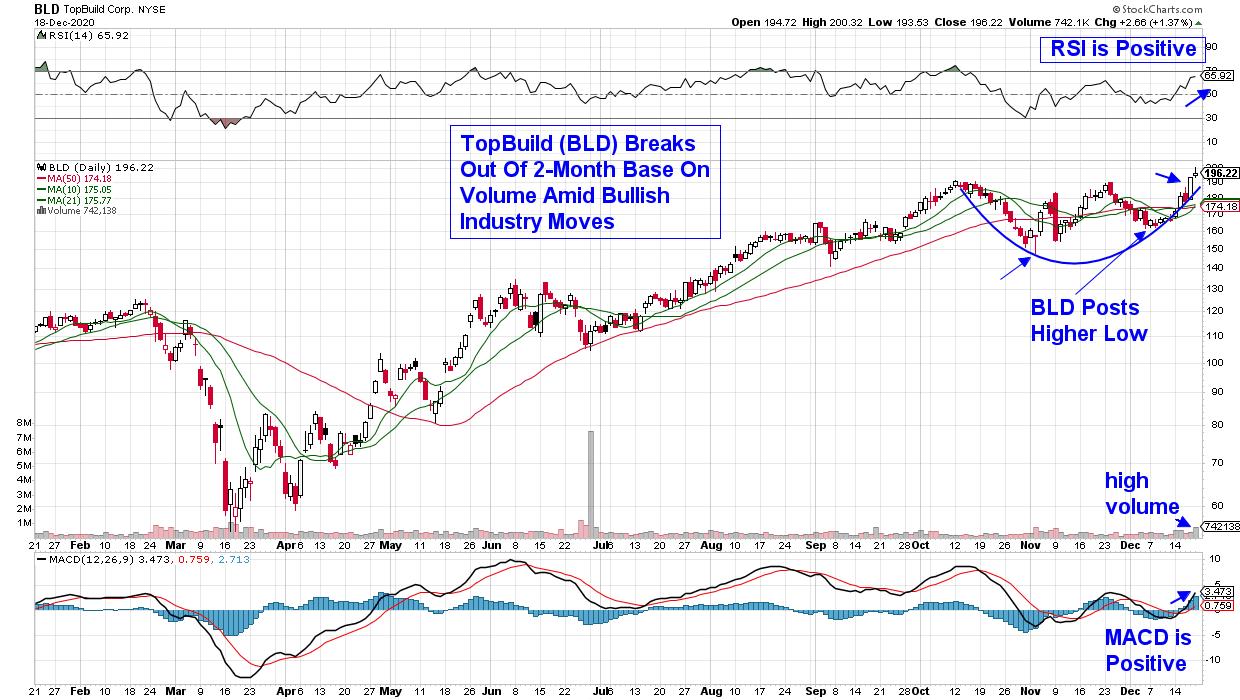 First up is a Smaller Cap name that's in the process of regaining its momentum from earlier in the year, when it posted strong gains. Topbuild Corp. (BLD) just broke out of a base on heavy volume today on the heels of a price target increase from a major Wall Street firm.
This installer of insulation and other building products also received a boost from Thursday's strong Housing Starts numbers for November, as well as a surge in permits for future new homes to be built. While the stock is extended following its strong move this week, with a positive RSI and MACD along with its base breakout, I'd be a buyer on any pullback.
DAILY CHART OF LULULEMON ATHLETICA INC. (LULU)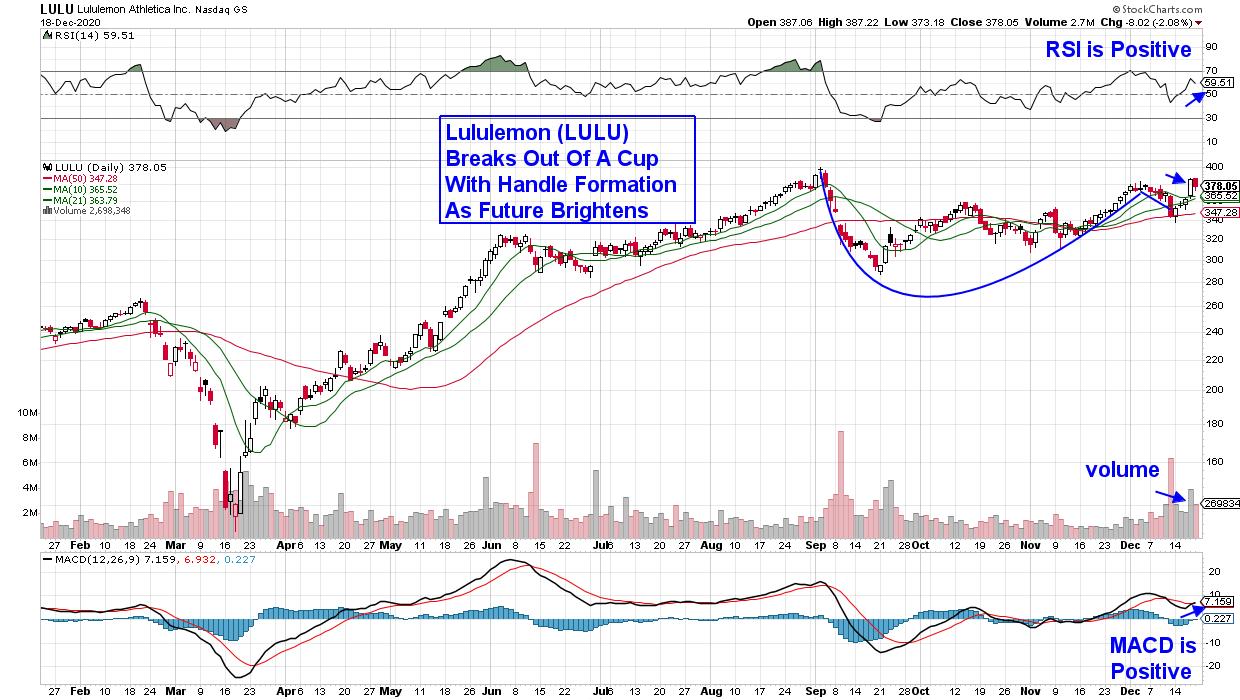 Next up is another winner from the early stages of the pandemic that's on its way to regaining its March-September luster. This producer of athleisure-wear saw sales surge in the face of mandated lockdowns; however, Lululemon (LULU) dropped sharply following 2nd quarter results that were not strong enough to support its lofty valuation.
The company reported strong 3rd quarter results last week, which showed it's executing its e-commerce strategy successfully as direct to consumer sales soared 94%. Bullish comments from CEO Calvin McDonald this week boosted shares out of a cup-with-handle formation as analysts raise their estimates for this year and next.
DAILY CHART OF VEEVA SYSTEMS (VEEV)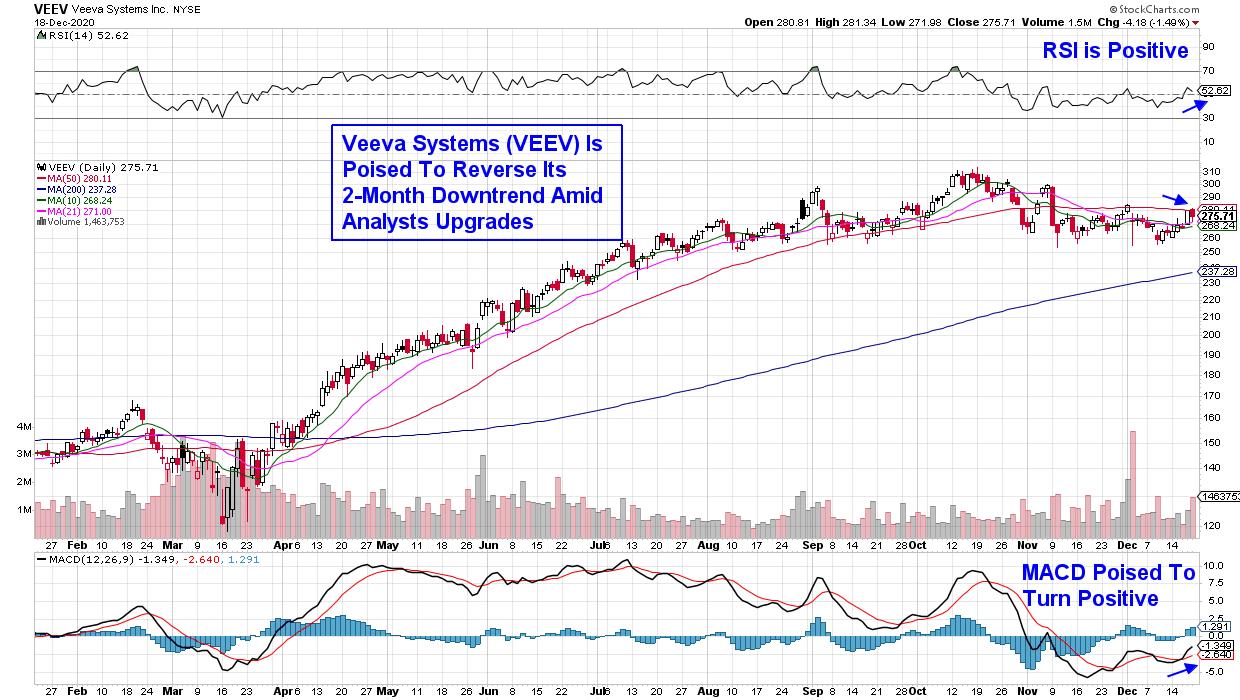 This last stock above is not quite ready for lift-off, but keep it on your watch list as estimates are continuing to be revised higher for both 2021 and 2022. As you may know, strong earnings is the primary driver of a stock's accelerated move higher and, Veeva Systems (VEEV) is marked for record earnings growth going forward.
In early December, Veeva Systems (VEEV) reported 3rd quarter results that beat expectations while guiding higher into next year, as the software provider to the Life Sciences industry is seeing strong demand. The stock is poised to reverse its 2-month downtrend as it recovers from the selloff in Software stocks that began in mid-October. A break back above its 50-day moving average on volume would be very bullish.
As noted above, stocks poised to outperform the markets need to have bullish chart patterns in addition to strong growth prospects. An additional aspect is that the stock is in a strong industry group that's outperforming the markets, such as VEEV, which is in the Software group that has many leading stocks that are currently on our Suggested Holdings List.
In addition, positive news regarding the company's industry also boosts its prospects, such as BLD, which supplies to a strong housing market that's continuing to see demand outstrip supply.
There are other criteria for leading stocks as well, and if you'd like to be educated on them while also being alerted to outstanding stocks that are on their way to outperform the markets, take a trial of my top-performing newsletter that's delivered bi-weekly. We have a special 4-week rate for just $7.00!
In addition to entry and exit points for selected stocks, you'll receive market and sector insights not seen elsewhere. We had VEEV and LULU on our list earlier in the year and they were big winners before we removed them upon their breaks below key support. You can check out some of our recent picks here.
Happy Holidays Everyone!
Mary Ellen McGonagle, MEM Investment Research