For many investors, uncovering that best-of-breed stock that goes on to far outpace its peers can be elusive. With the tools I'm going to share with you today, you can get started setting up a system that's designed to locate and help you trade that next big winner.
Based on a proven system developed by William O'Neil, let's begin with one of the first important ingredients: Making sure your stock is in a strong area of the markets. This means it's in an industry group that's outpacing the markets – ideally due to high earnings and sales within its industry, as well as strong growth prospects going forward. Below is the chart of Semiconductor stocks (using ETF SOXX) that are in a clear uptrend, as cutting-edge Semi chips have been in high demand.
DAILY CHART OF PHLX SEMICONDUCTOR ETF (SOXX)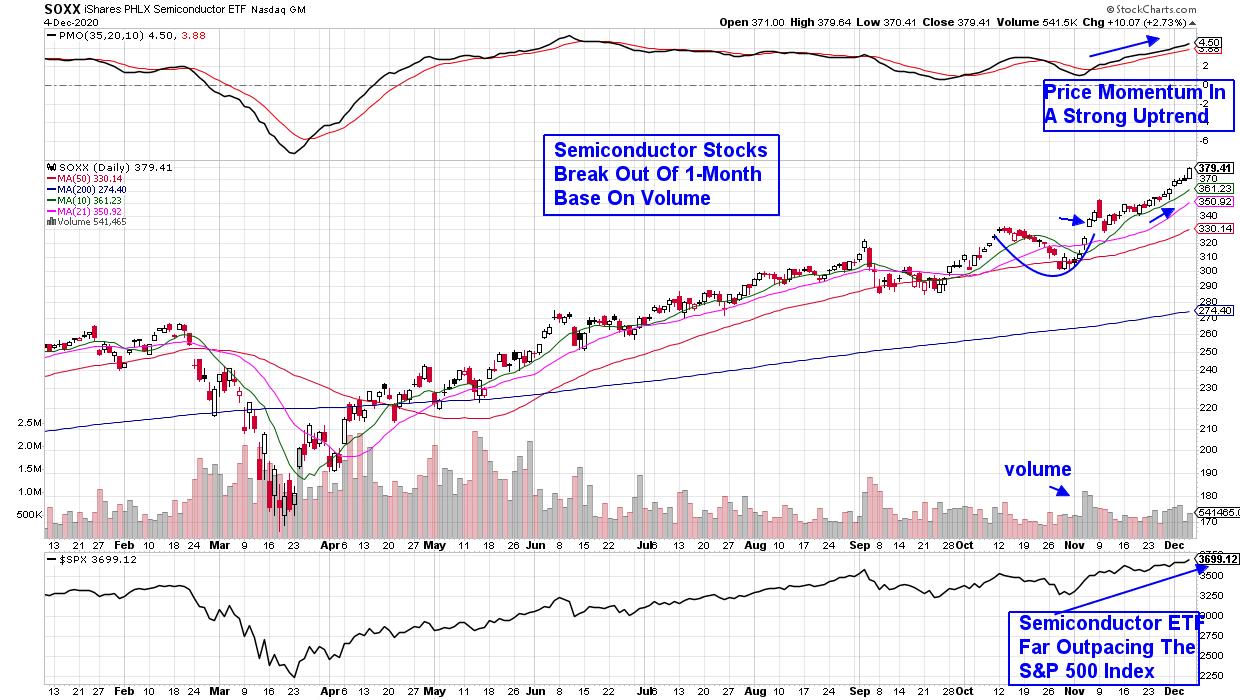 As you can see, these chip stocks pulled back in late October as uncertainties hit the markets. However, they quickly reversed, with a gap-up on volume following election results that centered on having a split Washington for the next 4 years. This bullish action revealed the Semiconductor group's strength relative to other areas of the market.
From here, you'll want to look for a stock in the Semiconductor group that's exhibiting leadership characteristics. These would include the stock advancing higher than its peers, with an even higher probability of being a leader if the company had recently reported strong quarterly earnings or sales.
Lam Research (LRCX) below exhibited just these characteristics, with a 5% gap up the day after the U.S. elections after having recently reported 3rd quarter earnings that were 78% better than last year.
DAILY CHART OF LAM RESEARCH CORP. (LRCX)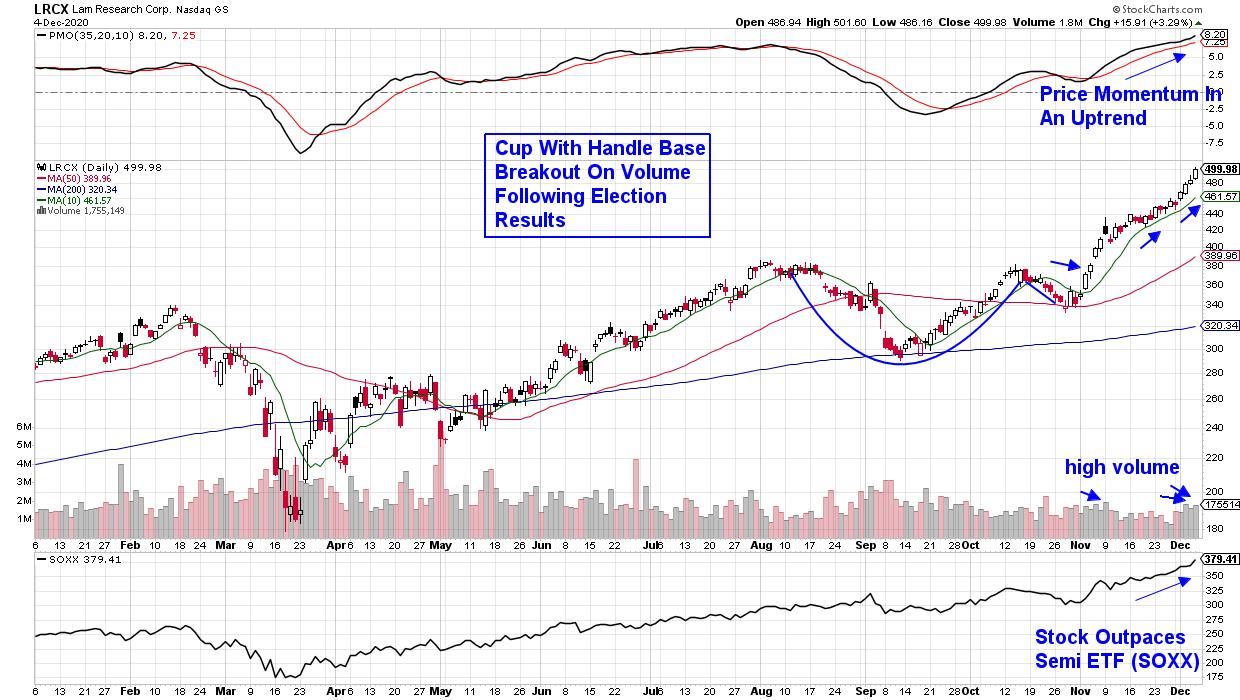 Once a leading stock exhibits bullish action such as a breakout on volume, you'll need a trading plan to time your entry. Oftentimes, that will be a pullback of the stock to its 10-day simple moving average. However, in bullish periods of faster momentum, such as now, you'll want to convert the 10-day to a shorter term, 5-day MAV (red line below).
As you can see, a pullback to this shorter-term simple moving average has been an ideal entry point for LRCX. This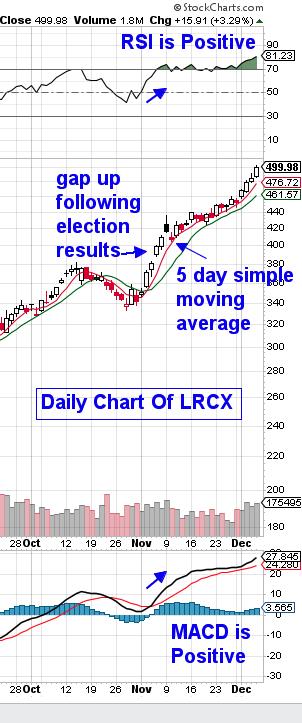 use of a shorter-term MAV has been ideal for fast-moving stocks in non-growth areas of the markets as well, where momentum has been strong - such as leading Oil stocks.
Screening the markets instead of relying on charts alone will help you get in front of these stocks earlier. For more insights, you can view my The MEM Edge video titled "How To Uncover And Successfully Trade Winning Stocks" from StockCharts TV. If you haven't seen this 30-minute show, take a look, as the information shared will truly enhance what I've reviewed today.
Lam Research Corp (LRCX) is one of many winning stocks from my MEM Edge Report. Subscribers were alerted to LRCX in late October following their release of earnings, and we've been providing ongoing entry points ever since. The stock is currently extended by the looks of its RSI, and we're keeping an eye out for secondary buy points should LRCX pull back.
Use this link here to take advantage of a 4-week trial of my top performing MEM Edge Report. Each week, many of the suggested stocks from our list post performances that put them in the top quartile of the markets. In addition, our market and sector analysis will provide you the confidence to take action during this current bull market.
Warm Regards,
Mary Ellen McGonagle, MEM Investment Research