Have you ever noticed that top-performing stocks travel in groups? Just look at last year's biggest winners out of the bear market, where Technology stocks far outpaced the markets.
Within Technology, many out-performers were Cloud Computing related stocks. Software companies that helped corporations store large amounts of accessible data saw high demand, as did high-tech Semiconductor chips which analyze this data.
S&P 500 vs Software and Semiconductor Stocks March - December 2020

My MEM Edge Report alerted subscribers to select Software and Semiconductor stocks that went on to gain up to 212% from March into November of last year. A major part of our selection was due to keying in on these strong groups.
Simply put, uncovering which Industry groups are outperforming is critical to getting in front of winning stocks. This is because the majority of leading stocks are in leading industries.
According to William O'Neil – whose company I worked with for many years – 37% of a stock's price movement is directly tied to the performance of the industry group they're a part of, with another 12% due to the strength of the overall sector they're in. That means that roughly half of a stocks move is attributable to what area of the market they're in.
With that in mind, I'd like to share a simple strategy that can help to uncover which industry groups are exhibiting strength. That is, pay attention to the price performance among a basket of ETFs. It could be the 11 underlying sectors within the S&P 500, coupled with more refined, themed ETFs. (You can create a list in StockCharts.com and be sent this list on a daily and/or weekly basis, ranked by the performance numbers for each ETF.)
Below is a chart of the U.S. Infrastructure Development ETF (PAVE) which has been consistently hitting my screens since the beginning of the year while really coming into focus due to its outperformance as Technology peaked in February.
DAILY CHART OF US INFRASTRUCTURE DEVELOPMENT ETF (PAVE)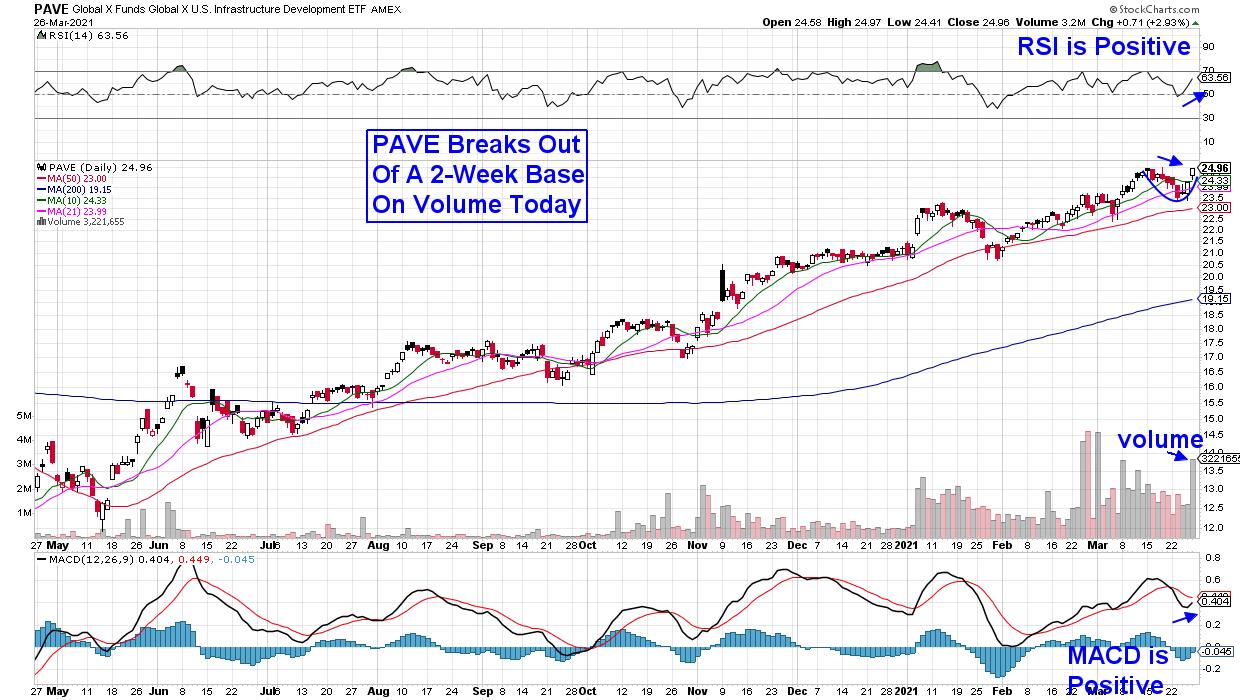 PAVE is a market cap-weighted index of US-listed companies that derive the majority of their revenue from (or have a stated business purpose related to) infrastructure development. Not only are these stocks in strong recovery or cyclical areas of the market, but many stand to benefit from Biden's proposed $3 trillion new spending plan that was announced last week, as a good portion will go to infrastructure projects.
A review of the top ten holdings in this ETF reveals a candy store of possible candidates. Today, we'll review a stock from those top ten that was added to the MEM Edge Suggested Holdings List in late February following its base breakout on volume.
DAILY CHART OF EATON CORP Plc (ETN)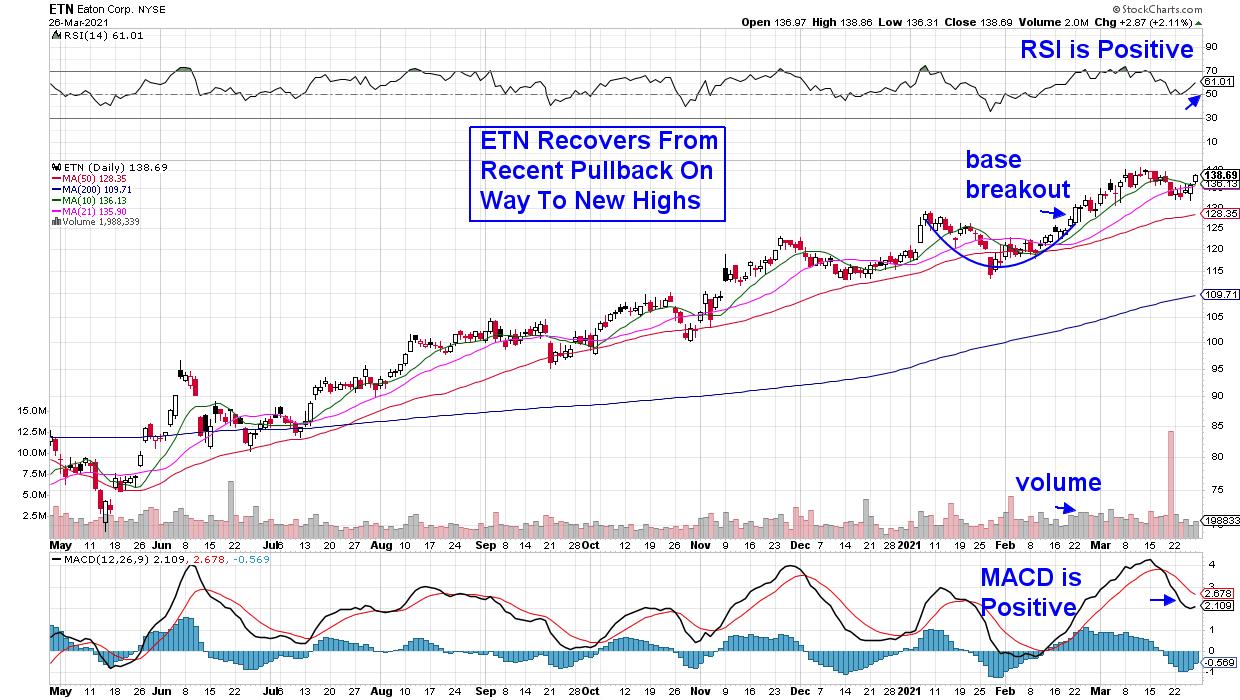 Eaton (ETN) provides electrical power and control equipment and is considered to be at the center of a paradigm shift in the U.S. electric grid. The stock pulled back from an overbought position earlier this month and its break back above its shorter term moving averages puts it in a position to trade higher.
I'd love to share my other top picks in Cyclical areas of the market such as Financials, Energy and Industrials. Just use this link here for a 4-week trial of my bi-weekly report for $7. In addition to precise entry and exit points for selected stocks, you'll receive market and sector insights not found elsewhere.
You can also watch the latest episode of my weekly StockCharts TV series The MEM Edge at this link.
Warm Regards,
Mary Ellen McGonagle, MEM Investment Research