The market heavyweights announced earnings this week. Quite frankly, the numbers were stunning. Apple (AAPL)'s beat of $12 billion in revenue was larger than the annual revenue for 2/3 of the S&P 500 companies. The buyback was a remarkable $90 billion. Imagine how much money is going into the Apple Car development!!!
These stocks are really hitting it out of the park. It would seem, between Apple iOS and Google Android phone operating system manufacturers (and their few competitors), the software allowing apps has almost become a government organization. The company's app is only on the phone if they agree to pay the phone software companies a significant percentage of your revenue. This is not how a pickup truck works in the real world, where once the company buys the truck, it does not continue to pay Ford for any revenue generation because of the truck. It sounds like a mobile platform government tax on citizens.
While the development in the beginning was modest, what has played out now is a situation similar to Standard Oil, where they controlled so much of the revenue stream that they were untouchable. Another example is when Bell owned so much of the telco network.
In the meantime, allowing two companies to stream pizzo revenues on every cellular app that generates payments makes the income stream remarkable. And so the charts are remarkable of the two titans. The law of large numbers doesn't seem to apply when the income stream is generated worldwide. While the AAPL stock has a weak SCTR ranking, it's only a matter of time to get on the next plane out of town.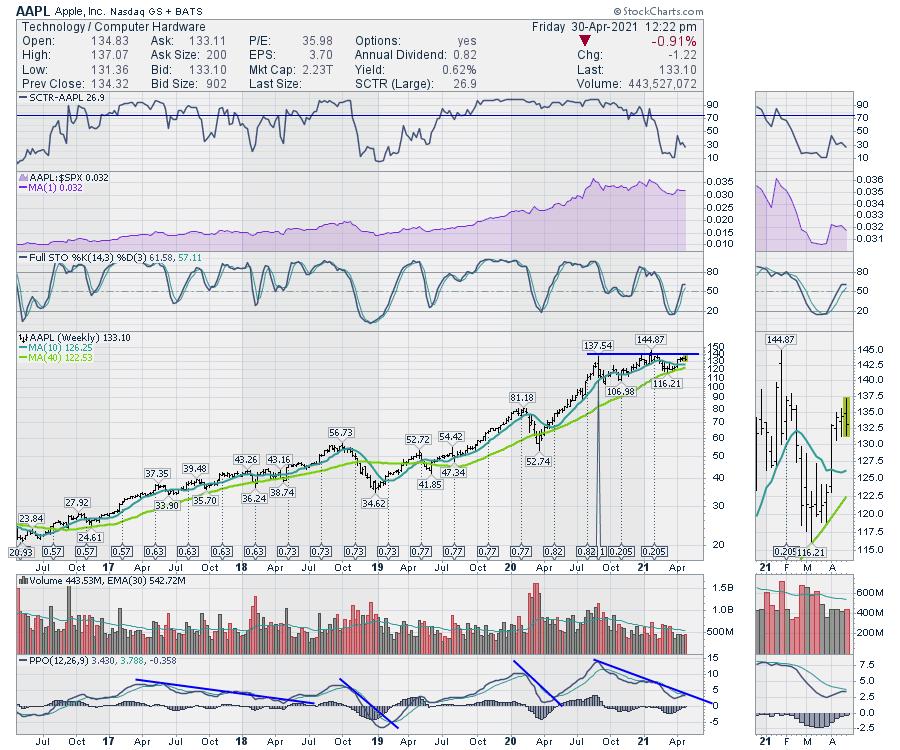 The chart of Alphabet (GOOGL) has been soaring for a while already, but I'd put Apple on that same plane ticket. With Waymo potentially going public in a spinout, the lack of options for customers of online ad spending, the street map data and all of the other business units, these giants are dwarfing governments in their control of entire ecosystems.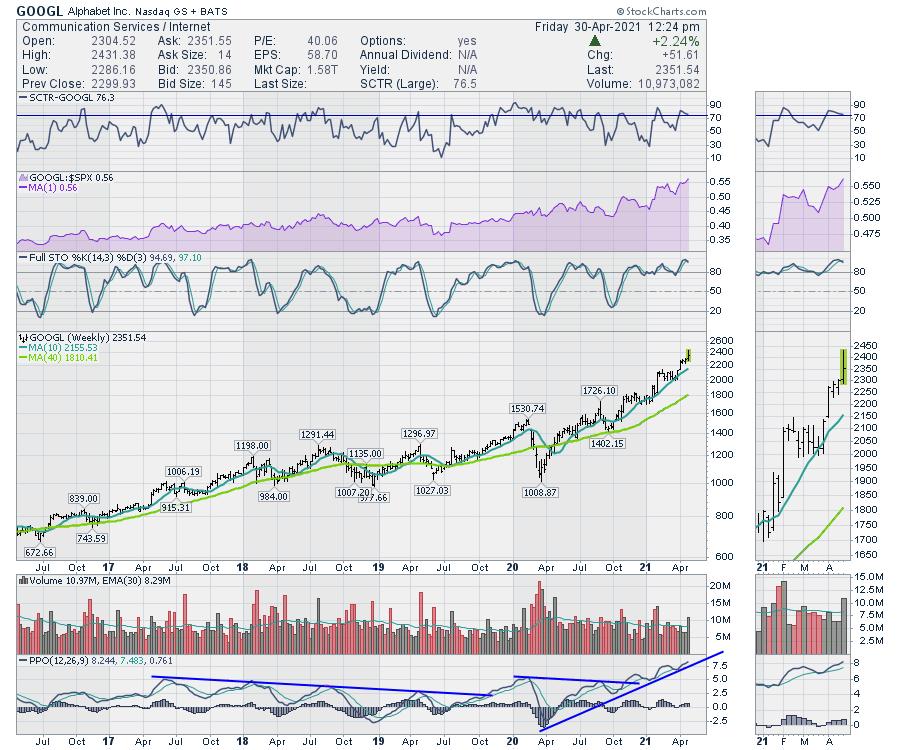 The bottom line for me is these names are going higher. The business moats were unaffected by a global pandemic. When the world regains its footing, it is hard to imagine these companies become less relevant.
A change in momentum on Apple, where the PPO starts to break above the down trend line, is probably the takeoff point for Apple. If we don't like it after a beat of $12 billion, I'm not sure how much more they can do.
I'll be on Erin Swenlin's DecisionPoint Trading Room Monday at Noon ET / 9 AM PT. Follow this link on Monday to join us! (Password = invest.)