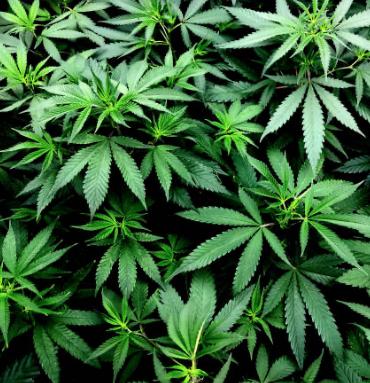 On Tuesday, I let DecisionPoint Diamonds subscribers know that weed stocks were the place to be. While this area can be speculative in nature, there are some strong winds at the back of these stocks. Technically, these charts look fantastic, but there is also news on the marijuana front.
A bill that would decriminalize marijuana is being reintroduced in Congress. You can read more about it in this article from the Newsweek website. This is a sweeping bill that has been introduced by two Republican congressmen. This tells me that, with the makeup of the House and Senate and the support of some Republican politicians, there is a very good chance that this will pass. It would open up financial institutions to bank with dispensaries, allow the VA to prescribe medical marijuana to their patients and take cannabis off the Schedule One controlled substances list, among other aggressive reforms. Currently, it sits alongside drugs like heroin and cocaine, which makes no sense.
I offered up two stocks on The Pitch yesterday, hosted by David Keller, CMT. Mary Ellen McGonagle and Danielle Shay also offered up their picks. Highly recommend you watch the show, here's a link.
I'm going to start off by looking at the Alternative Harvest ETF (MJ). For those unfamiliar or uncomfortable investing in one stock in this area, the ETF is an excellent choice. It also reveals the strength in this area of the market. Three of these charts and the commentary are pulled from the Tuesday subscriber-only DP Diamonds Report, with MJ being picked yesterday. I have updated the charts and the commentary to reflect today's action.
ETFMG Alternative Harvest ETF (MJ)
EARNINGS: N/A
MJ tracks a market-cap-weighted index of global firms engaged in the legal cultivation, production, marketing or distribution of cannabis, cannabinoids or tobacco products.
MJ is currently down -1.30% in after-hours trading. If you're a little uncomfortable investing in individual cannabis stocks, then here a vehicle you can consider. There is a bullish falling wedge and price has executed it by resolving upward as expected. The RSI is in positive territory as price followed through on the recent close above the 50-EMA. The PMO is on a crossover BUY signal in oversold territory. It is in the top 5% of all ETFs tracked by StockCharts based on the SCTR of 96.1. The OBV is confirming the rally and this fund is beginning to outperform the SPX. The stop is aligned with the March low, but it can now be raised based on today's +1.60% rally.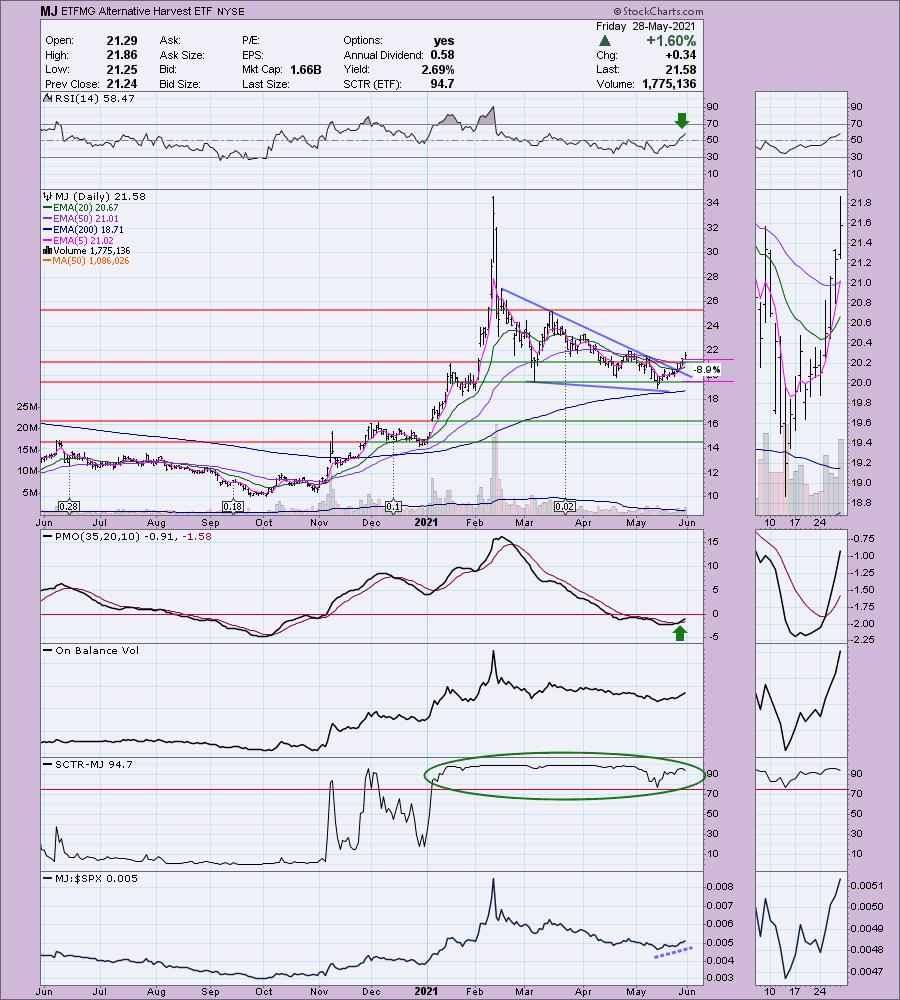 ---

Take advantage of our Spring special!
Get 50% off your first month of DecisionPoint:
Use coupon code: SAVE50 at checkout!
---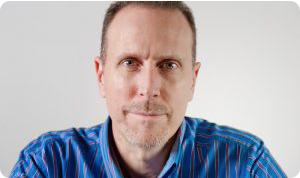 Arthur Hill, CMT in the free DecisionPoint Trading Room on June 7th!
Arthur Hill, CMT, is the Chief Technical Strategist and main author at TrendInvestorPro.com. Schooled in classical technical analysis, Arthur crossed over to the dark side, quantitative analysis, in 2012. Classical technical analysis provides a solid foundation for learning, but is largely subjective and discretionary in nature. Quantitative analysis puts classical technical indicators to the test with clear rules, signals and results. Taken together, classical chart analysis and quantitative analysis provide the basis for Arthur's systematic approach to analysis, trading and investing. Next level technical analysis.
Click here to register in advance for the recurring free DecisionPoint Trading Room! Recordings are available!
---
Here are three more stocks in this space. These are pulled from Tuesday's subscriber-only DecisionPoint Diamonds Report.
Aurora Cannabis Inc. (ACB)
EARNINGS: 9/21/2021 (AMC)
Aurora Cannabis, Inc. engages in the production, distribution and sale of cannabis products. It also produces and sells indoor cultivation systems and hemp-related food products. The company was founded by Terry Booth and Steve Dobler on December 21, 2006 and is headquartered in Calgary, Canada.
ACB is unchanged in after-hours trading. It is low-priced, so be sure to position size appropriately to manage risk. The RSI just entered positive territory and the PMO is on a BUY signal. There is a bullish falling wedge. When I presented this last Tuesday, it hadn't broken from the wedge pattern. I had liked the strong rally above the 20-EMA. Pharma is beginning to wane against the SPX near-term, but relative performance is still trending upward. ACB is outperforming both its group and the SPX. You can see where I picked this stock, near $8. I would move the stop up and make $8 your stop level. This was huge winner after I picked it. It is up +19.7% since Tuesday.
(Full disclosure: I own ACB)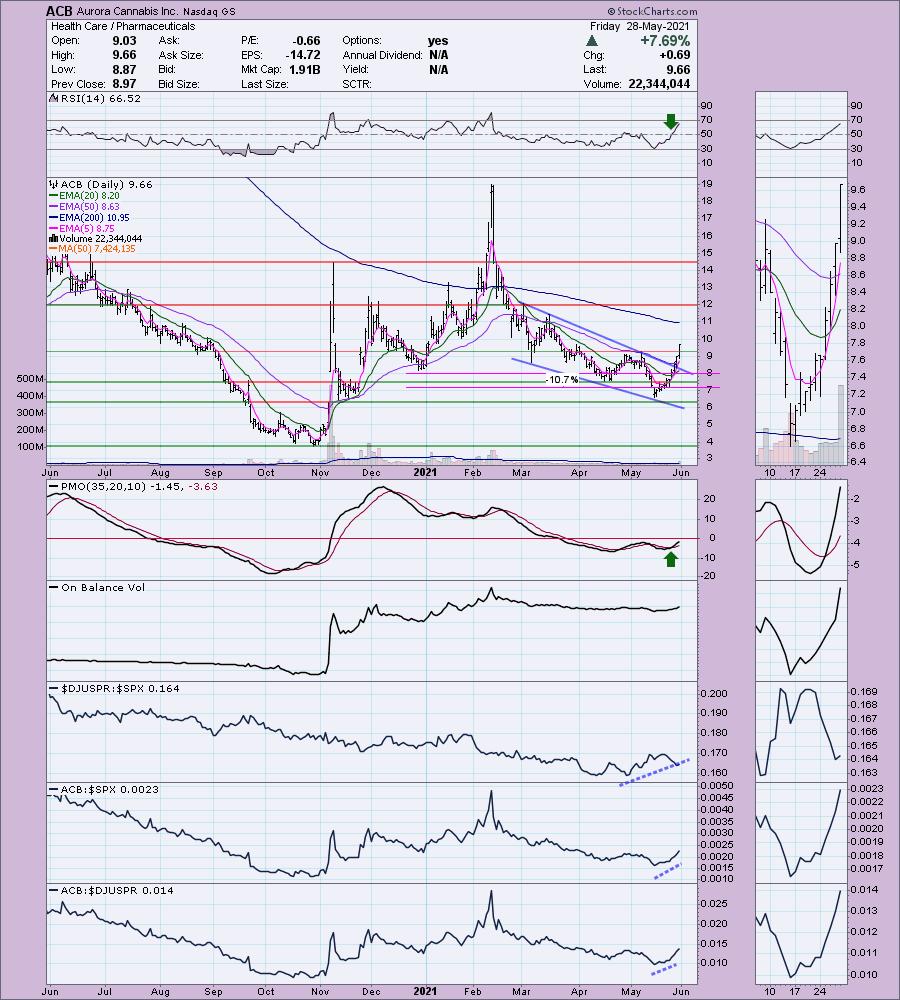 Canopy Growth Corp. (CGC)
EARNINGS: 6/1/2021 (BMO) ** REPORTED TUESDAY **
Canopy Growth Corp. engages in the production and sale of medical cannabis. The company offers products including oils and concentrates, soft gel capsules and hemp. It focuses on the treatment of chronic pain, seizures, muscle spasms, nausea and loss of appetite. The company was founded by Bruce Linton on August 5, 2009 and is headquartered in Smith Falls, Canada.
CGC is up +0.40% in after hours trading. Normally, I wouldn't present a chart like this one given the brand-new "death cross" of the 50-/200-EMAs, but I believe it is at a clear reversal point with upside potential that is staggering. The OBV is rising strongly, which is positive, and we do have a brand-new PMO crossover BUY signal. The RSI is beginning to rise again and is starting to outperform the group and the SPX. In the thumbnail, you can see a small bullish double-bottom. This week's rally pushed price above the confirmation line. Again, you can raise your stop level; this was the one I set on Tuesday. Since picking this one on Tuesday, it is up +8.03%.
Clever Leaves International Inc. (CLVR)
EARNINGS: 8/12/2021 (AMC)
Clever Leaves Holdings, Inc. operates as a holding company. It produces pharmaceutical-grade cannabinoids. The company was founded on July 23, 2020 and is headquartered in New York, NY.
CLVR is down -1.88% in after hours trading. However, even with that drop, it easily remains above the 200-EMA.
There are plenty of positives on the chart. The RSI is in positive territory, although getting overbought. There is a large bullish falling wedge that resolved upward as expected. The PMO just triggered a crossover BUY signal. We did see very strong volume coming in on this recent rally out of the May low and today's volume was astounding. It is performing better than the SPX right now. I set the stop originally at 10.6%; currently, I would move it up to $11. Upside potential is huge. Since picking CLVR on Tuesday, it is up an unbelievable 27.4%!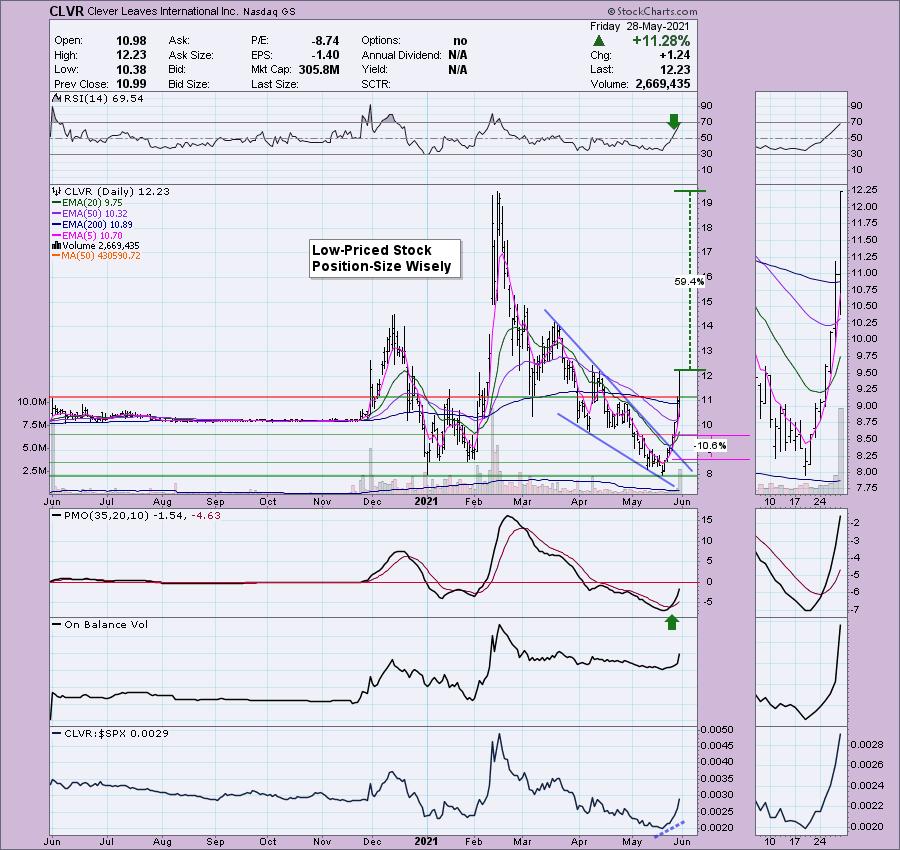 My state, California, legalized marijuana for medical use years ago and just recently approved it for recreational use. It's a big business and, if dispensaries and growers are able to tap into the banks, this is an incredible area for growth.
I will be holding the free DP Trading Room on Monday's holiday, so if you're free at Noon ET, come check it out live! The registration link is HERE.
Arthur Hill, CMT will be joining me in the June 7th Trading Room! Once you register you don't have to again since this is a recurring webinar.
Happy Charting! - Erin
---
Technical Analysis is a windsock, not a crystal ball.
---
Helpful DecisionPoint Links:
DecisionPoint Alert Chart List
DecisionPoint Golden Cross/Silver Cross Index Chart List
DecisionPoint Sector Chart List
Price Momentum Oscillator (PMO)
Swenlin Trading Oscillators (STO-B and STO-V)
---
DecisionPoint is not a registered investment advisor. Investment and trading decisions are solely your responsibility. DecisionPoint newsletters, blogs or website materials should NOT be interpreted as a recommendation or solicitation to buy or sell any security or to take any specific action.