The U.S. markets ended the week in the red, with the S&P 500 breaking below its key area of support today on heavy volume. Already under pressure following Wednesday's hawkish comments from the Federal Reserve, the markets took a tumble today after Fed official James Bullard remarked that rate increases may come sooner than anticipated. The result was a sharp rotation away from the reflation trade as value stocks and commodities took a hit amid a rising dollar.
DAILY CHART OF S&P 500 INDEX
With last week's action pointing to further volatility over the near-term, investors may want to take profits to reduce exposure among more vulnerable areas that have broken down, such as Financials, Industrials and Materials.
Not all areas of the market took a hit last week, as select areas of Technology and Healthcare were on the rise. Both areas are in a highly transformative period, as developments that took place due to the pandemic are paving the way for long-lasting shifts in many areas of our lives.
Within Technology, many analysts have been citing a digital transformation that is only in its beginning innings. Digital transformation reached healthcare through telehealth and in retail through e-commerce, while banking has morphed due to fintech.
Whether you put the stocks I'm about to discuss on your Watch List or your Buy List, you'll definitely want them on your radar.
DAILY CHART OF DOCUSIGN, INC. (DOCU)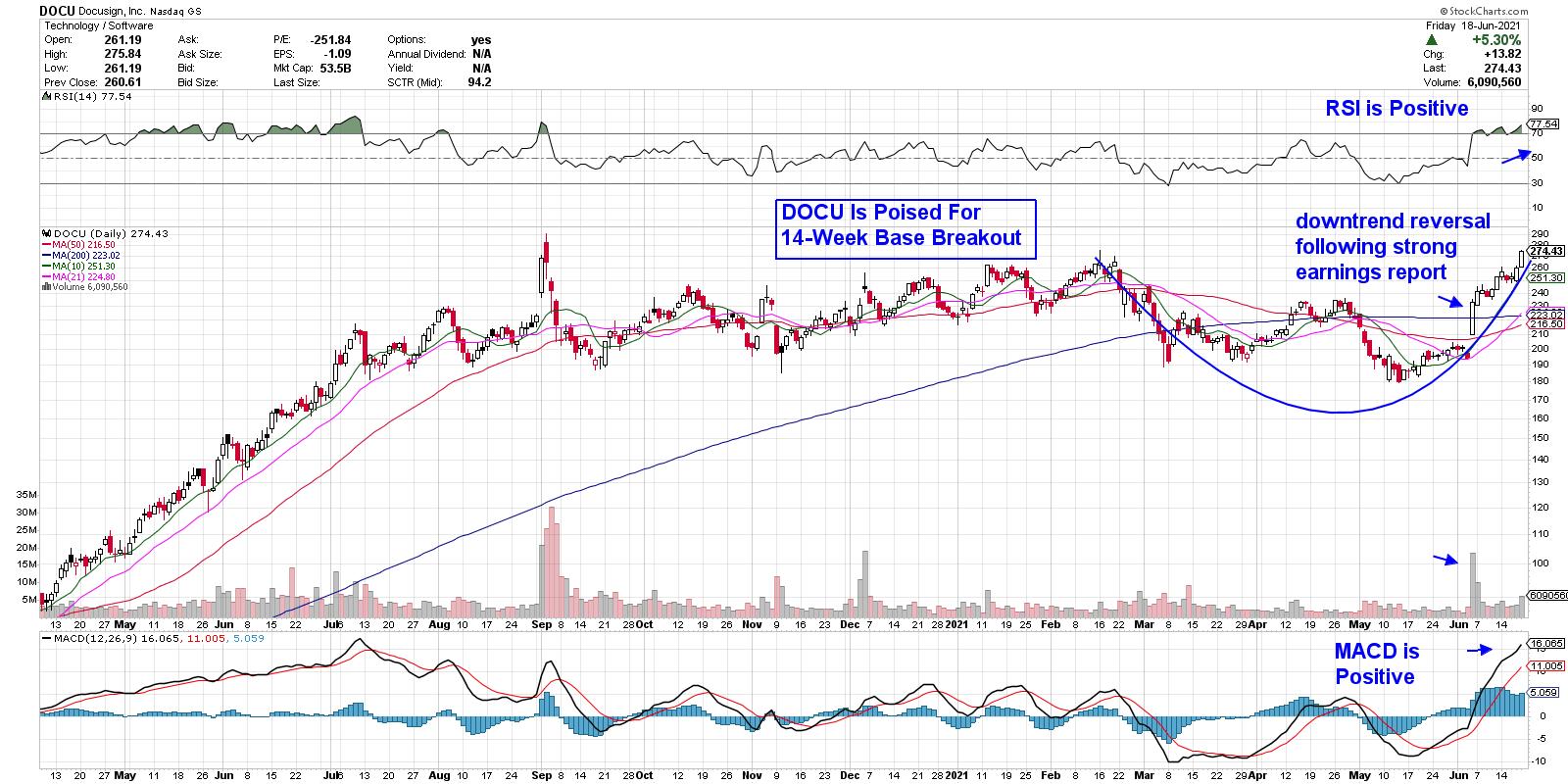 First up is Docusign Inc. (DOCU), which enables businesses to digitally prepare, execute and act on agreements. The stock reversed its downtrend earlier this month after reporting 1st quarter earnings that were 267% greater than last year. The results were 60% above estimates, which spurred a spike in price on heavy volume.
DOCU has since been in an uptrend, receiving another boost today following a Wall Street upgrade that sparked a 5% rally. The stock is now overbought and, while a base breakout at $275 may spark more near term upside, I'd wait for a pullback before entering.
DAILY CHART OF PAYPAL (PYPL)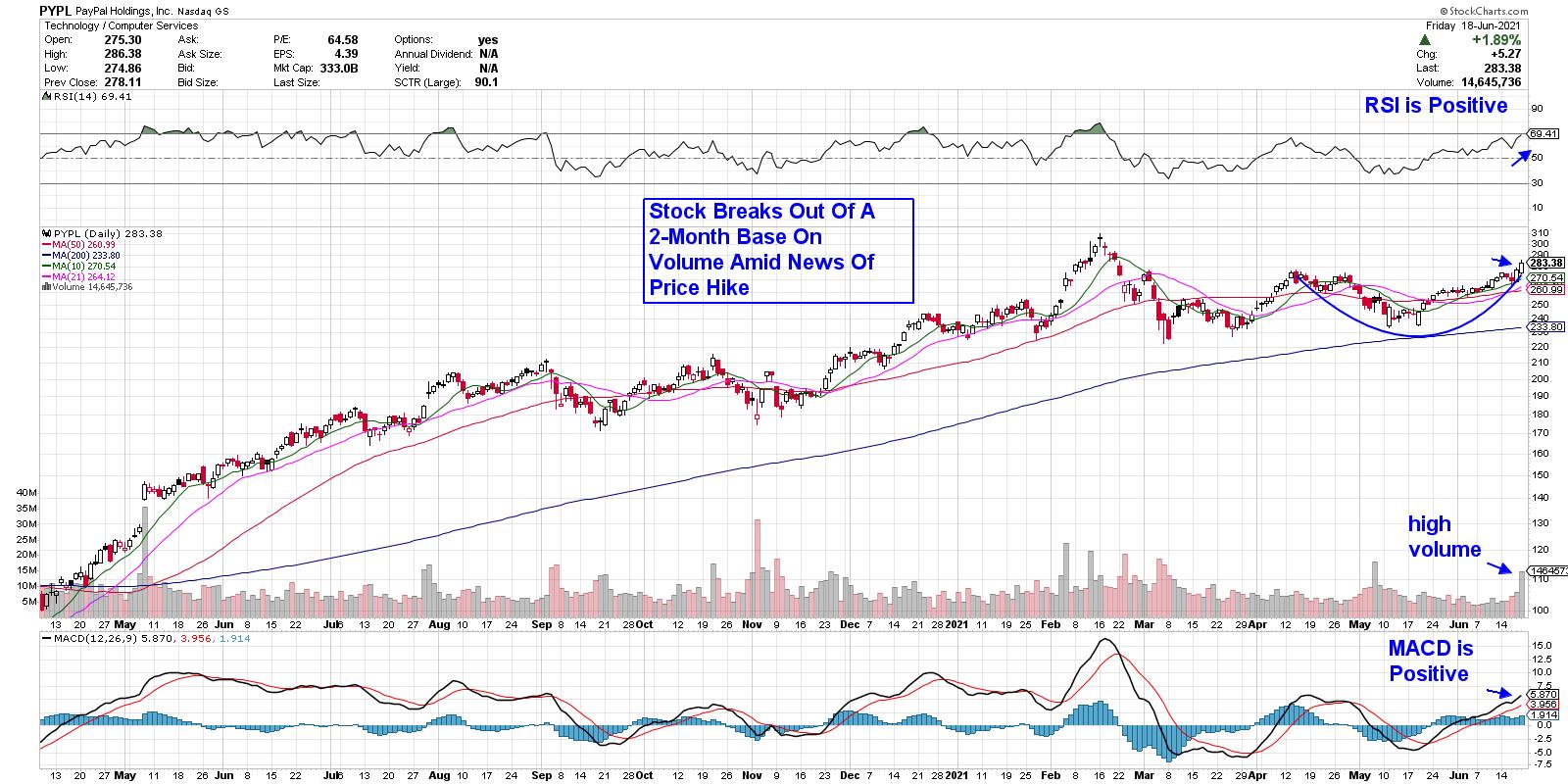 Next up is Payment Processor company PayPal (PYPL), which operates as a technology platform and digital payments company. The company experienced a surge in usage as locked-down consumers used their mobile payments service to purchase goods online. The company also experienced growth by facilitating the government's pandemic-related assistance program, which provided loans to businesses. More recently, PYPL has expanded their cryptocurrency app by allowing customers to buy, sell, hold or pay at checkout using 4 different currencies.
The stock broke out of a 2-month base this week amid news of a service fee price hike for certain services. The move has analysts raising earnings estimates for the company.
Subscribers to my bi-weekly MEM Edge Report were alerted to PayPal (PYPL) a while ago when it reversed its recent downtrend in early May following strong quarterly earnings results. I've been highlighting specific buy points for this upward-trending stock since then.
In this Sunday's MEM Edge Report, I'll be sharing insights into the broader markets, as well as what to be on the lookout for in the coming weeks. I'll also go over stocks on the Watch List that are ripe to take off. Use this link here for a 4-week trial for $7.00.
Warmly,
Mary Ellen McGonagle, MEM Investment Research