One of our key ChartLists at EarningsBeats.com is our Raised Guidance ChartList. As the name implies, it tracks companies that raised their revenue and/or EPS expectations at some point over the last 90 days. Many times, once a stock raises guidance, profit-taking kicks in, traders grow impatient and sell, and then a real bargain and opportunity presents itself. Alternatively, we'll see a solid response to raised guidance, but a bullish continuation pattern will take time to develop. We have plenty of these candidates on our RGCL, but here are two that I believe are worth watching, or possibly owning:
MANH
MANH is an $8.9 billion software company. Software ($DJUSSW) moved above 5000 on Friday for the first time ever after closing at its all-time high on Thursday. So we know the industry has bullish tailwinds. When MANH reported its stronger-than-expected quarterly results in April, it also raised guidance and the stock exploded higher, challenging its prior high from February. Two weeks later, though, MANH was back below where it was trading when its earnings were released and guidance raised. Now it's on the move again, but pausing at what would be an extremely bullish ascending triangle breakout.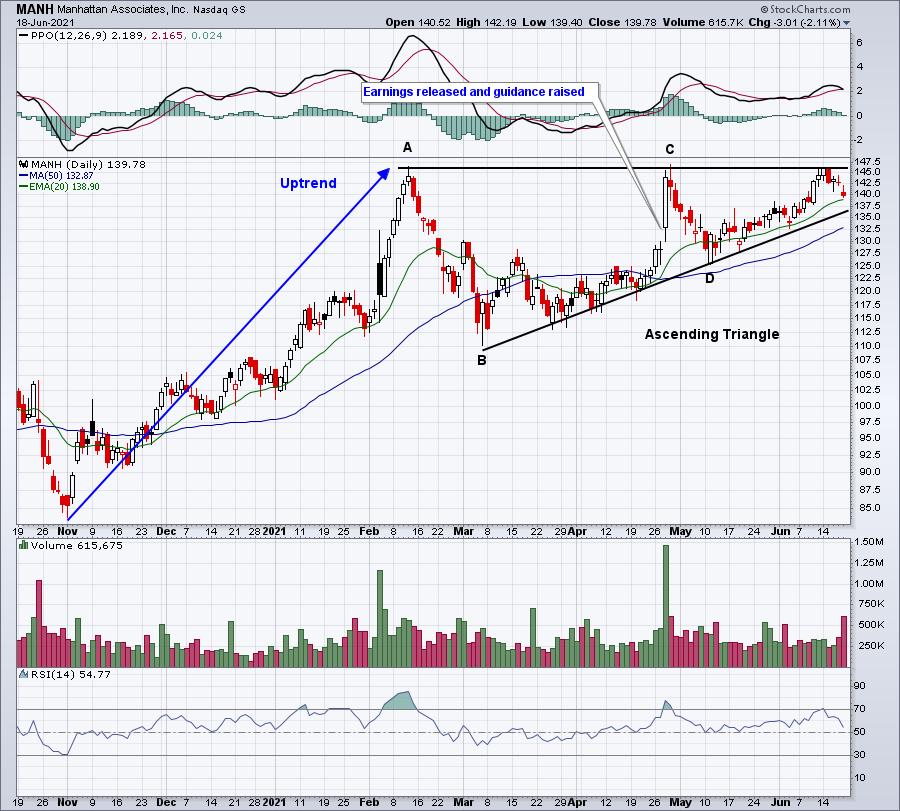 The measurement of this pattern (Point A to Point B) is more than 35 bucks. If you add that to the breakout level near 146, that provides us an initial target price of 181. That's definitely worth keeping an eye on.
MCFT
MCFT is a $476 million recreational vehicles company. Recreational products ($DJUSRP) has not performed as well as software of late, but they do appear to be attempting a bottom near key price and trendline support. MCFT got a huge lift in mid-May when it raised guidance, jumping nearly 15% in a week on the news. But it's been drifting lower for a month and is now touching a key area of price resistance. Don't be shocked to see a rebound soon.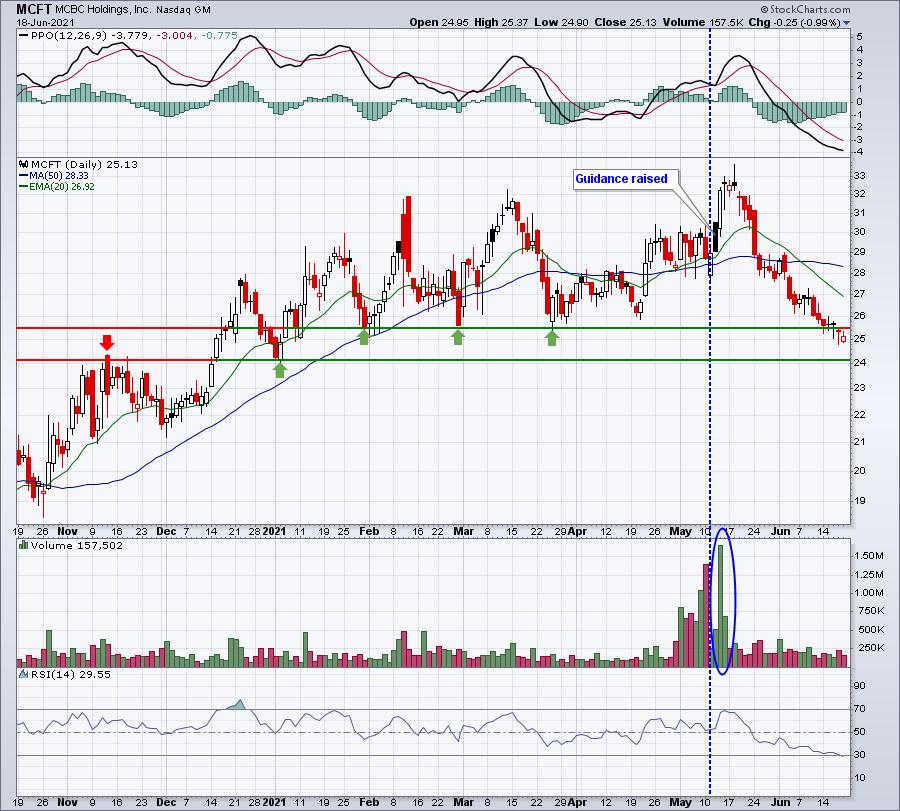 Note the heavy volume that accompanied that 15% spike. It certainly appears as if the stock was accumulate and is just being ignored for now. As we approach key price support, however, I won't be at all surprised to see buyers return. There is more risk on a stock like MCFT, in my opinion, as it's a small cap and the average daily volume is typically in the 150,000-250,000 range - much less than I typically trade.
I'll be providing a 3rd stock from our RGCL in our EB Digest newsletter on Monday morning that I believe could be poised for a big advance ahead. If you're not currently a subscriber, it's 100% free (no credit card required) and you may unsubscribe at any time. Simply CLICK HERE to enter your name and email address in the boxes provided and begin receiving your newsletter articles on Monday!
Happy trading!
Tom