It's no secret that I'm a fan of leading stocks in leading industries. So, as we move through yet another earnings season -- and there's still plenty left in it -- I thought I'd review what I consider to be the best stocks in the best industries. Here they are, in no particular order:
Internet ($DJUSNS)
Internet stocks have been powering forward in 2021 and remain the primary driver behind the relative strength in the communication services sector (XLC). Check out this chart: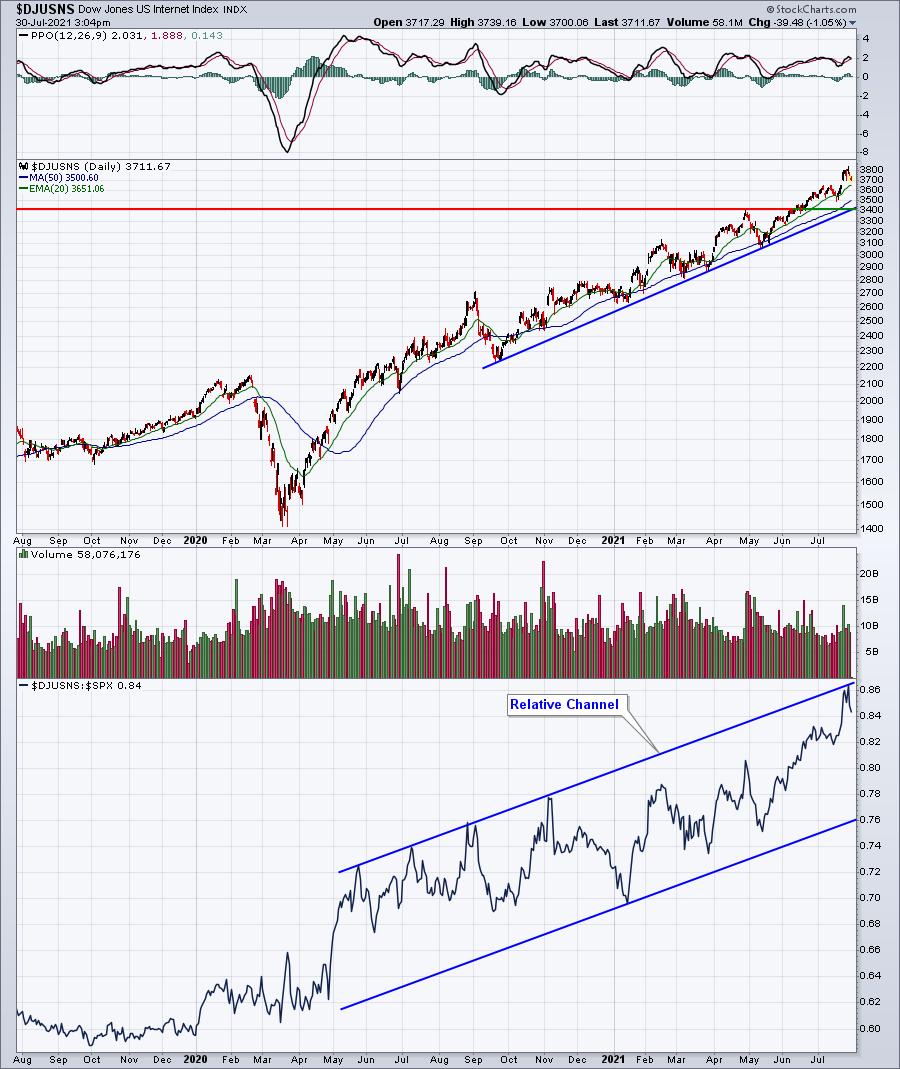 Nothing seems to slow internet stocks down, although there's been a big disparity between market reactions this quarter among some of the more widely-known internet companies. Alphabet (GOOGL), for instance, was up more than $125 per share on Wednesday morning after reporting blowout results. On Friday, though, Pinterest (PINS) fell nearly 20% after monthly user data and lowered revenue guidance spooked traders. The stock that seems to have the most interest in the group is Snap, Inc. (SNAP) after very strong volume accompanied its gap higher on earnings: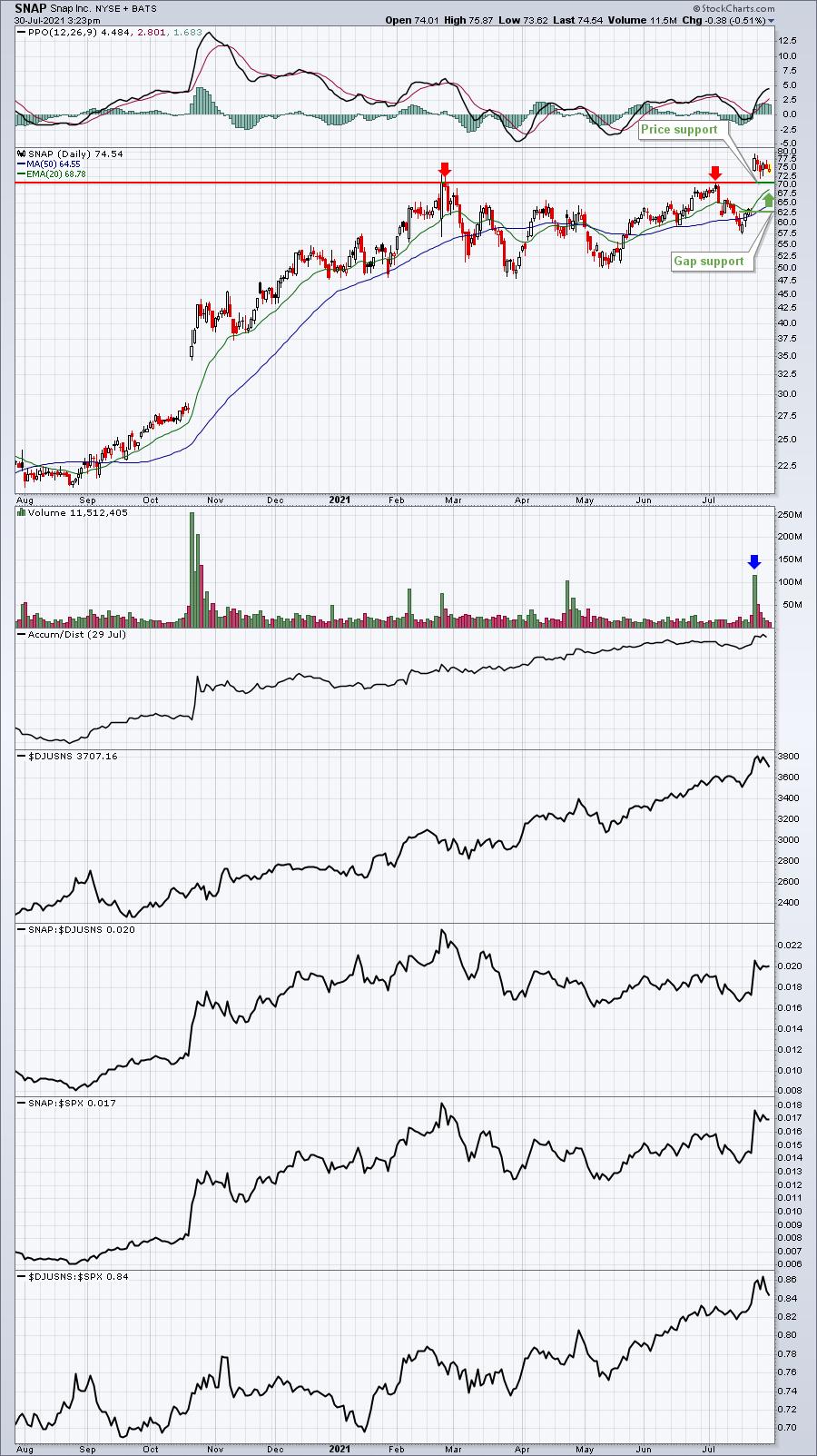 Should the stock market weaken, I believe gap or price support would serve as excellent entry points into SNAP.
Footwear ($DJUSFT)
Footwear saw a huge lift when Nike (NKE) reported its quarterly results in June. Since that time, both Crocs (CROX) and Skechers (SKX) have also delivered blowout numbers, resulting in the latest breakout in the DJUSFT: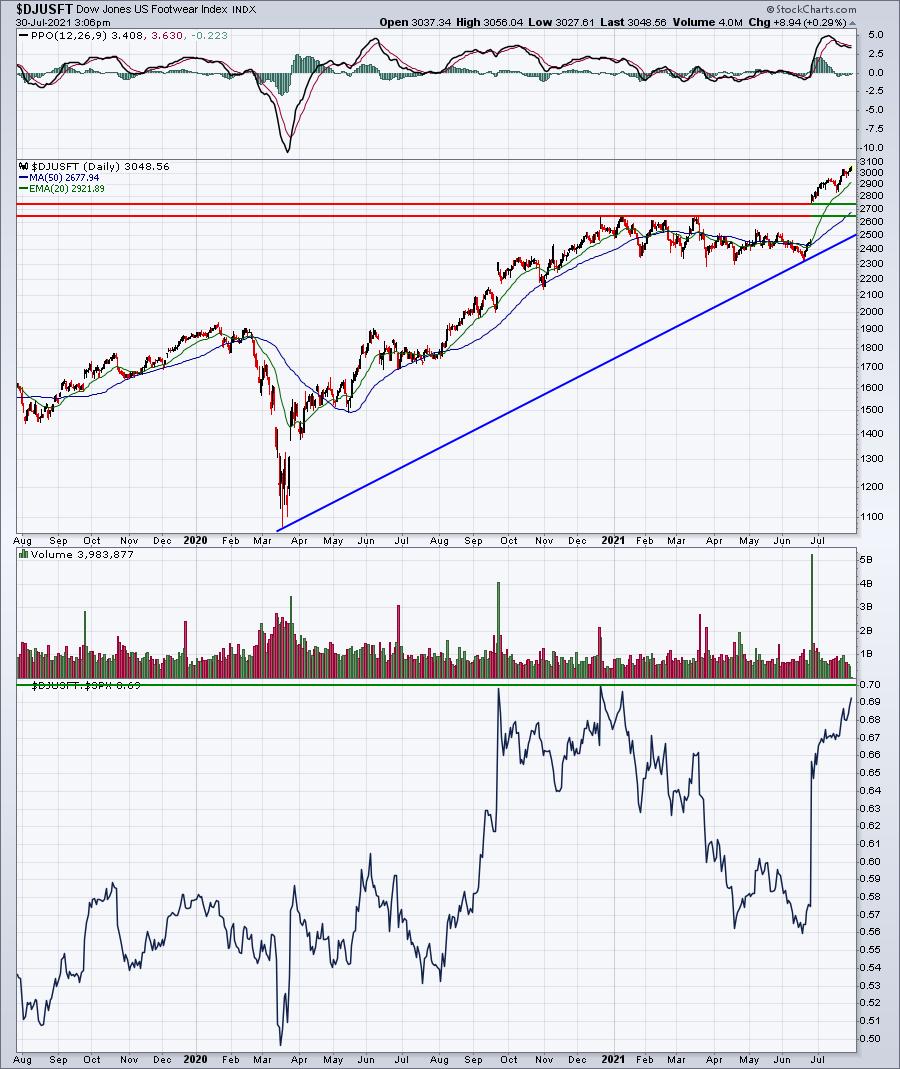 Footwear's relative strength has been a lot choppier, but there's no denying the current relative strength. I'd grow even more bullish if the DJUSFT can break out above its relative highs in the second half of 2020. For my money, CROX has been the consistent winner, but others may opt for NKE given its longer-term stability and track record. Here's a quick look at CROX: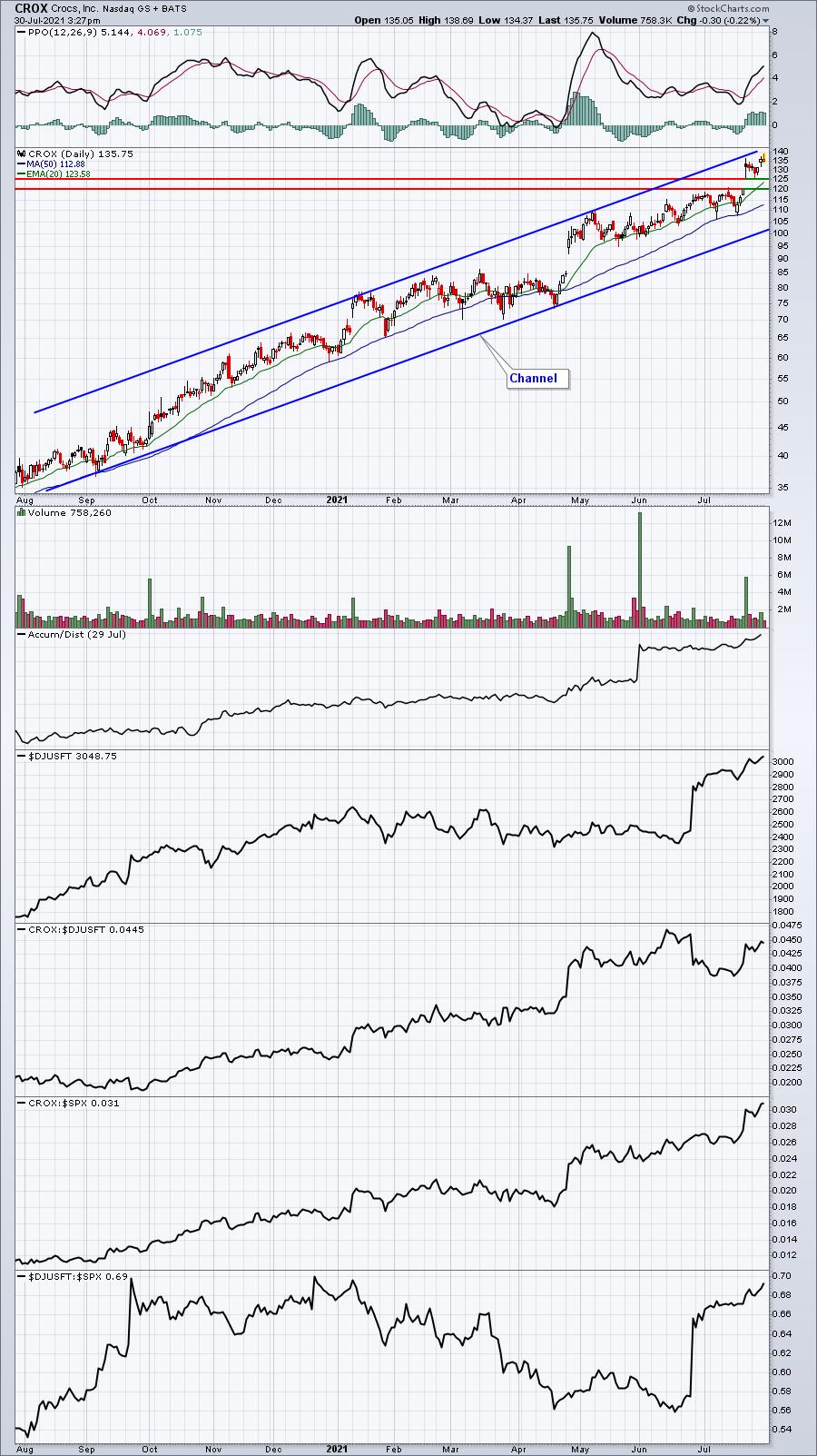 Specialty Finance ($DJUSSP)
Specialty finance was one of the biggest absolute and relative winners during the early stages of the pandemic, but its relative strength fell apart from the middle of 2020 until late January 2021. Relative strength has returned, however, in full force: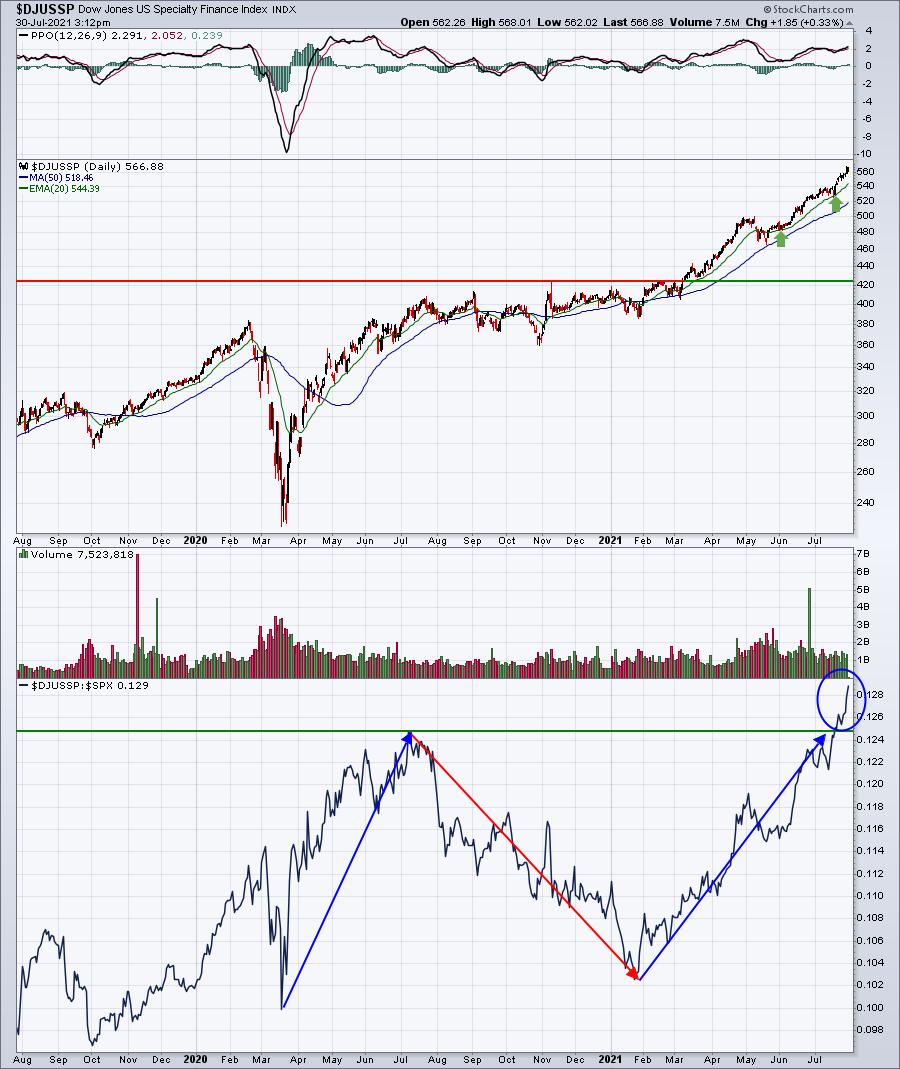 The stock I like in this space is Carlyle Group (CG). There have been a number of excellent earnings reports out recently in specialty finance and that includes CG, but CG has enjoyed big volume to accompany the recent advance: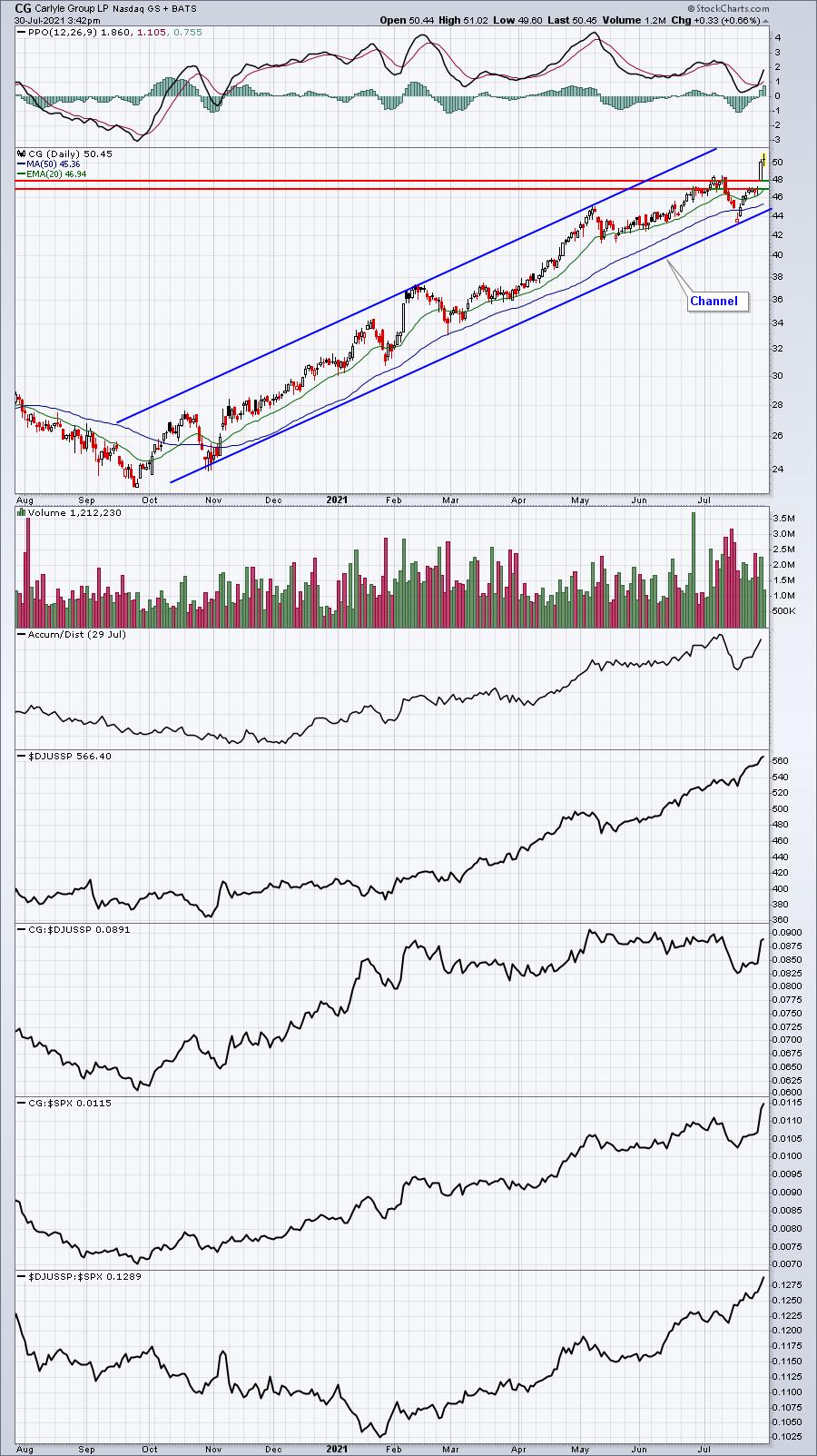 Tracking great earnings and bullish momentum is one of things we do at EarningsBeats.com. Stocks like the three provided above will be part of our Strong Earnings ChartList (SECL). There are typically anywhere from 400 to 600 charts on this ChartList at any given time, always providing fresh trading opportunities among those stocks that beat Wall Street consensus estimates as to both revenues and EPS.
Do you think the PE ratios are too high, based on history? In my opinion, it's the absolute biggest mistake that investors and traders are making right now -- trying to call a major market top because PEs are too high. The "P" in PE is price and price ALWAYS anticipates future earnings growth. We're seeing no signs of earnings growth slowing down. In fact, I'll have some eye-popping statistics on earnings season thus far in my Monday EB Digest newsletter. This newsletter is 100% free with no credit card required. If you haven't already subscribed, you'll want to CLICK HERE to enter your name and email address in the spaces provided.
Happy trading!
Tom