The broader markets are at a very positive juncture as recently leading areas are holding their gains while newer areas are coming into their own after reversing their downtrends.
Last week, my MEM Edge Report highlighted the new uptrend in Financials while recommending several Bank stocks which outperformed last week and are poised for much greater heights.
This week, I'm excited to report that another major area of the markets has turned positive after the Dow Jones Transportation Index broke back above its key 50-day moving average.
DAILY CHART OF DOW JONES TRANSPORTATION AVERAGE INDEX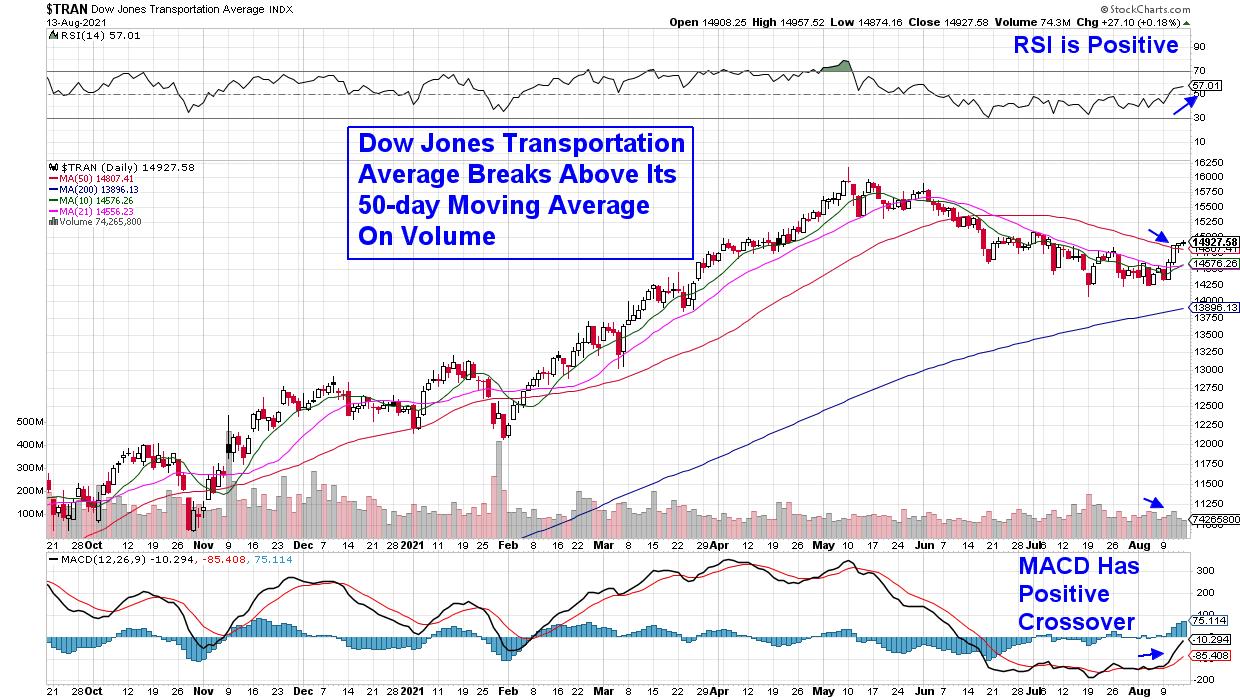 The good news is, this bullish reversal is on the heels of strong earnings reports from many well known Trucking and Rail stocks. As you may know, strong earnings is the primary driver of stocks that go on to outpace the broader markets.
Another major component of stocks that outperform is that they're in a strong area of the markets. Studies show that almost half of a stock's price movement is directly tied to the performance of its industry group and sector.*
That's why I pay close attention to which industry groups are leading the markets higher. This is where you'll find your leading stocks.
While Rail stocks are not a leading group quite yet, they're certainly in an uptrend after reports of 4 straight weeks of increased rail traffic will boost current quarter growth prospects. This is in addition to several heavyweight Rails that have reported triple digit 2nd quarter earnings that were well above estimates.
DAILY CHART OF NORFOLK SOUTHERN CORP. (NSC)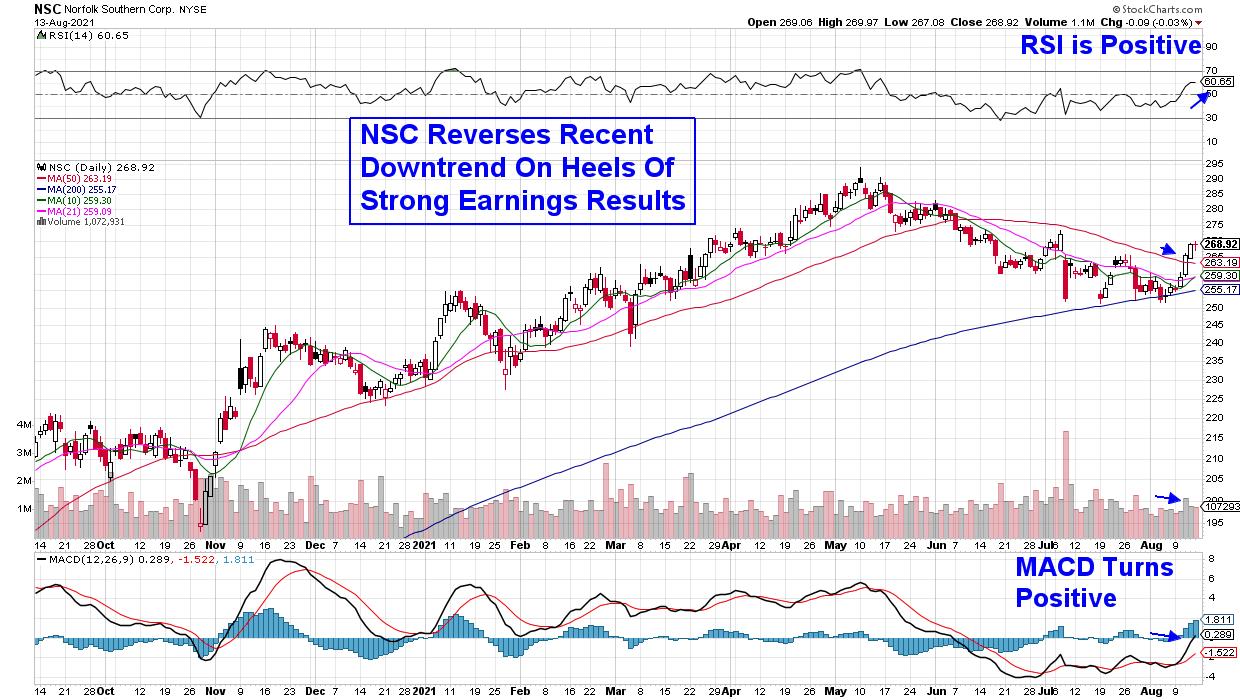 Above, is Norfolk Southern Corp. (NSC) which posted 114% year over year earnings growth and 34% growth in revenues three weeks ago. Downward pressure on the group held the stock back however, last Wednesday the stock bullishly broke back above its 50-day moving average on volume.
With its RSI and MACD in positive territory, NSC is poised to trade higher from here.
DAILY CHART OF XPO LOGISTICS, INC. (XPO)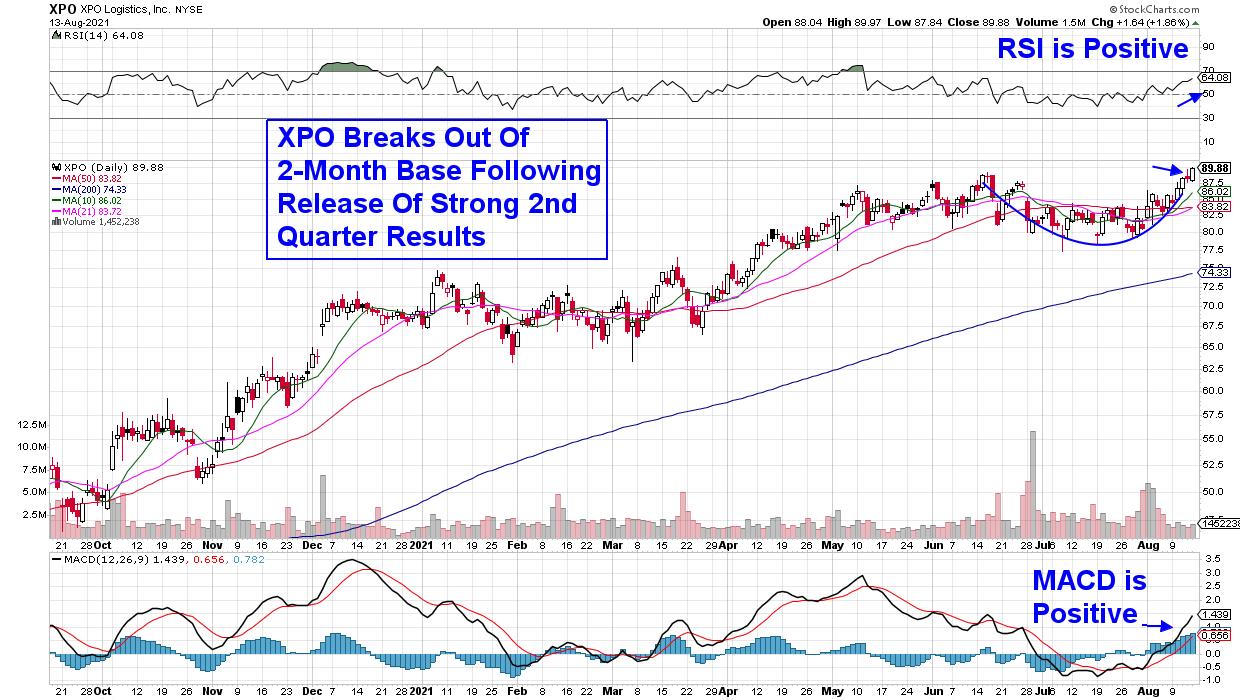 Next up is transportation logistics company XPO Logistics (XPO) which provides supply chain solutions in the U.S. and Europe. The company reported 681% earnings growth over last year and its 4th straight quarter of coming in ahead of estimates.
The late July release brought buying which pushed the stock above its key 50-day moving average on volume as analysts raised guidance for the remainder of the year.
DAILY CHART OF GXO LOGISTICS INC. (GXO)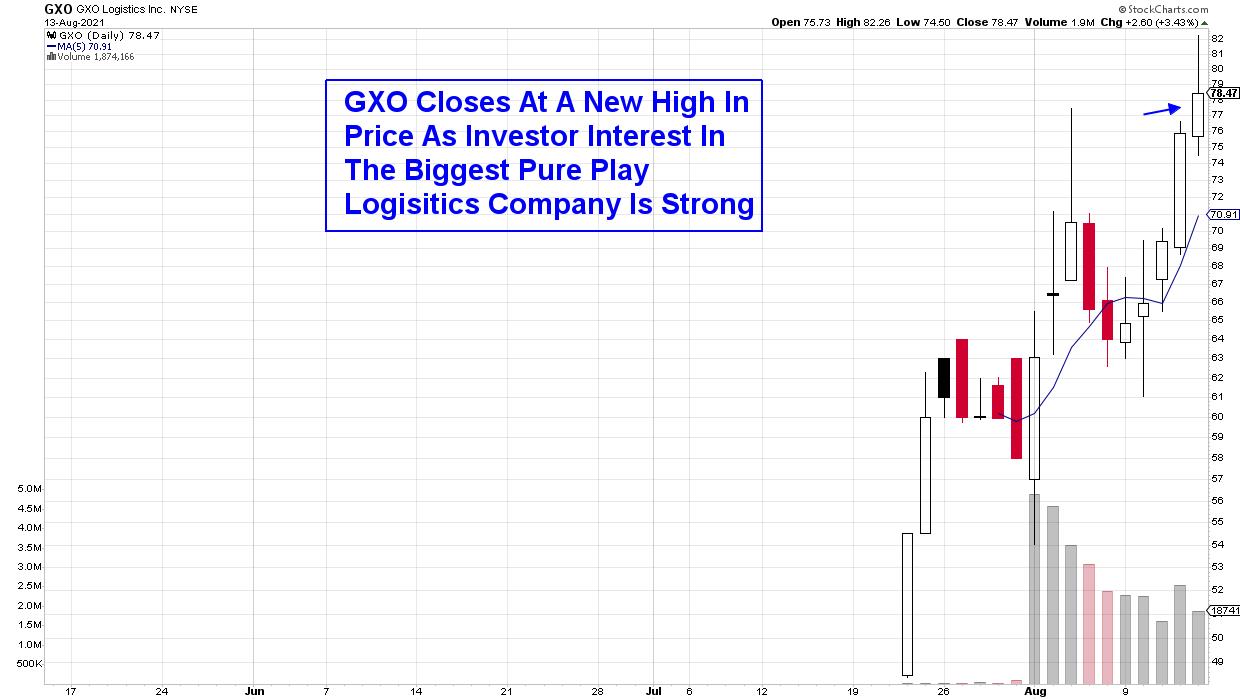 XPO Logistics also announced the official spinoff of their contract logistics business called GXO (GXO) earlier this month. The company runs warehouses around the world for companies such as Nike (NKE) and Apple (AAPL) to name just a few.
Management laid out healthy growth guidance for the company which uses high tech solutions that are set up to capitalize on the continued move into e-commerce.
The IPO closed at a new high last week with high volume characteristics that points to further upside. However, a 1-hour intraday chart points to an overbought stock that needs to reset before trading higher.
Next Tuesday, Deutsche Bank will be hosting their virtual Transportation Conference where management from many well-known transportation companies will be presenting their outlooks for this year and possibly next. Depending on comments, the conference may provide an added boost to these companies.
While economically sensitive stocks are reversing their recent downtrends, there are plenty of areas in Healthcare, Technology and other sectors that remain poised to trade much higher. To receive immediate access to my bi-weekly MEM Edge Report, take a 4-week trial for a nominal fee.
You'll receive sector and select stock insights that will put you on the path to outperformance during this tricky period.
Warmly,
Mary Ellen McGonagle, MEM Investment Research
*How To Make Money In Stocks by William J. O'Neil