The broader markets have been struggling amid inflation and interest rate fears that have collided with a global energy crisis. After peaking in price in early September, the S&P 500 has been in a downtrend that it's been struggling to reverse. Not all areas are seeing selling, however, as Oil and Bank stocks have seen substantial gains over the past 4 weeks. In fact, subscribers to my MEM Edge Report have seen gains as high as 30% among the eight stocks in these 2 groups that we've highlighted as strong buys.
Other areas are also bucking the general downtrend, such as companies that benefit from spending on defense-related projects that will take place despite a possible uptick in interest rates or inflation. In particular, the Space Development Agency (SDA) has been building a system of surveillance satellites that act as a tracking layer to detect missile launches while also performing battle management plans for warfighters on the ground. At full strength, this transport layer is expected to provide coverage to 99% of the Earth's surface.
The result is a need for 144 satellites -- with the SDA looking to hire multiple vendors who would need to begin deployment within three years. Bidding from defense contractors was due today with the awards being announced in January. Below are three companies expected to bid on these lucrative contracts and, judging from their charts, investors are anticipating a positive outcome.
DAILY CHART OF L3HARRIS TECHNOLOGIES (LHX)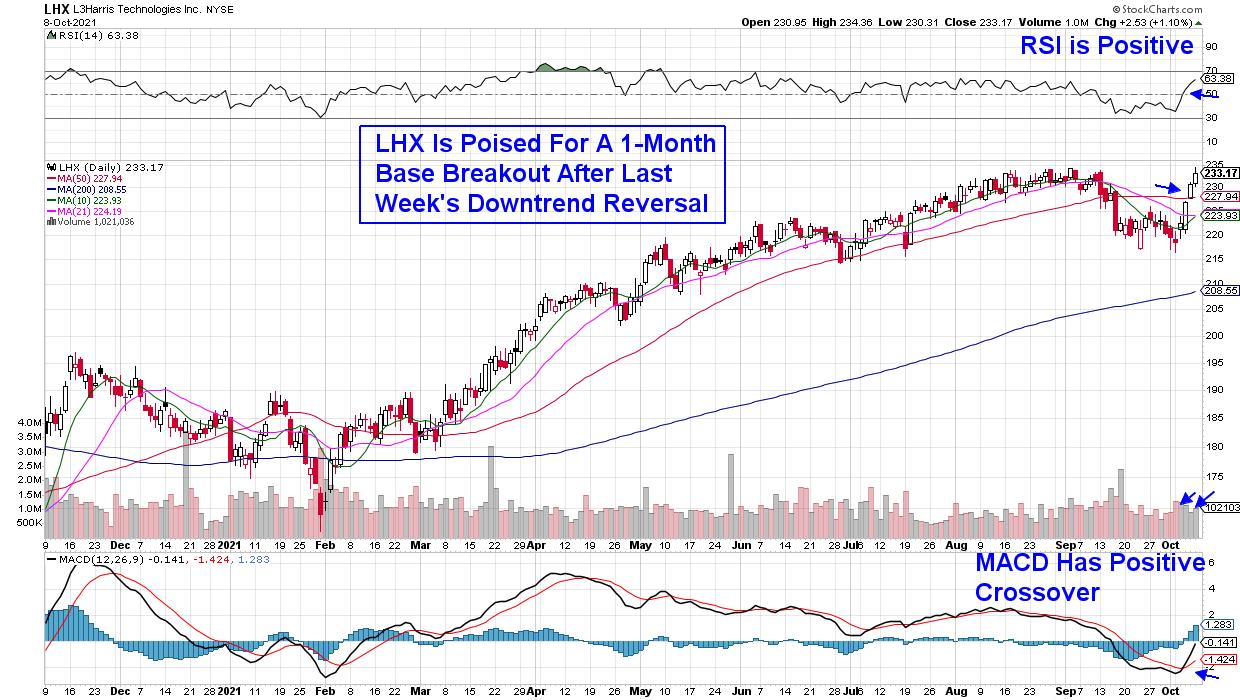 Frontrunner L3Harris Technologies (LHX) has a leg up as the company received SDA approval of their satellite design plans late last month. The company has been involved in other cutting-edge areas of technology, with their robots being selected to protect Air Force bases around the world.
Last week, LHX reversed a recent downtrend following a move back above its 50-day moving average on volume. The gains put the stock on track for a 1-month base breakout at $235. With a positive RSI and a bullish MACD crossover, the stock is poised for further upside.
DAILY CHART OF NORTHROP GRUMMAN CORP. (NOC)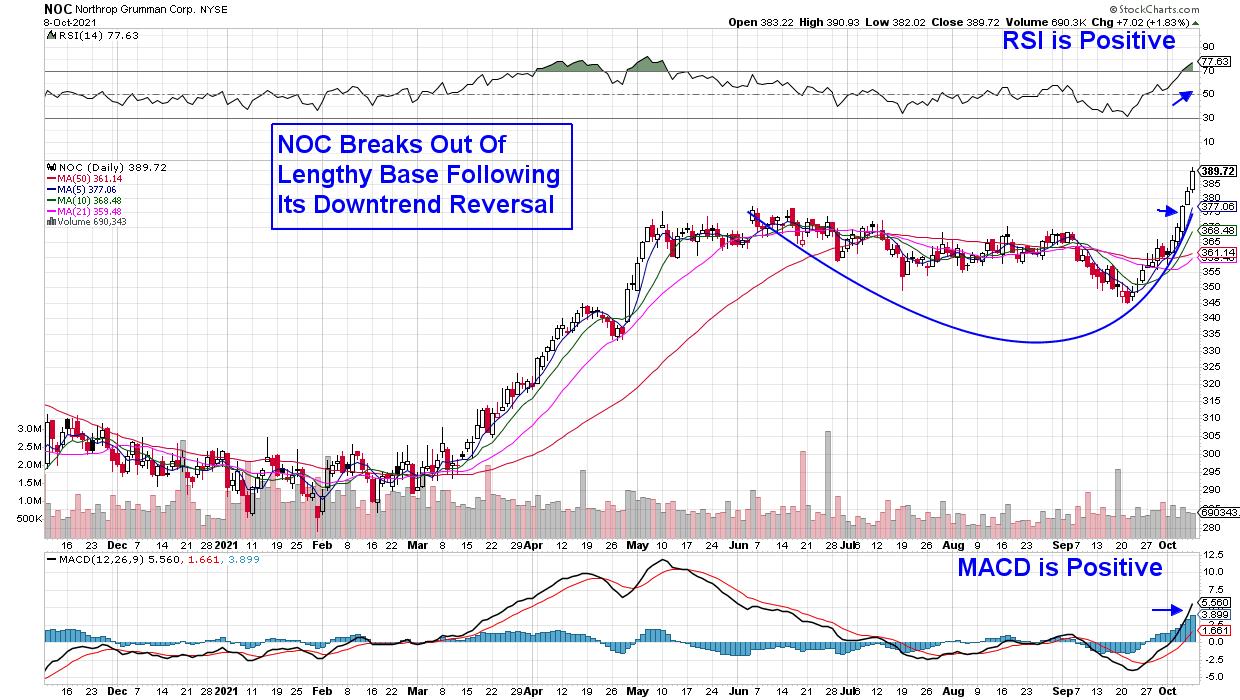 Northrop Grumman (NOC) increased its lead as a space stock after it purchased rocket maker Orbital ATK in 2018. The company makes satellites as well as the deep-space telescope for NASA.
NOC broke out of a 4-month base on volume last week as analysts raised earnings estimates for both this year and next. Last week's explosive move puts the stock in an extended position and, with the RSI and Stochastics in positive territory, it can be bought on a pullback to its 5-day moving average.
DAILY CHART OF RAYTHEON TECHNOLOGIES (RTX)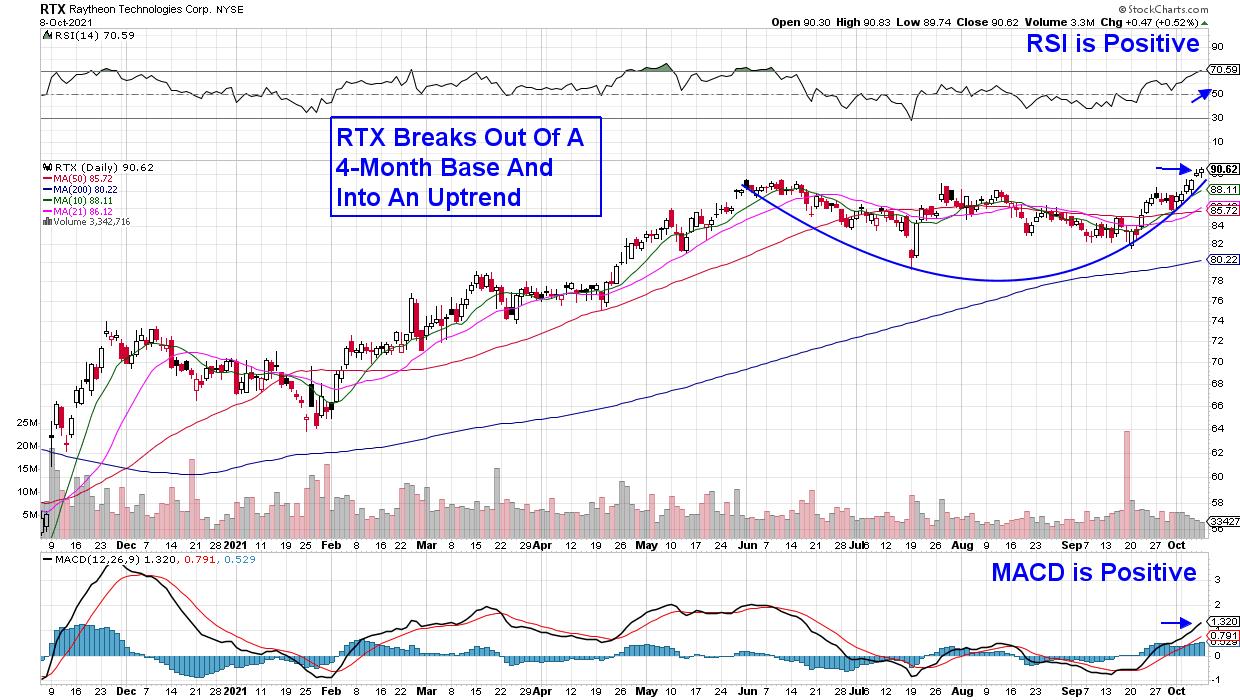 Raytheon (RTX) is also building out its space division with an announcement last month that they've purchased a second company that's a leader in satellite technologies. These companies add to RTX's already established Intelligence & Space division.
Raytheon broke out of a 4-month base and into an uptrend last week as the 2.3%-yielder saw estimates revised higher for this year's earnings. RTX is poised for further upside with its RSI and MACD in positive territory.
Several other well-known Defense-related companies are in the running to be selected for the SDA's satellite project; however, their stocks are not in confirmed uptrends at this time. This would include both Boeing (BA) and Lockheed Martin (LMT), which are trading below their key 50-day moving averages and nowhere near a bullish base breakout.
According to the proven methodology I use in my work, most leading stocks begin their outperformance as they're emerging from a base breakout that's coupled with a strong fundamental driver. That's what pointed me toward leading Technology stocks from June until September, and many of these same stocks appear poised to regain their uptrends this month.
If you'd like to be alerted to these stocks as well as know precisely when the broader markets have turned bullish, take a 4-week trial of my bi-weekly MEM Edge Report for a nominal fee now.
---
On this week's edition of StockCharts TV's The MEM Edge, I review areas of the market that are in confirmed uptrends, with further upside ahead and what areas to stay away from. She also highlights what to be on the lookout for to confirm that the broader markets are safe.
---
Warmly,
Mary Ellen McGonagle
President, MEM Investment Research