I have two reasons for writing this article. First, I'm hosting a FREE webinar relating to ETF selection on Saturday morning that I'll discuss later. Second, I was having a market-related discussion with a good friend a few nights ago and he was explaining his investment strategy. He said he didn't like investing in individual stocks because they were "too risky", then proceeded to tell me he only owns ETFs and told me which ETFs he owns. I thought to myself, "do I tell him that his ETFs are 100% comprised of individual stocks?" I did tell him and he didn't really understand the entire concept.
Hence, the writing of this article.
ETFs come in so many shapes and sizes. If you don't understand the stock market and all the nuances, selecting the right ETFs for your own personal strategy and objectives can be daunting, to say the least. While I personally focus on trading individual stocks, because that fits my strategy and style, I realize many of you are much more comfortable spreading your risk around various ETFs. Accordingly, we started offering an ETF portfolio that we select every quarter. The next release date will be Tuesday, October 19th. Our flagship ETF product, however, is our ETF Analyzer, which is an Excel spreadsheet listing ETFs meeting our momentum and liquidity objectives, each ETF's representation by sector and its Top 10 Holdings. This information is critical in establishing a truly planned portfolio of ETFs; by using it, you can quickly determine your overall percentage allocation to all 11 sectors, while comparing your percentages by sector to the S&P 500's.
This way, if you're a fan of the financial sector, for instance, because treasury yields are on the rise, you can ensure that your money is being put to work in the way you intended. By checking out the Top 10 Holdings, you can quickly determine if your ETF(s) are concentrated in few individual stocks, which is much riskier, or evenly concentrated in a large number of individual stocks - a much more diversified approach.
Let me provide you an example.
On the last ETF Analyzer spreadsheet that I provided to EarningsBeats.com members, there was an ETF listed MTUM, the iShares MSCI USA Momentum Factor ETF. Without doing any research, would you have any idea what this ETF invested in? Do you think it's diversified? Which sectors does it invest in? Here's a snippet of our ETF Analyzer spreadsheet that you might find surprising:

MTUM's Top 10 Holdings represent 38.11% of the entire ETF. That might be appealing to you, and maybe not. But it could be a great ETF holding if you're looking for balance with a heavy dose of financial stocks. 34.32% of MTUM is invested in financials. We have another spreadsheet that lists the Top 10 Holdings for each ETF listed. Here are MTUM's: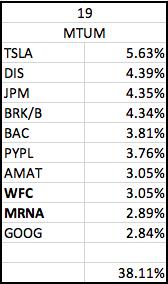 You may not be a fan of TSLA's, and knowing that it's the top-weighted stock at 5.63%, maybe that's a deal breaker. Or, on the flip side, maybe you like the fact that these are all very well-known companies with large market caps. It could be a staple in your portfolio, or possibly a secondary ETF, or, again, maybe you don't like it all. But the key here is that you actually know what you own!
One other piece of this ETF puzzle is the technical piece. How well has this ETF performed vs. the benchmark S&P 500? We provide a ChartList of ALL of our ETFs listed so that you can also view the technical performance as well, in order to make a completely informed decision. Here's the current look at MTUM: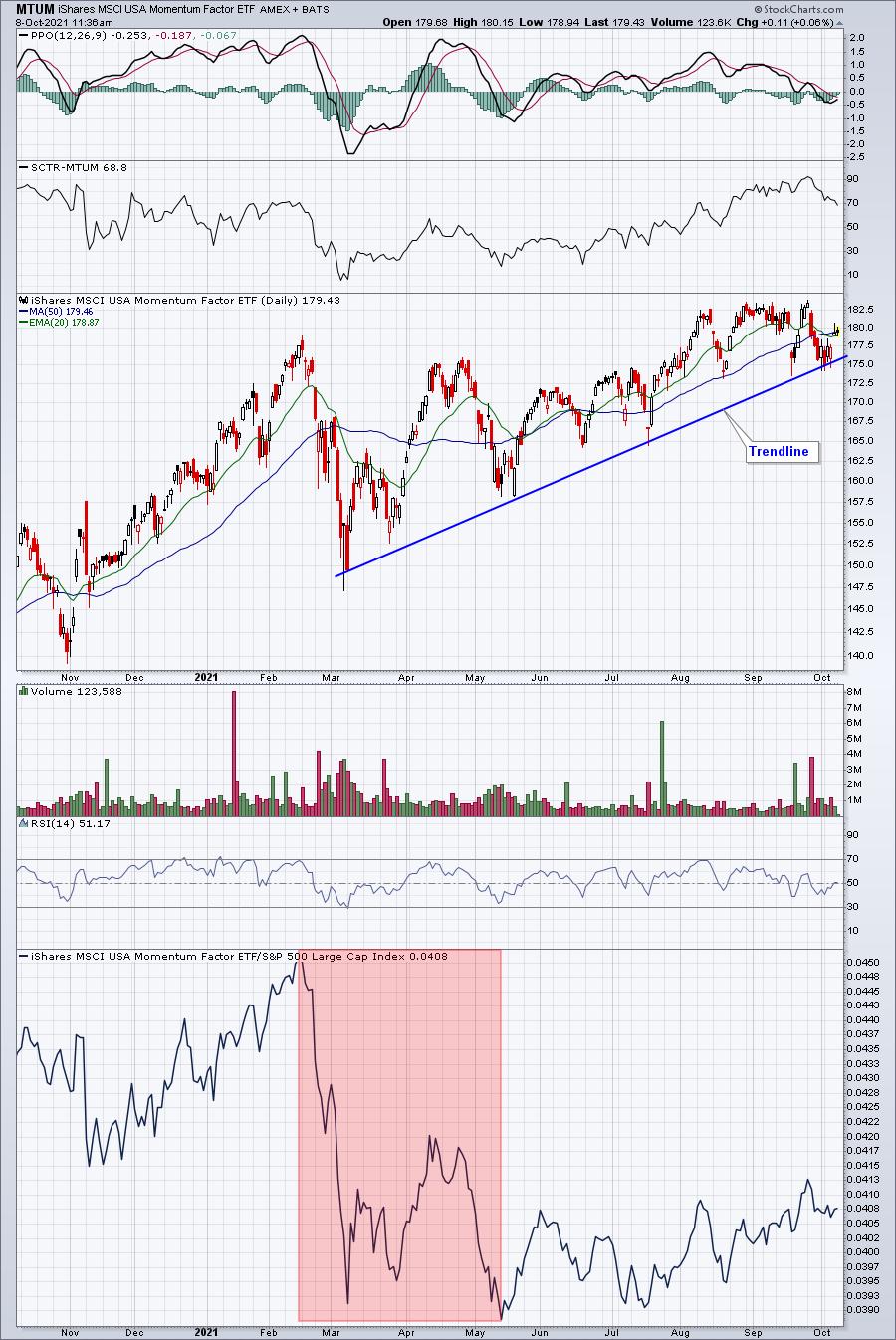 MTUM has been holding its recent trendline, a bullish signal. However, the red-shaded area at the bottom shows significant relative weakness, which was likely the result of growth stocks underperforming from February to May while inflation numbers were surging.
The point here is that putting thousands and thousands of dollars to work in ETFs that you don't understand is a strategy designed to fail. Be sure to invest in leading ETFs and understand what your ETFs own. By doing so, you'll be in a much better position to build a winning investment strategy.
---
On Saturday, October 9th, at 11:00am ET, I'll be hosting our "Sneak Preview: Model ETF Portfolio" event, where I'll describe our process in building a sound and profitable ETF investing strategy. All of our EarningsBeats.com community is invited, including our FREE EB Digest newsletter subscribers (no credit card required). You can register for this event in one of two ways - either by CLICKING HERE to enter your name and email address to join our EB Digest newsletter OR you can join directly by using the room link below. If you use this link to enter and you're not already a free EB Digest subscriber, we'll make sure to add you. Also, keep in mind that the room will not open until Saturday 10:30am ET and the event won't begin until 11:00am ET. Here's the room link: https://earningsbeats.zoom.us/j/83299713065.
It will be a very educational event, so I hope you can join me! By the way, if you can't make the event LIVE, we'll send out the recording to all EB Digest subscribers, so be sure to sign up!
Happy trading!
Tom