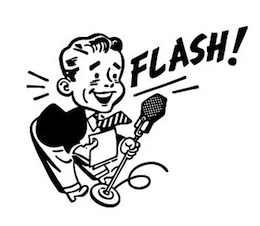 I'm pleased to announce that I will be hosting my first webinar, DecisionPoint LIVE! on Wednesday at 4:30pm Eastern. You'll get live market analysis from the DecisionPoint perspective every Wednesday. I'll be presenting my technical views on the markets and then take questions from the audience.
---
With DecisonPoint LIVE! webinars on Wednesdays, we have a new publishing schedule that will enhance the DecisionPoint experience on StockCharts.com. I hope you agree!
Mondays: Carl will publish an article in the FREE DecisionPoint Blog (when he has recovered from his heart surgery). If Carl can't, Erin will.
Tuesdays: A DP Weekly Update published by Erin in the FREE DecisionPoint Blog where you will get a concise review of the SPX, Gold, Dollar, Oil and Bonds daily and weekly charts.
Wednesdays: DecisionPoint LIVE! Webinar at 4:30pm Eastern, hosted by Erin Heim. Webinars will be educational, timely and fun!
Thursdays: Erin will publish a topical article in the FREE DecisionPoint Blog on whatever tickles her fancy.
Fridays: In the "Subscriber ONLY" DecisionPoint Reports Blog, Erin will give you an in-depth Weekly Update that covers in more detail the SPX, Gold, Dollar, Oil and Bonds with daily and weekly charts using the best DecisionPoint indicator charts available.
So your homework...sign up to attend the first DecisionPoint LIVE! webinar on Wednesday, January 28th at 4:30pm Eastern! Just click here to reach the sign-up page.
I look forward to our first webinar together where I will begin introducing you to the DecisionPoint Analysis Process and take your questions live.
Happy Charting!
Erin