Ford (F) announced earnings and they were well above the street estimates. I wondered if that would send the stock price rocketing up on a big bullish day today. Here is the chart after earnings.
A few positives showed up today. Ford moved up more than the indexes did. It moved above a downward trend line that has been violated and failed before. It is still below the 200 DMA and the SCTR ranking is a paltry 50% which means it's average at best right now. The MACD has a slight bit of positive divergence, but this doesn't look like a must own chart yet. The increasing volume over the last two days is interesting. We should get vehicle sales for July next week I think and that might be a better catalyst as Auto makers like Ford are in the Consumer Discretionary sector which has been holding up.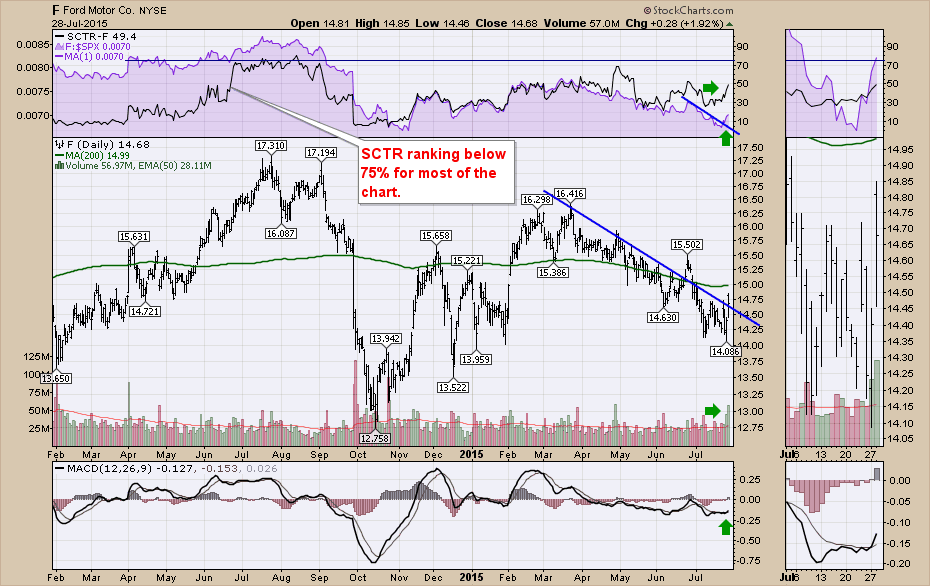 I received an email from my friendly neighbourhood Ford salesman yesterday. He had trucks for sale and wanted to know if I was interested in changing my ride. Always interested in what's happening in the car business so that sent me searching for vehicles. Timing was interesting with Ford on a trader's mind with the earnings announcements.
GM's chart profile is similar with an April high in place and a trend down and to the right from there.
With no leadership in either chart and the number of companies on the S&P 500 that are on a buy signal continuing to wither, I think investors can wait to buy the stock at a later date. That was my choice on the truck today too.
Good trading,
Greg Schnell, CMT