Exxon Mobil (XOM) has been a dog since the price of oil dropped a year ago. In the 2008 bear market, Exxon was a go-to stock when everything else was cratering. Exxon (XOM) was a company that would be able to come out the other side of the GFC. Is that what is going on now or is it something different?
Exxon has surged on the SCTR rankings from the bottom third of the pack to put in the highest SCTR reading in a year. While 50 means it's just middle of the pack, it also suggests the stock is behaving better that it has been. The RS line has also broken above the downtrend which is the first sign of optimism in a year. This change in RS is demonstrating that Exxon has stopped falling while the $SPX has pulled back.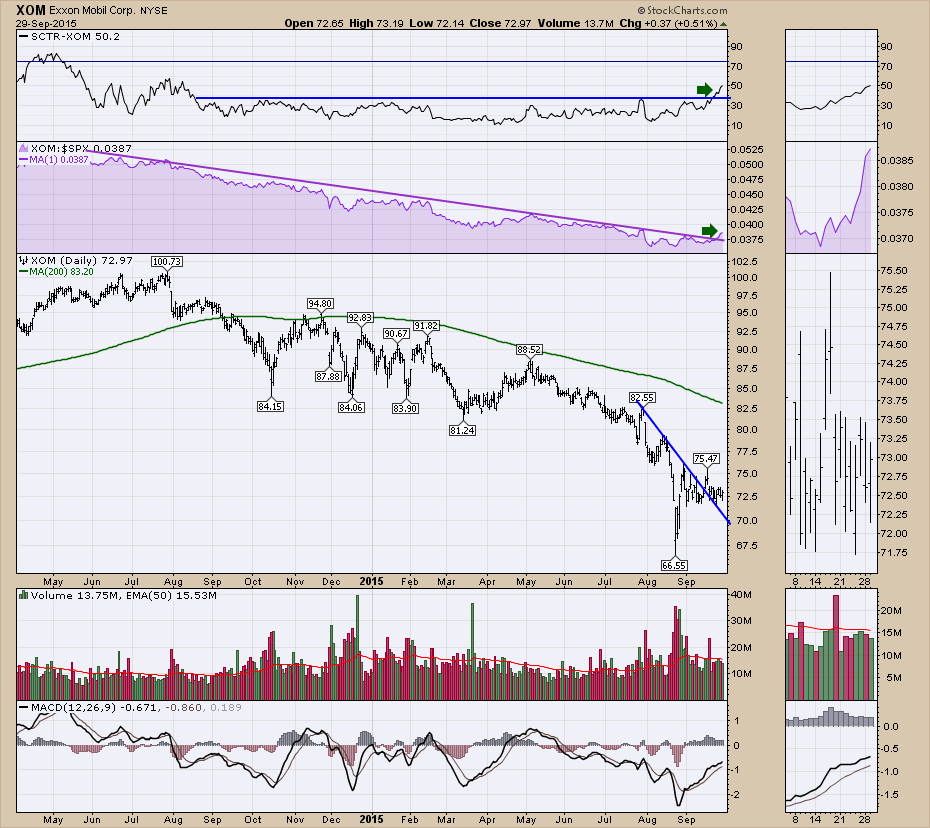 Both the Volume and the MACD are not showing any real change either. The dividend is huge at 4% on Exxon currently. While the SCTR has jumped out of the basement and started to trend higher, I would still like to see a move above 75 on the SCTR as an entry condition for buying the stock expecting a rise in the stock price. In down markets, Exxon is an anchor for institutional investors to park money. If 2008 was a guide, the institutions didn't stay in Exxon coming out of the bear market lows as they moved to something with a faster growth rate. It currently looks like Exxon is playing a safety role as well as providing a dividend payment to wait. The fact the stock is holding up while the overall market pulls back is a good trait and the dividend helps cushion the downside. It might be a case of the best defense wins, not the best offense.
Good trading,
Greg Schnell, CMT