Scanning through the list of new highs this morning, I noticed McDermott International (MDR) had a really nice chart pattern. The stock had an initial thrust off the lows and has quietly built a base supported by the 200 DMA. The 200 DMA was in a downtrend and has a nicely rounded basing pattern that has turned up now. The Relative Strength has made 4-month highs and is very close to making new 1 year highs. Volume is nice with 3.5 Million shares/day.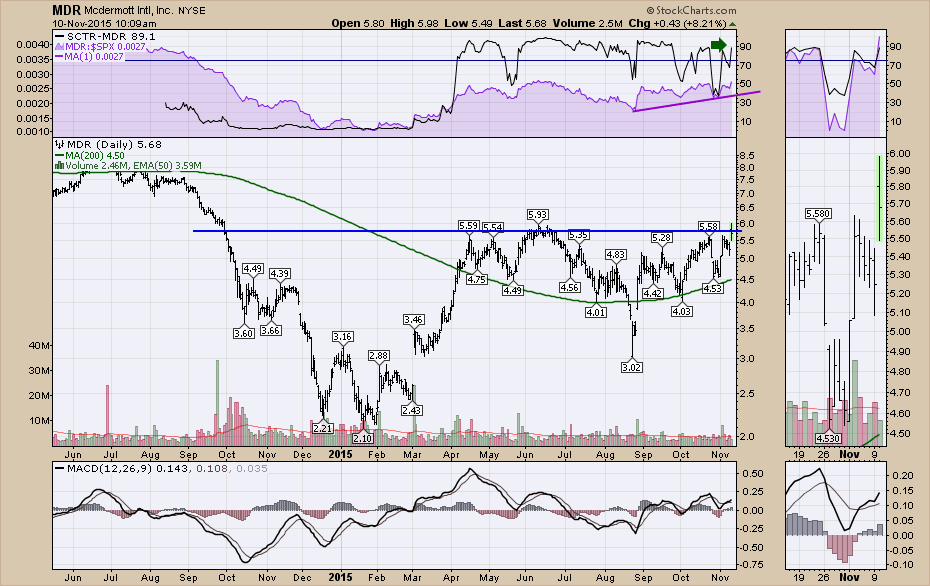 The MACD has been making a series of higher lows and looks like it wants to stay above zero here. It recently had a positive cross. Today's push to new 52 week highs in price suggests this infrastructure builder has finished the base. Earnings were last night so this is timely. The original reason for the price drop last fall was the amount of work they were doing in the energy sector. Today, they are winning more contracts for energy work with major customers including the State Owned Oil Companies in the Middle East.
This week should have some interesting webinars with commodities breaking down and banks breaking out. Check the What's New section of the home page for the schedule or click here. Webinar Schedule.
Good trading,
Greg Schnell, CMT