Newmont Mining (NEM) is one of the bigger gold players and its performance is tied to the price of gold, which is challenging resistance. Note that the Gold SPDR (GLD) has yet to break above its April-June highs, but Newmont is starting to outperform bullion with a break above these highs. On the price chart, NEM broke resistance with a sharp surge and then fell back to the breakout zone with a falling flag. This pullback to the breakout zone is known as a throwback and such moves can offer a second chance to partake in a move. Falling flags are also bullish continuation patterns and the stock is attempting another breakout today.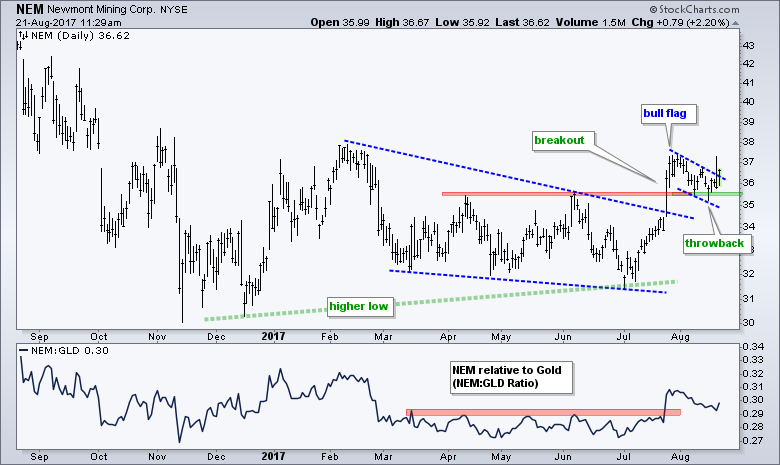 ---
The indicator window shows Newmont relative to the Gold SPDR (GLD) using the NEM:GLD ratio. Notice that this ratio broke above its March-June highs with a surge in July. This means NEM is starting to outperform GLD and relative strength in a big miner could bode well for bullion. Note that Tom Bowley featured gold in Trading Places today and Greg Schnell covered gold in DITC last week.
Follow me on Twitter @arthurhill - Keep up with my 140 character commentaries.
****************************************
Thanks for tuning in and have a good day!
--Arthur Hill CMT
Plan your Trade and Trade your Plan
*****************************************