Expedia is at a huge point of reckoning here. Will this be a perfect opportunity or bad weather ahead?
First of all, this $130 level was huge resistance before. When Expedia broke through, it soared to the upside. Recently, the stock had a terrible week losing 20%. But we saw this back in 2013. The stock soared from a beaten down status for the next four years.
Digging deeper, we are also approaching gap resistance at $130 from the bottom. This $130 level is a good level to shoot against. If EXPE gets above, you can hold it long. If it can't stay above $130, is would be better to let someone else take that trip.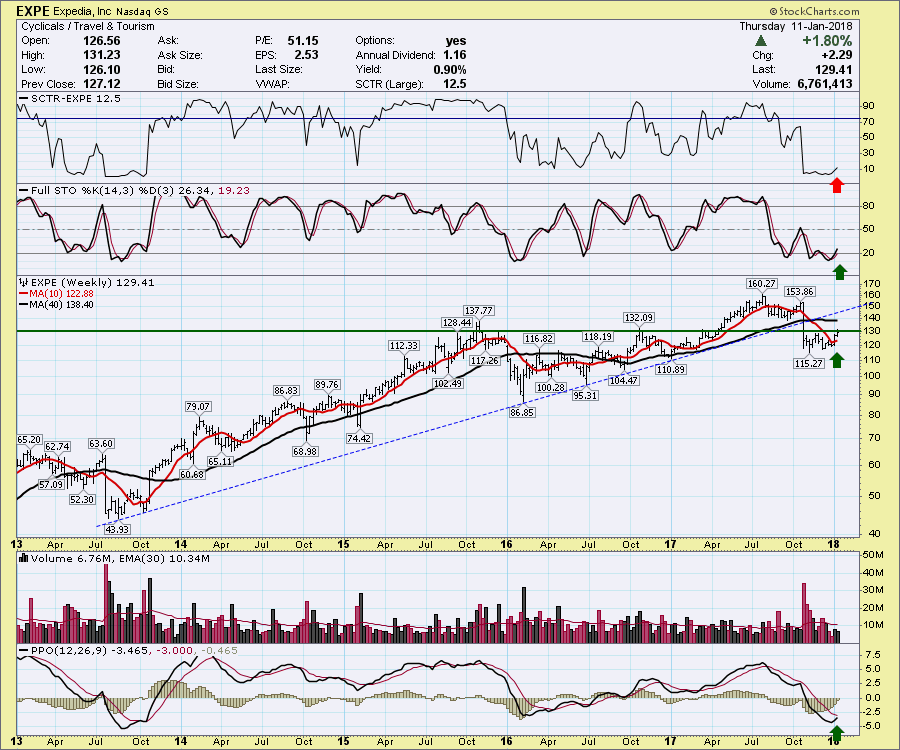 ---
One other technical clue on this chart is the broken blue uptrend line in dotted form. The chart was getting busy, so I made the line more subtle. The real problem is that the chart broke a four year uptrend. Can it restart from here or is the chart about to build a topping structure? Yet to be determined, but it is an important piece of information for the long term. It would suggest not being so determined to be right if the stock isn't acting well.
The PPO looks great as it is just turning up. We can see two other big swoons in the PPO. Both were unbelievably good buying opportunities! With the stock trying to break through two month highs, this looks like a compelling entry above $130. However, let's not let this trip fall off the rails if it can't.
---
Currencies are really important this week!
I recorded a video pointing to some important charts in the currency sphere this week. I have included a link below, if you are interested. They have some profound influences on global macro trends.
Commodities Countdown With Greg Schnell 2018-01-11 from StockCharts.com on Vimeo.
---
Also I am doing the StockCharts Market Outlook this week with Don Vialoux. He is a statesman on Seasonality! You can catch us live at this link on Saturday at 11 AM ET.
If you missed my article on Marijuana stocks that are up 100% within the last three months, you can find that article here. Medical Marijuana Stocks.
Good trading,
Greg Schnell, CMT, MFTA