Career Education (CECO) is breaking out above an up trending consolidation. The stock continues to push higher.
The SCTR continues to hover around 75, suggesting the stock is a continuous top performer. This is a typical top performing stock configuration. Higher highs, higher lows. Ascending relative strength shown in purple is textbook for a strong performer. The daily MACD continues to be above zero most of the time. The MACD pulls back to the zero line, resets and starts another run.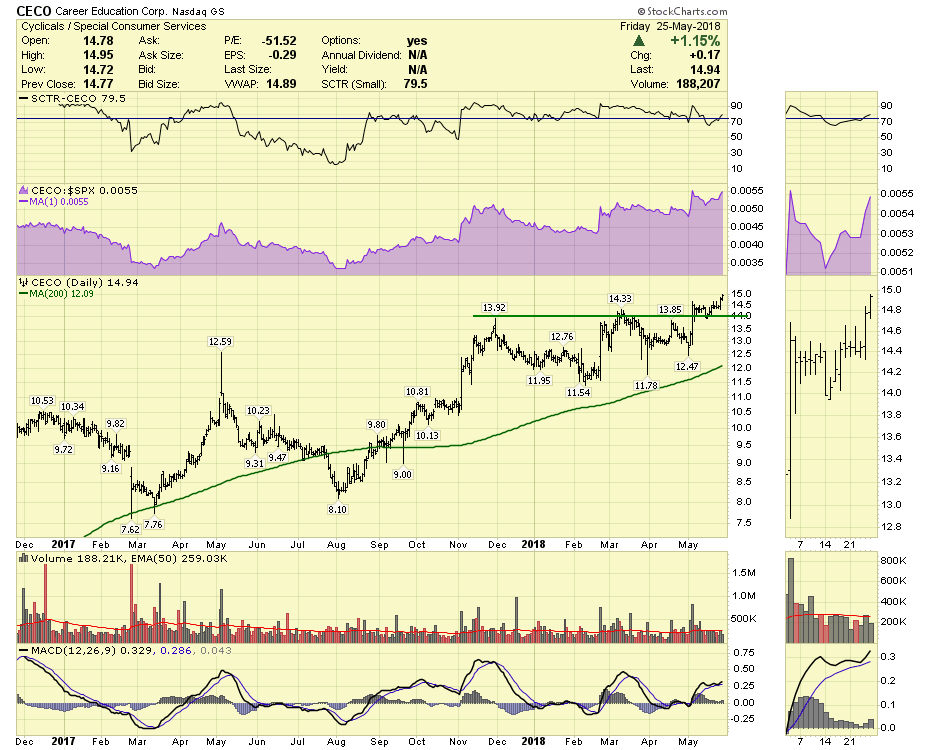 ---
There is a lot to like when you see a strong chart setting up for its next run. The real question is to buy it as it breaks out, or buy it when the MACD resets around zero. That depends on an individual investors style.
---
I host a new TV show on StockCharts.com called The Final Bar. It airs Thursdays at 5 PM ET and is repeated throughout the week on StockCharts TV. You can also catch it on my Vimeo channel or on the StockCharts.com YouTube Channel.
Good trading,
Greg Schnell, CMT, MFTA
Senior Technical Analyst, StockCharts.com
Book: Stock Charts for Dummies
Twitter: Follow @Schnellinvestor