TripAdvisor (TRIP) has become a mainstay tool for frequent travellers. Last week I was in Greece and we used it all the time. Checking out ratings on restaurants, patios, plays, and hotels is so easy on TRIP.
The website created ways to book restaurants and hotels directly through the site without going to restaurant booking tools or another travel site. While this is starting to show up in the stock. After being in a 3-year downtrend, TRIP took its own advice and left the base for travels up and away. After two big earning thrusts, the stock recently made new 52-week highs.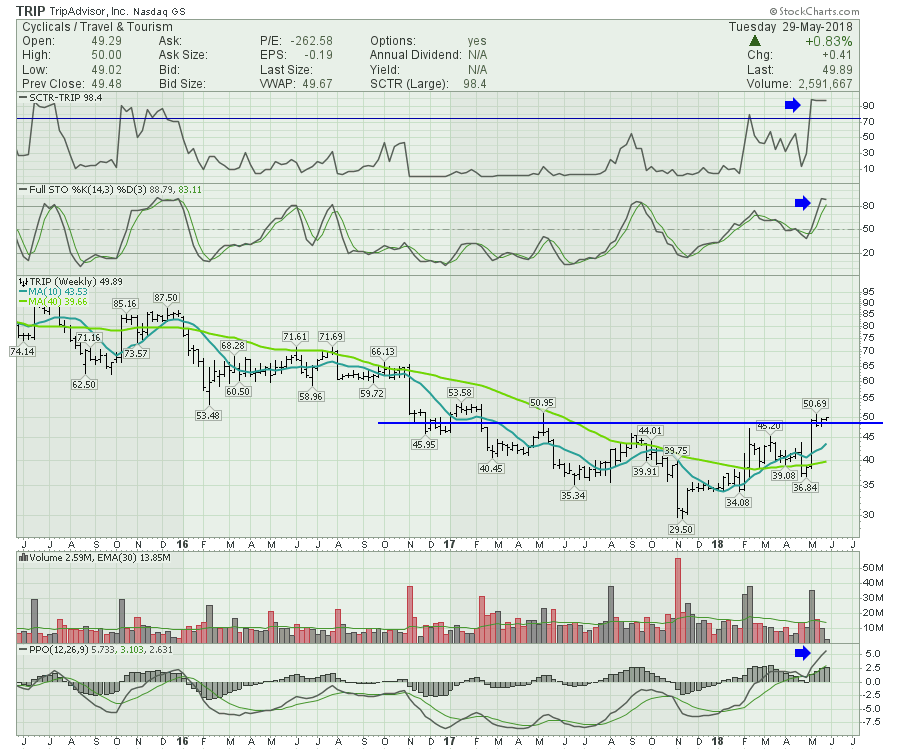 ---
The SCTR looks great and shows TRIP to be one of the top performing stocks. The Full Stochastics suggests the stock is in the top of its recent price range but it also just got there. Lead performers can stay up for a while. We can see the 40-week moving average on the chart. It has a positive slope for the first time on the chart! You'll notice the PPO is at the highest level on the chart. While you could say that looks overbought, it is just because the PPO has been negative for three years.
Now the stock has consolidated for two weeks after big gains and even on Tuesday's big down day for the indexes, TRIP managed a gain on the day. That's real bullish. With the summer travel season and everyone checking restaurant reviews in resort towns, this stock is probably set to continue the run.
Perhaps your portfolio will take a trip higher with a travel stock in there. A stop just below last weeks low should keep you safe. Looks like TRIP wants to find fresh places on the chart and my review is positive!
---
I host a new TV show on StockCharts.com called The Final Bar. It airs Thursdays at 5 PM ET and is repeated throughout the week on StockCharts TV. You can also catch it on my Vimeo channel or on the StockCharts.com YouTube Channel.
Good trading,
Greg Schnell, CMT, MFTA
Senior Technical Analyst, StockCharts.com
Book: Stock Charts for Dummies
Twitter: Follow @Schnellinvestor