Alibaba has been consolidating for about 9 months after a huge climb in 2017. Friday marked a fresh surge out of a small base around the 200 day moving average. The relative strength has been flat since August of last year. This is shown in the purple area chart. This means that the stock is performing in line with the $SPX, rather than outperforming the index like it was on the left side of the chart.
This location on the chart has some benefits for taking a long position on Alibaba (BABA). First of all, a stop around $187 would suggest the stock is not done consolidating yet. This means the stop can be close with a 3:1 ratio to get to the prior highs recently hit. One thing that makes that prior high important, the stock moved to new highs without the $SPX doing the same. This suggests more buying power focusing on BABA and relative strength starting to show up.
Lastly, the red line is at Friday's close. It is moving above the majority of the consolidation once again.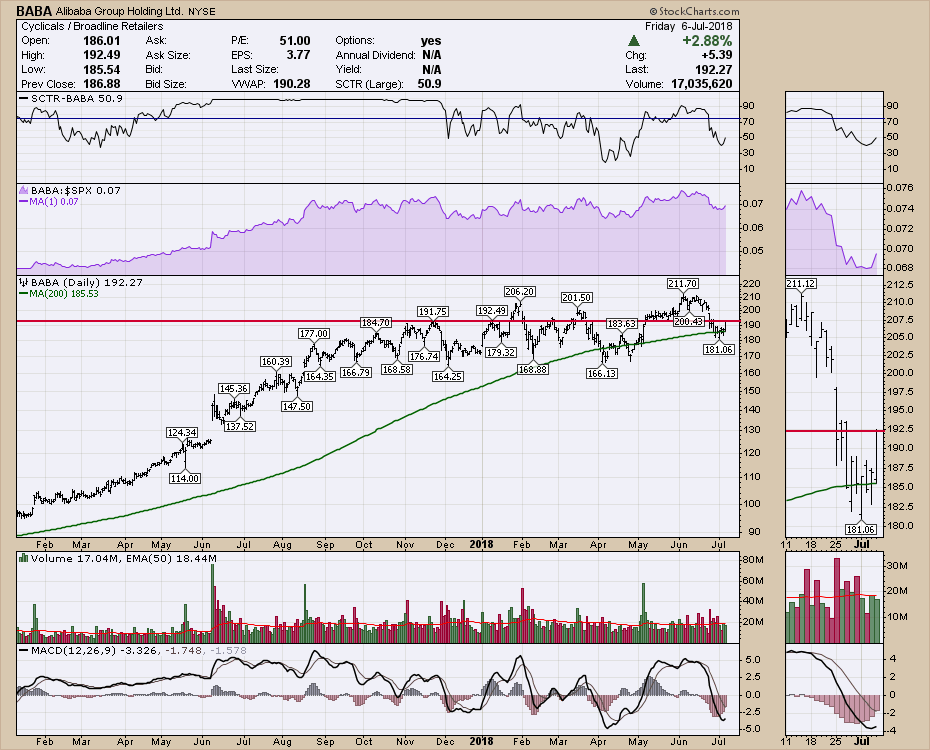 ---
---
Here is the fresh new July 8th edition of the Commodity Countdown. I focused on the important resistance on the bond charts as well as the currencies. There are some important correlations between the $USD and the $SPX that need to be watched closely. The ugly Copper chart is discussed as well as the broader breakdown in Industrial Metals. This may be one of the areas hardest hit by the tariffs so we'll keep watching the charts there. Oil held above the 50 day moving average, but Natural Gas, Heating Oil, and Gasoline all fell below. I discussed Gold and Silver and added some very important notes to the Gold chart this week.
The Nasdaq and the Toronto Stock Exchange both tried to rally this week to resume their breakouts to new highs. There was some improvement in the precarious Bullish Percent indexes.
---
The Final Bar recording for Thursday July 5th contains information on the potential for rollover in the $USD. It also covers the recent surge in the advance/decline data.
---
For Canadian investors, here is a copy of the most recent Canadian Technician video. Canada suffered a failed breakout to end June. But if you are interested in Gold and Silver stocks I roll through 40 of them.
If you are missing clues on signals in the market, follow me on Twitter and check out my Vimeo Channel often. Bookmark it for easy access!
Good trading,
Greg Schnell, CMT, MFTA
Senior Technical Analyst, StockCharts.com
Author, Stock Charts for Dummies
Want to read more from Greg? Be sure to follow his two StockCharts blogs:
Commodities Countdown and The Canadian Technician