TripAdvisor broke out to new 52 week highs in October. Since then, the broader market has been rocky while TRIP has pulled back and consolidated. Check out the chart. The SCTR shows the stock outperforming its peers. The relative strength has pushed up and consolidated near the highs much like price. The full stochastic is a little problematic. Normally a full stochastic will accelerate into the top 80 % level. So far it has not done that and looks like it could potentially turn back down here. So with a stop nice and close, the rest of the chart looks stronger.
Price recently hit two year highs, and the PPO indicator is accelerating higher. With the strong chart shape, the stock looks well set up to go higher.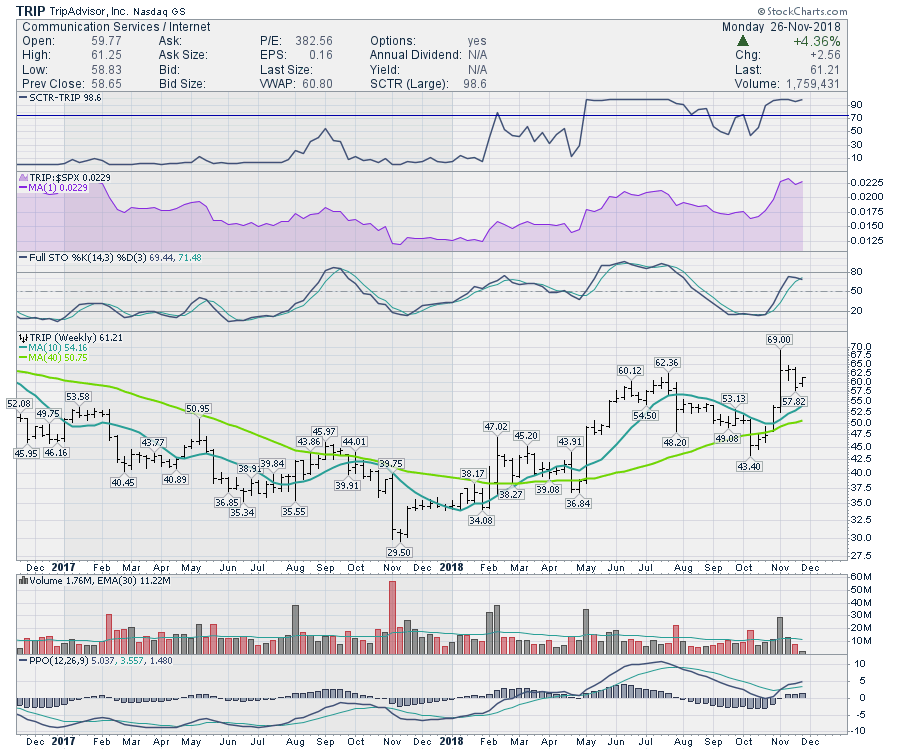 In these rocky times it is hard to find strong enough stocks that can actually push higher while the indexes oscillate. TRIP looks like it has a positive setup if the index backdrop changes.
---
If you would like to check out some of my videos, here is this week's broad market review video.
---
A funny story from this weekend. My daughter was at the library signing out books. She looked to see if the City Of Calgary library had ordered any of my books. Well, the good news was they had five in inventory, but they were all signed out and a waiting list! That's fun for me to hear!

If you are looking for a small gift, you might have family or friends that would like to learn more about the basics of charting. The first section of the book walks through all the chart settings to get the charts you want. The second section is why you might use charts for investing and the third section is putting it all together.
Click here to buy your copy today! Stock Charts For Dummies.
---
The Canadian Technician video shows the bounce off the late October lows in Canada. Canada is back below the 2008 highs. Tough ten years for investors. What would help is some acceleration in metals and mining. This is a tough call here as the US Dollar moves higher but the momentum has been flat to down.
If you are missing intermarket signals in the market, follow me on Twitter and check out my Vimeo Channel often. Bookmark it for easy access!
Good trading,
Greg Schnell, CMT, MFTA
Senior Technical Analyst, StockCharts.com
Author, Stock Charts for Dummies
Hey, have you followed me on Twitter? Click the bird in the box below!
Want to read more from Greg? Be sure to follow his StockCharts blog:
The Canadian Technician