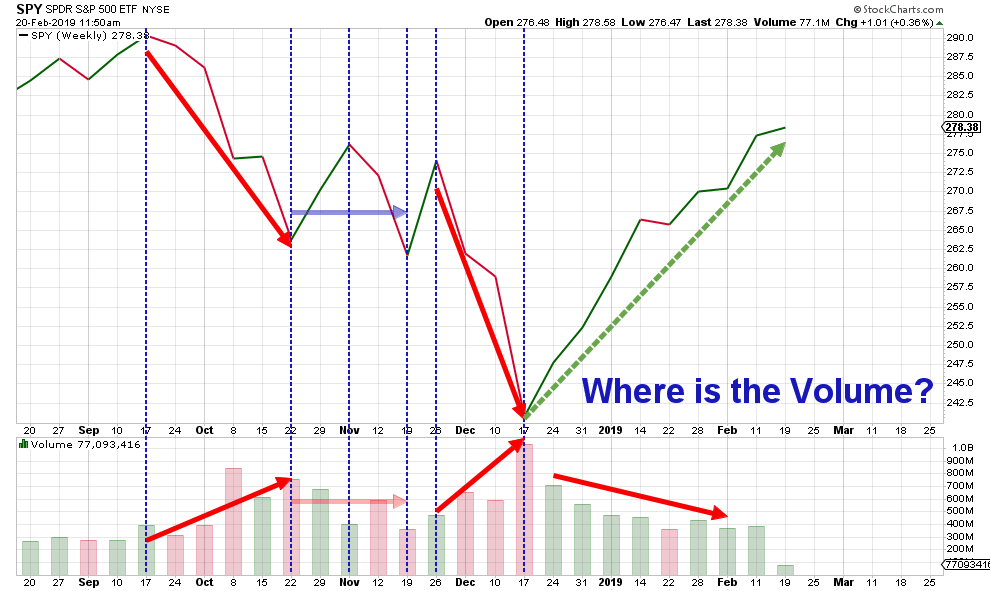 My last article in the RRG blog looks at sector rotation for US sectors and how there are some disconnects between groups of sectors on both the daily and the weekly time frames.
My conclusion from that article was that the current rotational patterns are sending mixed signals which makes it difficult to get a clear picture for the market in general, i.e SPY.
---
---
When things are unclear, I have learned to step back and try to get a better view of the big picture. Very often that also means going back to the basics.
One of these "basics" is the study of volume as it can be very helpful in providing clues that may be invisible when you focus too much on price development in isolation. The Dow Theory states that "Volume must confirm the (direction of the) trend"!
Almost perfect looking patterns or formations on the price chart may be negated and rendered void because they are not supported by the correct volume pattern.
So when the trend in the market is up, we should see rising volumes during rallies and falling volumes during setbacks. Vice versa, when the trend in the market is down, we should see rising volumes on the legs down and falling volumes during recoveries.
This basic principle sprung to mind when I looked at the chart of SPY in combination with volume.
Since the high in the week of 17 September, there have been two meaningful declines with the second one ending in the week of 17 December. Both declines were accompanied by rising volumes. The period in between from 22 October to 25 November shows a flat or if you wish, slightly declining volume.
The rally that started out of the low in the week of 17 December is still crawling higher until today while volume keeps declining. For me, this makes the current move suspect at least.
In combination with the mixed signals from (sector) rotations on the Relative Rotation Graph, it holds me back from being outright bullish on SPY for the time being.
---
My regular blog is the RRG blog If you would like to receive a notification when a new article is published there, simply "Subscribe" with your email address using the form below.
Julius de Kempenaer | RRG Research
RRG, Relative Rotation Graphs, JdK RS-Ratio, and JdK RS-Momentum are registered TradeMarks ®; of RRG Research
Follow RRG Research on social media:
Feedback, comments or questions are welcome at Juliusdk@stockcharts.com. I cannot promise to respond to each and every message but I will certainly read them and where reasonably possible use the feedback and comments or answer questions.
If you want to discuss RRG with me on SCAN, please use my handle Julius_RRG so that I will get a notification.