With all the news this week regarding trade, some stocks just quietly fly under the radar. This week, it was Aflac (AFL). While the market made lower lows almost every day this week, Aflac made its lows on Monday and its high on Friday. I like seeing that relative strength.
The SCTR suggests AFL is a top performer, moving above 75. While Aflac usually performs in line with the $SPX, it recently pushed up in relative strength. If the market needs more time to be defensive here, this chart looks like a stable theme.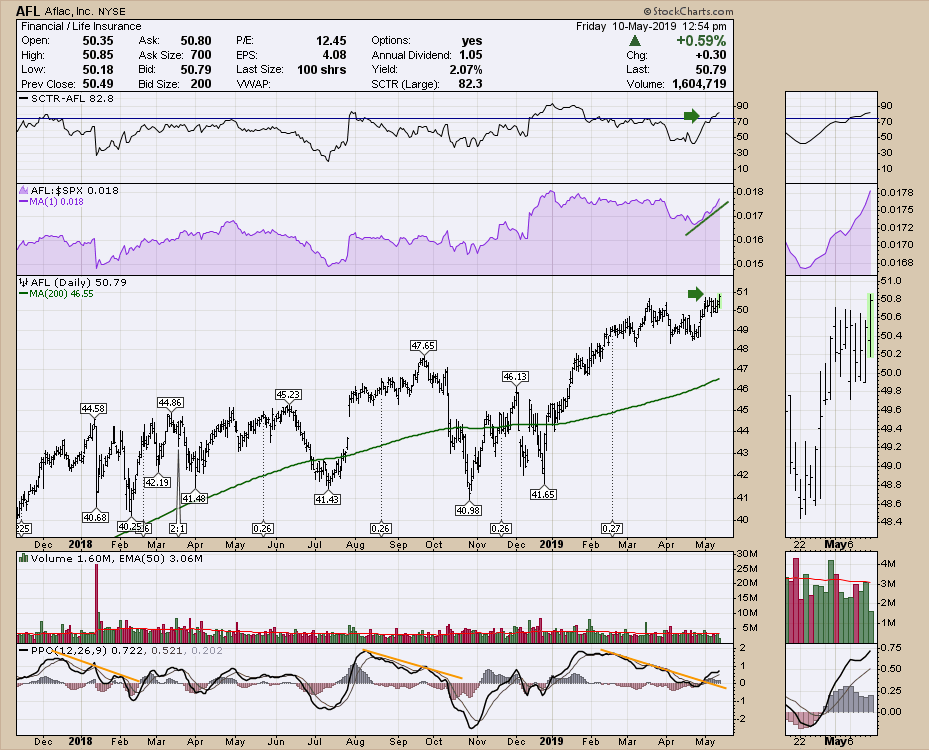 I like seeing the PPO momentum indicator turning up after bouncing off the zero level. The stock looks strong and the defensiveness of the insurance sector makes sense. If the PPO was to turn down here and the stock start to fail around $49, I'd let someone else own it.
The stock got very volatile through the spring and fall pullbacks in 2018. I don't know if I want that much volatility in my portfolio, so I'd keep my losses small. While it's been unflappable this week, that duck flaps its wings every now and then.
Good trading,
Greg Schnell, CMT, MFTA
Senior Technical Analyst, StockCharts.com
Author, Stock Charts For Dummies
---
Want to stay on top of the market's latest intermarket signals?
– Follow @SchnellInvestor on Twitter
– Connect with Greg on LinkedIn
– Subscribe to The Canadian Technician