I always love having the added bonus of guaranteed buyers when I see a stock that's broken out. That's what happens when a huge percentage of a company's float is short. In December 2019, I wrote a ChartWatchers article, "Here's A Stock Breaking Out With 21% Of Its Float Short!" At the time of the article, Tesla (TSLA) was trading at 405. Six weeks later, it hit 950. I'm not saying that TSLA surged like that solely because of short interest, but I believe common sense would tell us that it certainly didn't hurt. If you're shorting a stock that rises from under 250 at the beginning of October 2019 to 950 at the beginning of February 2020, the thought of covering your short has got to creep into your mind.
21% of a float being short is unusually high, but what if I told you that a "socially-distanced-themed" stock had 45% of its float short as of March 31st? Peloton Interactive, Inc. (PTON) recently surged from 26 to 38 in 6 trading days. That's nearly a 50% move in a bit more than a week. Short squeezes can be powerful and I don't think this one is over. Here's the latest chart on PTON: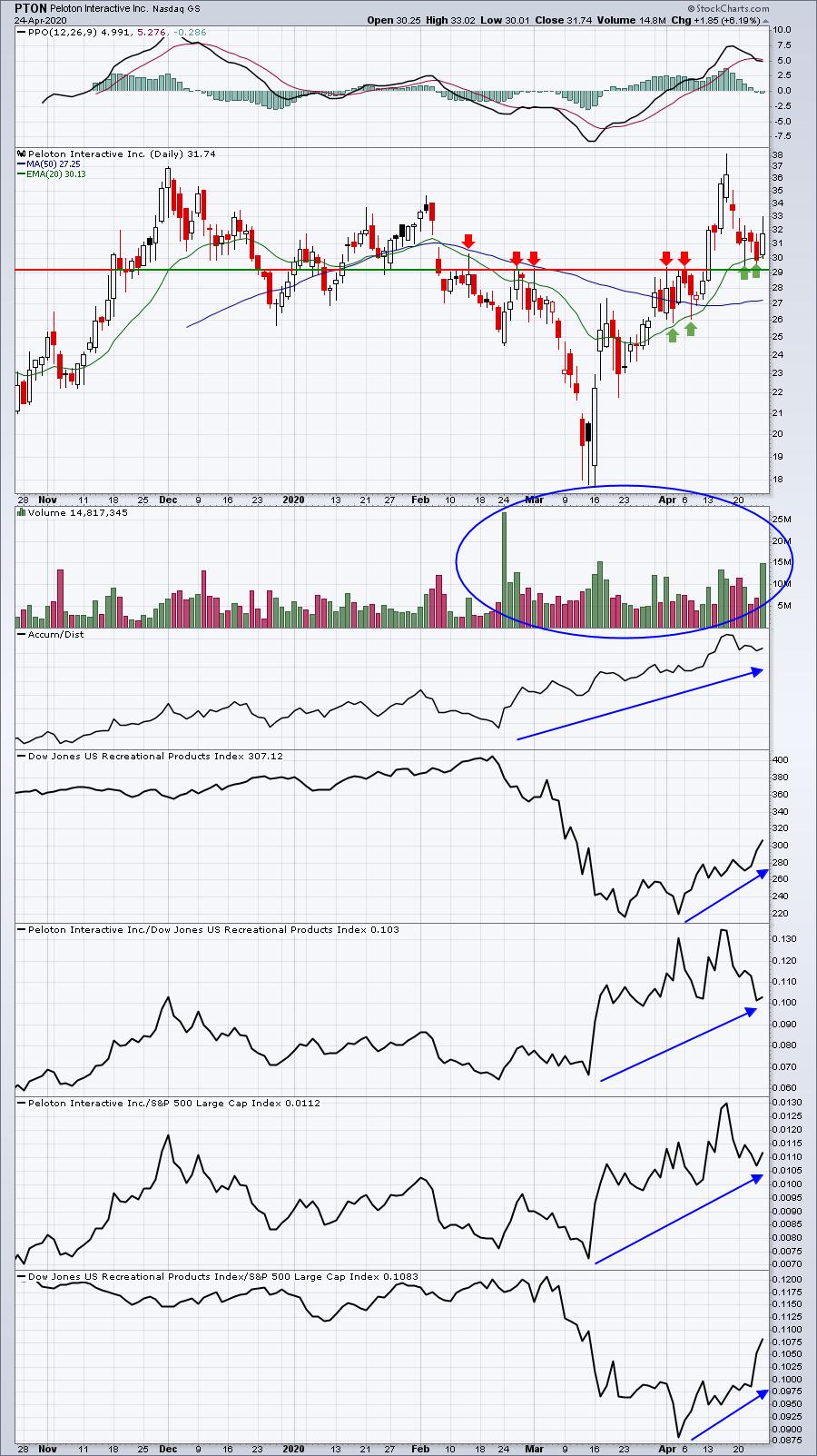 Volume has surged in the past couple months and the accumulation/distribution line (AD line) couldn't be much stronger. While the market was panicking in March, PTON was also moving lower, but the AD line suggested that professionals were accumulating the stock. That accumulation continues as last week's high above 38 was accompanied by a new high in PTON's AD line. PTON offers interactive fitness products that include touchscreens that stream live and on-demand classes. PTON just announced that a record 23,000 people attended a single workout class. You don't see that at your local gym! I expect that PTON will benefit from more people wanting to stay socially-distanced for years to come.
I featured PTON during my appearance on StockCharts TV's "The Pitch" at the end of March as one of my five stocks that I favored as a result of the COVID-19 pandemic. If you'd like to see the other four, plus my entire Top 20 Pandemic Stocks of 2020, CLICK HERE for more information.
Happy trading!
Tom