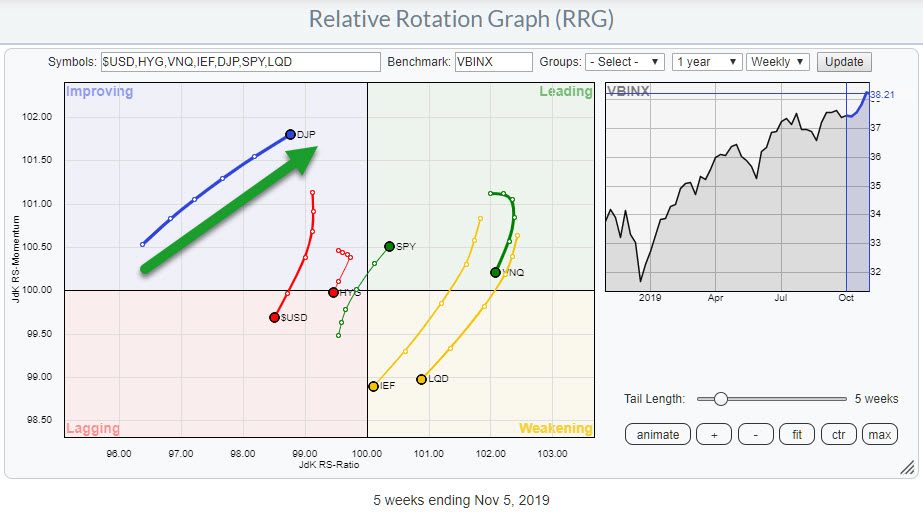 RRG of asset class ETFs against VBINX
Yesterday, 5 November, was the first Sector Spotlight show of the month. My goal is to use every first show of each month to review the big picture for asset classes and US sectors using monthly charts, and that's exactly what I did yesterday. If you missed the live broadcast, you can watch the replay on the StockCharts YouTube channel.
Fresh monthly charts for breakfast | Sector SpotLight
Commodities Waking Up?
One of the asset classes that attracted my attention was/is commodities.
On the weekly Relative Rotation Graph for asset classes shown above, commodities (DJP) is on a strong heading, rapidly moving towards the leading quadrant at a long tail, indicating that there is plenty of power behind this rotation.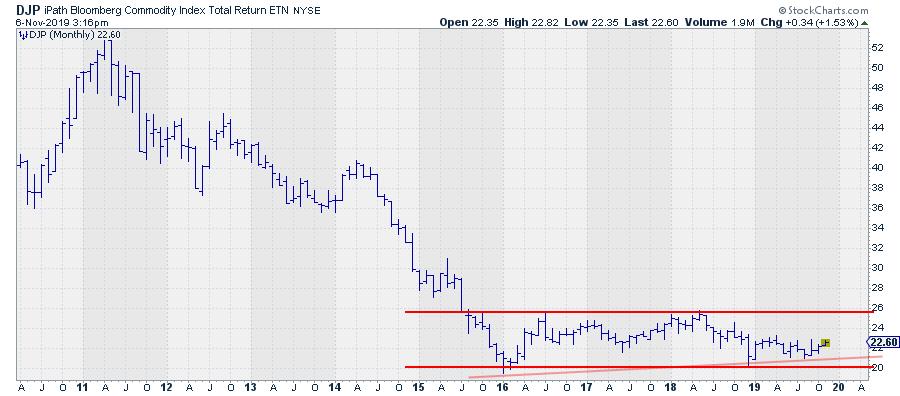 When investigating the monthly chart for DJP, the support level just above $20 seems to be getting stronger and stronger. As commodities are trading in a range (between roughly $20-$25.50 since 2015/2016), the odds are increasing for a move back to the upper boundary of that range. From current levels, that is more than a 10% rise.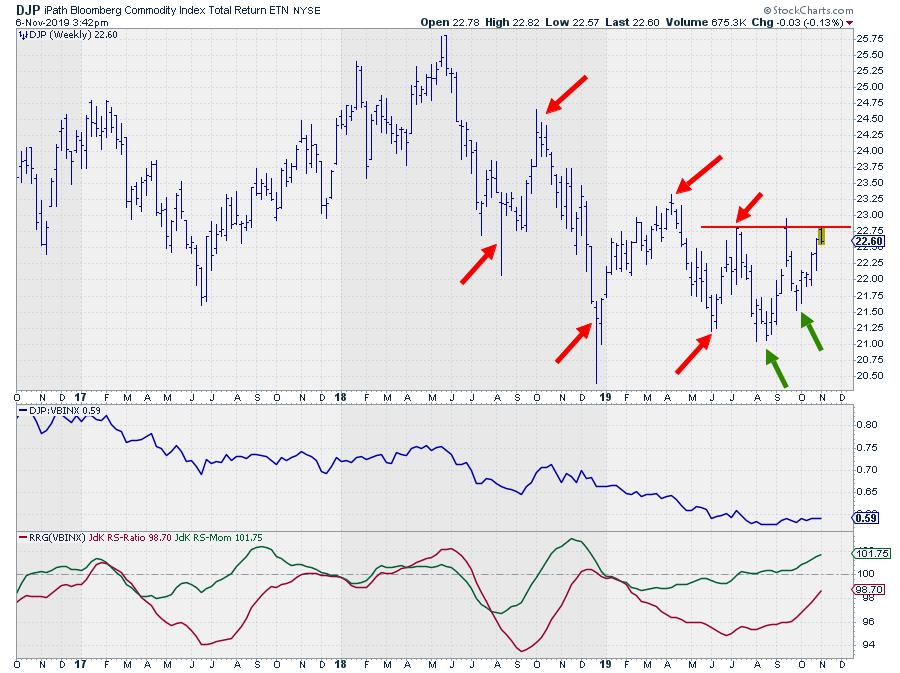 Moving one level down to the weekly chart shows that DJP is currently struggling with the overhead resistance around $22.80. Once that barrier can be cleared, there are a few more previous highs that can/will offer some intermediate resistance, but eventually the $25.50-$26 will come in sight.
The positive takeaway from this chart, at least for me, is the turnaround from a series of lower highs and lower lows into higher lows and higher highs once we break beyond the aforementioned resistance area.
Relative strength vs. VBINX is improving, with the raw RS-Line starting to pick up and a clear rotation through the improving quadrant now visible. So commodities seems to be getting back to life; it will be worth keeping an eye on them in coming weeks.
By the way, Martin Pring also has a very nice article up in the latest ChartWatchers newsletter, noting the improvement of commodities and tying that in to the business cycle. (The full article is available on Martin Pring's Market Roundup.)
-Julius
---
Want to stay up to date with the latest market insights from Julius?
– Follow @RRGResearch on Twitter – Like RRG Research on Facebook – Follow RRG Research on LinkedIn – Subscribe to the RRG Charts blog on StockCharts
---
Feedback, comments or questions are welcome at Juliusdk@stockcharts.com. I cannot promise to respond to each and every message, but I will certainly read them and, where reasonably possible, use the feedback and comments or answer questions.
To discuss RRG with me on S.C.A.N., tag me using the handle Julius_RRG.
RRG, Relative Rotation Graphs, JdK RS-Ratio, and JdK RS-Momentum are registered trademarks of RRG Research.