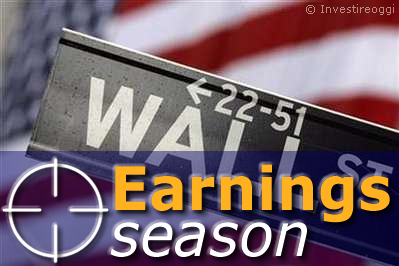 Earnings season is always full of surprises. It's a time when we usher out the old (leaders) and welcome in the new. Companies that report better-than-expected results and are trading in bullish technical patterns typically have an advantage in the weeks ahead - at least that's been my experience. So this represents a time to do your homework to find the companies you'd LIKE to own and then wait on technical entry points to surface before committing capital. While I'll be looking at hundreds of earnings reports over the next several weeks, I've decided to list 4 specific companies that are on my radar for various reasons.
---
1. CSX Corp (CSX) - railroad stock
Transportation stocks led the market throughout 2014 and have been a big part of the six year bull market. But 2015 has been rough for most transportation stocks and especially rough since mid-March. The Dow Jones U.S. Railroad Index ($DJUSRR) broke above 1250 in May 2014 and had not retested that level since. Recently, the DJUSRR has been holding this 1250 support so the earnings on CSX come at a rather interesting time from a technical perspective. Also, railroads generally perform well during periods of anticipated economic strength. Rising treasury yields of late suggest we could see economic strength ahead. Here's the chart on CSX: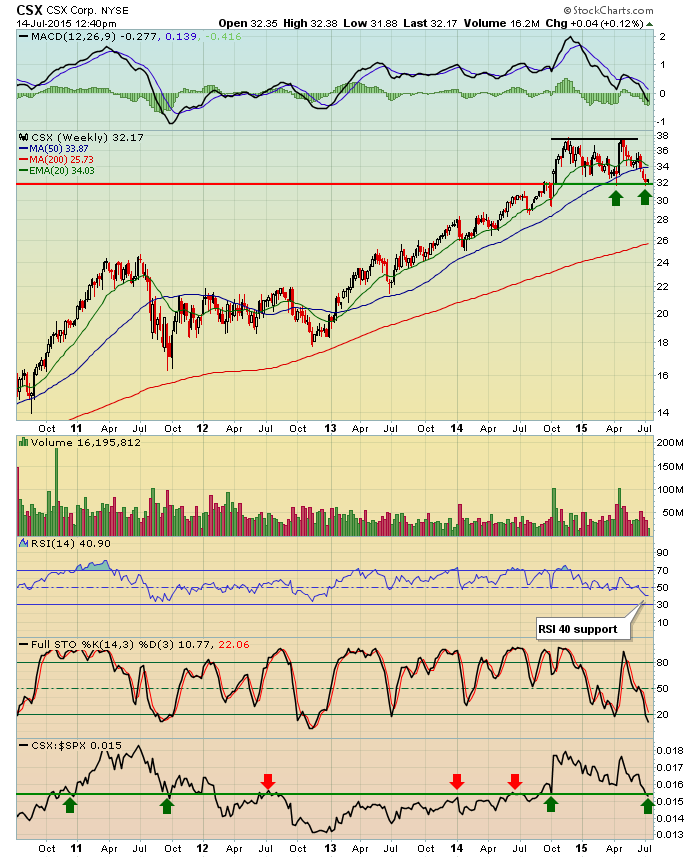 CSX reports its latest quarterly results after the bell today. We could see fireworks as CSX is already oversold on its weekly chart, as evidenced by an RSI reading near 40 and stochastic at 10. CSX has also printed a double top near 38.00 and has demonstrated solid support close to 32.00. Today's earnings report and the subsequent reaction could determine the fate of CSX over the next 90 days or so.
2. Delta Airlines (DAL) - airline stock
I'm watching DAL for much the same reason I'm watching CSX. They both belong to the transportation area of the market. Airline stocks benefited from a strengthening economy the past few years and in late 2014 soared as crude oil prices ($WTIC) tumbled. In 2015, the Dow Jones U.S. Airlines Index ($DJUSAR) fell nearly 20% from its January peak to its recent low near 200. Crude oil prices have been falling again, however, and the DJUSAR has risen right when it needed to - at major price support. Check out DAL: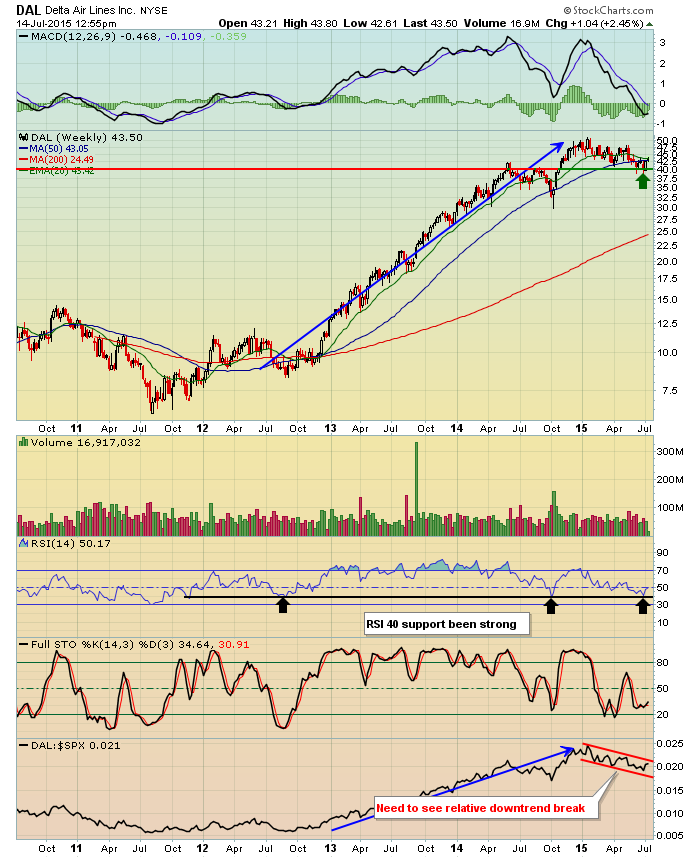 Both price strength and relative strength (vs. S&P 500) are quite apparent on DAL's chart from 2012 through 2014. But DAL has shown very poor relative strength the past six months and those interested technically in DAL are awaiting a relative breakout. Thus far, the technical bounce off price and RSI 40 support are impressive but the quarterly earnings will be released tomorrow BEFORE the bell. So we'll see two transportation heavyweights, CSX and DAL, both reporting between now and tomorrow's open. We'll soon see the picture and how traders are reacting.
3. Intel Corp (INTC) - semiconductor stock
Listen, the Dow Jones U.S. Semiconductor Index ($DJUSSC) needs a lift in a very bad way. INTC is just the company to provide it - or not provide it. While I realize that market rotation is part of the game during any bull market, the recent "rotation" out of semiconductors is bordering on "bearish". The DJUSSC is another area of the market where we've seen its weekly RSI touch the usually-important 40 support level. This where I begin to look for a nice bounce. Will INTC deliver the goods after the close on Wednesday? I don't know, but its very close to major price support established from the October low. Check it out: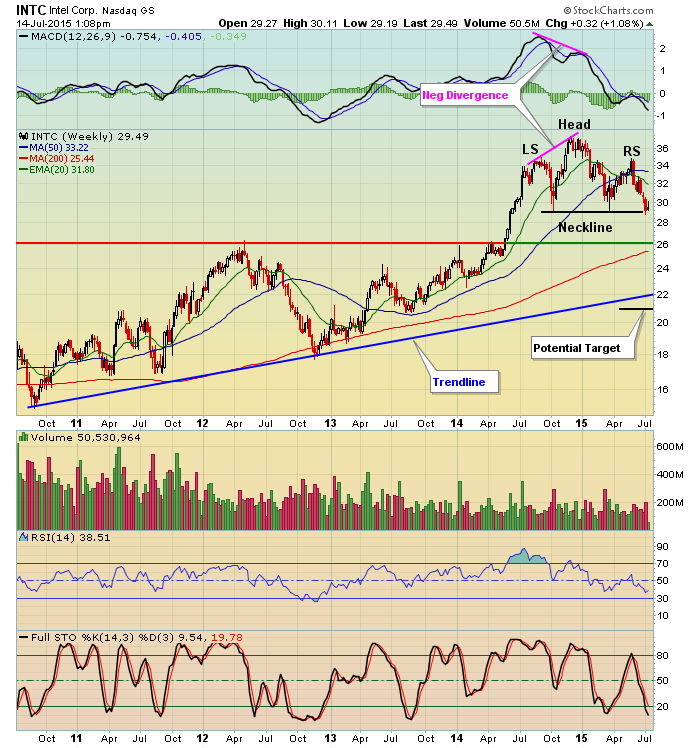 We haven't seen the breakdown yet on INTC, but this is one of the more ominous looking charts currently. A head & shoulder top doesn't confirm until we see a heavy volume breakdown, but quarterly earnings on deck tomorrow afternoon could certainly provide the reason for a breakdown. Or it could be the launching pad for the next rally in semiconductors. Note the weekly RSI just beneath key 40 support. More importantly, check out the price of INTC as it rests near very significant lows that printed in October 2014 and March 2015. The bulls do not want to see volume accelerate with a close beneath 29.00 as the measurement on this pattern could be down to 21.00, just below trendline support near 22.00. Needless to say, the bulls are looking for something good from INTC on Wednesday.
4. Google (GOOGL) - Internet stock
The Dow Jones U.S. Internet Index is breaking out as I write this article. In the DITC blog from yesterday titled "Technology and Internet Stocks Leading Today's Advance", I wrote a quick piece on the bullish ascending triangle printing on the DJUSNS chart with the key resistance level being 900. If we can clear that level and hear good news out of GOOGL and Facebook (FB), this industry group appears poised for a very solid second half of 2015. Let's take a look at GOOGL: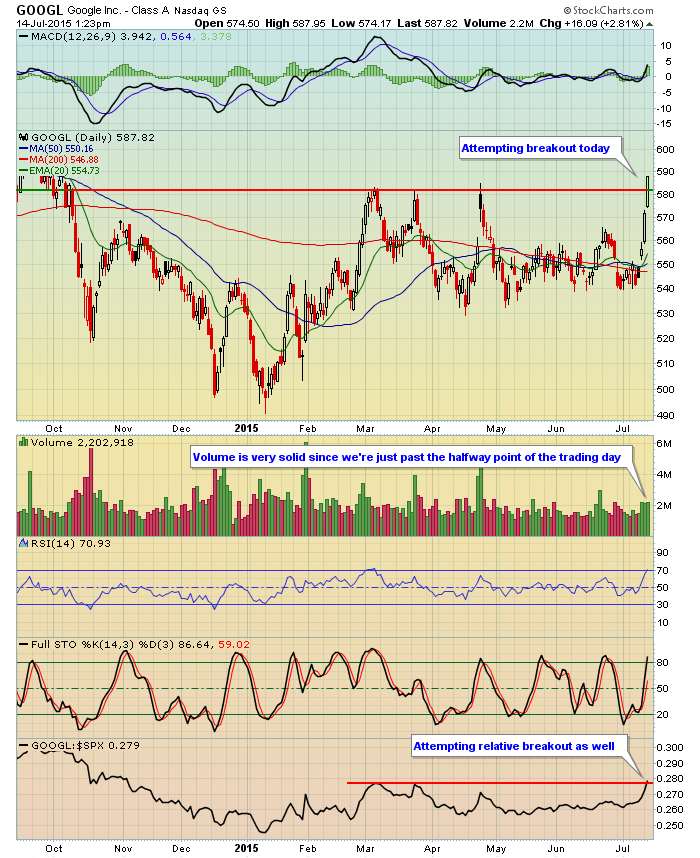 The internet space can be quite volatile, but also quite rewarding. A breakout in leaders within the space like GOOGL and FB suggest this breakout overall in the DJUSNS is likely to hold. But we need to get through the quarterly earnings reports with these patterns firmly in place. GOOGL reports Thursday AFTER the bell.
From the above four charts, we see different areas of the stock market with their own technical strengths or weaknesses. How traders react to these four reports will likely dictate what kind of market we'll be trading throughout the remainder of the summer months.
Happy trading!
Tom