But will it last?
I'll be back in the morning with my normal blog article, but wanted to point out that major reversals are taking place this afternoon in terms of rotation. The 10 year treasury yield ($TNX) has reversed in a key support zone from 1.90%-2.00%. The relative performance of the Russell 2000 ($RUT) vs. the S&P 500 ($SPX) surged close to 1pm EST. Volume is extraordinarily high (NASDAQ volume nearing 3 billion shares) and we're seeing a major price reversal at key longer-term price support on both the S&P 500 and NASDAQ as shown below:
---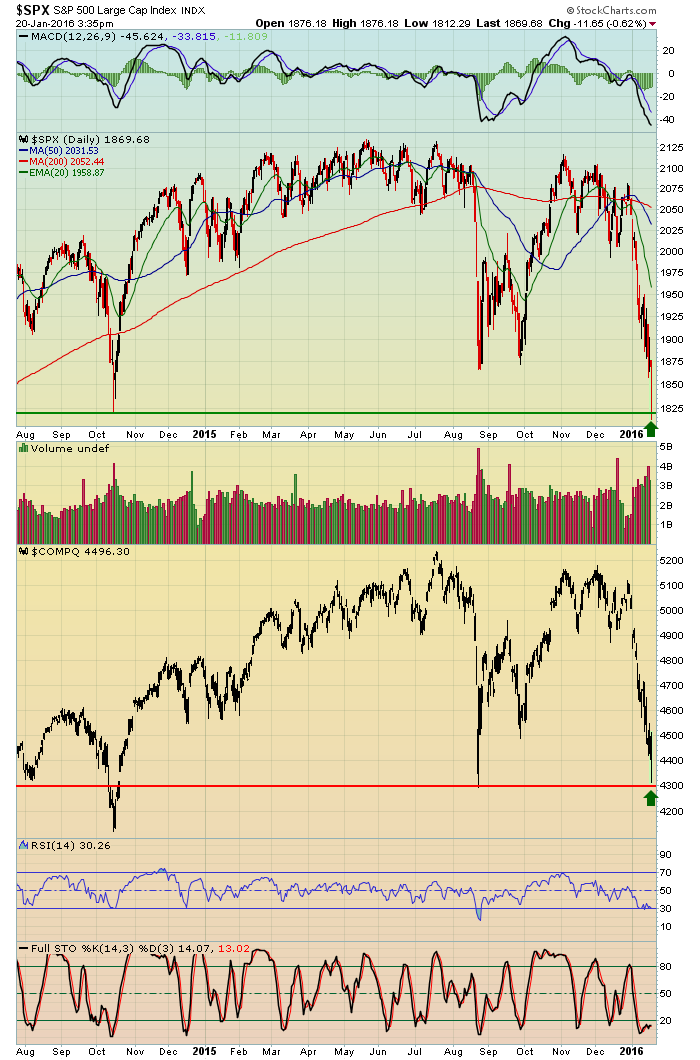 Throw in strength from other aggressive areas like transportation ($TRAN) and biotechnology ($DJUSBT) and this represents the best short-term opportunity for the market to rally. I don't expect it to last but we could see strength for 1-2 days and then go from there. Stocks like Amazon (AMZN), Alphabet (GOOGL) and First Solar (FSLR) have reversed today at key support levels and could continue higher short-term. Keep in mind this market is EXTREMELY volatile so we can't rule out a head fake, but reward to risk would seem to be as favorable now as at any point during the first three weeks of 2016. Please consider your own risk tolerance levels before making any decision to invest. After all, there is still 10 minutes left in the trading session! :-)
More details to follow in tomorrow morning's article.
Happy trading!
Tom