Market Recap for Thursday, May 12, 2016
Defensive. That's the best way to describe it. With consumer stocks, traders are choosing staples. If it's a question of transportation vs. utilities, it's really not a question. Utilities rule. Small caps or the S&P 500? Again, don't ask. It's very important to sustain a rally by turning aggressive and that simply isn't the mood of traders right now. Look at yesterday's sector leaderboard. Utilities (XLU, +0.59%) and consumer staples (XLP, +0.54%) led the bifurcated market to the upside. What else is new? Check out the recent preference for staples within the consumer stocks:
---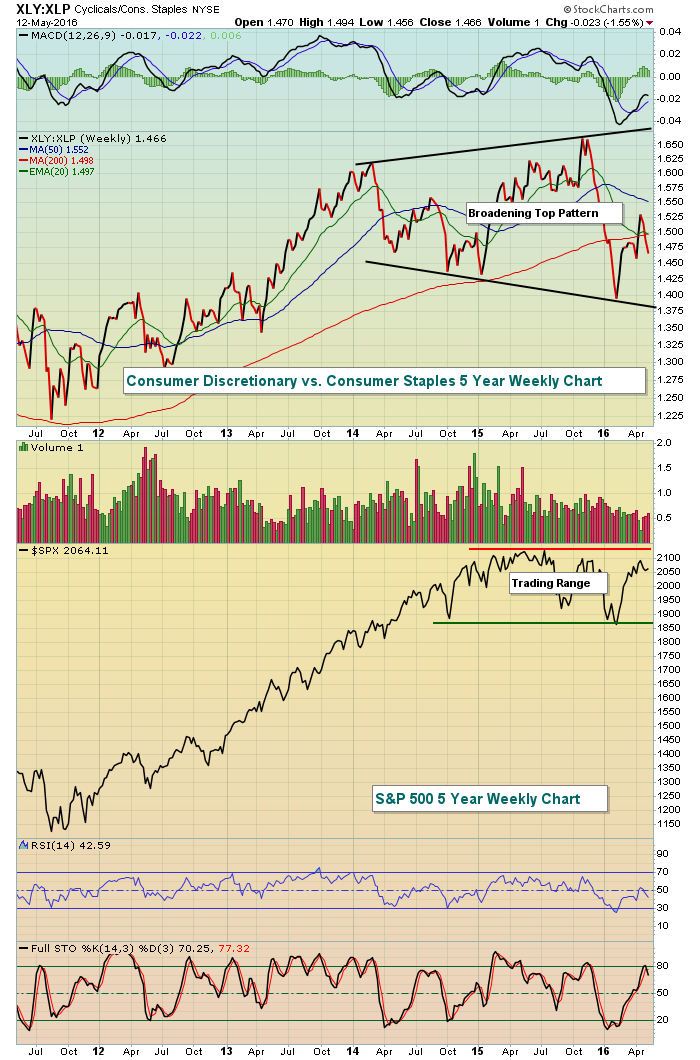 While the S&P 500 is still relatively close to its recent and all-time high, the XLY:XLP ratio has declined significantly. This suggests that traders are very defensive and not a sign of higher U.S. equity prices in the days and weeks ahead.
Healthcare providers ($DJUSHP, -1.77%) tumbled yesterday to lead the healthcare sector (XLV, -0.59%) to outsized losses. The DJUSHP is featured below in the Sector/Industry Watch section.
Pre-Market Action
Well, is the glass half full or half empty? That's what those trading retail stocks are asking themselves this morning. JC Penney (JCP) was the latest company in the retail space to report less than inspiring results and the stock is down 9.23% in pre-market trading. But the April retail sales (less autos) report came in this morning much better than expected at +0.8% vs. the +0.5% anticipated. Given that retail stocks in general have been battered of late, it would be reasonable to assume we'll see a bit of a bounce off this solid fundamental news.
U.S. futures are not pointing to much strength, however, as the Dow Jones looks to open down slightly this morning.
Current Outlook
Transportation stocks relative to utilities remain weak and that's a sign that traders remain highly skeptical of future economic strength. After breaking out above 13, the $TRAN:$UTIL ratio stalled and then fell below that important 13 relative support level. The overall downtrend remains in play and that's another sign of rotation toward defense. Check out the long-term relative performance: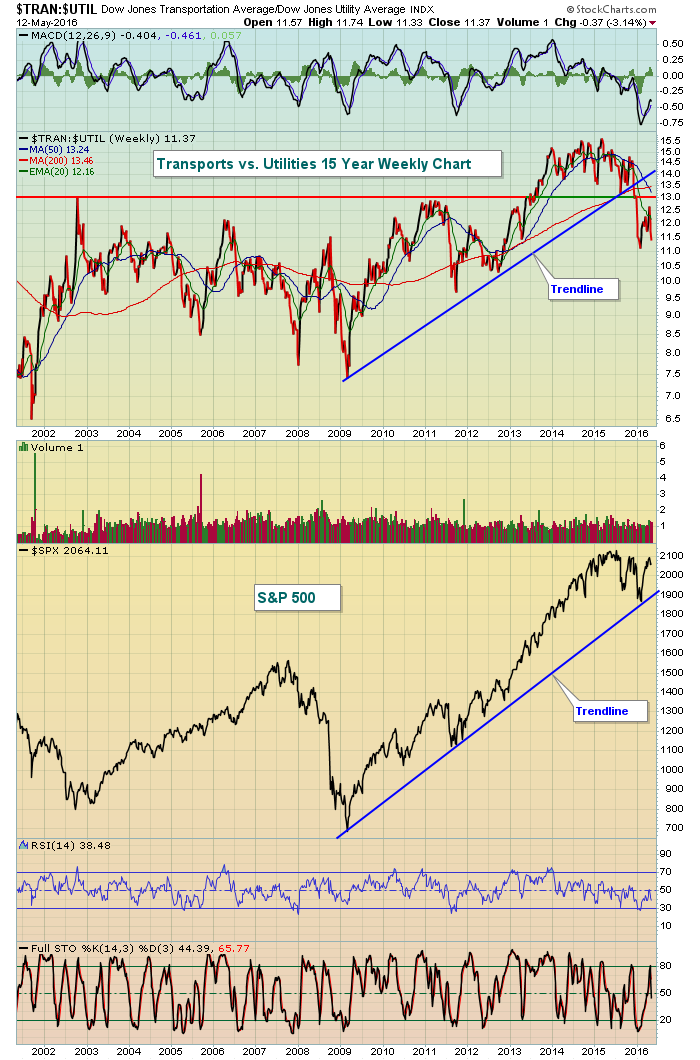 Both relative support and the relative trendline broke over the past six months and hints of further economic weakness ahead. While it probably is best to remain on the long side for the most part, stops should remain in play in the event that future economic weakness drives U.S. equity prices lower.
Sector/Industry Watch
Healthcare providers ($DJUSHP) were very weak on Thursday and lost key short-term price support. Here's the latest technical picture on the group: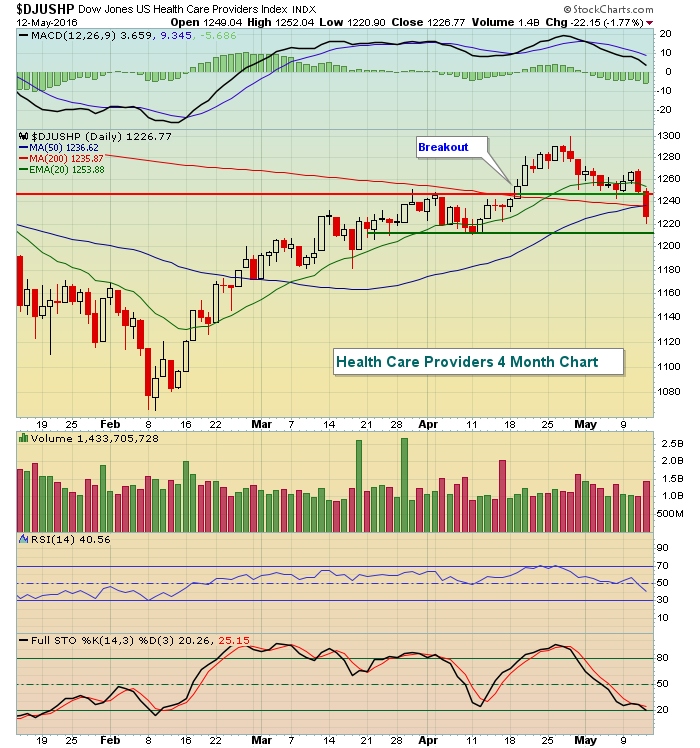 The breakout above 1245 was bullish, but in the past two days the DJUSHP lost 50 points and its breakout level. The latest reaction low support level is quickly approaching at 1210. Failure to hold that support would set the group up for additional downside. Note that the RSI is now at 40, a key support level during uptrends and the lowest RSI reading for the DJUSHP since the early February bottom.
Historical Tendencies
The "go away in May" theory is based on the fact that beginning in May the S&P 500 tends to struggle to push to higher prices. Here are the average monthly returns by calendar month from May through September:
May: +2.44%
June: -0.03%
July: +11.75%
August: -1.06%
September: -6.17%
Considering that the S&P 500 averages roughly a 9% return over the past 66 years, the average returns over the next several months suggest that we be more defensive. That is certainly one of the reasons we've seen money shifting toward defense lately.
Key Earnings Reports
(actual vs. estimate):
HMC: .40 vs .49
JCP: (.32) vs (.40)
Key Economic Reports
April retail sales released at 8:30am EST: +1.3% (actual) vs. +0.9% (estimate)
April retail sales ex-auto released at 8:30am EST: +0.8% (actual) vs. +0.5% (estimate)
April PPI released at 8:30am EST: +0.2% (actual) vs. +0.3% (estimate)
April Core PPI released at 8:30am EST: +0.1% (actual) vs. +0.1% (estimate)
March business inventories to be released at 10:00am EST: +0.2% (estimate)
May consumer sentiment to be released at 10:00am EST: 89.7 (estimate)
Happy trading!
Tom