Market Recap for Friday, May 6, 2016
We saw several successful tests of key price, gap and moving average support on Friday. The price action into the close was bullish with our major indices finishing on or near their highs of the session. Money rotated much more aggressively as well with technology (XLK, +.74%), consumer discretionary (XLY, +.74%) and industrials (XLI, +.67%) all ending the day in the top four sectors. Basic materials (XLB, +.81%) was the best sector as gold mining shares ($DJUSPM) - see Sector/Industry Watch section below - soared another 3.24%, despite a recovering dollar index ($USD).
---
Internet stocks ($DJUSNS) closed at a two week high and appear poised to make another attempt at what's become very important price resistance at 1100. Check out the chart: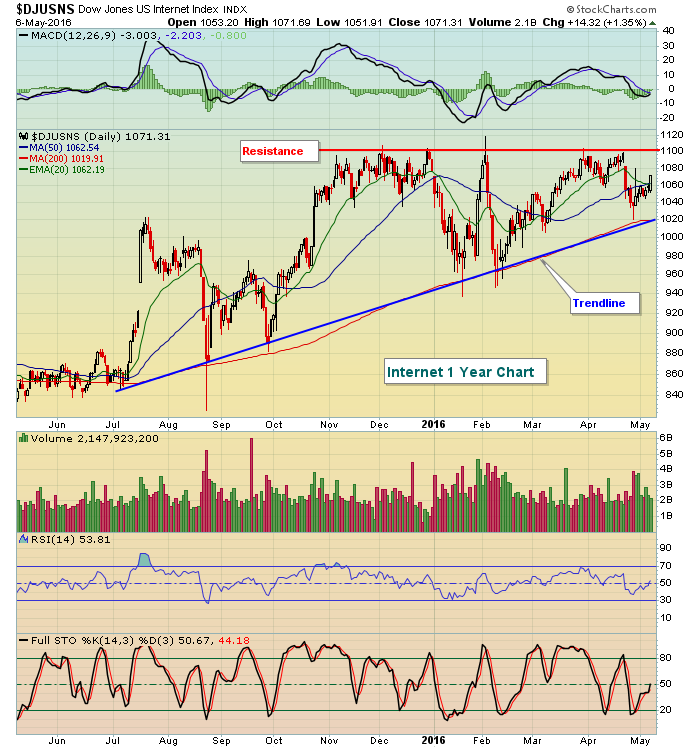 The trading range appears to be squeezing for the internet space as rising lows and equal highs show a group that's consolidating and perhaps preparing for a launch above 1100. That would obviously be a very bullish development for a market that's been trading sideways for two years.
The defensive utilities sector (XLU, -.65%) backed off on Friday, after testing previous highs. Further consolidation down to test its recent low close to 47 is a real possibility. For now, the trading range on the XLU is from 47-50.
Pre-Market Action
There are hundreds of companies set to report earnings today and more than a thousand this week. But many of the biggest names have already reported and market participants are trying to digest them, along with assessing global economic risks/conditions and the likelihood of another Fed rate hike at the next FOMC meeting.
The U.S. stock market is set to kick off a fresh trading week with futures very slightly higher. China's Shanghai Composite ($SSEC) tumbled overnight on poor data, losing 2.76%. But other Asian markets, along with European markets this morning, are mostly higher.
Current Outlook
Technically, it would appear that the bulls are now in charge after Friday's reversal off key moving averages and the solid closing action. The SPY, which tracks the S&P 500, printed a bullish engulfing candle on Friday exactly at its 50 day SMA and close to recent price support as well. The 50 day SMA was to be expected after the recent negative divergence coincided with mid-April price highs. Check out the chart: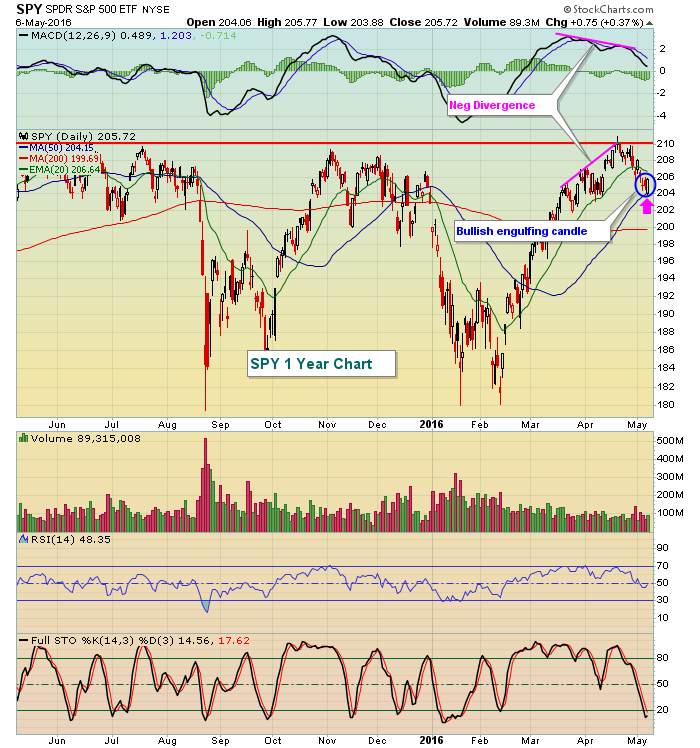 Many times, negative divergences signal short- to intermediate-term tops and we see selling down to test rising 50 day SMAs. From there, the market tells us its future plans. Holding on to support close to 204 now seems critical after printing the reversing bullish engulfing candle on Friday. We'll see.
Sector/Industry Watch
Gold mining shares ($DJUSPM) have been among the best performing industry groups since bottoming in mid-January. The reason? The falling U.S. Dollar ($USD) - at least that's one big reason. Surprisingly, however, gold mining performed very well late last week despite the dollar bouncing. Check out recent action in both: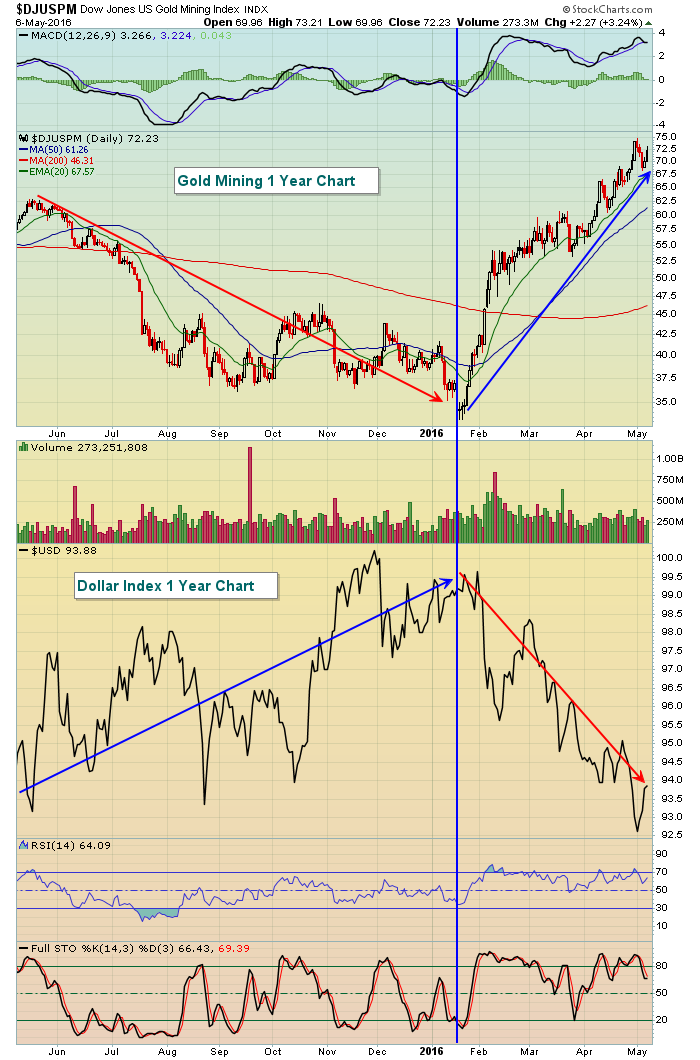 The tendency for these two charts to trend in opposite directions is rather clear. The DJUSPM bottomed and moved higher in parabolic fashion at the time the dollar lost its strength. Friday's very bullish day in gold mining shares occurred, however, with the dollar bouncing to key overhead resistance near 94. If the dollar continues pushing higher, then the recent rally in the DJUSPM will likely end.
Historical Tendencies
The Dow Jones U.S. Tobacco Index ($DJUSTB) ranks as the best performing industry group during the month of May with average returns during the month of 3.9% over the last 17 years. Here's the seasonality chart: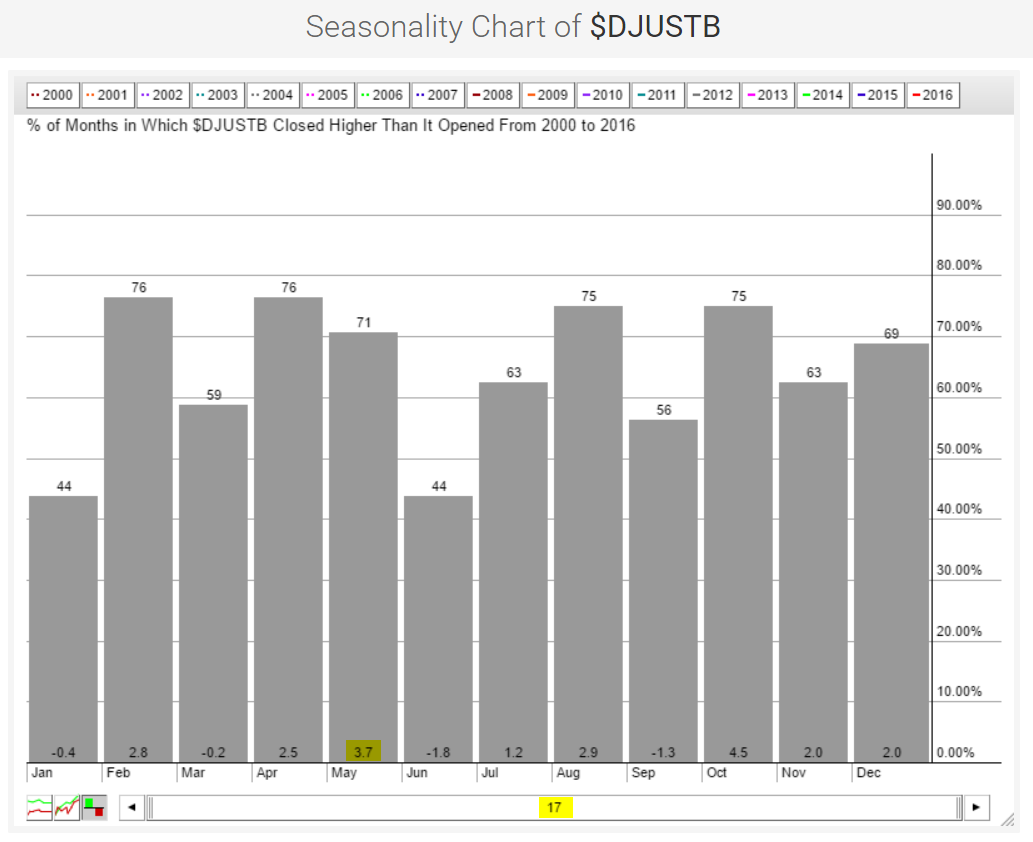 I mention this because the DJUSTB recently unwound a negative divergence on its daily chart and appears poised to rally this month. Clearing its most recent closing price high of 816 will be critical to a further climb.
Key Earnings Reports
(actual vs. estimate):
TEVA: 1.18 vs 1.13
TSN: 1.07 vs .96
(reports after close, estimate provided):
IFF: 1.41
RAX: .22
Key Economic Reports
None
Happy trading!
Tom