Market Recap for Friday, May 20, 2016
Applied Materials (AMAT) posted excellent quarterly earnings results on Thursday after the closing bell and that lifted semiconductors ($DJUSSC, +3.0%) on Friday. Technology (XLK, +1.21%) in general performed exceptionally well, leading all sectors. AMAT cleared short-term price resistance at the opening bell Friday morning and continued to be accumulated throughout the trading session. Here's quick look at how traders reacted to AMAT's strong report:
---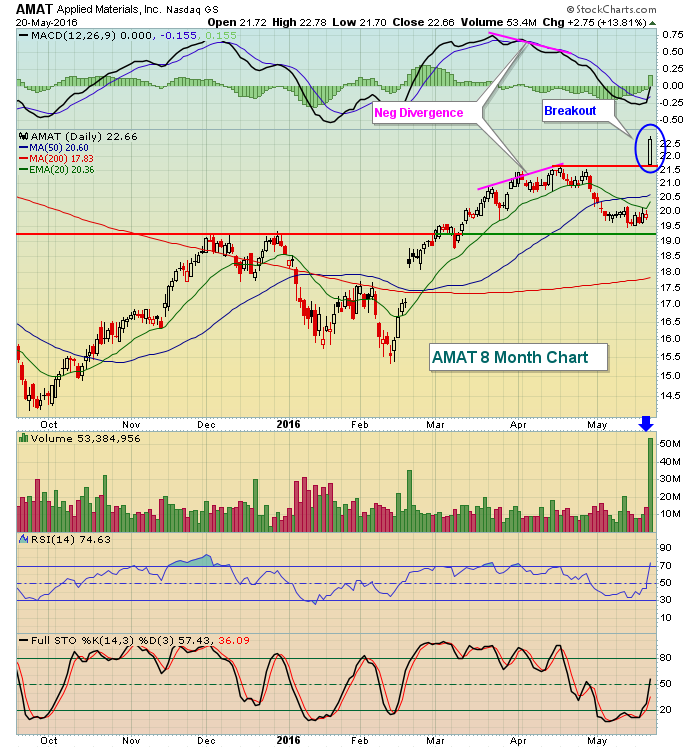 AMAT had struggled recently along with the overall market, but that was partly the result of a negative divergence that emerged in late March and early April. Once that played out with price moving below its 50 day SMA and the MACD moving down just beneath centerline support, AMAT was ready to rally and did so on Friday.
The strength in AMAT enabled the Dow Jones U.S. Semiconductor Index to clear its 50 day SMA for the first time during the month of May. The DJUSSC is featured in the Sector/Industry Watch section below.
Biotechnology stocks ($DJUSBT, +1.48%) were strong on Friday as well and that set the stage for outperformance by healthcare (XLV, +0.93%). On the other end of the performance spectrum, consumer staples (XLP, -0.51%) was the only sector to finish lower on Friday with weakness in beverages the primary culprit.
Pre-Market Action
There's little in the way of economic or earnings news today so market participants will be left to ponder upcoming Fed actions and current technical developments around the globe. As to the latter, Asian markets were mixed overnight while there's a modest downward bias in Europe this morning.
U.S. futures are not providing any early hints on its direction today with the Dow Jones, S&P 500 and NASDAQ all near their flat lines as we begin a new week of trading.
Current Outlook
The Russell 2000 charts (daily and weekly) are very interesting. First, let's check out the shorter-term daily chart: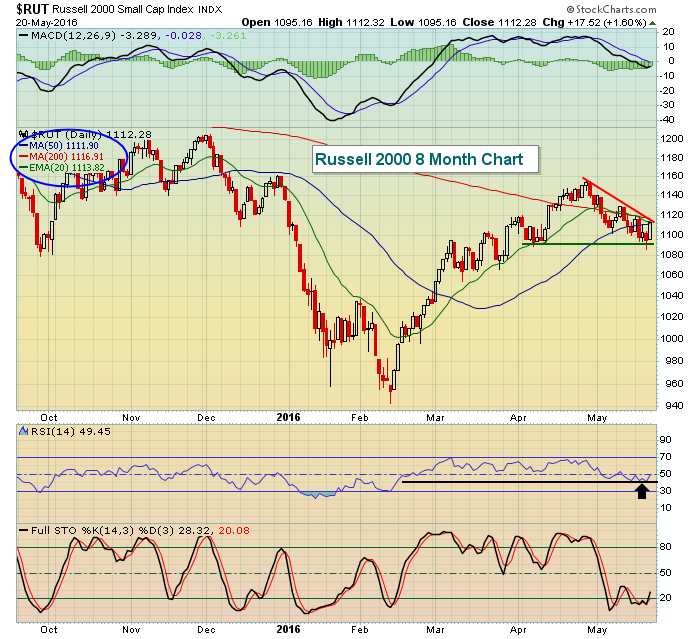 The Russell 2000 held RSI 40 support (black horizontal line and arrow) on its recent weakness, but it now faces overhead moving average resistance (blue circle) and trendline resistance. That may seem like a daunting task - until you look at a weekly chart of the Russell 2000 and realize that it's currently residing on rising 20 week EMA support. Check it out: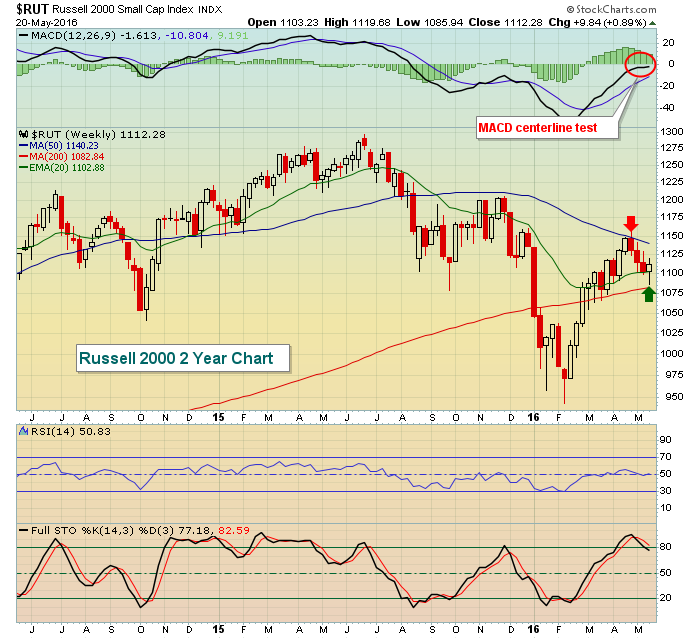 The green arrow shows that rising 20 week EMA support held last week. The April high, however, failed at declining 50 week SMA resistance (red arrow). We need to see which way this breaks. The Russell 2000 has a tendency to perform reasonably well through the month of June, but continuing rallies into July, August and September have not been the historical norm.
A short-term rally into early June would be the more likely outcome in my opinion. Look for action to take place between the two moving averages highlighted above - until the market decides which way it's heading longer-term.
Sector/Industry Watch
In addition to the DJUSSC moving back above its 50 day SMA, it also moved back above its 50 week SMA. Semiconductors have been consolidating for the past couple years on their long-term chart, but this period of consolidation follows an outstanding bull market run. Normally, these consolidation periods break in the direction of the prior trend which, in this case, was clearly higher. Check it out: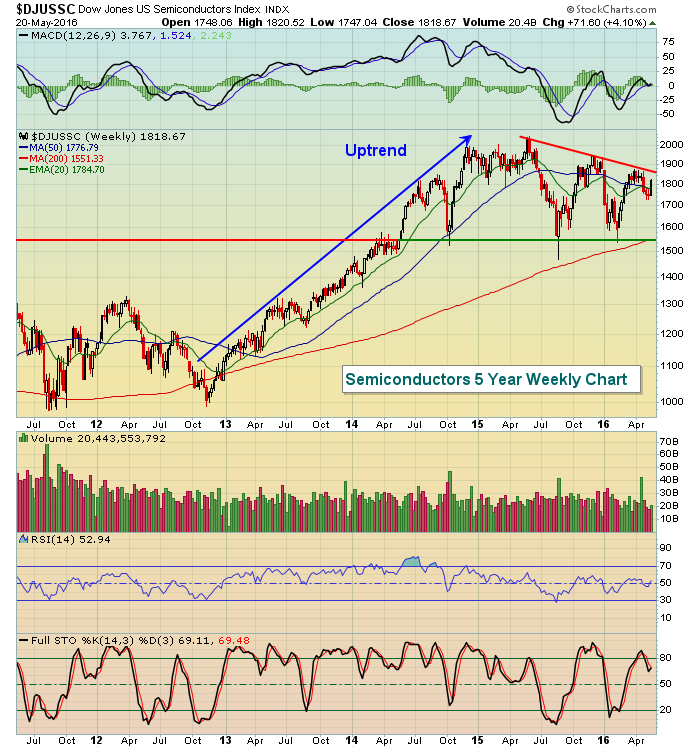 Clearing 1900 would be a very bullish development. The weekly MACD continues to hover near its centerline, awaiting the next intermediate-term uptrend. Perhaps it's begun with AMAT's strong earnings report. But we'll need to see the confirmation in terms of price action.
Historical Tendencies
The focus today has been on semiconductor stocks so it makes sense to check out the seasonal patterns on the group. From the chart below, you can see that the summer months are not particularly kind: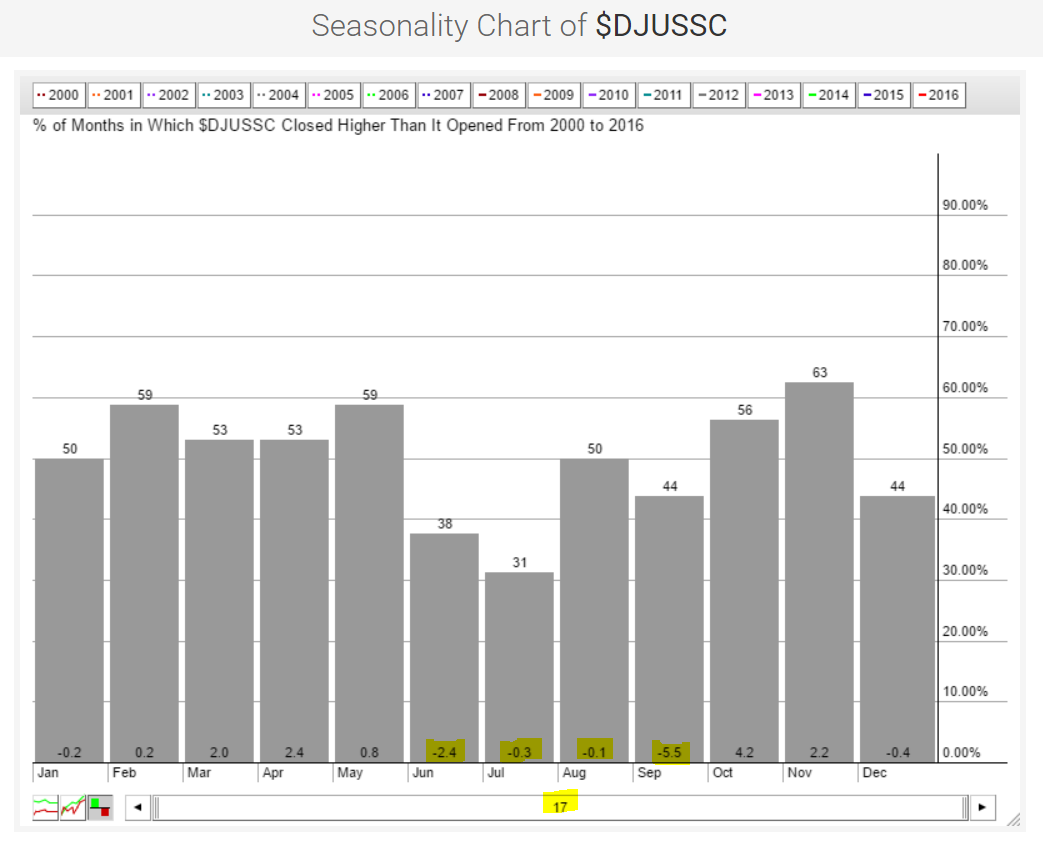 Over the past 17 years, September (-5.5%) and June (-2.4%) have produced the worst average monthly returns. July and August have not been good months either. So as we head into the final week of May on an up note in the DJUSSC, it might be too much to expect a huge advance this summer based on historical results.
Key Earnings Reports
(reports after close, estimate provided):
NDSN: .93
Key Economic Reports
May PMI manufacturing to be released at 9:45am EST: 51.0 (estimate)
Happy trading!
Tom