Note
Today's article will be very brief with a recap of Tuesday's action. I'll return to my normal time and format on Wednesday. If you'd like to receive all of my blog articles the moment they're published, please scroll to the bottom of this article and click "Yes" in response to the e-mail notification question.
---
Market Recap for Tuesday, May 31, 2016
The U.S. stock market performance was rather uneventful after a 3 day holiday weekend. Price action was fairly quiet, but volume was unusually heavy. The current rally remains in play as intraday weakness on Tuesday was confined mostly to the Dow Jones where moving average support held. Here's a quick look at that important test: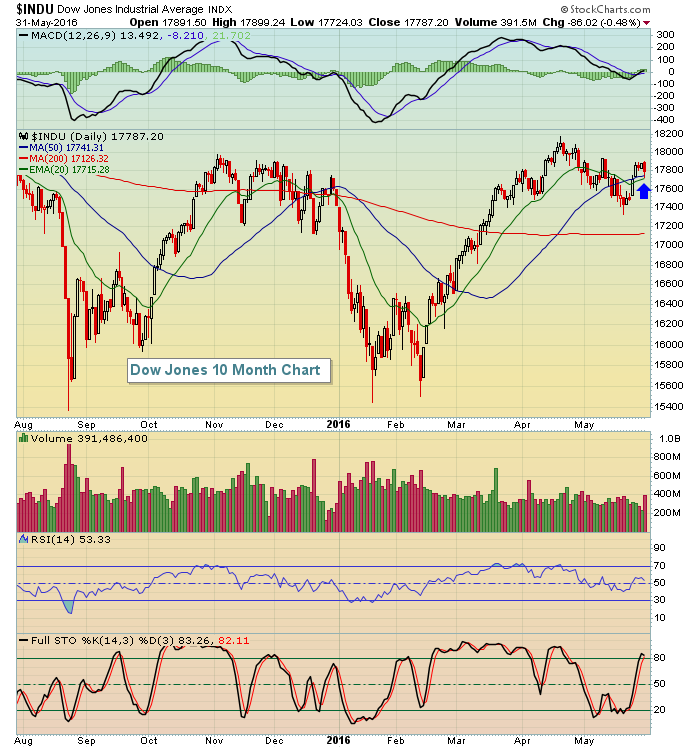 At one point on Tuesday, the Dow Jones was down by more than 100 points, but the majority of those points were recovered by the day's end and the blue arrow shows the successful test of both the 20 and 50 day moving averages. The daily MACD has crossed back above centerline resistance and suggests accelerating bullish momentum. Therefore, the bounce off of rising 20 day EMA support is a technical positive in my opinion. The other major indices remain much closer to breakout territory and performed better on a relative basis.
Transports ($TRAN) could very well hold the key for the market over the summer months. Thus far, airlines ($DJUSAR) continue to hold onto major price support at 200 despite the doubling of crude oil prices ($WTIC) from the February low. Railroads ($DJUSRR) had been a drag on the TRAN for 15 months from late 2014 through early 2016, but there's now an uptrend intact that appeared to gain another boost on Tuesday. Check it out: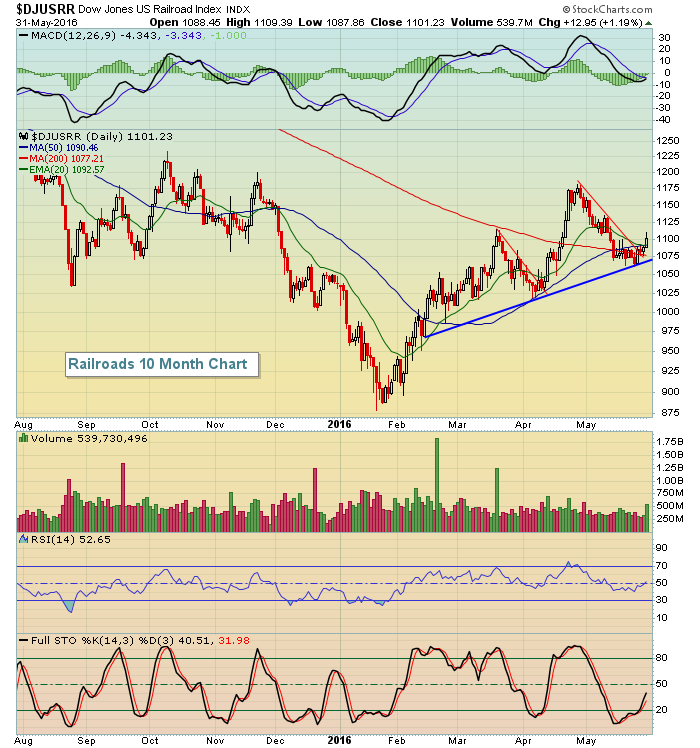 The 1.19% gain yesterday made railroads the top percentage gainer among industry groups within the industrial sector. Volume accelerated and its latest short-term downtrend has now been broken - very similar to the break of downtrend line resistance in April. A strengthening railroad group bodes of a potentially strengthening economy. That same message is being sent from treasuries where we've seen the 10 year treasury yield ($TNX) rise to test the lower end of its 1.90%-2.00% resistance range. A breakout above 2.00% would be very bullish for equities.
Unfortunately, the summer months tend to be not-so-bullish for transportation stocks in general. More specifically, railroads really struggle throughout most of the summer with July being the only exception. Check out the seasonal performance of the DJUSRR over the past 17 years: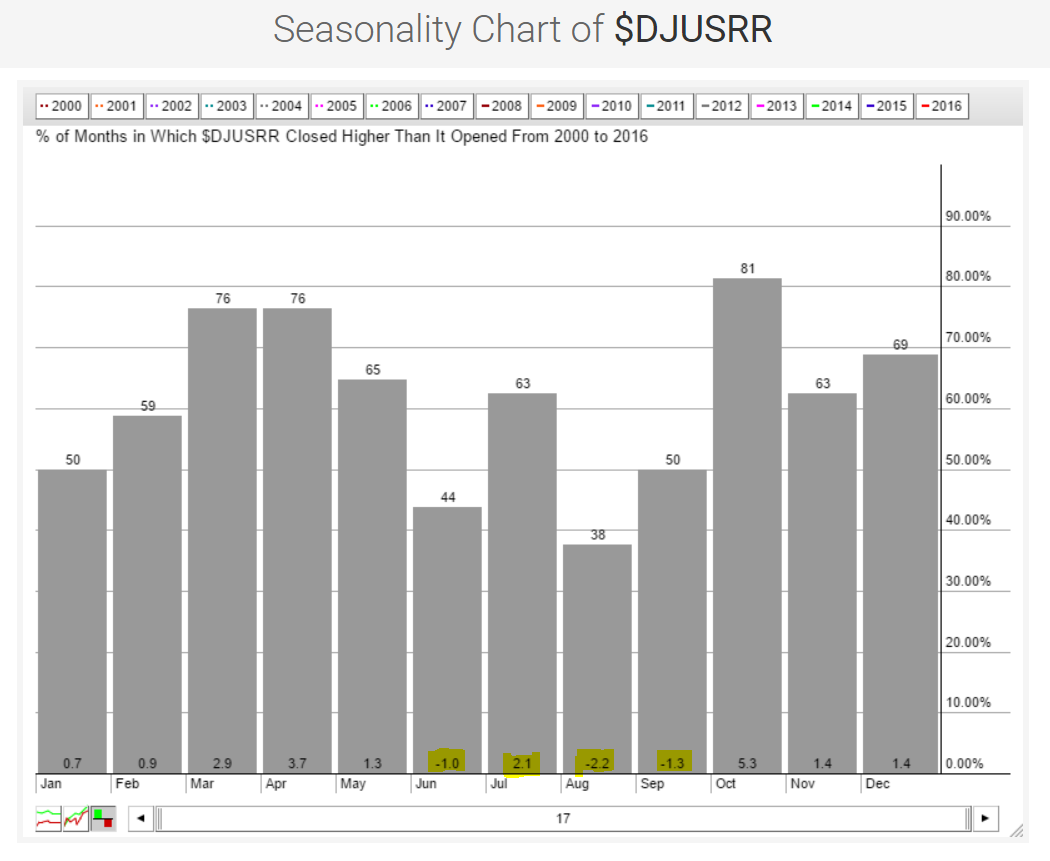 Outside of June through September, railroads show positive average monthly returns for every other calendar month. Summer months, however, tend to be wicked. Therefore, I'd be okay trading railroads on the long side, but I'd respect technical price support levels as well as trendline support.
I'll be back Thursday morning with my normal format.
Happy trading!
Tom