Market Recap for Monday, September 12, 2016
There were two problems with the rally on Monday. First, there was the issue of failure at price and gap resistance as I will discuss in the Current Outlook section below. Second was the issue of leadership on the advance. Don't get me wrong, the bounce was certainly better than the alternative of another huge down day. But let's be clear that the rally doesn't mean Friday's selloff wasn't the start of something bigger. Today's futures are much lower to underscore this point. Volatility ($VIX) is definitely on a different level right now so expect to see more whipsaw action - probably in both directions. If the VIX remains elevated, however, the direction in equity prices will likely be lower.
---
So where did yesterday's leadership come from? Consumer staples (XLP, +1.88%) and utilities (XLU, +1.77%). To be fair, all nine sectors did advance nicely, but when market participants collectively say that the XLP and XLU are the best opportunities after a selloff like we had on Friday, it leaves me scratching my head. As I pointed out in yesterday's blog and webinars, money has been rotating to more defensive areas of the market, including the consumer staples vs. consumer discretionary (XLY, +1.40%) and it happened again on Monday. The XLY has also lost trendline and price support as reflected below: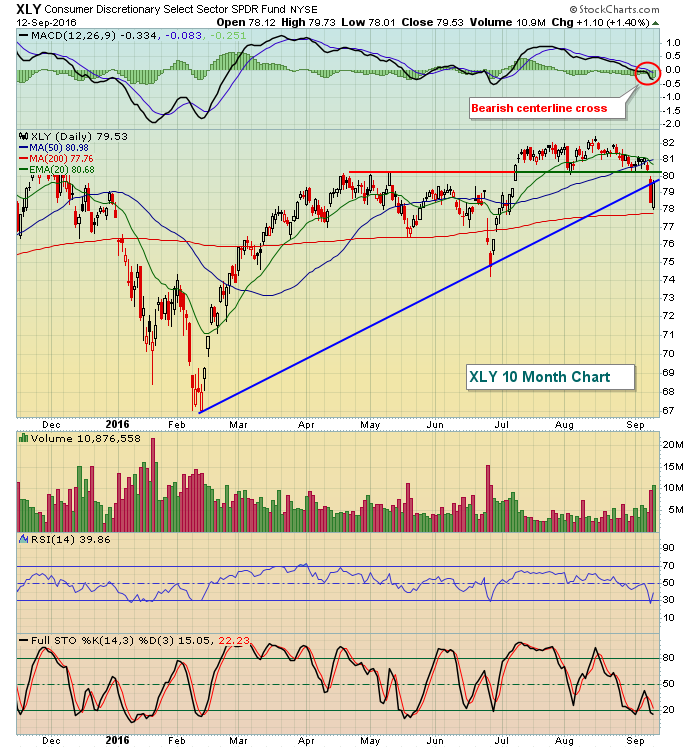 Friday's selling appears to have broken the uptrend and now brings the post-Brexit lows into play here. So if the XLY is unable to clear resistance just above 80, I'd expect to see further selling and perhaps the 74-75 level come into play to challenge those late-June lows.
Pre-Market Action
U.S. futures are weak as the bears will attempt to wrestle control back away from the bulls at the opening bell and begin a downward channel. If successful, it's unlikely we'll see stocks move into positive territory at any point today.
Dow Jones futures are down 138 points at last check, while crude oil has fallen 2.5% to add further selling pressure. In Europe, the German DAX has climbed back into its price resistance zone between 10450-10500, but is beginning to roll back over. It would help U.S. equities if the DAX were to close back above 10500.
Overnight, Asian markets were mixed but fairly close to the flat line.
Current Outlook
The first big issue that the bulls and bears faced was what would happen when our first bounce hit price resistance. On the S&P 500, the bulls failed into the close yesterday. The NASDAQ actually climbed above price resistance, but it failed at the bottom of gap support. Check out the S&P 500 first: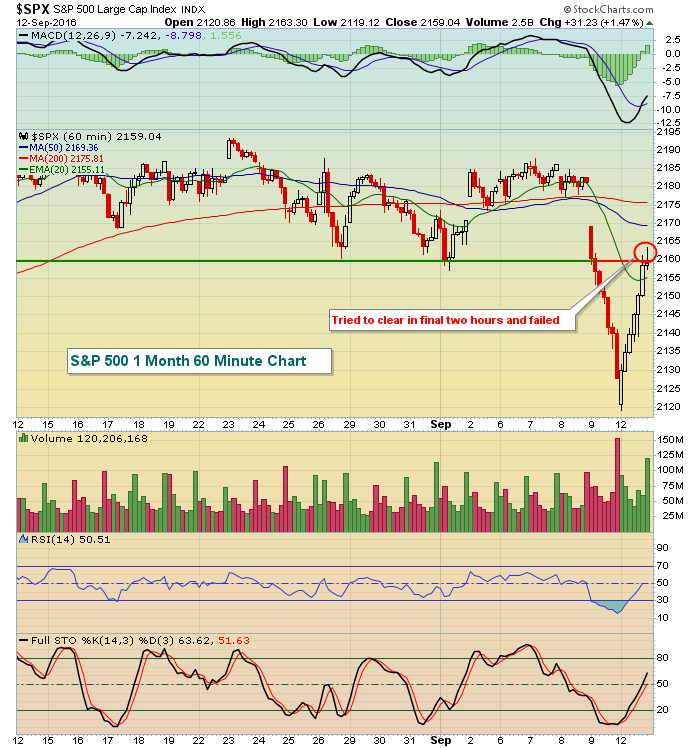 .....now the NASDAQ: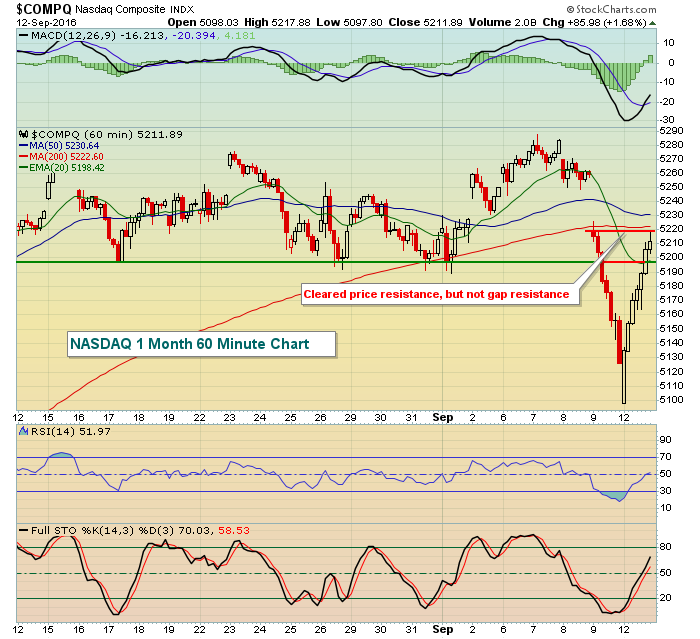 So the failures on Monday at price resistance (S&P 500) and gap resistance (NASDAQ) mark short-term resistance. Clearing those levels on Tuesday would be bullish, especially if we see leadership from aggressive sectors. If we see weakness throughout the day today, then look to the Monday lows just after the open for short-term support.
Sector/Industry Watch
The Dow Jones U.S. Software Index ($DJUSSW) recently ran out of steam prior to its stumble the past few trading sessions. Clearly, a negative divergence has taken its toll. On both its daily and weekly chart, key support resides at 1250. Take a look first at the daily: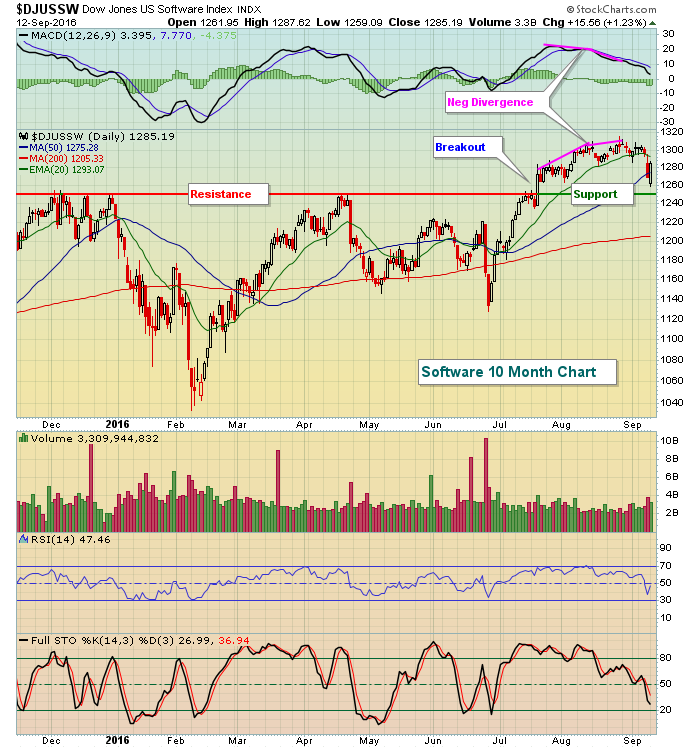 Broken resistance becomes support so the 1250 level should provide solid support. Next, on the weekly chart, you can see that longer-term momentum remains strong. Check this out: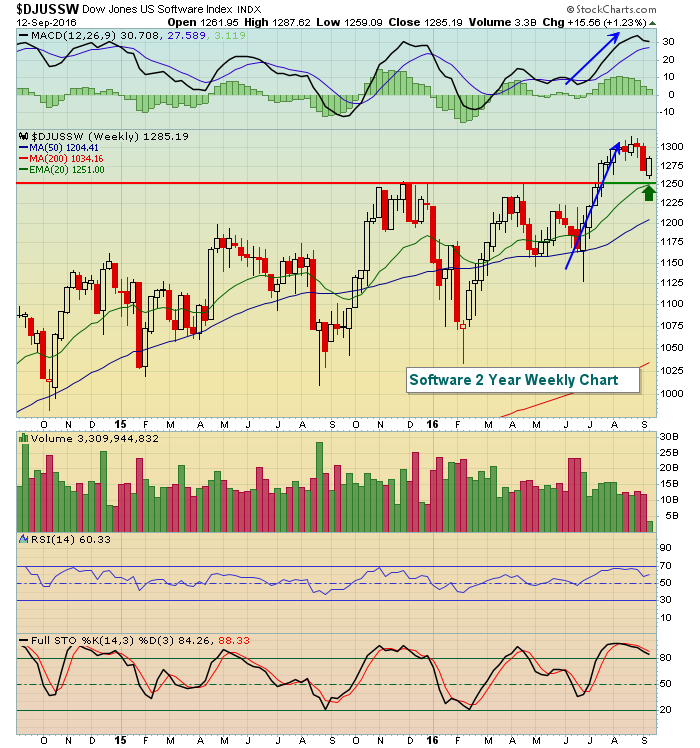 When momentum is strong, typically the rising 20 period EMA provides solid support. The green arrow above marks 20 week EMA support near that 1250 level, similar to price support reflected earlier.
Historical Tendencies
This week tends to be bullish for small caps. The Russell 2000 (since 1987) has produced an annualized return of +49.02% from September 11th through September 16th. But what follows isn't pretty. September 17th through September 27th has produced annualized returns of -57.44% on the Russell 2000 over the same 29 year period.
Key Earnings Reports
None
Key Economic Reports
None
Happy trading!
Tom