Market Recap for Tuesday, January 15, 2019
We saw an across-the-board advance led by healthcare (XLV, +1.80%), communication services (XLC, +1.66%) and technology (XLK, +1.51%). All of our major indices jumped as NASDAQ shares soared by 1.71%. The S&P 500 rose 1.07%. After a slow start, the small cap Russell 2000 played "catch up" and winded up gaining 0.87%, while the Dow Jones tacked on another 0.65%. The biggest headline, however, was likely the move by internet stocks ($DJUSNS, +2.85%). There's clearly a weekly resistance test that's in play, but the short-term daily chart is quite bullish:
---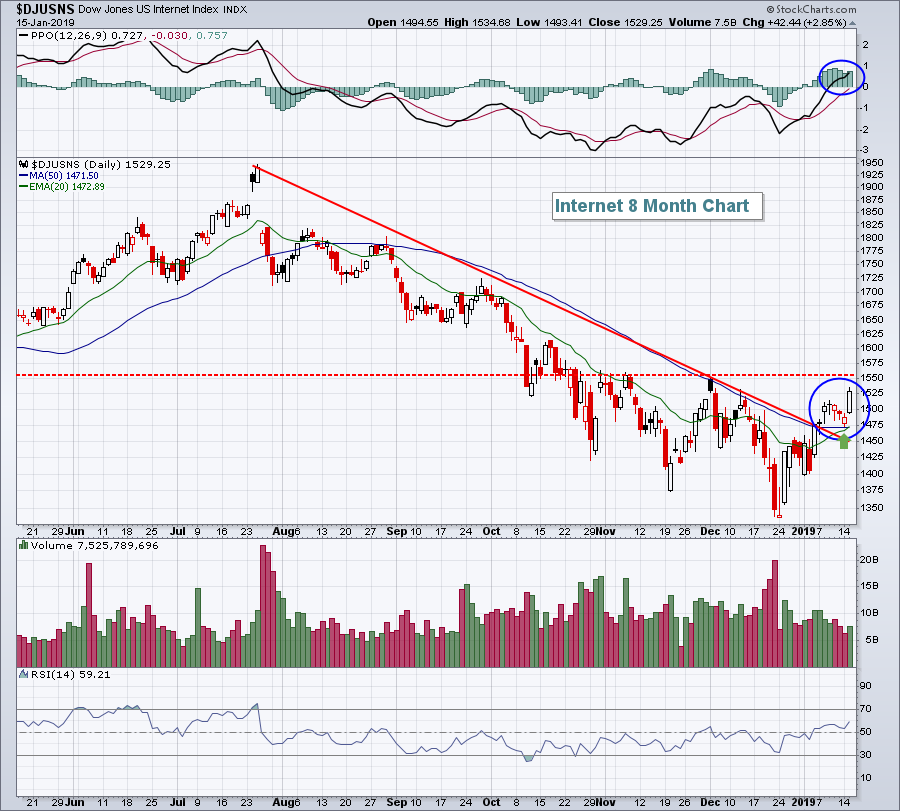 While the daily chart shows several bullish characteristics present - bullish PPO centerline crossover, trendline breakout, and successful 20 day EMA test to name a few - the weekly chart suggests that we maintain a bit of caution as that overhead price resistance level near 1550 approaches: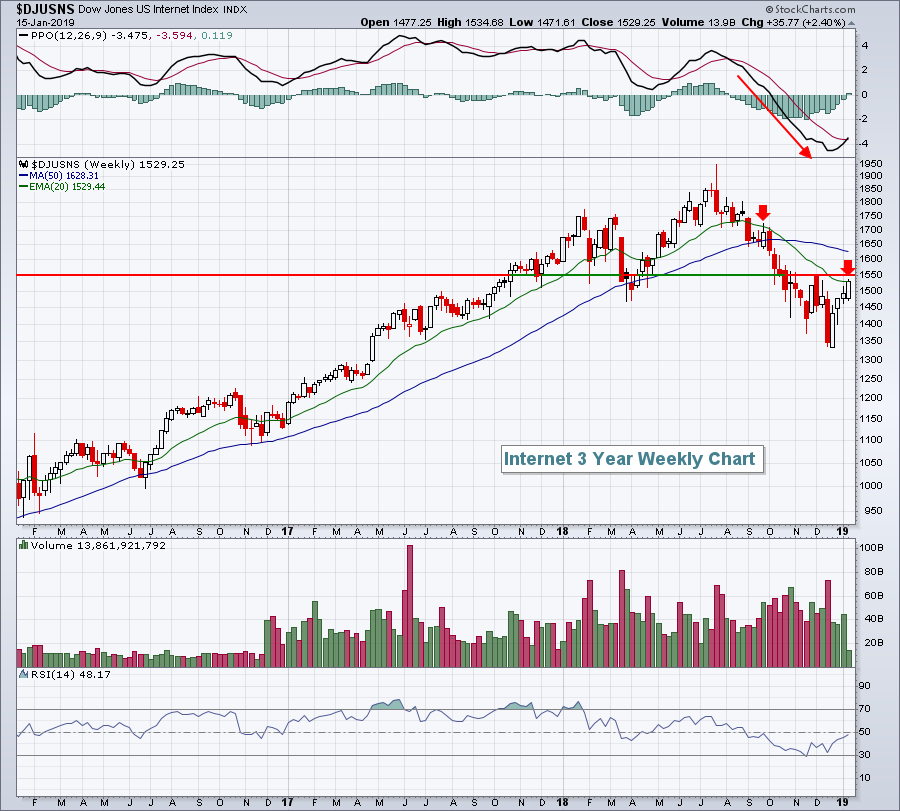 It's generally better to follow the long-term technical picture and, while this current rally is nice, there are still issues that we need to be aware of, namely the declining 20 week EMA. When a PPO is as weak as this one and pointing straight down at the most recent low, it tells us that sellers are in control of the action, despite the recent buying. Many rallies will fail at overhead 20 period EMAs and that's where the DJUSNS finds itself currently. Be very careful if internet stocks rally early one day, then falter badly late in the session. It could mark a key reversal that coincides with a top on its weekly chart.
Retailers, especially broadline retailers ($DJUSRB, +2.95%) and specialty retailers ($DJUSRS, +2.67%), also were quite strong. In the technology area, a familiar leader - software ($DJUSSW, +2.34%) - helped to propel that group.
The rising dollar put a lid on gold mining ($DJUSPM, -2.50%) and mining ($DJUSMG, -2.18%) stocks as materials (XLB, -0.66%) lagged on a relative basis. The technical outlook on the XLB can be found in the Sector/Industry Watch section below.
Pre-Market Action
There's roughly 45 minutes left to the opening bell and U.S. stocks are looking to add to Tuesday's impressive gains. Dow Jones futures are higher by 86 points as several large companies report their latest quarterly results. Bank of America (BAC) reported a stronger-than-expected bottom line and will likely add to recent gains in banks ($DJUSBK), at least at the opening bell. BAC is up nearly 5% in pre-market trading.
The 10 year treasury yield ($TNX) is up 2 basis points to 2.73% as traders continue to flee the safer treasury market and try to capture some of the equity move higher. Rotation out of treasuries helps to drive stock prices higher.
Crude oil ($WTIC) is down roughly 1% this morning to $51.57 per barrel. Global markets were mixed overnight in Asia and this morning in Europe so the U.S. will look to draw off its recent strength to carry prices higher.
Current Outlook
Yesterday, I wrote about how small caps had begun to underperform the benchmark S&P 500 and that it suggests that perhaps the stock market was transitioning from a "risk on" to "risk off" mentality. Another way to look at this is how defensive sectors are performing relative to the S&P 500. Currently, these relationships support the U.S. stock market rally:

I'd watch these relative downtrends in the defensive sectors for further clues of the market becoming more "risk off". Should the downtrends above reverse, that would be a signal of a potential top in U.S. equities. The horizontal dotted lines are relative price levels to review daily.
Sector/Industry Watch
I would watch the materials sector (XLB) closely. The group has been the worst performer over the last week as the U.S. Dollar Index ($USD) has rebounded. But the XLB is now testing its 20 day EMA and could provide a solid reward to risk entry at this level - assuming the overall market continues to perform well. If it doesn't, a tight stop could be used: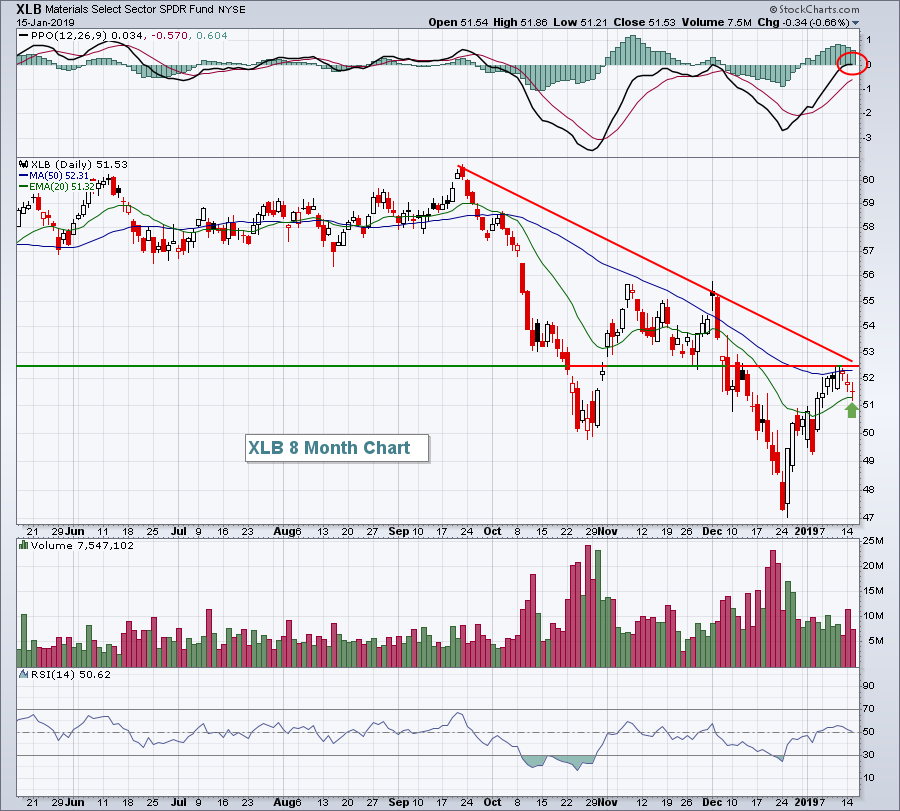 The green arrow highlights the rising 20 day EMA support, while trendline resistance and price resistance both reside near the 52.50 level. The PPO is sitting almost squarely on its centerline. The XLB hasn't shown its hand just yet, but we'll likely have an idea of where it's heading over the next couple trading days. Volume trends are clearly bearish, so be careful on a breakdown.
Historical Tendencies
The following companies are members of the S&P 500 and belong to a very strong group of performers in the upcoming months. Each company has produced annual returns of at least 20% over the past two decades and have achieved at least 60% of those gains in the three month period from February through April:
BKNG
CBRE
PXD
ADBE
MGM
XEC
FL
CMI
PVH
COG
While I wouldn't use this list to rush out and buy them, simply keep in mind that any technical bullishness would be confirmed by bullish seasonal trends.
Key Earnings Reports
(actual vs. estimate):
BAC: .70 vs .63
BK: .99 vs .92
BLK: 6.08 vs 6.35
CMA: 1.88 vs 1.86
GS: 6.04 vs 5.15
PNC: 2.75 vs 2.77
USB: 1.07 vs 1.06
(reports after close, estimate provided):
AA: .32
CSX: 1.01
KMI: .25
Key Economic Reports
December retail sales to be released at 8:30am EST: +0.1% (estimate)
December retail sales less autos to be released at 8:30am EST: +0.2% (estimate)
November business inventories to be released at 10:00am EST: +0.3% (estimate)
January housing market index to be released at 10:00am EST: 57 (estimate)
Beige book to be released at 2:00pm EST
Happy trading!
Tom