Market Recap for Thursday, March 21, 2019
Technology stocks (XLK, +2.51%) carried Wall Street higher on Thursday as computer hardware ($DJUSCR, +3.56%), semiconductors ($DJUSSC, +3.13%), and software ($DJUSSW, +2.20%) all surged to fresh 2019 highs. Apple, Inc. (AAPL, +3.68%), which has regained its title of largest market cap company in the world, was a major contributor to the computer hardware buying. Western Digital (WDC, +9.77%) and Seagate Technology (STX, +5.99%), however, were the biggest gainers in the space and appear to be experiencing a change of character in their respective charts - moving from downtrending to uptrending charts:
---
The volume was very heavy to accompany the breakaway gap on WDC, which gives me comfort that the downtrend has ended.
Biogen (BIIB, -29.23%) announced that it was scrapping its Alzheimer drug that obviously had great promise and huge profit potential. While it was an immediate drag on biotechs ($DJUSBT, -1.16%), the group overall continues to trade in a range: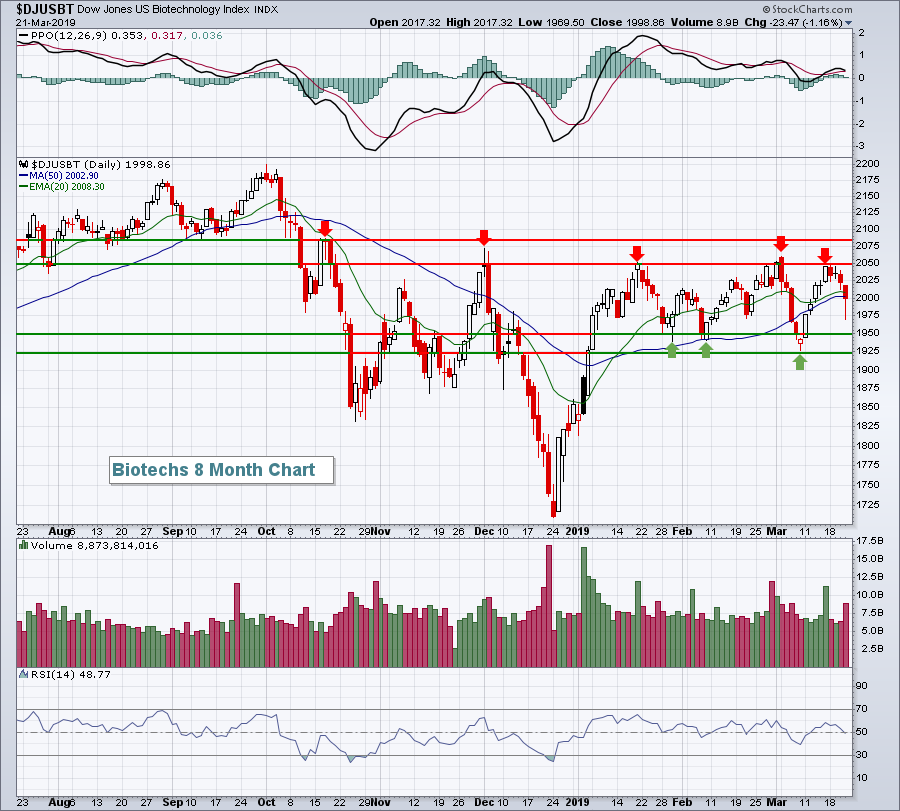 The red arrows mark resistance in the 2050-2080 area, while the green arrows mark support in the 1925-1950 range. Biotechs have been range-bound in 2019, restricted by those levels. Until we see a break in one direction or the other, I'd avoid the group. By trading sideways, it's clearly been an underperforming group because the S&P 500 continues to trend higher in 2019.
10 of 11 sectors managed to gain ground on Thursday, with only financials (XLF, -0.31%) finishing in negative territory. Banks ($DJUSBK, -1.48%) were a huge drag on the sector.
Pre-Market Action
The 10 year treasury yield ($TNX) is tumbling again this morning, down another 7 basis points to 2.47%. I know the stock market continues to ignore it, but the bond market is sending us a major warning signal. Crude oil ($WTIC) ended Thursday just under $60 per barrel, but it is down this morning roughly 1.3% and now is trading closer to $59 per barrel.
Asian markets were fractionally higher overnight, but that has not resulted in gains in Europe. It's quite the opposite actually as European markets are considerably lower. The German DAX is down 0.81%, or nearly 100 points at last check. Dow Jones futures are suffering a similar fate in pre-market trading, down 163 points 30 minutes before the opening bell.
Current Outlook
Retail (XRT) generally performs well during the Spring months and we've seen several areas of retail strengthening of late. I've shown the strengthening broadline retail group ($DJUSRB) in the Sector/Industry Watch section below on an RRG chart. Here I'll show you a couple retail areas that are leading in 2019 or starting to show leadership once again: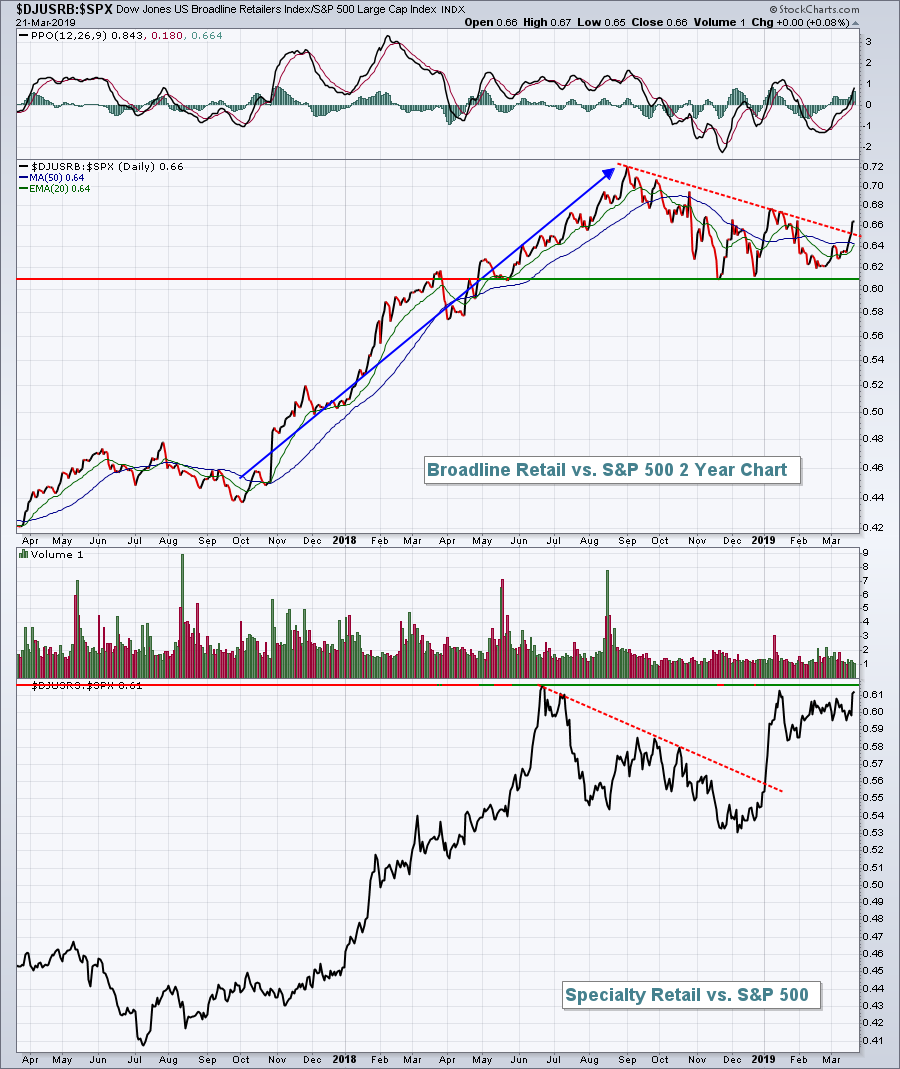 If you're goal is to outperform the benchmark S&P 500, these are two areas of retail to consider. They've both been leading in March and the DJUSRS is on the verge of a relative breakout above June relative high.
Sector/Industry Watch
Broadline retail ($DJUSRB, +1.16%) performed along with the major indices yesterday, but has been a leader over the past week (+6.50%). Its relative strength is beginning to register as you can see on the following RRG chart (I used its sector - XLY - as the benchmark):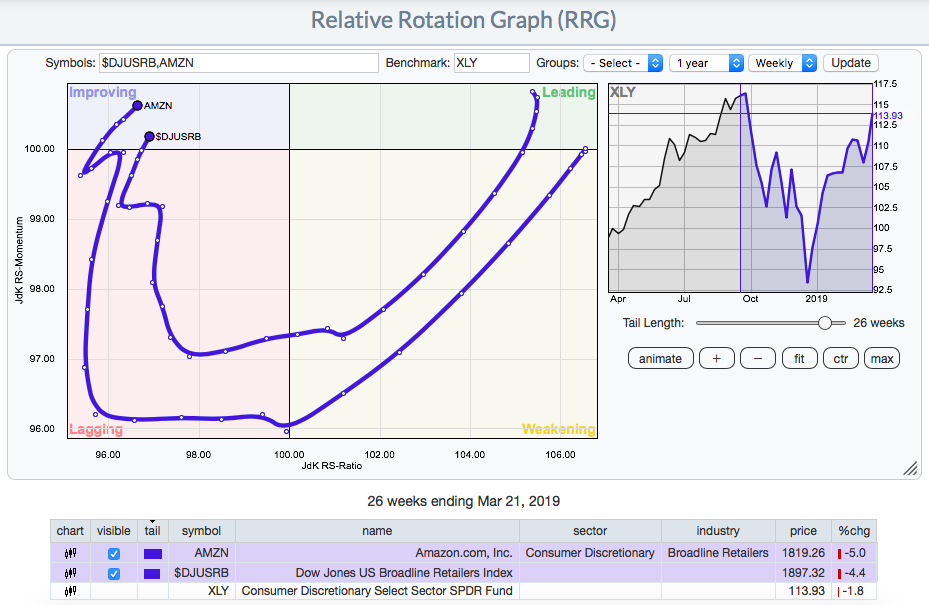 Amazon.com (AMZN) broke above recent price resistance, leading the resurgence in broadline retail. This is definitely a group that bears watching as the group
Historical Tendencies
Western Digital (WDC), featured in the Market Recap section above, loves the month of March historically. Check out this seasonal chart for the past 20 years: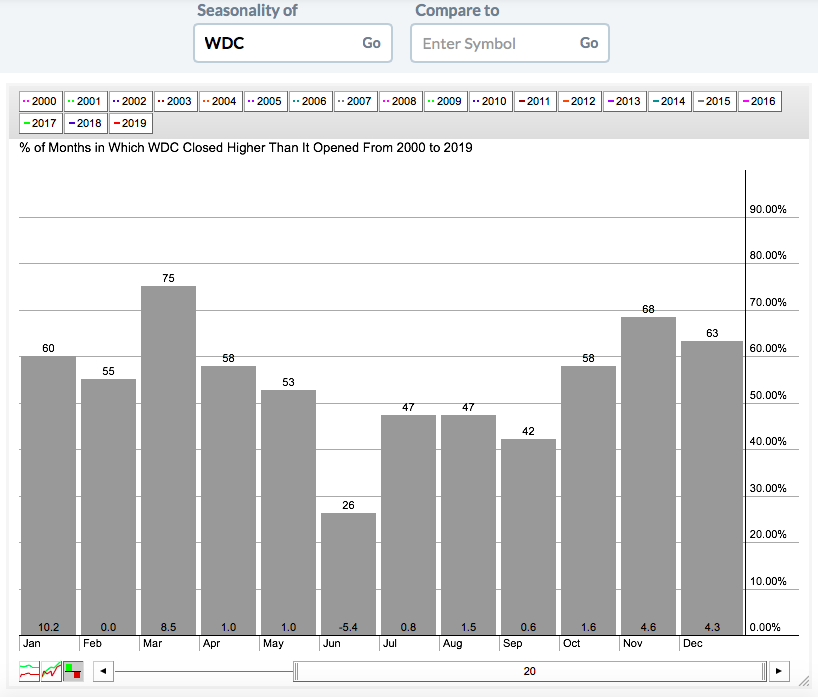 WDC has risen in March 75% of the time over the past two decades and has averaged gaining 8.5%.
Key Earnings Reports
(actual vs. estimate):
TIF: 1.60 vs 1.60
Key Economic Reports
March PMI composite flash to be released at 9:45am EST: 55.2 (estimate)
February existing home sales to be released at 10:00am EST: 5,100,000 (estimate)
January wholesale inventories to be released at 10:00am EST: +0.1% (estimate)
Happy trading!
Tom