Market Recap for Thursday, June 6, 2019
It was another solid day on Wall Street as the recent bounce continued. Unfortunately, it was also another day where investors/traders were seeking some safety. It's like ordering pizza, but adding a diet coke to watch your weight. The Dow Jones and S&P 500 led the rally, jumping 0.71% and 0.61%, respectively. However, the NASDAQ gained just 0.53% and the Russell 2000 actually lost ground, falling 0.22%.
---
All 11 sectors were higher, led by energy (XLE, +1.85%) and materials (XLB, +1.19%). Technology (XLK, +1.16%) also had a strong day, fueled by semiconductors ($DJUSSC, +1.41%) and computer hardware ($DJUSCR, +1.29%). The DJUSSC is bouncing off very oversold levels, catching a break as trade-related news seems to have subsided a bit: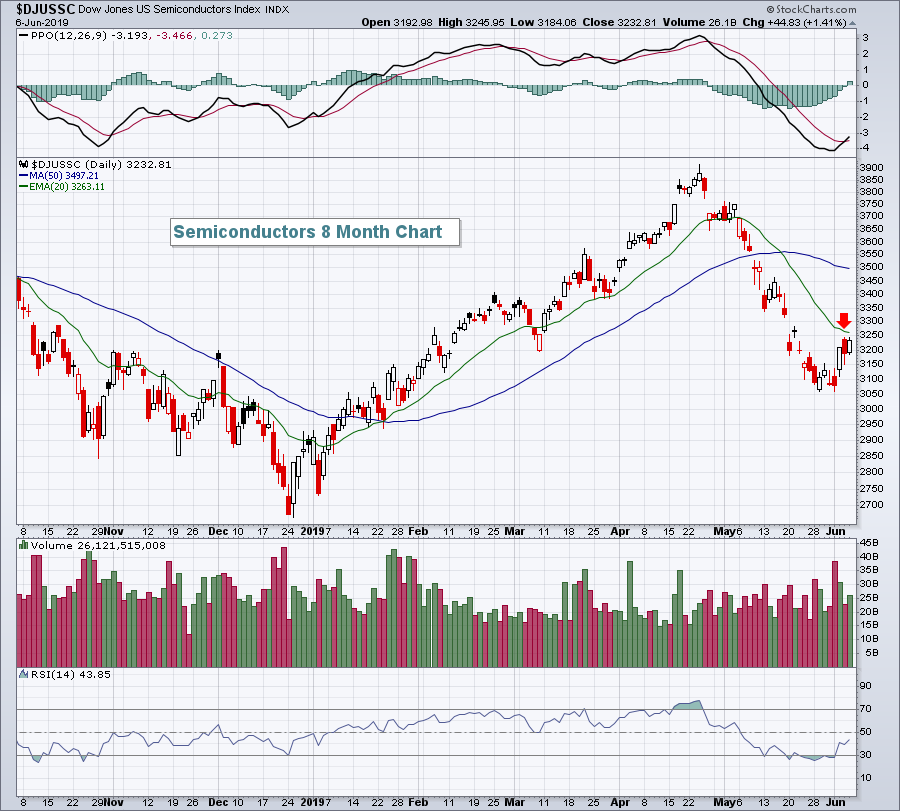 Semiconductors are a very aggressive and important part of technology, so watch this group closely. If it can close back above its declining 20 day EMA, it would not only bode well for this group, but also for technology and the overall market.
Special Event
Join me for a very important webinar, "The Power of Relative Strength", that will be hosted by EarningsBeats.com on Monday, June 10, 2019 at 4:30pm EST. I honestly view relative strength as one of the most important aspects of technical analysis and investing and I'm planning to cover every industry group's relative strength during this webinar. It'll feature the best industry groups to invest in now and, more importantly, highlight the groups you need to avoid.
There will be a nominal $7 30-day trial subscription required, but it'll be well worth it. CLICK HERE to register and for more details.
Pre-Market Action
The May jobs report is out and it wasn't pretty. Nonfarm payrolls totaled just 75,000, well below estimates. As a result, and not too surprisingly, the 10 year treasury yield ($TNX) is tumbling this morning, down another 6 basis points to 2.06%, closing in rapidly on the 2017 TNX low near 2.04%.
Dow Jones futures, however, are higher by 22 points as the weak jobs report could signal to the Fed that it's time to cut rates.
Current Outlook
There's no doubt it would be helpful to see transportation stocks ($TRAN, -0.92%) begin to participate more in U.S. market rallies. Yesterday, while all 11 sectors gained ground, transportation stocks languished as railroads ($DJUSRR, -1.06%) and truckers ($DJUSTK, -1.03%) failed to catch a bid. Technically, the TRAN must first clear its falling 20 day EMA: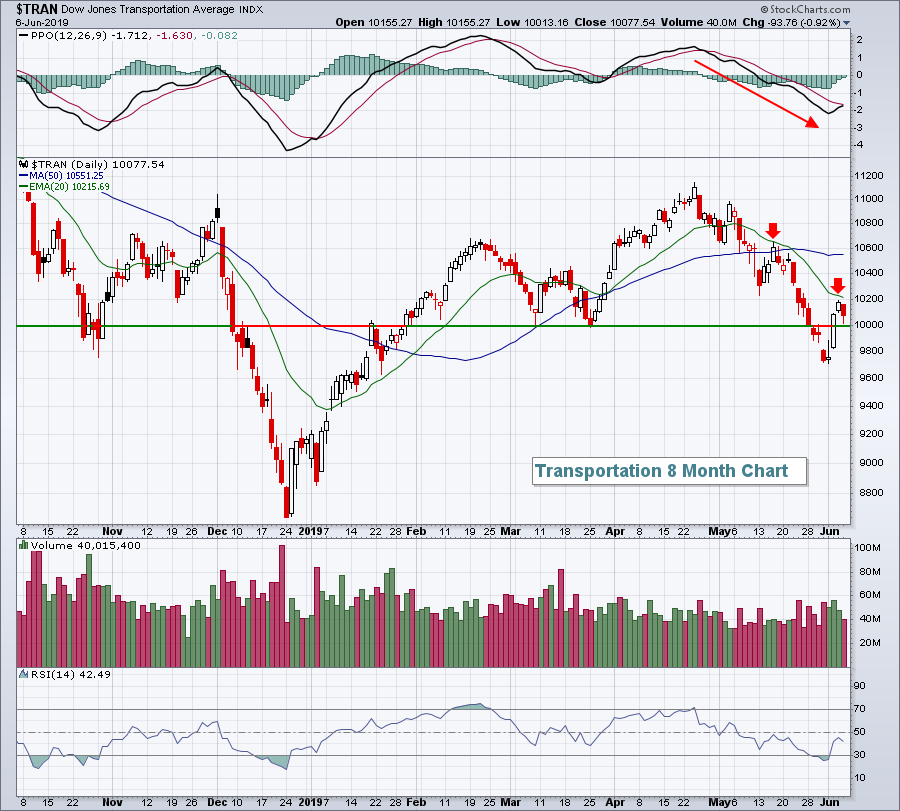 The red arrows show the difficult the group has faced on recent advances. It was a fairly bullish sign to see price resistance at 10000 cleared as it also represents a psychological resistance level, but there's more work to be done here.
Sector/Industry Watch
A couple weeks ago, I warned about the negative divergence that had emerged on the consumer staples (XLP) chart and that it could lead to short-term weakness and a possible 50 day SMA test/PPO centerline reset. Here was the result: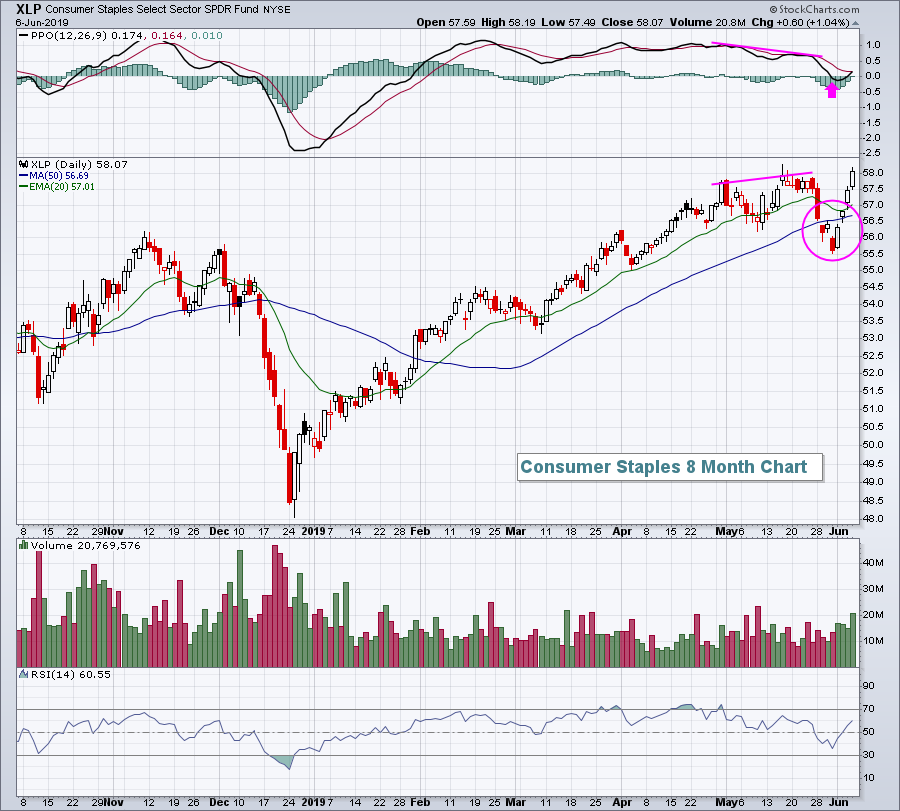 After a temporary pause, the XLP has come roaring back to break to new highs. Any pullback to test the rising 20 day EMA should now be considered solid technical entry.
Historical Tendencies
Advanced Micro Devices (AMD, +7.86%) surged yesterday after an analyst upgrade and has risen more than 20% in just the past two weeks. It was also featured as one of my Top 10 Picks back on May 19th during an EarningsBeats.com webinar for the current quarter. Historically, June has been a sweet spot for AMD over the past 7 years: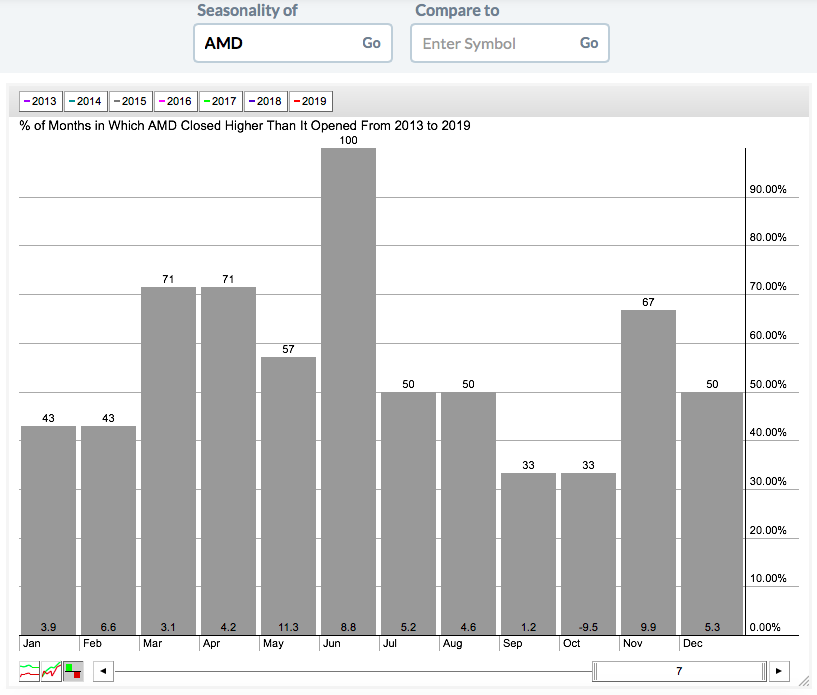 While it's always difficult to predict when short-term profit taking will kick in, I do believe that AMD is headed to test its high established in 2000 at 48.50.
Key Earnings Reports
None
Key Economic Reports
May nonfarm payrolls released at 8:30am EST: 75,000 (actual) vs. 180,000 (estimate)
May private payrolls released at 8:30am EST: 90,000(actual) vs. 173,000 (estimate)
May unemployment rate released at 8:30am EST: 3.6% (actual) vs. 3.7% (estimate)
May average hourly earnings released at 8:30am EST: +0.2% (actual) vs. +0.3% (estimate)
April wholesale inventories to be released at 10:00am EST: +0.3% (estimate)
Happy trading!
Tom