Market Recap for Monday, June 17, 2019
Facebook (FB, +4.24%) announced a platform cryptocurrency with a white paper due out today, while Netflix (NFLX, +3.21%) received positive comments from a Piper Jaffray analyst looking for solid results out next month. That combination lifted communications services (XLC, +1.14%) to the top of the sector leaderboard, while also providing a big boost to internet stocks ($DJUSNS, +1.89%). Real estate (XLRE, +1.09%) and energy (XLE, +0.84%) were also sector winners on the session as the Russell 2000 ($RUT, +0.67%) and NASDAQ ($COMPQ, +0.62%) helped to propel U.S. equities higher to start the week.
---
Materials (XLB, -0.92%) and financials (XLF, -0.92%) lagged as the latter sector was once again held back by the same groups that have been struggling with the drop in the 10 year treasury yield ($TNX). Asset managers ($DJUSAG, -1.64%), life insurance ($DJUSIL, -1.12%), and banks ($DJUSBK, -1.06%) all fell more than 1%. The DJUSAG, in particular, cannot seem to get any traction in its absolute or relative strength: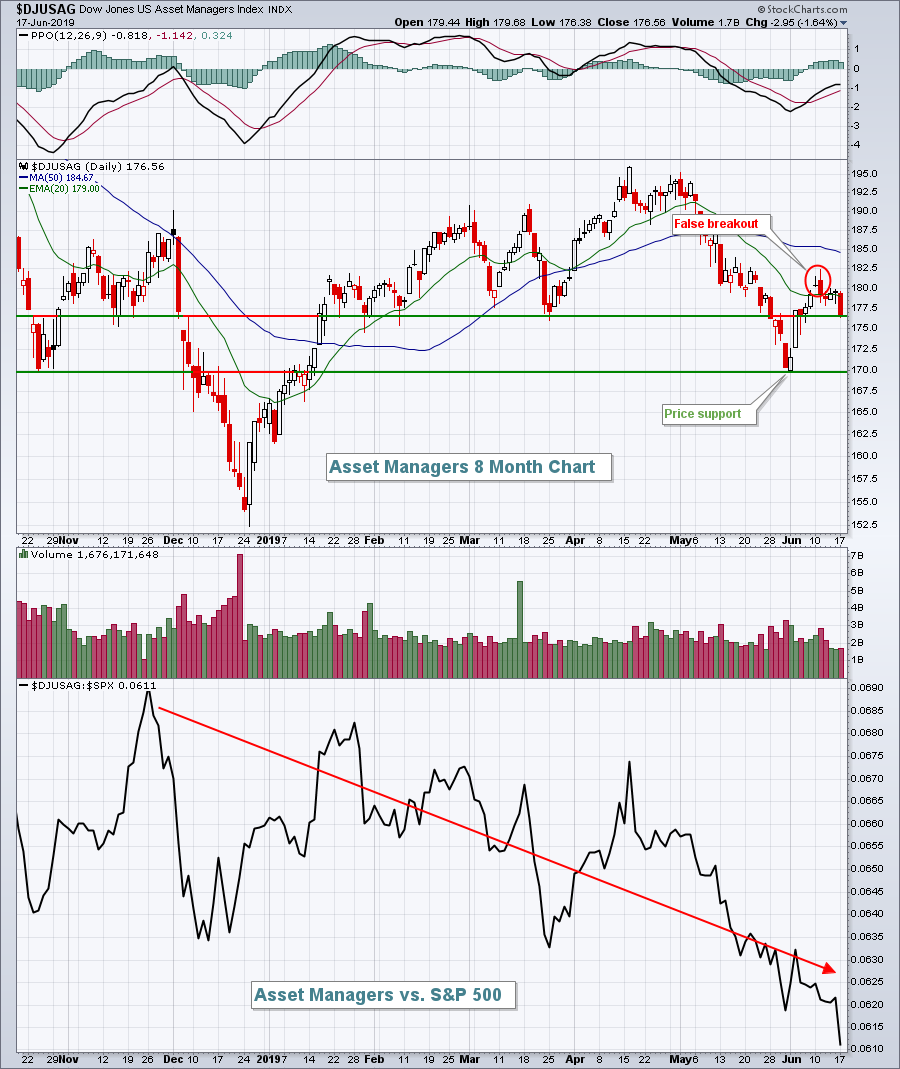 While we didn't see a breakdown beneath recent absolute price support, we did see another relative breakdown vs. the S&P 500, which is perhaps even more important. I'd continue to avoid this group for now.
Pre-Market Action
In what might be considered the biggest statement to the Fed yet, the 10 year treasury yield ($TNX) this morning is down 5 basis points to 2.04%, a multi-year low, just as the Fed begins its two day meeting. The treasury market wants a rate cut and the sooner the better.
Dow Jones futures are higher by 134 points, probably in anticipation of either a surprise Fed rate cut or at least more dovish wording in its policy statement.
Current Outlook
I remain on small cap watch. The Russell 2000 has badly lagged the S&P 500 over the past year and it's nearly reached a critical area of relative support: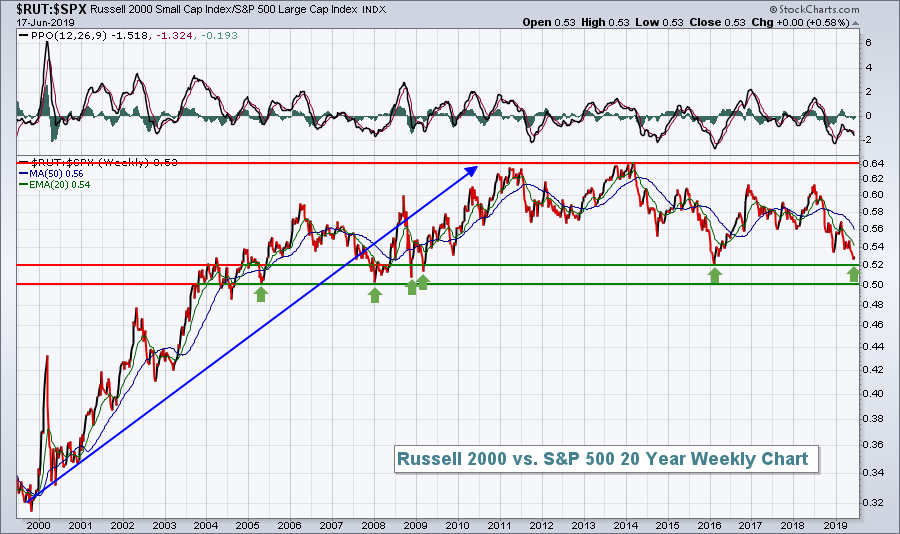 After a decade of relative strength that ended in 2011, the Russell 2000 performed even with the S&P 500 into 2014, but has since been trending mostly lower. The 0.50-0.52 relative support level is one that needs to hold, in my opinion, as we've seen several successful tests there over the last dozen years. Failure to hold could simply mean further underperformance by small caps heading into 2020.
I expect it will hold.
Sector/Industry Watch
The Dow Jones U.S. Automobiles Index ($DJUSAU, +1.89%) rallied on Monday to close at a 4 week high. One of the big reasons why was the continuing rebound in Tesla shares (TSLA, +4.70%). The long-term relative strength of the DJUSAU is poor, so it's not a group that I endorse, but trading it during short-term uptrends can work out well. You definitely have to pick your spots perfectly, however: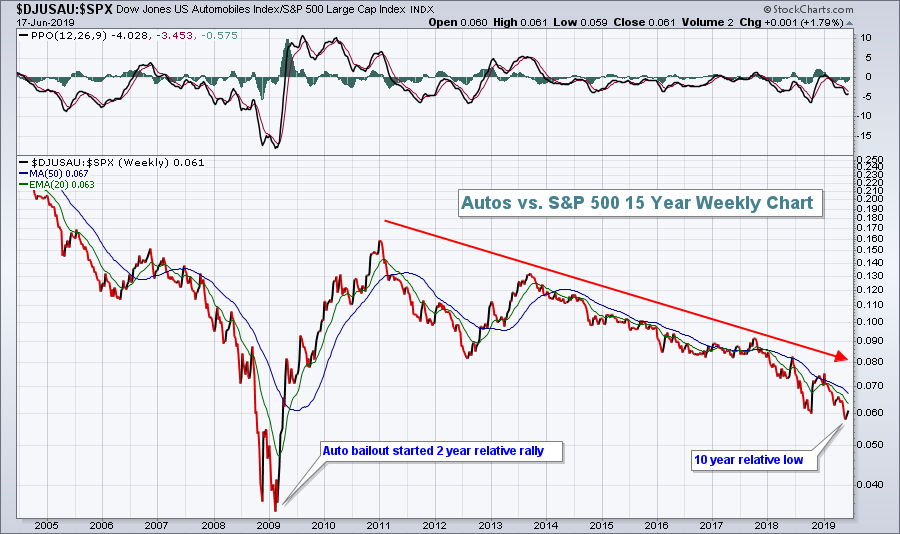 Autos were bailed out in March 2009 as the S&P 500 made its final secular bear market bottom. That led to nearly 2 years of relative strength, but that picture above speaks a thousand relative strength words. The June relative bounce has been nice, but it's coming off a 10 year relative low vs. the benchmark S&P 500. It's been nearly impossible to beat the S&P 500 the past few years if you've owned autos.
Historical Tendencies
The DJUSAU was featured in the Sector/Industry Watch section above as it's been bouncing in June. Tesla (TSLA, +4.70%) rallied yesterday and is up roughly 25% since opening June with a close just under 180. Historically, it makes sense as the automaker has consistently enjoyed solid Junes since going public: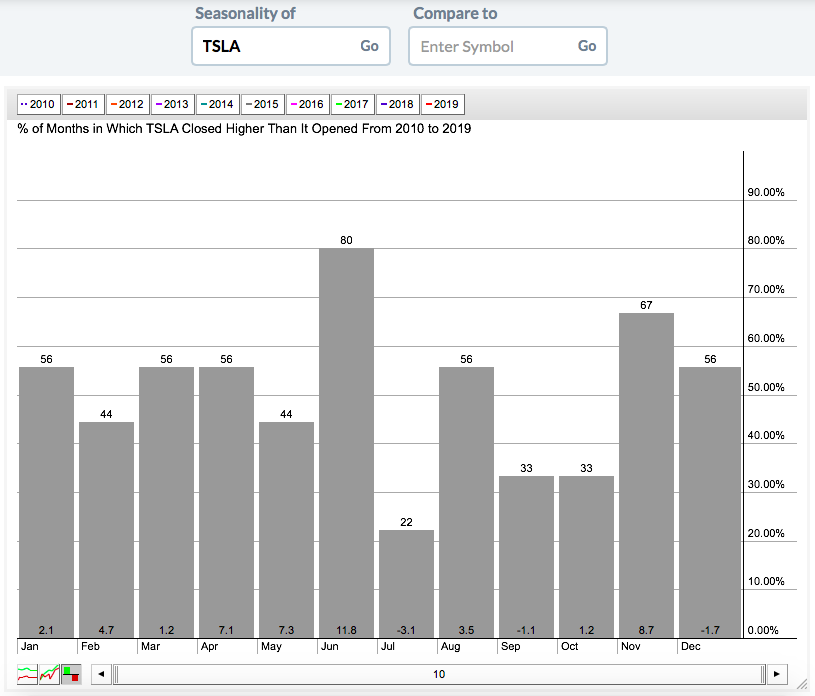 June has been higher in 8 of the last 10 years and the average June return of +11.8% speaks for itself. 2019 appears to be an extension of prior historical June strength.
Key Earnings Reports
(actual vs. estimate):
PSN: .57 vs .13
(reports after close, estimate provided):
ADBE: 1.78
JBL: .56
LZB: .65
Key Economic Reports
FOMC meeting begins
May housing starts released at 8:30am EST: 1,269,000 (actual) vs. 1,239,000 (estimate)
May building permits released at 8:30am EST: 1,294,000 (actual) vs. 1,290,000 (estimate)
Happy trading!
Tom