Market Recap for Monday, July 22, 2019
Technology (XLK, +1.15%) was the undisputed leader on Monday, helping the NASDAQ gain 0.71% and within 1% of its all-time high. There were several reasons for the strength, but Goldman Sachs had positive commentary for the semiconductors ($DJUSSC, +2.03%), which certainly helped. Also, computer hardware ($DJUSCR, +1.96%) had a solid day as Western Digital (WDC, +5.43%) had its price target raised at Goldman Sachs as well. It also never hurts to have Apple, Inc. (AAPL, +2.29%) rising to a multi-month high. AAPL has spiked more than 20% since its June low.
---
Crude oil ($WTIC, +0.82%) rising nearly 1% and Halliburton (HAL, +9.15%) beating earnings estimates also helped energy (XLE, +0.46%) outperform on the day. Not so fortunate was the consumer staples group (XLP, -0.58%), which was hurt by tobacco stocks ($DJUSTB, -1.88%). It could just be a bout of profit taking after the industry group soared late last week: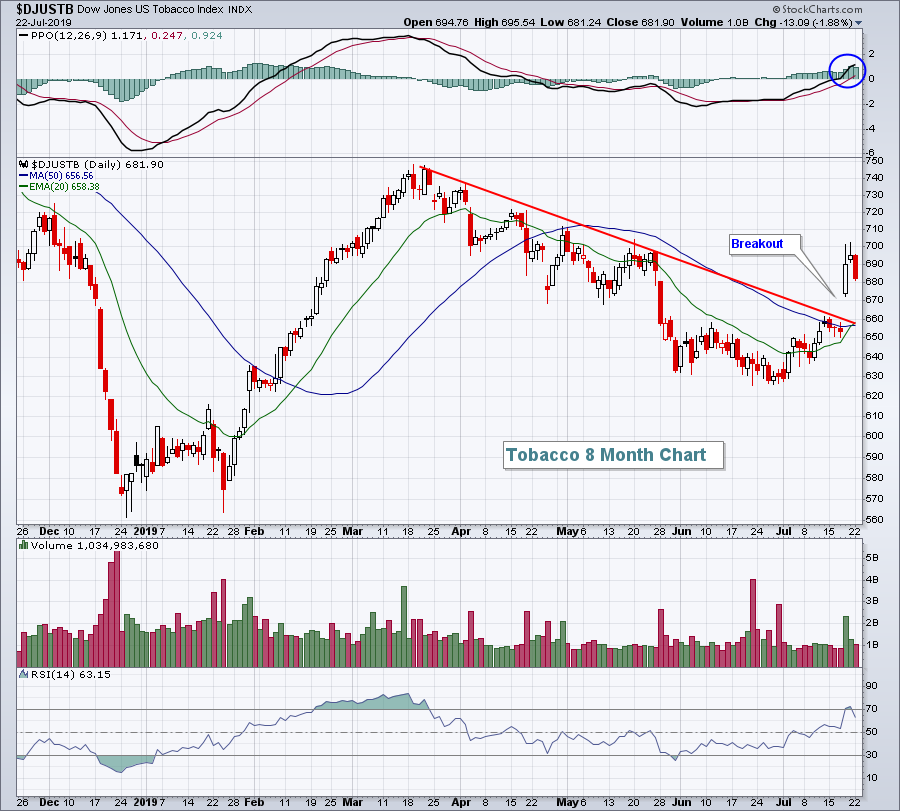 We'll know a bit more if the DJUSTB can hold gap support near 674 and then break to new highs.
Pre-Market Action
U.S. futures are very bright this morning as key earnings come in ahead of expectations. Dow Jones futures are higher by 102 points after Coca-Cola (KO) beat its revenue and earnings forecast and raised guidance. KO is up 3.5% in pre-market trading. United Technologies (UTX) also beat estimates and is up 2.5% this morning. Earnings season appears to be getting off to a solid start.
Defense stocks ($DJUSDN), which have become a leader again in 2019, should get another lift from a solid earnings report from Lockheed Martin Corp (LMT). LMT is up 1.6% in pre-market trading.
Current Outlook
Transportation stocks ($TRAN, +0.18%) typically confirm market rallies and I've posted in prior articles the positive correlation between a solid advance in transports vs. a major bull run in the S&P 500. In short, we need transports to perform well to sustain a bull market advance. One problem over the past year is that truckers ($DJUSTK) have not only been lagging on a relative basis, but they've also produced absolute returns in negative territory:
The good news, however, is that things have begun to change. Check out the one month performance leader: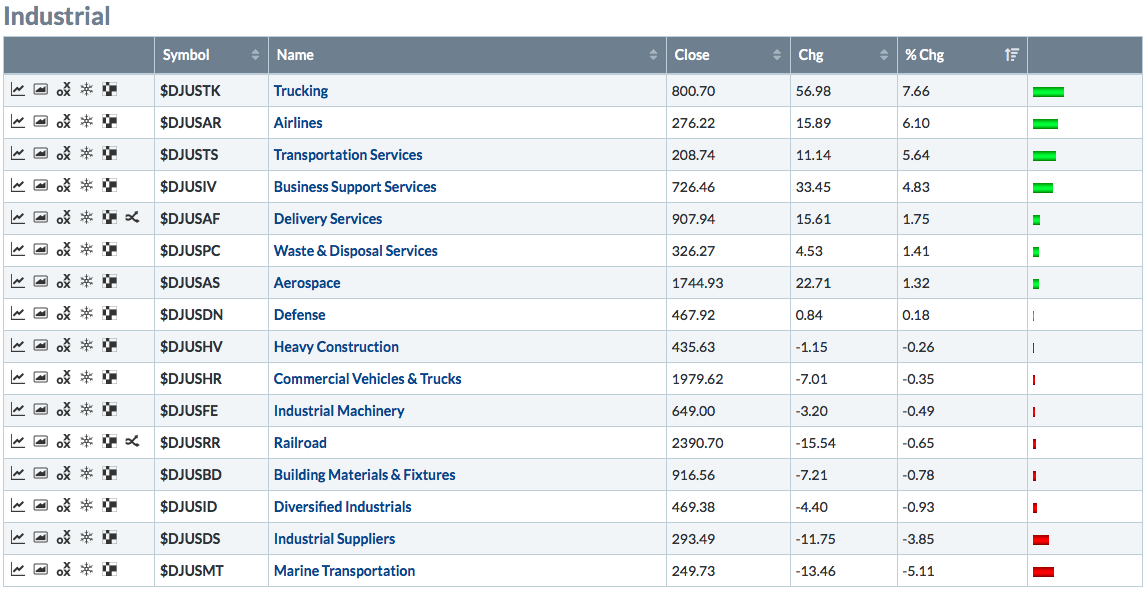 Trucking and airlines ($DJUSAR) have been leaders during the last month's S&P 500 rise. We'll want to watch to see if this leadership continues as it would be a very bullish signal for equities.
Sector/Industry Watch
Yesterday, the Dow Jones U.S. Semiconductors Index ($DJUSSC, +2.03%) closed above 3650 for the first time since early May. The group has been the best performing industry group over the past 30 days as well, led by semiconductor equipment manufacturers like Applied Materials (AMAT, +6.11%) and KLA Corp (KLAC, +3.93%). Since testing its 20 day EMA on July 8th, AMAT has risen approximately 17%. Here's a current look at the overall group: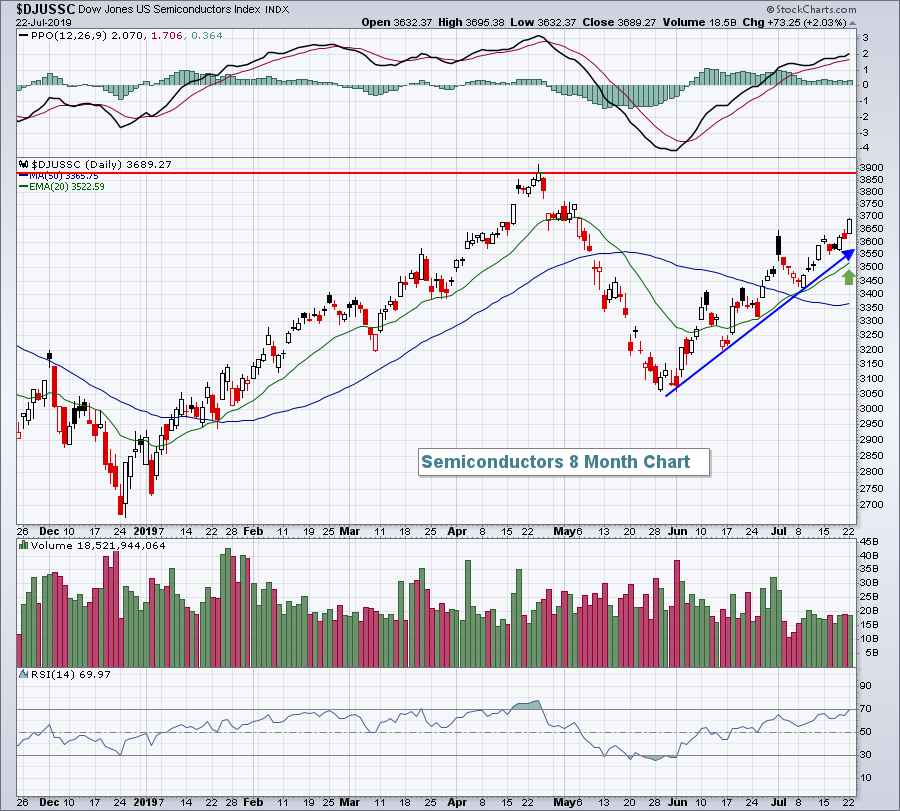 When semiconductors roll higher, U.S. equities generally follow suit. We've seen this firsthand off that May-June low.
Historical Tendencies
Yesterday, I pointed out that both August and September have produced negative annualized returns on the S&P 500 since 1950. The NASDAQ has also struggled during these two summer months, although August has produced a 2.25% return. September has clearly been the worst with an annualized return of -5.14%. These returns are based on NASDAQ performance since 1971.
Key Earnings Reports
(actual vs. estimate):
AVY: 1.72 vs 1.68
BIIB: 9.15 vs 7.58
CNC: 1.34 vs 1.24
DGX: 1.73 vs 1.69
EDU: .60 vs .63
FITB: .71 vs .66
HAS: .78 vs .51
IPG: .46 vs .44
KEY: .44 vs .44
KMB: 1.67 vs 1.64
KO: .63 vs .62
LMT: 5.00 vs 4.74
PCAR: 1.82 - estimate, awaiting results
PHM: .86 vs .82
RCI: .87 vs .89
SHW: 6.57 vs 6.35
SWK: 2.66 vs 2.55
TRU: .69 vs .65
TRV: 2.02 vs 2.32
UTX: 2.20 vs 2.04
(reports after close, estimate provided):
AGR: .44
CB: 2.58
CMG: 3.69
CNI: 1.26
CSGP: 2.00
DFS: 2.11
EW: 1.33
FE: .60
SNAP: (.10)
TXN: 1.21
V: 1.33
WRB: .64
Key Economic Reports
May FHFA house price index to be released at 9:00am EST: +0.3% (estimate)
June existing home sales to be released at 10:00am EST: 5,320,000 (estimate)
Happy trading!
Tom