Market Recap for Thursday, August 22, 2019
U.S. equities began Thursday on mostly a positive note, but reservations from Fed officials and a manufacturing report that showed weakness weighed on sentiment as stocks gave back earlier gains, finishing mixed. The Dow Jones was able to end the session in the green as Boeing (BA, +4.15%) rallied nicely. Banks ($DJUSBK, +0.87%) performed well with a rising 10 year treasury yield (1.61%, up 4 bps), led on the Dow Jones by two financials, JP Morgan (JPM, +1.08%) and Goldman Sachs (GS, +0.98%).
Financials (XLF, +0.68%) showed leadership, but was joined by consumer staples (XLP, +0.53%) and real estate (XLRE, +0.49%), two defensive sectors. The S&P 500 was unable to break above its recent resistance zone, however, so it's difficult to grow more bullish near-term until that occurs: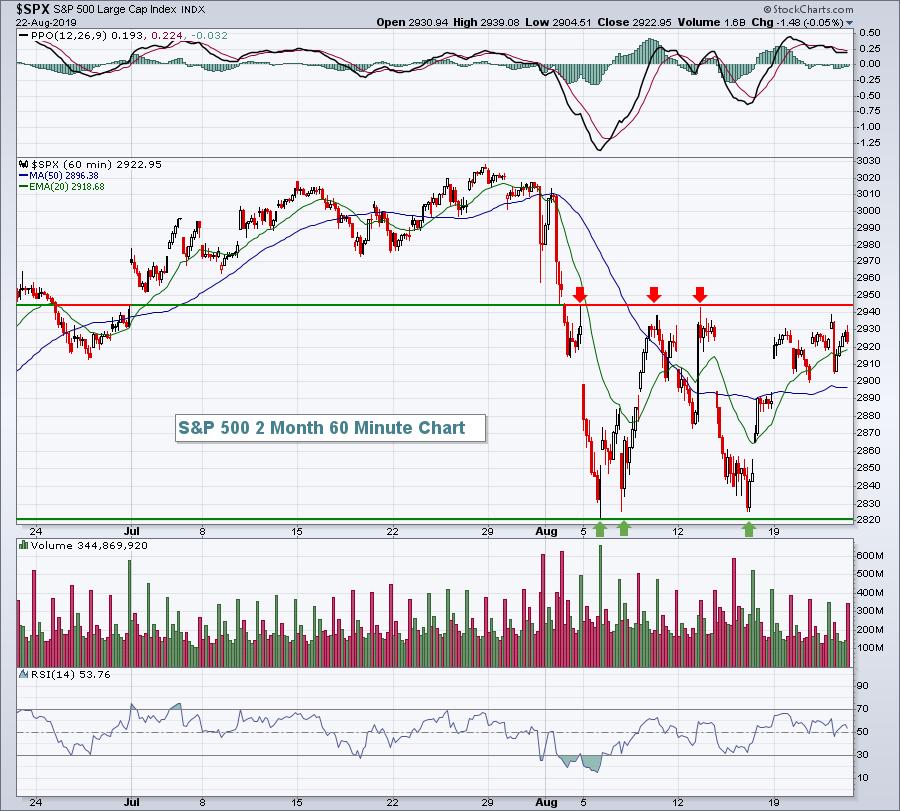 Materials (XLB, -0.67%) was the primary laggard on the session.
Pre-Market Action
There were several key earnings reports out last night after the bell and they were mostly positive. Salesforce.com (CRM) and Intuit (INTU) both look to trade higher after beating top and bottom line estimates. Foot Locker (FL), on the other hand, reported dismal results this morning and is currently down 12% in pre-market trading.
Crude oil ($WTIC) is having a rough morning, down more than 1.75%, while the 10 year treasury yield ($TNX) has reversed course after being higher earlier this morning. Currently, the TNX is flat at 1.61%.
Stocks were poised to open higher, but China just indicated it would retaliate with tariffs on $75 billion worth of U.S. goods, with autos ($DJUSAU) being highly impacted.
Dow Jones futures were higher this morning by 50 points prior to the breaking news. Now, with just under an hour to go to the opening bell, they've reversed course and are down 100 points.
Current Outlook
Tranportation stocks ($TRAN) have the tendency to light the U.S. stock market on fire. When this group performs well, they typically carry the S&P 500 on its shoulders. We know that the TRAN has been weak for some time, but should that change, be aware of the following chart: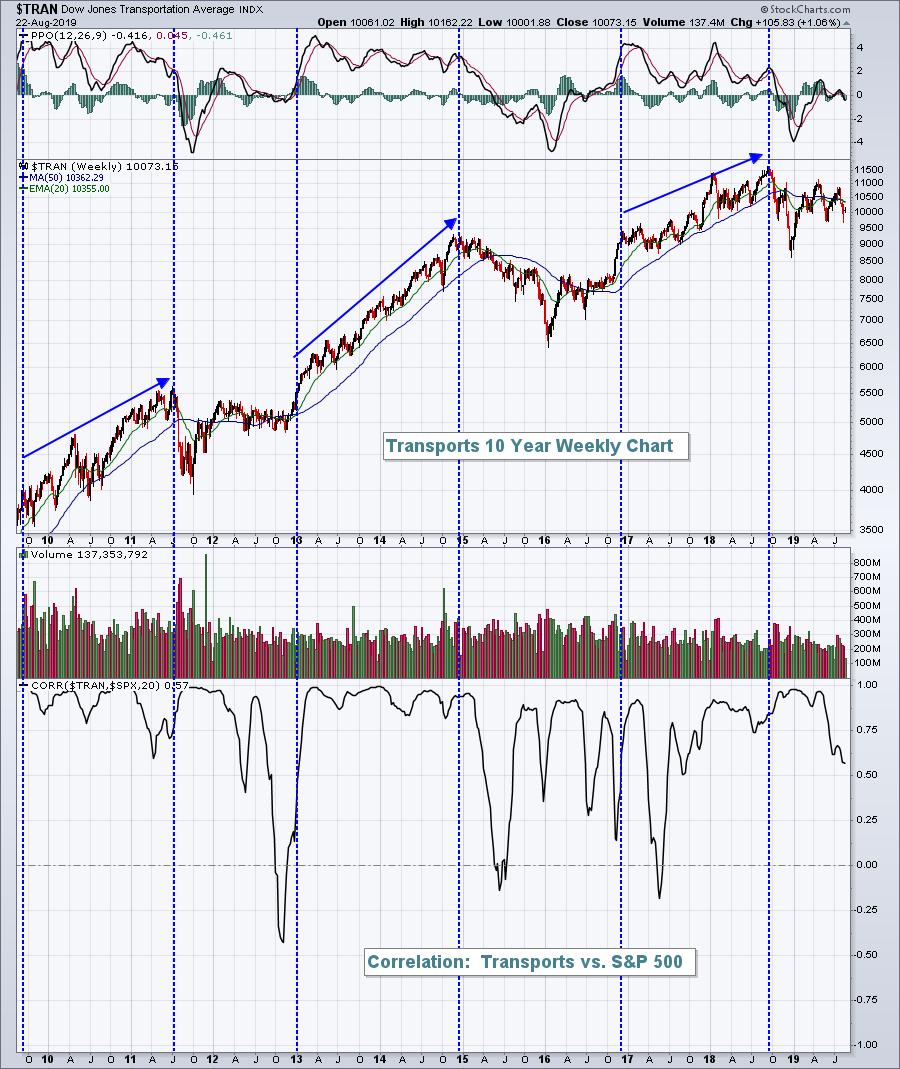 During the current bull market, when the transports have been in clear uptrends (blue directional lines), their correlation with the S&P 500 has been extremely positive (readings at or near 1) and unmistakable.
Sector/Industry Watch
Railroads ($DJUSRR) have been the best part of transports ($TRAN) for a long time, but there are definitely cracks in the tracks: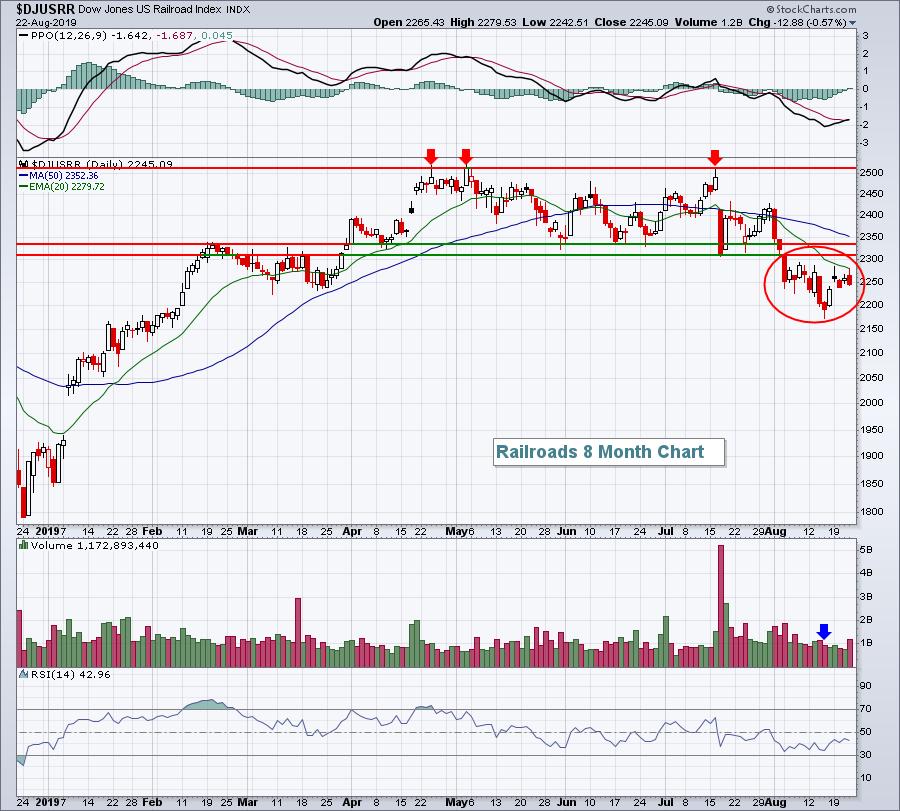 It's hard to put a positive spin on the daily chart as that red circle highlights three weeks of action that's taken place beneath prior price support. But the weekly chart still offers up hope: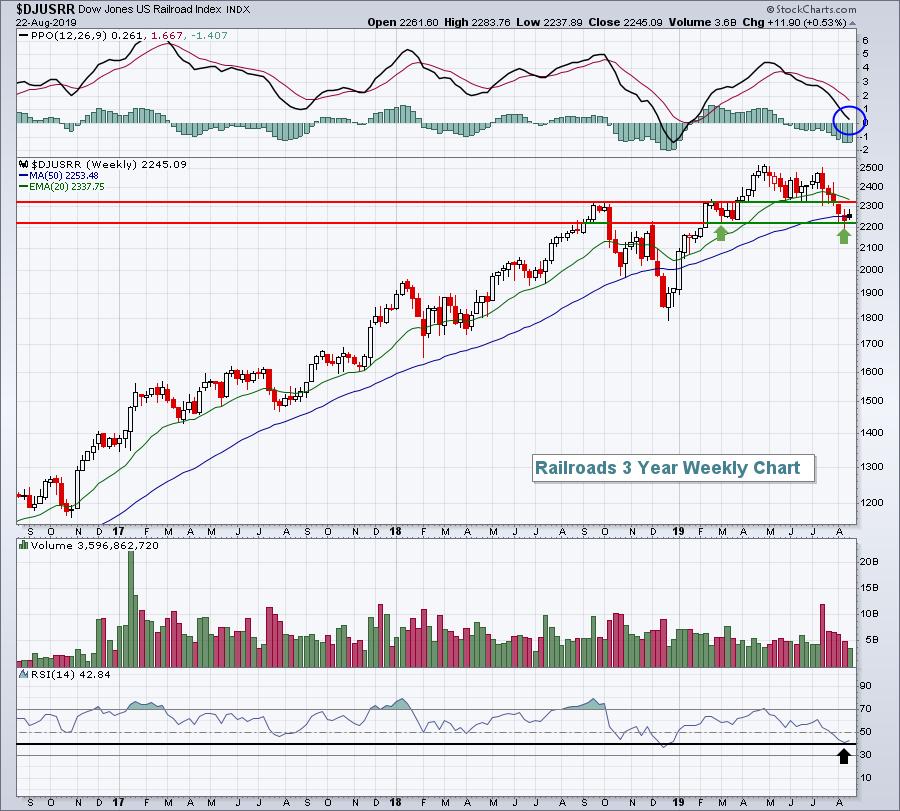 The uptrend clearly remains in play, the weekly RSI is trying to turn up from its key 40 support level, and the 50 week SMA is just now being tested. Looking at both of these charts, it seems that the 2200 level is the one to watch. A definitive break beneath that level looks to be bad technically on both time frames.
I also want to see railroads begin to lead on a relative basis. Relative strength is something I regularly feature in my FREE EB Digest newsletter article 3 times a week. CLICK HERE to sign up and begin using relative strength in your investing and trading arsenal!
Historical Tendencies
Delta Airlines generally "takes off" in the final four months of year. It's fairly evident from this seasonality chart: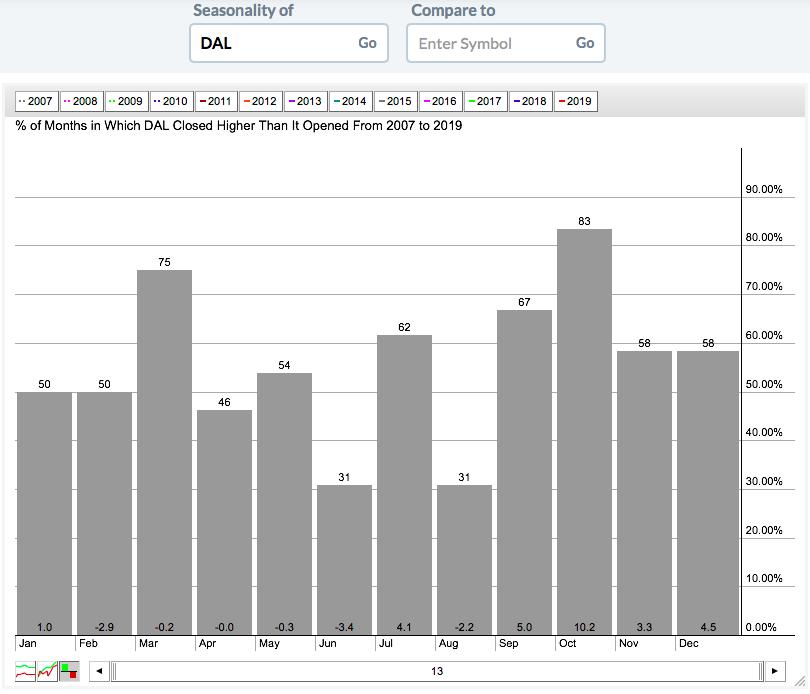 If you add up the average monthly returns for the first 8 months of the year....and then the last 4 months of the year, this is what you get:
First 8 months: -3.9%
Last 4 months: +22.9%
If you want your portfolio to "fly" into the end of the year, climb aboard DAL.
Key Earnings Reports
(actual vs. estimate):
FL: .66 vs .66
Key Economic Reports
July new home sales to be released at 10:00am EST: 645,000 (estimate)
Happy trading!
Tom