Market Recap for Friday, August 23, 2019
Friday was another trade war disaster. It's almost as if we're getting numb to it. Dow Jones down 600. Ho-hum. Technically, there wasn't even a short-term violation as the S&P 500 simply moved back down to test its August support area: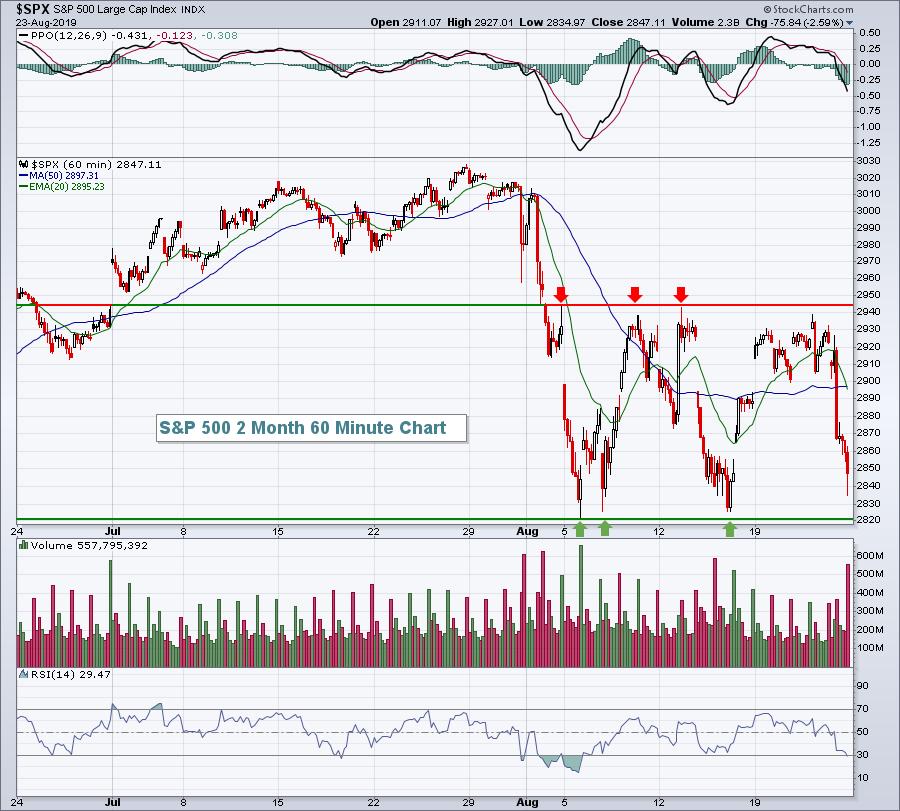 This is the same chart I showed last week, but instead of nearing overhead price resistance, now it's price support. Same market, different day. This morning, futures are up. Why? Better news surrounding the trade war. All of a sudden, everyone is more optimistic and planning to have further discussions. Stop the intraday insanity!
Further solid earnings news in software stocks ($DJUSSW, -2.26%) were reported by Salesforce.com (CRM, +2.04%) and Intuit (INTU, +0.96%), but that barely slowed the selling avalanche in technology shares (XLK, -3.31%). Energy (XLE, -3.35%) was the only sector to perform worse as crude oil prices ($WTIC) fell more than 2%.
Pre-Market Action
Asia had a rough time overnight, while Europe is faring much better. That's led to a decent pre-market for U.S. stocks as the Dow Jones is up 200 points with 30 minutes left to the opening bell.
Current Outlook
Once again, let's step back, ignore the short-term insanity and media frenzy, and check out a long-term chart. It soothes the soul: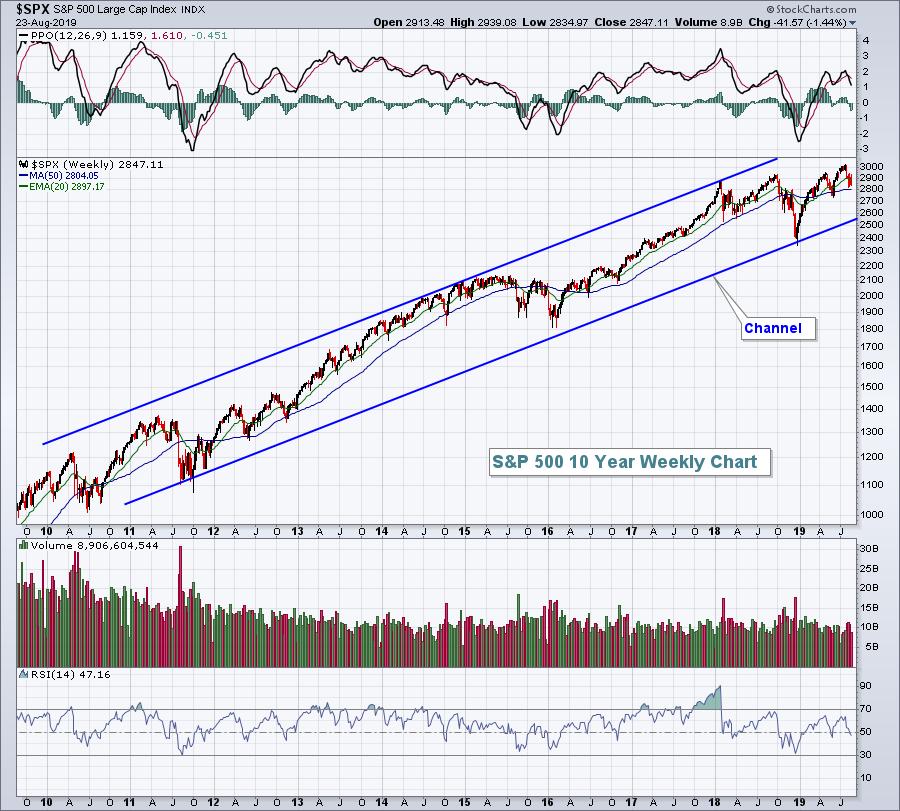 This is the reminder everyone needs on days like Friday. Consolidation and periodic weakness is fine within the confines of a secular bull market. Check out those weekly RSIs. We've twice fallen back to test the 30 area, which is a rare test during a bull market. Every time we've fallen back into the 40s, we've neared a major bottom in a continuing stock market rally.
Sector/Industry Group
If you're uncomfortable trading aggressive stocks in a wild, volatile market like the one we continue to endure, look to consumer staples (XLP). It's been a strong sector as the consumer appears to remain quite strong. The XLP chart is bullish as well: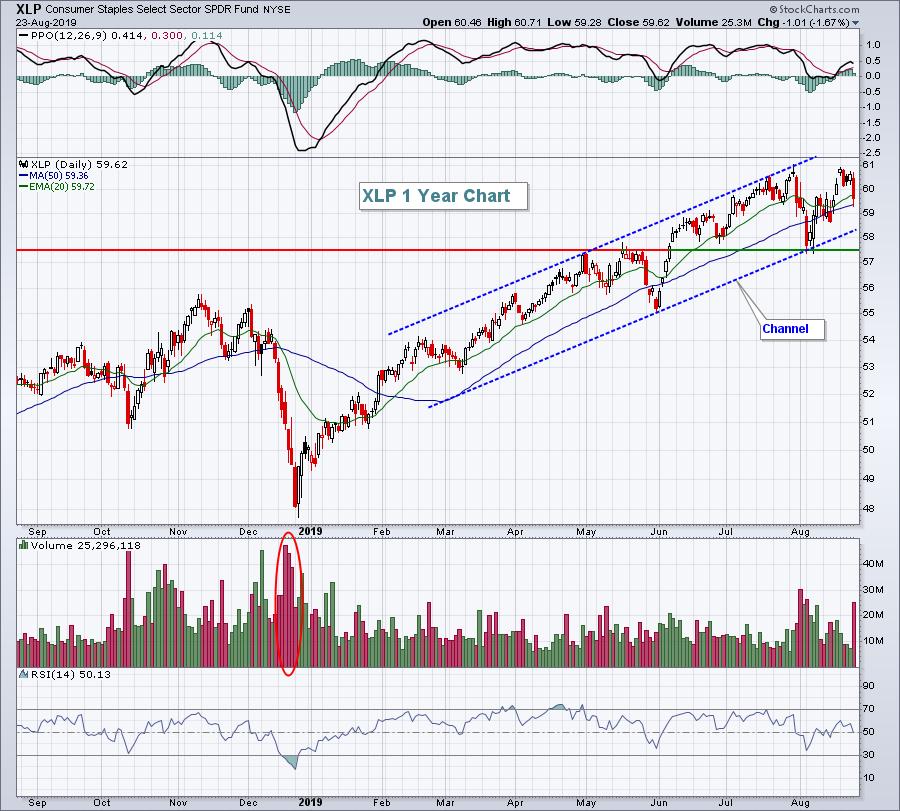 So long as that channel holds, it's difficult to argue against the group from a long perspective.
Monday Setups
eHealth, Inc. (EHTH) is my setup again this week. It worked out well a couple weeks ago on MarketWatchers LIVE when it jumped 9% in a week. I think the current setup could be similar: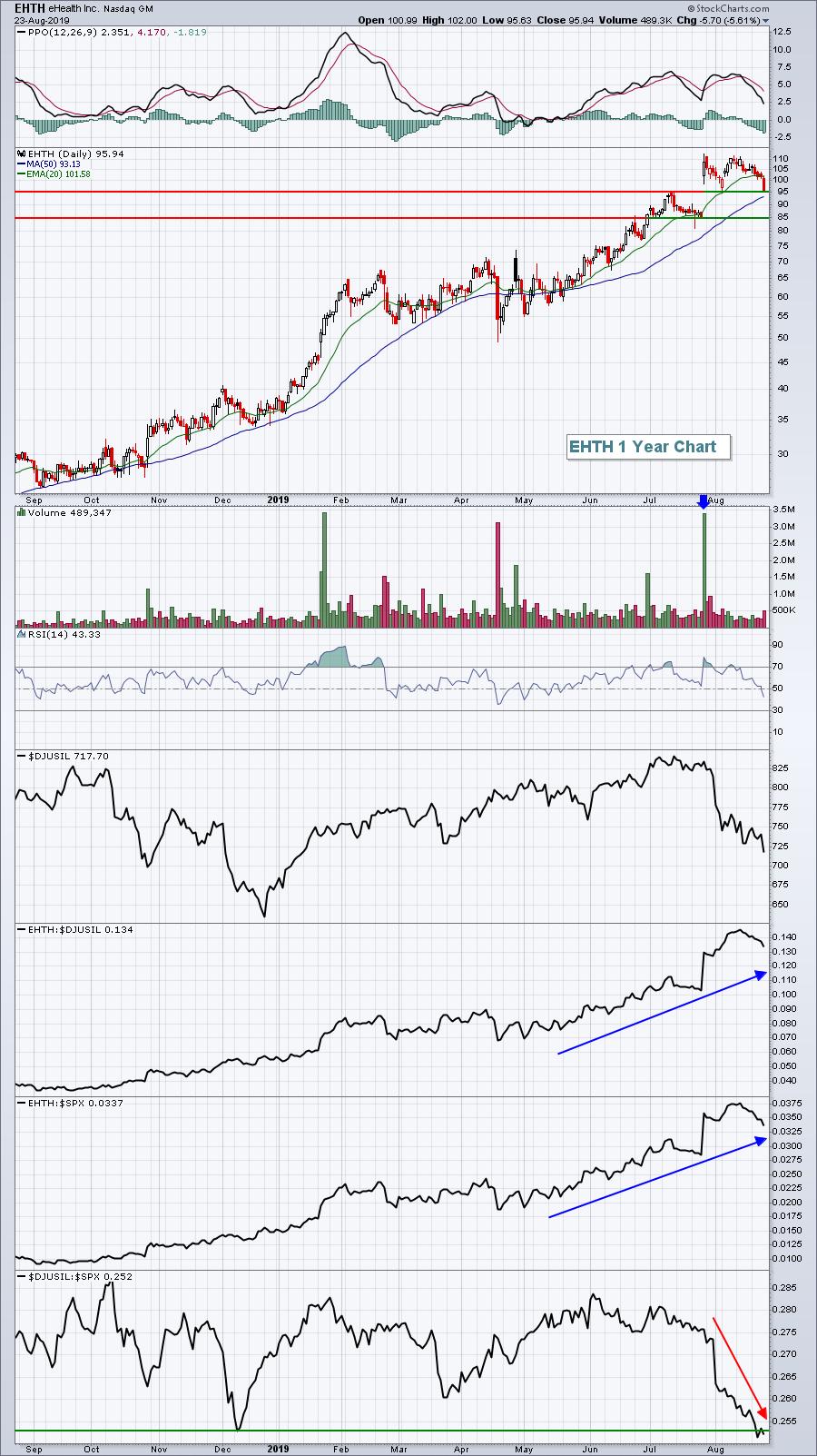 We could see a significant reversal off this 95 area. If I'm wrong, a fairly tight stop can be kept in place. Life insurance ($DJUSIL) has been hit particularly hard in August and that's created a great opportunity in EHTH, in my opinion.
The extremely heavy volume in EHTH leads me to believe that this remains a solid stock to trade. Sometimes, relative weakness in an industry is enough to keep me away from a stock, but I'd consider EHTH to be an exception because of the heavy demand with its recent earnings report.
Earnings and relative strength are the primary focal points of my FREE newsletter at EarningsBeats.com. CLICK HERE to register and begin receiving your 3x per week articles.
Historical Trends
September has been the worst month on the S&P 500 since 1950, sporting an annualized return of -5.51%.
Key Earnings Reports
None
Key Economic Reports
July durable goods released at 8:30am EST: +2.1% (actual) vs. +1.2% (estimate)
July durable goods ex-transports released at 8:30am EST: -0.4% (actual) vs. +0.0% (estimate)
Happy trading!
Tom