Market Recap for Tuesday, September 3, 2019
This is just a very brief market recap as I'm on jury duty this week.
New U.S. tariffs took effect this morning and it's September, so the stock market saw considerable weakness, especially at the open. Defensive sectors continued to show strength during these recent turbulent times, with utilities (XLU, +1.77%) and real estate (XLRE, +1.43%) both having very strong sessions. In the bigger picture, however, not much has been determined as the benchmark S&P 500 failed at recent price resistance near 2940 again: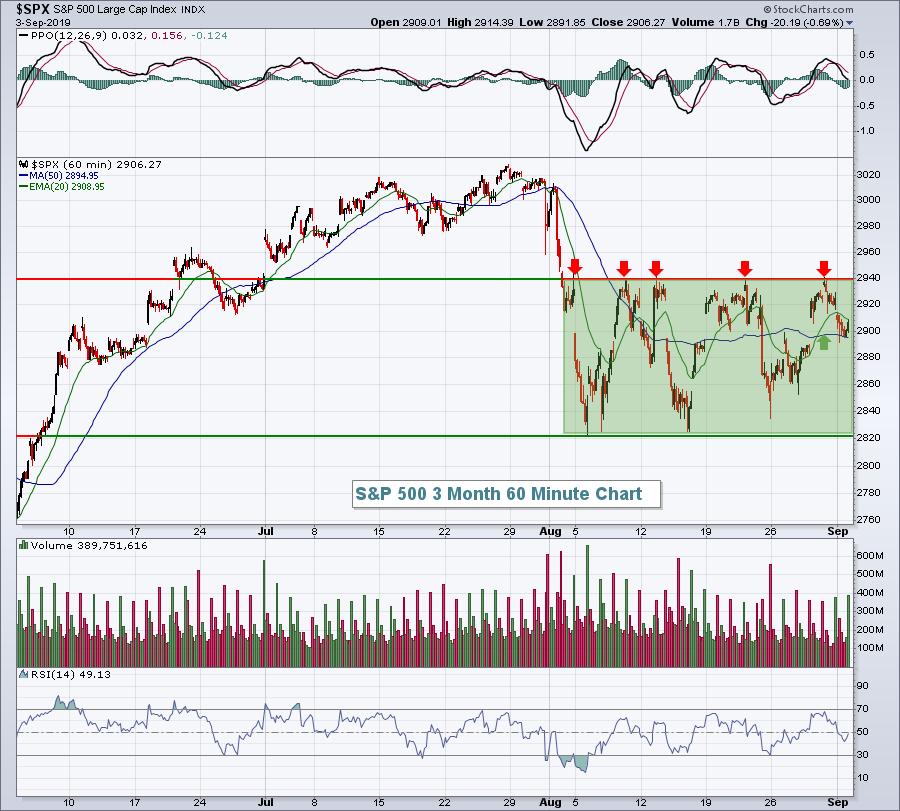 I wouldn't take too much from the action until the S&P 500 either breaks above 2940 or beneath 2820.
One area that's been weak for the past 4-5 weeks will be worth watching. That's renewable energy ($DWCREE, -1.71%). It's been the lone bright spot in energy throughout 2019, and after an absolutely stellar opening 7 months of 2019, it's ran into a wall of sellers. It'll be important to see if channel and price support holds: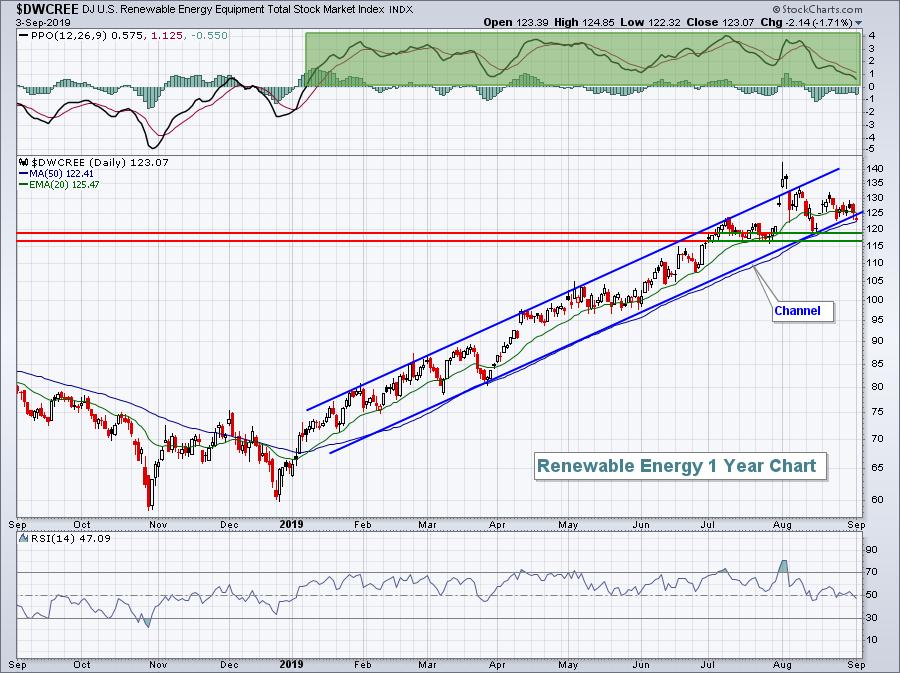 First, it's important to understand that the current channel is unsustainable. The DWCREE doubled in less than a year. To expect that type of rally to continue would be unreasonable. However, if the channel breaks more definitively, we could enter a period of sideways consolidation in which we should watch for a continuation pattern. Or it could simply morph into a downtrend. My point is that if the DWCREE loses price support closer to 115, then we would need to re-evaluate the group.
We have a big event coming up at EarningsBeats.com on Monday, September 9th at 4:30pm EST. It'll be open to everyone and will showcase the new lineup of products and services that I've been working on the past few weeks. I'd love for you to join me and check it out. I'll be posting more information here later this week and on Monday of next week on how you can join. In the meantime, check out our FREE EB Digest newsletter that focuses on quarterly earnings and relative strength. CLICK HERE to subscribe! Thanks!
Happy trading!
Tom