Special Note
There will be no Trading Places blog article on Tuesday, September 3rd as I've been selected for jury duty and will be out all day. I'll find out more of my schedule (for later this week) tomorrow morning and I will post articles here this week as best I can.
EarningsBeats.com Update
As I approach my formal move to EarningsBeats.com on September 15th to once again become its Chief Market Strategist, I've been working behind the scenes developing better and more in depth products and services for our members. We already offer our FREE EB Digest newsletter to thousands in the EarningsBeats.com community. If you're not already a member there, I'd strongly suggest that you join. CLICK HERE to sign up by providing your name and email address. We emphasize solid earnings and relative strength analysis in this 3x per week newsletter, but our paid services will include several new features. Today, I want to give you a sample of a new weekly recap of sector and industry strength, designed to keep everyone up-to-date as to which areas to consider for investments and trades, and which areas to avoid. That sector and industry relative strength analysis will be combined with our Strong Earnings ChartList to identify the best stocks within the best and improving sectors and industry groups. That will be part of a daily update that will be sent to our paid members every morning.
I've developed a proprietary system for evaluating industry groups and one rapidly-improving area that you need to be aware of is home improvement retailers ($DJUSHI). They not only topped my list of best relative movers last week, but there was an absolute breakout to confirm: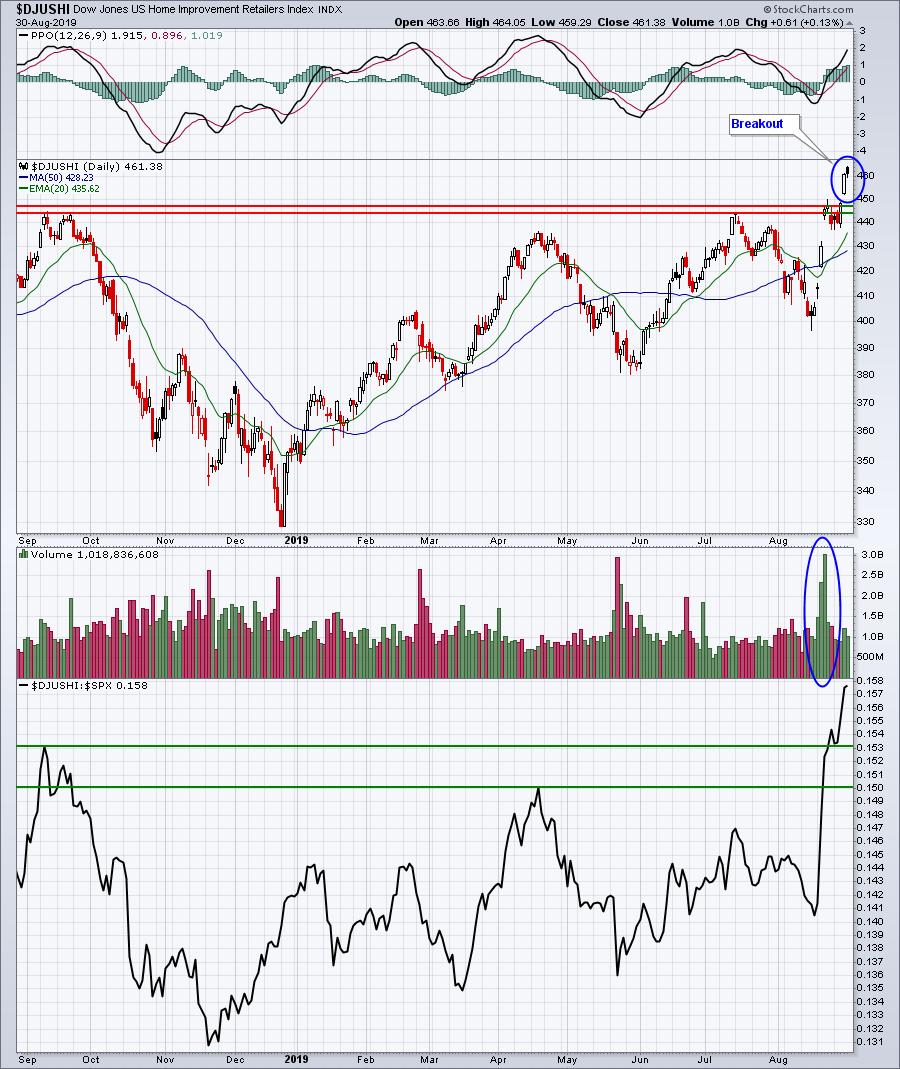 While the majority of market participants are looking at Home Depot (HD), which also broke out and led the DJUSHI surge last week, I prefer an under-the-radar small cap home improvement company that recently posted excellent quarterly earnings results. Unlike HD, which fell short of estimates, BMC Stock Holdings (BMCH) easily surpassed them with revenues at $946.38 mil (vs. $939.18 mil estimate) and EPS at $.59 (vs. $.55).
BMCH also broke out much earlier, in the first week of August, and has held up extremely well in August, during a volatile and downtrending market. These are the types of stocks we want to focus on, but I also want to improve my reward to risk, so allowing BMCH to pull back a bit wouldn't be a bad thing: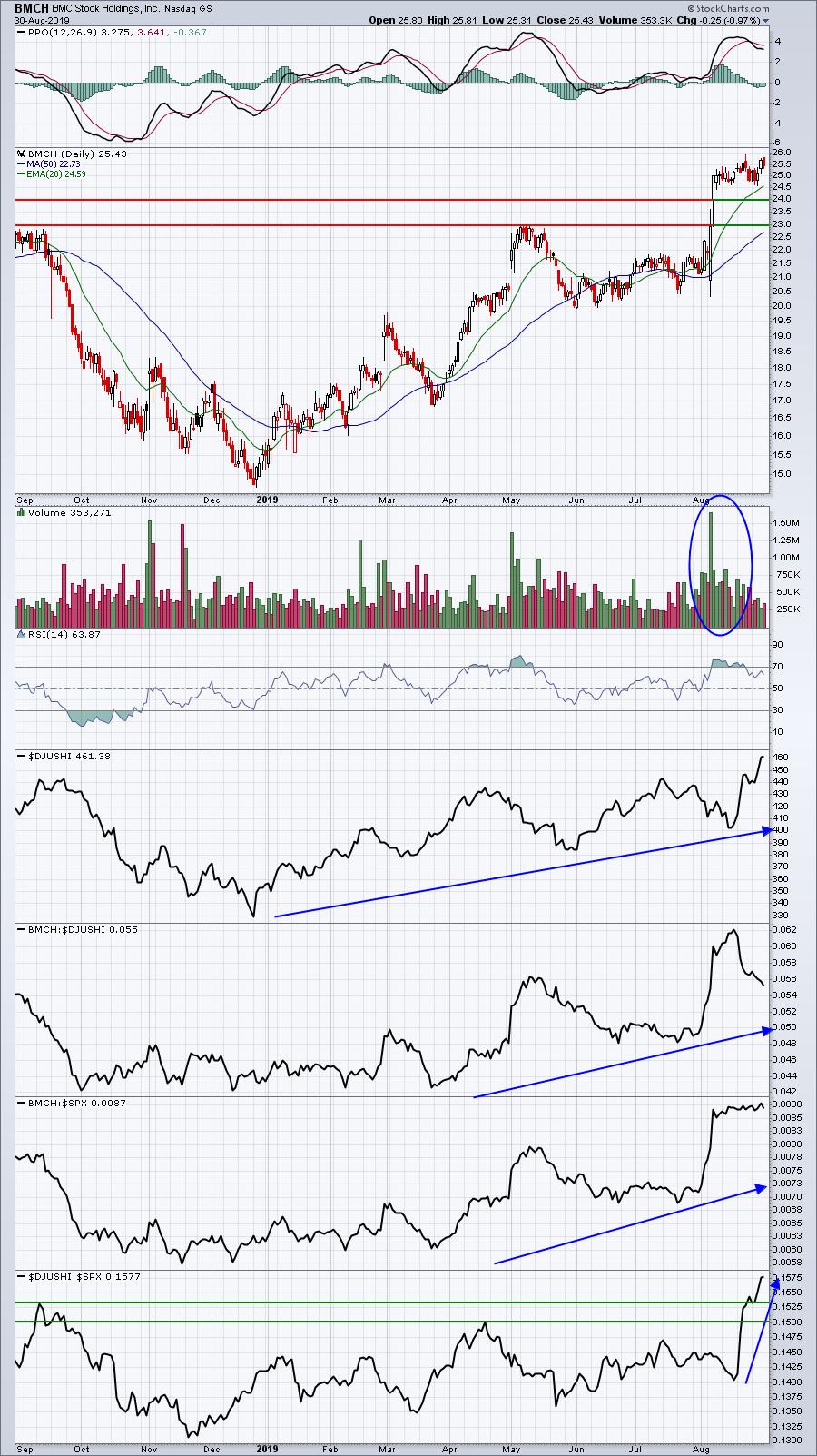 Building a position in the 23.00-24.50 range, should BMCH see some profit taking, would provide an excellent reward to risk entry into perhaps the best home improvement stock just as the group begins to build momentum on a relative basis.
This is the type of analysis I'll be providing our members on a regular basis.
Special Event
Next Monday, September 9th, we'll be hosting a webinar, "Sneak Preview: The New and Improved EarningsBeats.com" to explain our product and service offerings and how they can benefit you. A sample of the topics will include:
Discussion of our three portfolios (Model, Aggressive and Income) that are crushing the S&P 500. My Model portfolio is now higher by 51% (documented) through Friday, August 30th in just over 9 months, blowing away the S&P 500's 8.76% return over the same period.
My brand new show on StockCharts TV, "Trading Places LIVE!" (my blog will come to life!) on Tuesday and Thursday mornings from 9:00am-9:30am EST, just before the stock market opens! It'll be part of the new fall lineup at StockCharts TV. Please be sure to join me!!!
A community members-only "Trading Places LIVE!" webinar on Monday and Wednesday mornings from 9:00am-9:30am EST, just before the market opens! This will be to complement the Tuesday-Thursday shows on SC TV.
Recordings of all shows available for members that are unable to attend the LIVE show.
A Daily Market Update focusing on overall market analysis, portfolio updates, running popular scans against our Strong Earnings ChartList, detailed analysis of many companies prior to their earnings reports, etc.
An industry group relative strength matrix (similar to what I've discussed above), ranking ALL of the industry groups so you can make more informed trading decisions
Development of a brand new, user-friendly website
.......and much, much more!!!
I am very excited to return to EarningsBeats.com and you can see from the above that we have a full lineup slated for next Monday, jam-packed with great products, services, and information! Still, have no fear, I will continue to write here in my Trading Places blog every morning, but it will likely be a much shorter version than you're accustomed to because of all the enhancements at EarningsBeats.com. Remember. "Better Timing. Better Trades."
Next Monday's Sneak Preview event will be open to EVERYONE, so please mark your calendar and plan to join me! There will be lots of information here in my Trading Places blog as the event draws closer. We'll also be reminding everyone who's subscribed to our FREE EB Digest newsletter as well.
If you have any comments, thoughts, suggestions, etc, please drop me a line at "tomb@stockcharts.com". I'd love to hear from you!
Happy trading!
Tom