Market Recap for Wednesday, September 4, 2019
It was a solid day for U.S. equities as all of our major indices rallied, as did all 11 sectors. Communication services (XLC, +1.94%) and technology (XLK, +1.71%) were the top two performing sectors. Broadcasting & entertainment ($DJUSBC, +2.12%) recently held key price support and is bouncing, led by Comcast's (CMCSA, +3.74%) breakout on Wednesday: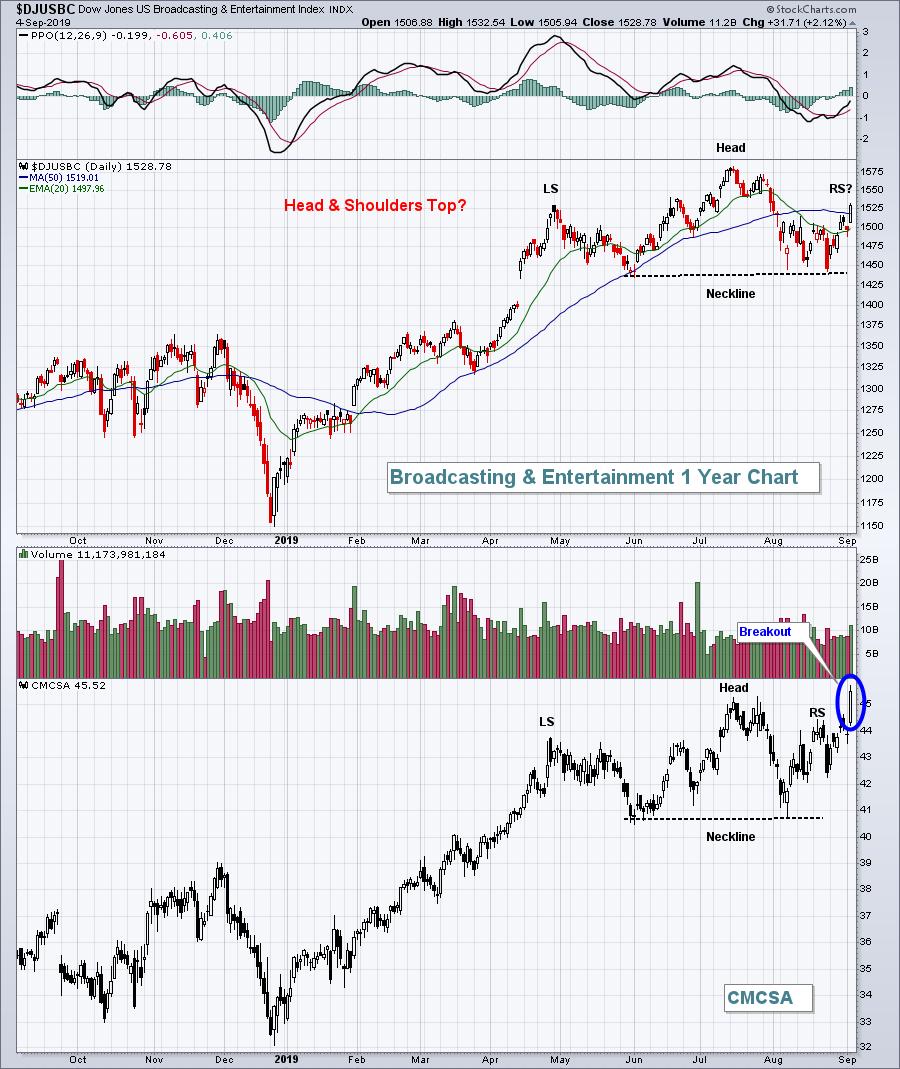 A head & shoulders pattern is NOT confirmed until we see a heavy volume breakdown. CMCSA had a head & shoulders top in play as well, didn't it? How did that work out? Just because you see equal lows, the resulting bounce isn't a right shoulder until we can confirm it with an ensuing price breakdown beneath the neckline. Some analysts try to point out topping head & shoulders patterns continuously throughout bull markets. I say good luck with those.
The DJUSBC remains quite bullish in my view and has been a solid relative performer, as illustrated in the Sector/Industry Watch section below.
Pre-Market Action
Futures are bright green this morning, as the U.S. and China have agreed to meet to discuss trade. Asian markets were mostly higher overnight and European markets are mostly higher this morning. Dow Jones futures are up 250 points with a little more than 30 minutes left to the opening bell.
Gold ($GOLD) is down more than 1% as the 10 year treasury yield spikes 7 basis points to 1.53%. The jump in the TNX should help to bolster financials (XLF), which are near a 1 year relative low vs. the benchmark S&P 500.
Current Outlook
I've posted this quite a bit over the past month, but it's worth posting again. The S&P 500 has been mired in a wide and volatile trading range for the past month. Today appears to be the day that we'll trade outside this range (and to the upside) - at least at the open. So the most obvious question heading into trading today is....can the S&P 500 build on this short-term breakout? Will buyers continue to send prices higher throughout the day or is just another false alarm?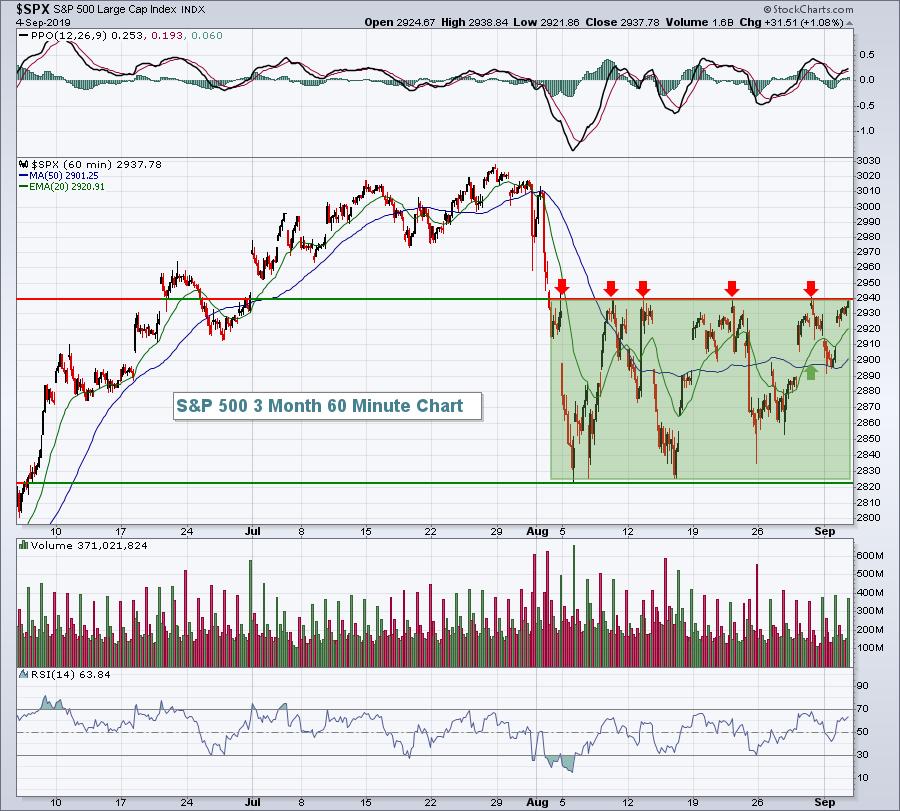 Given this morning's futures and likely breakout of this trading range, I think the rising 20 hour EMA, currently at 2920 becomes the support level to watch. If we can hold above it, then we're very likely to return to challenge the all-time high set in July.
There's a big event on Monday at EarningsBeats.com on Monday, September 9th, just after the market closes. Mark your calendar. More details will follow over the next few days. In the meantime, please be sure to subscribe to our FREE EB Digest newsletter, focusing on key earnings and relative strength. CLICK HERE to sign up! Thanks!
Sector/Industry Watch
I discussed the DJUSBC above in the Market Recap section, but let's take a little different look at the group here: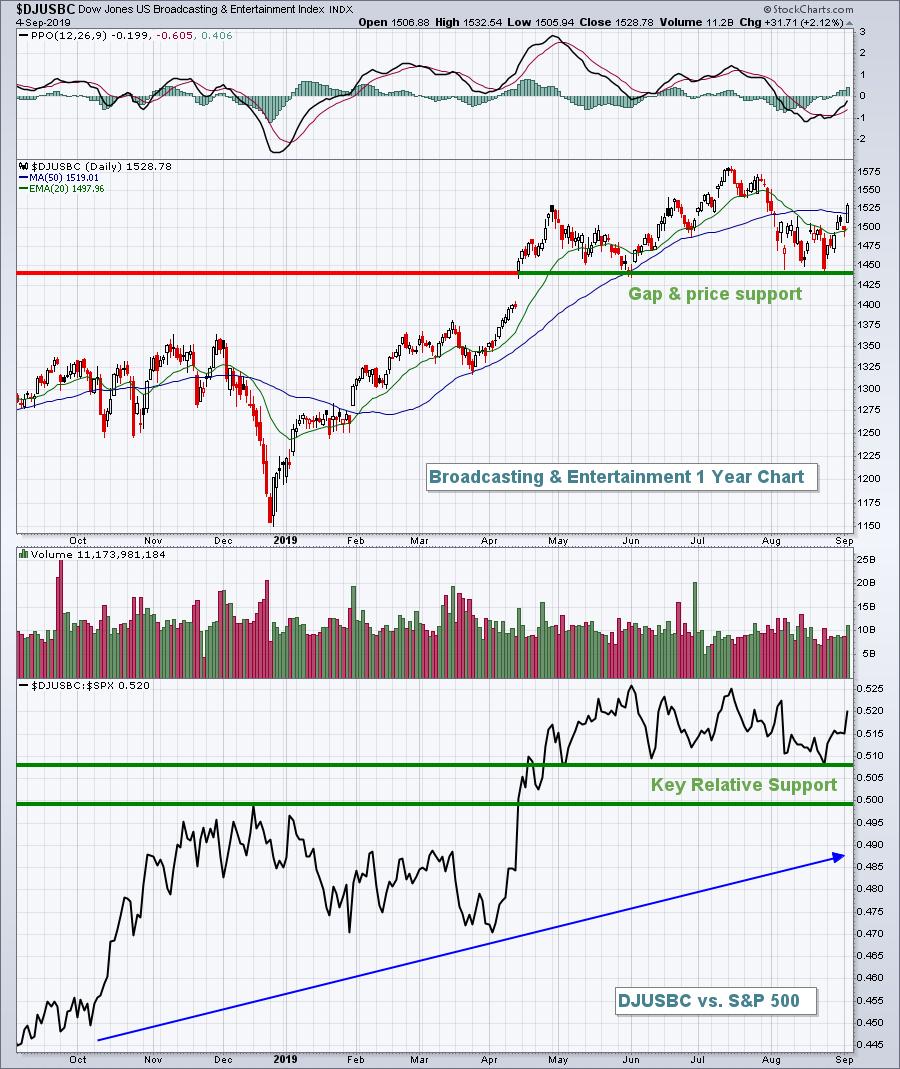 Those with the glass half empty approach see a topping head & shoulders pattern. I'm in the glass half full camp and I see a leading industry group consolidating within a bull market advance.
Key Earnings Reports
(actual vs. estimate):
CIEN: .71 vs .57
DCI: .61 vs .60
(reports after close, estimate provided):
CRWD: (.22)
DOCU: .04
GWRE: .50
LULU: .89
SAIC: 1.27
ZM: .01
Key Economic Reports
August ADP employment report released at 8:15am EST: 195,000 (actual) vs. 150,000 (estimate)
Initial jobless claims released at 8:30am EST: 217,000 (actual) vs. 215,000 (estimate)
Q2 productivity released at 8:30am EST: 2.3% (actual) vs. 2.3% (estimate)
August PMI services index to be released at 9:45am EST: 50.9 (estimate)
July factory orders to be released at 10:00am EST: +1.0% (estimate)
August ISM non-manufacturing index to be released at 10:00am EST: 54.0 (estimate)
Happy trading!
Tom