The beauty of being both a fundamentalist and a technician is that the fun never stops. Many of you may view earnings season to last from the middle of the first month of each calendar quarter (when Dow Jones component stocks and the biggest money center banks begin reporting) to perhaps 4-5 weeks later at the conclusion of many first tier and second tier technology companies reporting their latest quarterly results. But the truth is it never ends. Sure, the number of companies reporting diminishes, but it really never ends. Also, the gaps created on the price charts provide opportunities throughout the quarter. I'm constantly waiting on companies with excellent fundamentals and technicals to allow profit taking to kick in and retrace to high reward/low risk entry points. That is an ongoing process that excites me every single day the stock market is open.
I want to give you a couple examples of companies that recently (within last 1-3 weeks) reported absolutely fantastic quarterly results that should not be overlooked as trading candidates.
Medtronic, Inc. (MDT)
There are two things I love about MDT. The first is that its quarterly earnings report was excellent. Not only did MDT post revenues that easily surpassed estimates ($7.49 bil vs $7.41 bil), but its EPS also beat estimates handily ($1.26 vs $1.18). That's a sign that management is executing its business plan and Wall Street loves solid management teams. The second positive here is that MDT is one of the best companies within the medical equipment industry ($DJUSAM), which is one of the best industry groups vs. the S&P 500. It's difficult losing money if you stick with the "best stocks within the best industries":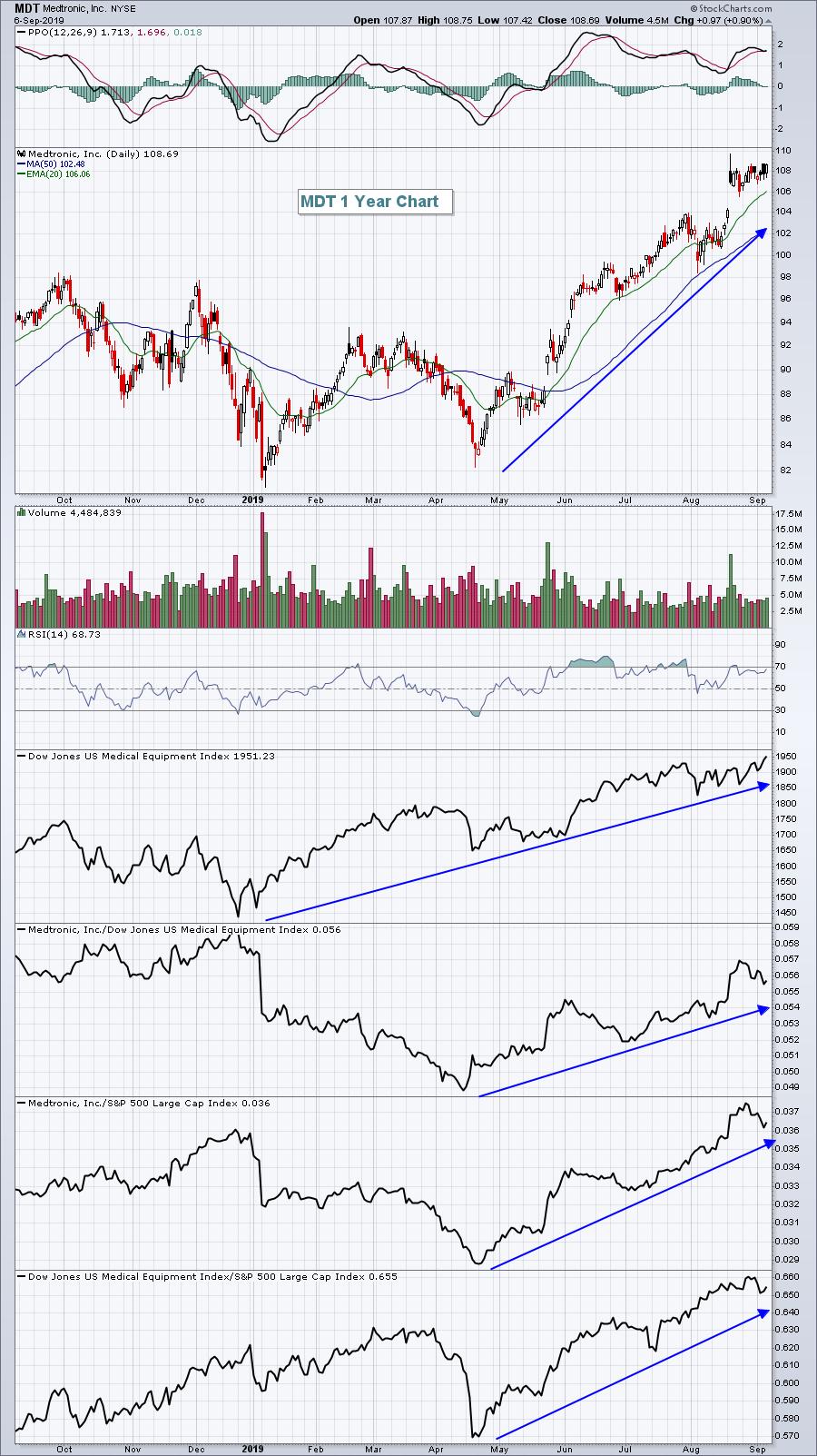 Those blue directional lines tell a story, a bullish story.
Keysight Technologies, Inc. (KEYS)
Like MDT, KEYS is a very attractive trading candidate. While its industry group, electronic equipment ($DJUSAI), is nowhere near as strong as medical equipment, KEYS has been a huge leader in the space. After posting revenues ($1.08 bil vs $1.04 bil) and EPS ($1.25 vs $1.02) that crushed Wall Street consensus estimates, KEYS soared to clear overhead resistance and break out from a bullish cup with handle continuation pattern: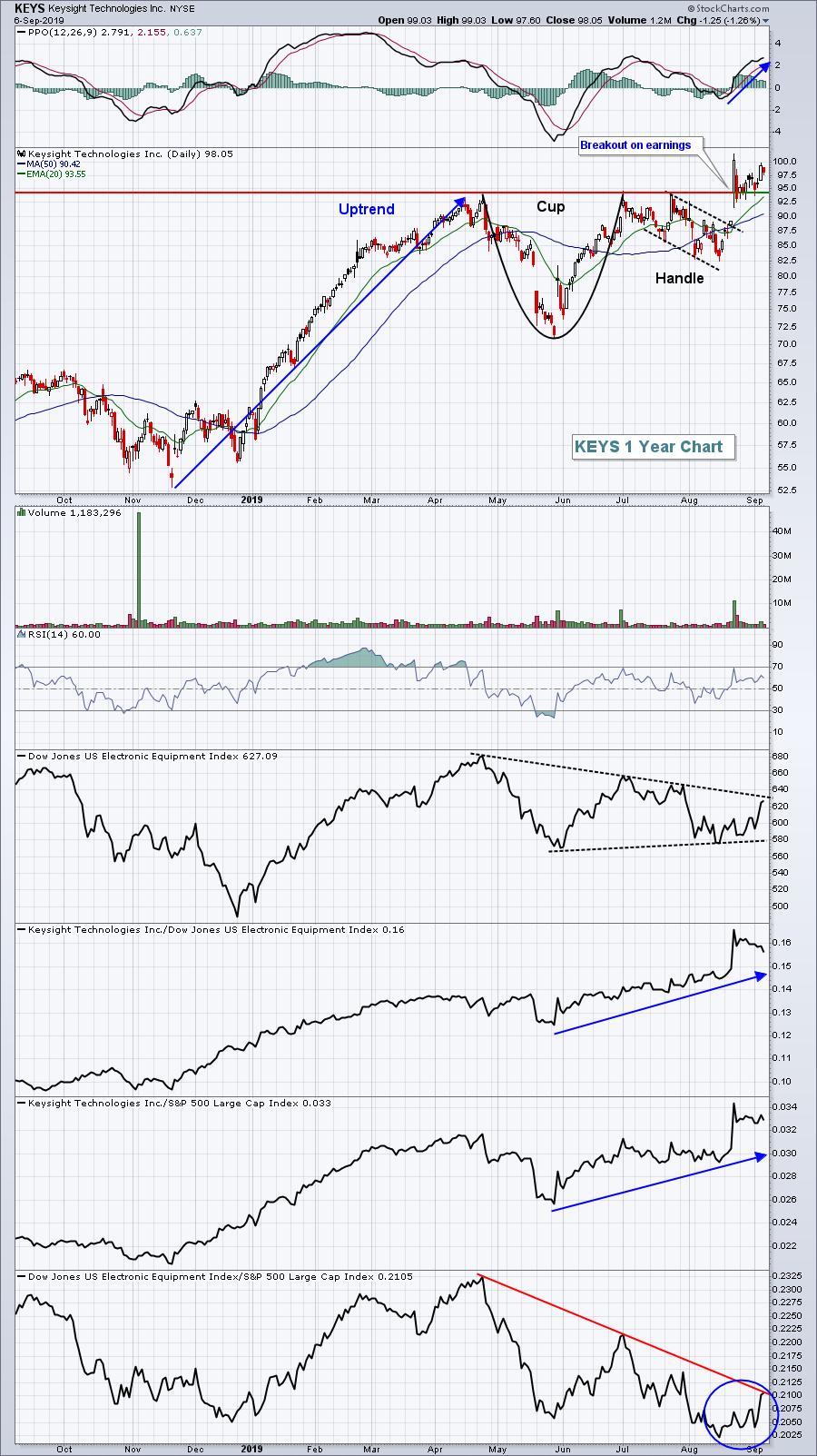 That cup with handle breakout measures to about 117, which I believe we'll see in time. Given the industry group's relative weakness, I'd make sure I kept a stop in play on KEYS - perhaps in the 92-93 area. The blue circle does show recent relative strength the past three weeks or so. If that continues, it would be an extremely bullish development for KEYS.
MDT and KEYS are just 2 of the 329 companies that I now have on my Strong Earnings ChartList, one of the many products/services that we offer at EarningsBeats.com and are available to our members. I'll be discussing our entire product/services lineup on Monday, September 9th at 4:30pm EST and it's open to everyone! Please mark your calendar and plan to join me. CLICK HERE for more details on the event.
Happy trading!
Tom