I've been watching and waiting to see if software ($DJUSSW) would begin to show leadership again as we approach earnings season, which will kick off in the next few weeks. If you've owned any software stocks other than Microsoft (MSFT), then you probably know all too well how poorly this group has performed since early August. Many stocks have been crushed, including the likes of Shopify (SHOP), Alteryx (AYX), Trade Desk (TTD), etc. Forget about the potential fundamental strength, the market simply turned to value stocks (IWD) over growth stocks (IWF) and software has been the "baby going out with the bathwater". Check out this chart for the past 5 years: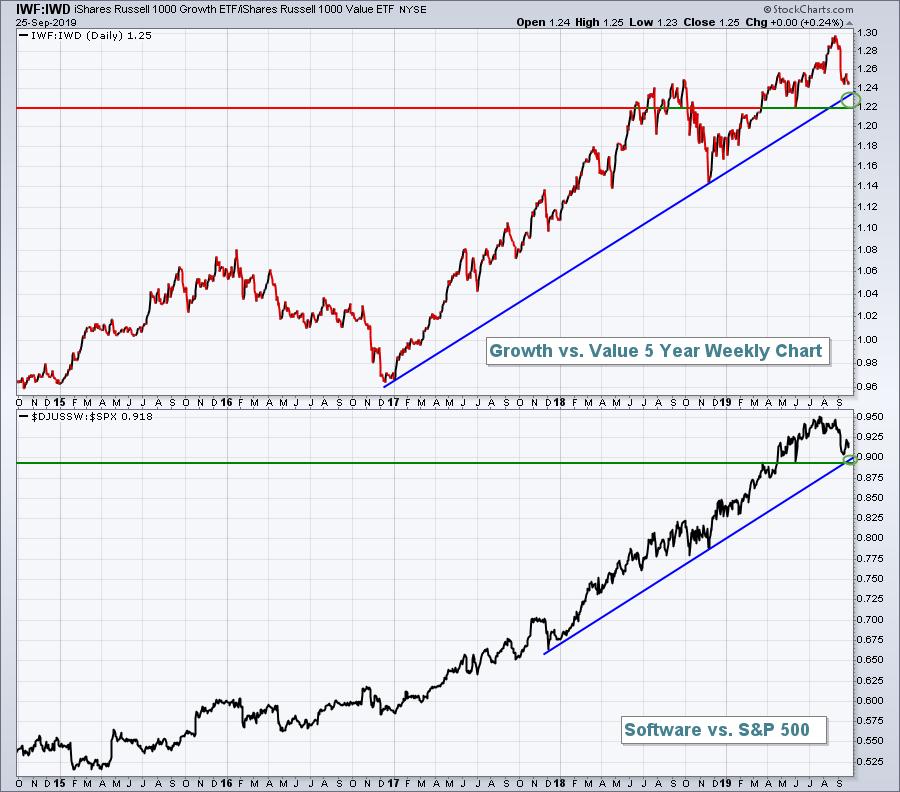 The two tend to move hand in hand. Software stocks are growth stocks and they've been favored over most other industry groups the past few years. So when the market favors growth, which it has fervently since the beginning of 2017, software stocks crush the S&P 500. But notice the change in both ratios since August. That's the concern. Is the run over? I don't believe so, but I want to see technical proof.
I believe the stock market is heading much, much higher. I've not bought into any of these volatile declines and all the recession talk. Yada yada yada. These scary declines are nothing more than institutional accumulation periods, in my opinion. We've been consolidating for nearly two years - quite similar to 2015/2016. In a bull market, the expectation is for a breakout and rapid advance. That's what I see coming and I believe it happens in Q4 2019. A return to strength in software (and other aggressive growth areas) would be a confirming signal of that and would suggest you stand pat in the group.
Over the past week, and since last week's Fed policy statement, there have been two very solid afternoon advances, along with a couple other brief periods of strength. The first was in the final hour the day of the announcement (Wednesday, September 18th) and the second was yesterday afternoon. It wasn't just an absolute move higher, it was relative too. I want to see leadership like that on a breakout to new all-time highs. We'll see whether that happens, but for now I'm encouraged by the following intraday chart spanning the past 15 days: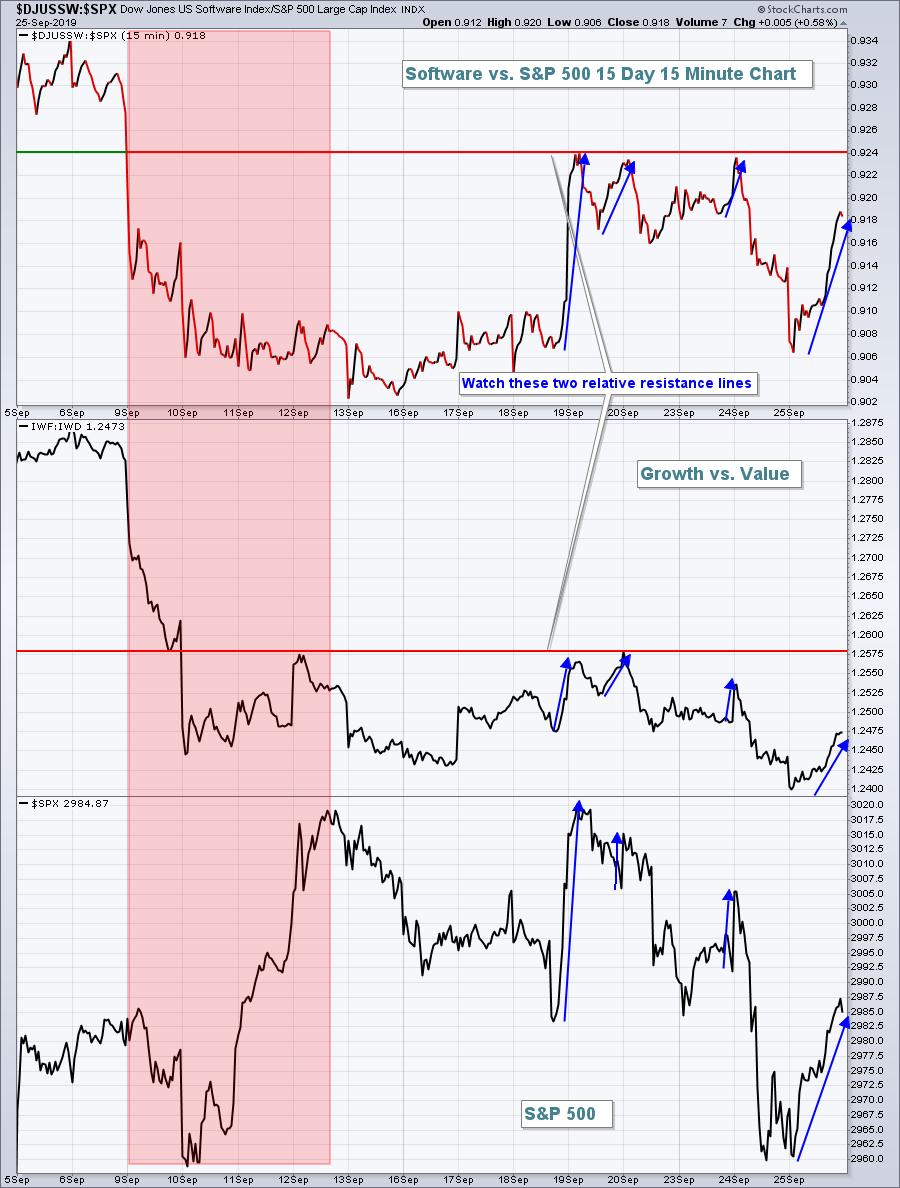 While the overall market has been weak and consolidating the past few weeks, I believe subtle bullish improvements are being masked. If the S&P 500 breaks out, it's sure giving signs that software and growth stocks, in general, will remain leaders. I provided our EarningsBeats.com community with a webinar last Saturday, discussing market manipulation that's been responsible for much of the recent selling. Prior to that, I believe traders were fearful of the Fed, which caused significant rotation away from growth stocks, including software. Now that both the Fed and quad witching options expiration are behind us, S&P 500 advances are being supported by software stocks....and growth stocks. That's very bullish in my view, but it's still a bit early to think that the breakout is coming. Let's see it first....and be prepared.
One software stock, in particular, has been crushed unfairly during this recent drubbing and I'll feature it in my EarningsBeats Digest newsletter article tomorrow morning. If you're not already a subscriber, it's free and it's never too late to join our community! CLICK HERE to subscribe.
Special Note
My schedule on StockCharts TV will be changing next week. I've been hosting MarketWatchers LIVE for the past couple years, but all that changes next week. I'll be moving to a pre-market show, Trading Places LIVE, that will air on Tuesdays and Thursdays from 9:00-9:30am EST and is part of the new fall lineup at StockCharts TV. I'll be covering all the topics you'll need to know heading into a fresh trading day - economic news, earnings news, other company news, technical evaluation of our bond and stock markets, trade setups, and so much more! While I'll provide tons of actionable trade ideas, it'll also be quite educational. It'll be very fast-paced, trying to cover a variety of topics in 30 minutes. I hope you'll join me!
If you like Trading Places LIVE, there's more good news! On Mondays, Wednesdays, and Fridays, I'll host a webinar at EarningsBeats.com at that same time, from 9:00-9:30am EST, just before the market opens. We'll send out instructions to join those webinars every Monday, Wednesday, and Friday morning in our EB Digest newsletter. It'll be open to our entire EarningsBeats.com community, including EB Digest subscribers. So make sure you join that free newsletter. Once again, follow THIS LINK to subscribe.
Happy trading!
Tom