Semiconductors ($DJUSSC, -1.78%) had a rough session on Tuesday, but they had been on a roll since early-August, rising from 3350 to 3850, and there have been plenty of leaders to choose from. KLA Corp (KLAC), Lam Research (LRCX), Applied Materials (AMAT), and Micron Technology (MU) are certainly among the best large cap semiconductors, with the latter set to report earnings tomorrow after the bell. Then we move on to mid-size semiconductors and we have Teradyne (TER) and Cypress Semiconductor (CY). Among small caps, there are companies like Ambarella (AMBA), Ultra Clean (UCTT), and Lattice Semiconductor (LSCC). This is just a very short list of outperformers. Trust me, there are plenty more.
One such stock is Entegris, Inc. (ENTG). Here's the current technical view: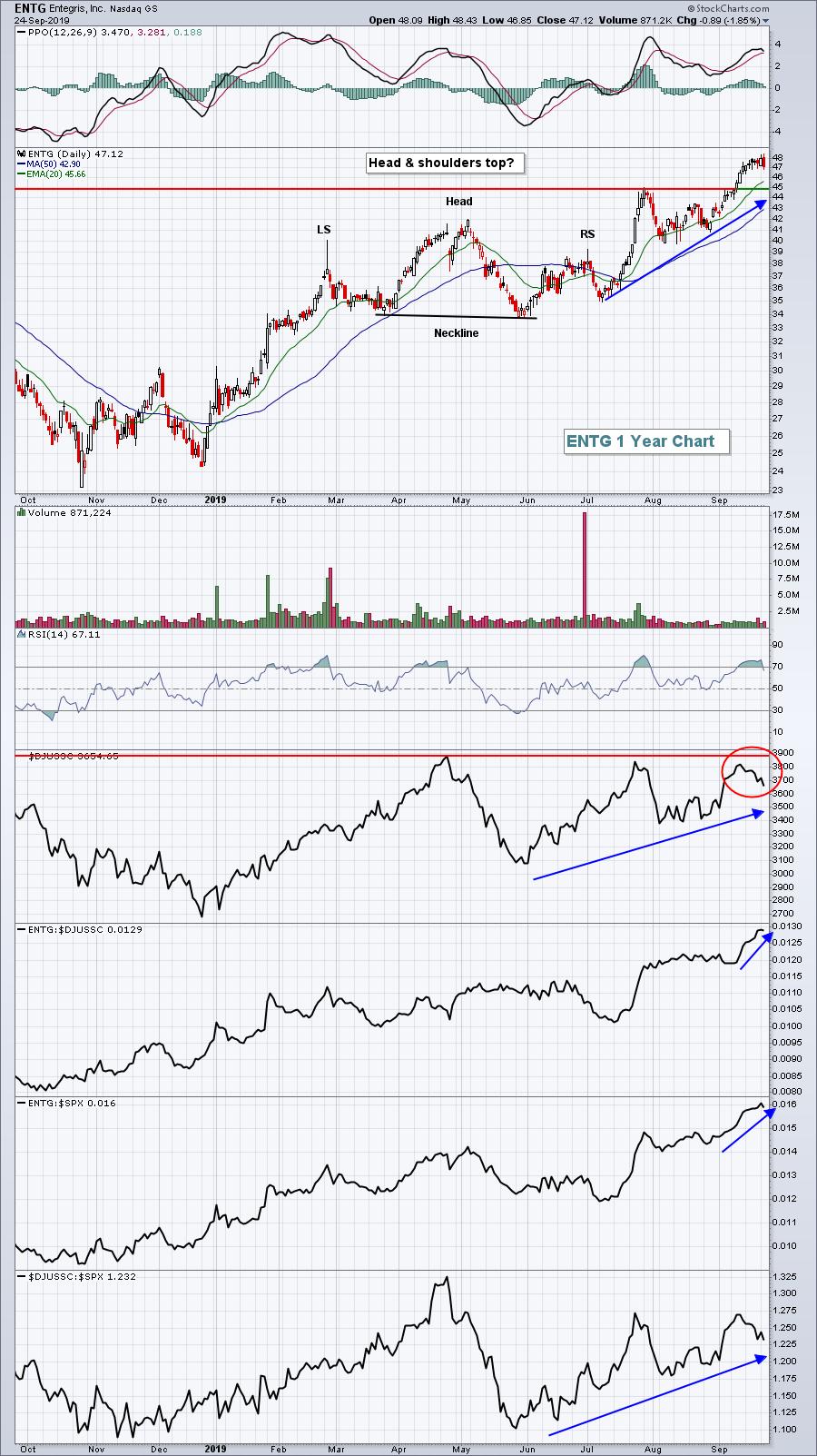 Off of a huge uptrend, ENTG printed what appeared to be a topping head & shoulders pattern. But, as happens many times, the pattern never was confirmed with a high volume breakdown. It's why I routinely say that head & shoulders patterns are the most over-hyped patterns ever. I wrote an article about it a few weeks ago right here in Trading Places. You can view it by CLICKING HERE.
I don't start looking for topping head & shoulders patterns until my intermarket analysis work begins to suggest the overall market is topping. In a raging bull market, few stocks will break down from topping patterns. Instead, we typically see wide participation during a bull market advance.
The other thing to consider with ENTG is that it didn't really provide any other confirming signs of a topping head & shoulders, other than a downsloping neckline. On the move from the potential head to the right side of the neckline, we should see distribution, which requires volume. I see none of that. The pattern was negated when price action broke above the head established in May. Many technicians routinely draw necklines that are upsloping, which makes absolutely no sense to me. Heck, that means every uptrending chart has a topping head & shoulders pattern in place. All too often, those with a negative market bias, will begin drawing phantom head & shoulders patterns with every downtick in the market.
ENTG is now trading better than just about every other semiconductor stock. It has ignored the recent selling in the group, instead breaking out to new highs. That can clearly be seen during its September performance. If there's one short-term warning signal, it's the bearish engulfing candle that printed yesterday. A trip back to 45-46 could be in store, but that likely would represent a solid entry point.
In my free EarningsBeats Digest newsletter this morning, I featured a homebuilder - KB Homes (KBH) - set to report its latest quarterly earnings report after the bell today. I gave my opinion, based off its relative performance, what we should expect from the company. If you'd like to get information like this 3x per week (Mondays, Wednesdays, and Fridays), you can sign up HERE.
Happy trading!
Tom Bowley, Chief Market Strategist
EarningsBeats.com
"Better Timing. Better Trades."